The latest trend in transportation is worldwide gains by electric vehicles (EVs), propelled both by consumer interest and government incentives. EVs have proven relatively slow to catch on in the USA compared to some European countries.
However, Americans' interest in EVs has grown faster and faster in recent years. Rhode Island combines New England's charm with beaches, islands, and rocky shores along the Atlantic. While Rhode Island doesn't lead the EV push, electric vehicle popularity is growing swiftly, aided by state programs.
Rhode Island officials are working to boost the electrification of cars in their state. We've rated Rhode Island as one of America's nine most EV-friendly states. The state has a strong charger network, with even more funds allocated to expanding access to public charging.
EV Ownership in Rhode Island: Overview
Drivers can charge up at around 300 charging stations with well over 650 individual chargers. It offers well over 40 chargers per 100,000 residents, putting it in the top ten states for chargers per capita.
The Rhode Island Office of Energy Resources also offers EV ownership incentives in the form of a rebate. The rebate program is called Driving Rhode Island to Vehicle Electrification, or DRIVE EV for short. New EV owners can apply for an up to $2,500 rebate on an electric vehicle within 120 days of buying or leasing it.
EV price limits apply and the vehicle must be bought at a Rhode Island dealership and registered in the state. Smaller rebates up to $1,500 may be available for plug-in electric hybrids or PHEVs. Lower-income buyers may qualify for an additional $2,000 rebate under the DRIVE+ program.
The separate DRIVE EV Fleet program offers similar rebates to small businesses. Lawmakers originally funded DRIVE EV with $1.25 million, with over $825,000 remaining and available at the end of December 2022.
Total Electric Vehicles Sold in Rhode Island
Relatively few EVs have been sold in Rhode Island compared to the more than 111,000 in neighboring Massachusetts. State residents owned only 584 electric vehicles in total in 2016, far behind the leading states of California, Florida, and Texas.
This number increased to about 2,500 total EV registrations in late 2021. Vehicle owners registered an overall 5,627 EVs by June 2022, according to The Providence Journal. EV sales grew by 61.4% between 2020 and 2021, according to some sources.
New car buyers continue to gain interest in EVs in the state, so this growth rate will likely increase. Owners registered only about 0.18% of America's EVs in Rhode Island, according to Electrek, but the state only has 1.1 million permanent residents.
Electric Vehicle Market Share in Rhode Island
While Rhode Island EV registrations remain few in absolute terms, Rhode Islanders are opting for electric transport much more often. EVs account for around 4.7% market share in terms of new car sales.
This means that almost 1 in 20 new vehicles sold in the state are electrified, either as BEVs or plug-in hybrids (PHEVs). EV sales in Rhode Island, therefore, stand roughly equal to the 4.6% EV market share across the whole U.S. automotive market.
Market share measures EVs as a percentage of new vehicle sales. EVs stay considerably less common when viewed as a percent of total vehicles on the road. The U.S. Department of Energy says that about 0.3% of registered Rhode Island vehicles are EVs. This is slightly behind the overall USA average of 0.5%, and considerably lower than California's 1.6%.
The 5 Most Popular Electric Vehicles in Rhode Island
While Rhode Islanders aren't at the spearhead of ecological consciousness in the USA, they are buying EVs in increasing numbers. Buyer applications for DRIVE EV funds give a snapshot of which EVs are most popular with Ocean State drivers.
The figures show BEVs are much more popular than PHEVs in Rhode Island, WPRI 12 News reports. Here's a closer look at the EV preferences for drivers on the roads near Narragansett Bay.
1. Chevrolet Bolt EV
Residents of the Ocean State choose the Chevy Bolt EV as their most frequently bought vehicle. The compact EV sells for less than $27,000, while earlier problems with its battery were ironed out with a major GM recall.
The Bolt seats five passengers, and its 258-mile range per charge is easily enough to get it anywhere inside Rhode Island's borders. Interior headroom is good, including for rear-seat occupants.
Chevrolet's chunky little electric hatchback offers large cargo space at 57 cubic feet, about half the room of many minivans and SUVs. It runs exclusively on electricity, making it quiet and emission-free.
The Chevy Bolt EV's front-wheel drive and the instant torque of its electric motors boost it from zero to 60 mph in 6.5 seconds. While not a sports car by any means, it matches the acceleration of plenty of everyday gas-powered sedans.
While the Chevrolet Bolt represents Rhode Island's number one pick among electric vehicles, it won't stay that way for long. General Motors plans to end the manufacture of both the Bolt EV and the slightly larger Bolt EUV towards the end of 2023. Rhode Islanders will soon need to find a new thrifty battery-powered favorite to take the Bolt's place.
2. Hyundai IONIQ 5
While the Chevy Bolt EV has been around for a while, the runner-up for Rhode Island popularity, the Hyundai IONIQ 5, is a minty-fresh design from 2021. The South Korean automaker configures the IONIQ 5 as an all-electric compact crossover.
Like the Bolt, it seats a maximum of 5 passengers, including the driver. However, it offers somewhat more "pop," even if its cargo space is more limited.
The Hyundai IONIQ 5's MSRP of $39,950 puts it well below the $60,000 eligibility cutoff for a DRIVE EV rebate. Buyers can add plenty of options and packages without worrying about pushing the price over the rebate threshold.
Notably, however, the base trim comes with a 220-mile range battery. It's necessary for purchasers to buy the $44,000 SE trim or higher to get the 303-mile extended-range battery Hyundai also offers.
Power from the Hyundai IONIQ 5's motor gives it up to 320 horsepower, with available all-wheel drive (AWD). Hyundai builds the IONIQ with rear-wheel drive (RWD) as standard on most trims.
The crossover hits sixty from a standstill in 5.2 seconds; enough for some driving interest. It also features electrical architecture, enabling it to get an 80% charge from a Level 3 fast charger in just 18 minutes.
3. Tesla Model 3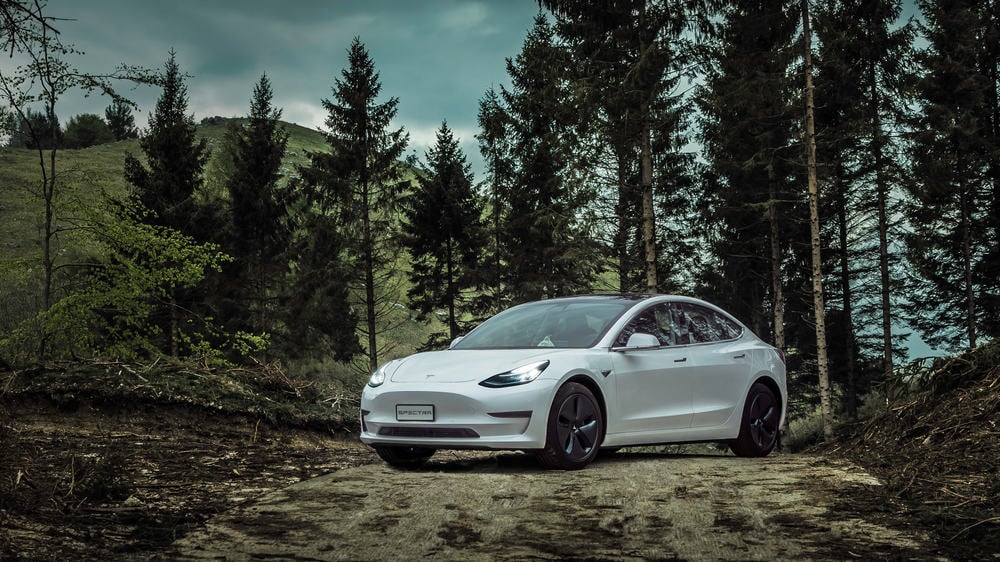 An all-around favorite across America, the Tesla Model 3 occupies third place in Rhode Island's top-five EV lineup. The Model 3 is safe and fast, offers a decent range per charge, and carries the cachet of the world-famous Tesla name.
It also benefits from the far-ranging availability of fast charging at Tesla's Supercharger network, with Supercharger stations strung like beads along America's major highways.
The rear-wheel drive (RWD) base trim level of the Model 3 is priced at $40,240 and offers 272 miles of range. The range is once again adequate for the confines of New England roads.
Higher trim levels can achieve 358+ miles of range on a single charge, but quickly approach or exceed the $60,000 limit on DRIVE EV rebates. The Tesla Model 3 can add 147 miles of range in 15 minutes of fast charging. It can even take an 80% charge after being drained to 10% in less than an hour.
The Tesla Model 3 comes in single-motor, RWD configuration and dual-motor, all-wheel drive (AWD) configuration. At its peak performance, the Tesla Model 3 takes 3.5 seconds to rocket from 0-60 mph, matching many muscle cars. It can also achieve 155 mph and comes with the Tesla Autopilot system.
4. Tesla Model Y
Rhode Islanders seemingly like their Teslas, and a second EV from Elon Musk's lineup, the Tesla Model Y, also makes the list. The Tesla Model Y is based on the Model 3 and offers several configurations, including a 5-seat setup.
An optional third row of seats increases the seating capacity to 7 people. It also offers 76 cubic feet of cargo space, making it useful for hauling items, as well as passengers.
The Tesla Model Y Long Range starts at $50,490, making it eligible for DRIVE EV rebates in Rhode Island. Various trims offer between 279 miles and 330 miles of EPA-estimated range. The EV's dual-motor AWD drivetrain gives it the same strong performance as the Model 3, with a 3.5-second 0-60 time for the Performance trim.
Other trims have zero to sixty times up to 5 seconds. If the driver connects it to a Supercharger, the Model Y regains 162 miles of charge in 15 minutes.
Tesla's design of the Model Y makes it a strong all-rounder, helping explain its Ocean State popularity. The Model Y offers range, performance, cargo space, and safety, along with a simple but luxurious interior. This Tesla model is a favorite not only in Rhode Island but throughout the United States.
5. Toyota RAV4 Prime
Rhode Islanders chose the Toyota RAV4 Prime as their fifth most popular option for an eco-friendly vehicle. Toyota builds the RAV4 Prime as a plug-in electric hybrid, or PHEV, not a true all-electric EV.
However, new car buyers looking for greener transport apply for state incentives for this model almost as often as for the Tesla Model Y. This fact, and the Toyota RAV4 Prime's capabilities, make it worth exploring here.
The RAV4 Prime offers the improved visibility and decent cargo space of the compact crossover SUV body style. Its battery can charge fully in less than 3 hours and offers 42 miles of electric-only operation. This makes it possible to drive the RAV4 under electric power for errands around town, and potentially on shorter commutes.
The hybrid powertrain develops a combined 302 horsepower and accelerates from 0-60 mph time in 5.8 seconds. Smart AWD allocates power between the wheels for maximum traction even in treacherous weather conditions.
The Toyota RAV4 currently holds the title of one of the most popular vehicles in the world; fourth among all passenger cars and first among SUVs. It's unsurprising that Rhode Islanders chose the PHEV version of a nameplate that has sold over 10 million units globally as one of their top EV choices. The base SE trim starts at $43,090.
Conclusion
Rhode Island isn't at the cutting edge of EV adoption, but it shows how electric vehicle popularity is on the rise and how state incentives can help that process. All five top EVs chosen by Rhode Islanders qualify for the DRIVE EV rebate.
The selection includes two affordable models, a pair of mid-price Tesla models offering performance and power, and a PHEV for those experimenting with electric vehicles and still keeping one foot in the gasoline camp. The widespread availability of chargers made easier by Rhode Island's small land area also seems to be encouraging the transition.
Breaking EV News
June 8, 2023 — America's electric vehicle (EV) industry seems to be moving toward a standard charging standard. Today, General Motors' Chief Executive Officer Mary Barra announced that GM EVs will soon be able to recharge at 12,000 of Tesla's Superchargers.
At the start of 2024, GM's EVs will be able to charge using an adaptor. Ford made a similar announcement on May 25, 2023. Starting in 2025, both auto manufacturers' EVs will feature Tesla's North American Charging Standard connector.
The image featured at the top of this post is ©Sean Pavone/Shutterstock.com.