With 13,300 electric vehicles registered in 2021, Connecticut is fast becoming an EV hub. Not only does the state offer many EV incentives and is building out infrastructure to support EVs in the future, but it's also a great state to live in if you want to drive a hybrid or electric vehicle. But which are the most popular EVs in Connecticut, and which one is the best option for you to purchase? Here's what you need to know!
EV Sales in Connecticut
While Connecticut does list its EV registrations, they don't list the most popular EVs right off the bat. However, we did some digging, and we want to share some popular stats we've found.
First, unsurprisingly, Tesla was the most sold EV between July and December of 2021. While we don't have stats for the entire year, it's safe to say that Tesla makes up for the majority of sales. With 2,259 vehicles sold, Tesla made up for around 17% of all EV sales.
Next up, we've got Toyota, with their hybrid EVs, mainly the Prius Prime. The state sold 815 Toyota electric vehicles, making up about 6% of EV sales.
Ford, Hyundai, BMW, and Chevrolet, make up the other popular EVs in the state, selling 305, 315, 187, and 162 electric vehicles, respectively. These made up 2.2%, 2.4%, 1.4%, and 1.2% of sales in the state.
Of course, there were other EV sales, too, including Smart cars. But these numbers are so small that they didn't really make a dent in percentages. Since we're just talking about the most popular EVs in Connecticut, we're going to stick with the top six.
The 6 Most Popular EVs in Connecticut
Now that you know how we're measuring popularity, let's talk about the cars themselves, what makes them worth it, and if we recommend them to you.
Tesla Model 3
The most affordable and well-liked vehicle produced by Tesla is the Model 3. The Model 3 is ideal for anyone who wants access to fast-charging stations and long-range driving without constant charging. It has a potential range of more than 300 miles, which is the best on our list.
Although the Tesla Model 3 is Tesla's most affordable vehicle, we wouldn't say it's cheap. If bought as a brand-new vehicle, you'll be spending around $42,990. Used cars aren't much cheaper, with many going for about $35,000. However, this car does qualify for the $7,500 federal tax credit, so that could help you save some money.
The vehicle is stylish and appealing and has a sizable battery and engine. With a minimum 50 350 V lithium-ion battery, the car can also go 0-60 mph in just 5.1 seconds, if that's important to you.
Tesla is also one of many electric vehicles that supports one-pedal driving. This slows the vehicle down when you gradually release the accelerator. When you time it perfectly, you may also be able to avoid pressing the brake pedal altogether. This can help you save a small amount of battery life.
As you stop, regenerative braking can also keep the Tesla in place. This prevents the irksome creeping forward that some automatic cars exhibit. And it's powerful enough to keep the car in place on a moderately steep hill. Because the Model 3 lacks a specific handbrake, like one you would find in a manual or certain automatics, that can be helpful.
Toyota Prius Prime
Next up, we have the Toyota Prius Prime. Now, technically this car isn't a true EV, since it's a hybrid model. But due to its popularity in Connecticut, it's worth talking about since it can be charged and used more like an EV.
The plug-in hybrid powertrain in every Prius Prime model is the same. The car can travel up to 25 miles on EV energy alone. As the electric power runs out, it will transform into a standard hybrid. It has a combined fuel economy rating of 54 MPG, according to the EPA.
What's more, its battery is easily recharged in around 5.5 hours using a typical 120-volt household outlet, or in about 2 hours using a 240-volt outlet.
The best part about this PHEV? The starting MSRP is a mere $28,220, and that's for a brand-new base model. Much cheaper than the cheapest Tesla!
Hyundai Ioniq 5
Going back to complete EVs, the Hyundai Ioniq 5 is a great option if you're looking for some extra room. Starting at about $60,000, the rear-drive, single-motor, long-range variant has a range of 303 miles.
Its 350-kW DC fast charging capacity is excellent. It allows for charging rates that are just as swift as those provided by far more expensive and opulent EVs, like BMW. The rear-drive arrangement also produces 225 horsepower and 258 pound-feet of torque. This can accelerate the Ioniq from 5 to 60 mph in just 7.4 seconds.
Thanks to two 12.3-inch displays that take up much of the dash, technology is front and center in the Ioniq 5. In fact, the navigation and vehicle operations are handled via the center touchscreen. It also comes with Bose audio and a head-up display.
Hyundai's Bluelink app, available for all trims, allows you to remotely lock your doors and receive range or charge status updates. This service is free for three years and $10 a month (or $99 a year) after that.
Ford Mustang Mach-E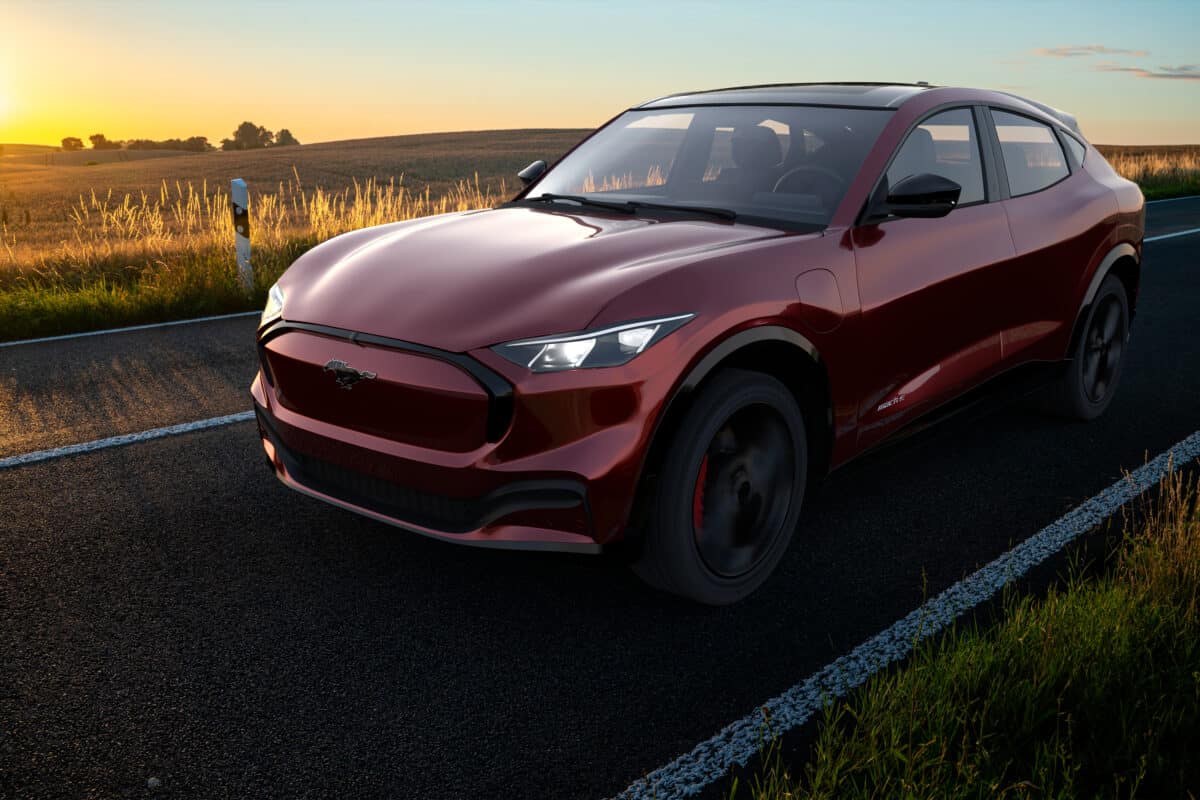 Have a need for speed? If you're looking for a sports car, the Ford Mustang Mach-E EV is the one you want. With a base MSRP of almost $47,000, it's not cheap by any means, but it's worth it for the power and range alone.
It comes with a battery pack that has a range of either 70.0 kWh or 91.0 kWh. And Ford states that the Mach-E GT Performance will accelerate from 0 to 60 mph in under 3.5 seconds thanks to its 480 horsepower and maximum of 634 pound-feet of torque.
With an efficiency of 37 kWh of battery power utilized per 100 miles, the estimated range for an all-wheel-drive Mach-E is about 270 miles, pretty close to the Tesla. Not bad for a sports vehicle.
With a 150-kW DC fast charger, the Mach-E can charge 61 miles in as little as 10 minutes or achieve a 10% to 80% battery charge in 45 minutes. Ford also has a home charging station for sale, called Connected Charge, making charging even faster. However, this does have an additional charge.
BMW iX
The most expensive option on our list, the BMW iX is a popular choice amongst residents of Connecticut, but the base price will cost you around $84,000.
On a full charge, the iX can travel around 288 miles. While it can't match Tesla's 300 miles yet, it's certainly better than the Bolt or Prius. So, if mileage is your concern, you don't have to be worried about the iX getting you to where you need to go.
Your chosen charging technique will affect how long the iX takes to charge. Connecting at a DC fast charging station is the quickest way to charge the iX, adding 90 miles of range in 10 minutes. This means it can be fully charged in about an hour. The iX can be fully charged in between 11 and 16 hours using a Level 2 public charging station or 240-volt outlet.
One of the best parts about the BMW iX is the warranty coverage. A limited warranty covers four years or 50,000 miles, the powertrain is also covered for the same amount. However, EV components have a warranty of eight years, or 100,000 miles, and complimentary maintenance is covered for three years, or 36,000 miles.
Chevrolet Bolt
Before we dive into the Chevrolet Bolt, let's be completely honest — this car won't be winning any awards any time soon. But if you're looking for a daily commuter, and don't want to spend over $40,000, this is perfect.
Starting at a little under $28,000, the Chevrolet Bolt still has some pretty great features. These include a roomy interior and plenty of cargo space once you fold the rear seats down. The Bolt is currently the most affordable new EV you can purchase thanks to the $7,500 federal tax credit coming back into effect.
The EPA estimates that the 2023 Bolt EV has a range of 259 miles on a single charge. So, you're getting a great deal with the Bolt. Chevy claims that by offering a dual-level charging line for the Bolt EV that can be plugged into both Level 1 (120-volt) and Level 2 (240-volt) outlets, many customers won't need to purchase a separate home charger.
The battery can be fully charged in seven hours thanks to the Bolt's maximum Level 2 charging speed. With a Level 3 connection and DC fast charging, you can increase the range by around 100 miles every 30 minutes.
The 6 Most Popular EVs in Connecticut: Wrap Up
While there are many different EV options on this list, they're all great if you're a local Connecticut resident looking for a popular and easy-to-buy car. In reality, you can get any of these cars, so the choice will be up to your needs and budget.
The image featured at the top of this post is ©Sean Pavone/Shutterstock.com.