Minecraft is one of the oldest and most versatile games you can play today. Moreover, both kids and adults can enjoy everything that Minecraft offers. So, if you're a parent wondering whether Minecraft is safe for kids, this Minecraft Parents' Guide will help you make a fully informed decision.
The writers here at History-Computer are active gamers and concerned parents just like you. Fortunately, that gives us a unique perspective regarding games like Minecraft and whether it's appropriate for young people. Minecraft is relatively safe, cheap, and educational. However, there are a few things you must watch out for when it comes to your child's safety and mental health.
Without further ado, let's talk about Minecraft.
Is Minecraft Safe for Kids?
No Minecraft Parents' Guide would be complete without answering the most pressing question: "Is Minecraft safe for kids?" As a parent, yes. Minecraft is safe for kids. However, we must also give some disclaimers about safety.
Any internet-capable games invite security concerns. Especially when it comes to our impressionable and sometimes gullible children. The following sections will teach you about Minecraft chats, potential scams, and adverse gameplay effects.
Online Chats and Meeting Strangers
These days, we have home security systems and deadbolt locks on all our exterior doors to keep nefarious individuals away from our children. Then, we hand them tablets, computers, and gaming consoles, effectively letting those nefarious individuals into our homes undetected.
However, this doesn't stop us from letting our kids play because we know how to control it. Your child can still play Minecraft without chatting. In fact, they can only chat with other people if they join someone else's server. To avoid this, let your child create their own world, and ensure they stay in it. They will be the only person on that server, and therefore, can't chat with anyone.
Of course, as a parent, you must be diligent and ensure that your child isn't joining other people's servers. It's also a good idea to check your child's devices for popular gaming communication platforms like Discord and Twitch to keep them safe.
Scams
Scams, chats, and servers go hand in hand. Running a Minecraft server takes time and money. Those of us who have managed servers certainly appreciate donations for all our hard work. Many of us only invite people we already know into our servers and we don't accept donations from kids, which we feel is unethical.
Unfortunately, not every server owner has this same sense of morality. Moreover, some server owners actively target kids because they're more susceptible to scams. If your child has ever played Roblox, then you may already know where we're going with this. Someone will tell your child to send money for special perks or permissions. Your kid forks over their birthday money, and before they know it, they're kicked from the server.
Minecraft, as we'll explain further in the next section, isn't a pay-to-play game. After the upfront costs, you don't need to pay for anything else, although Minecraft does have some official in-game purchases. It's important to keep an eye on our children to ensure they aren't falling for scams on other people's servers.
Your Child's Health
Minecraft is addictive. There's no doubt about it. Even adults can get lost for hours playing with Redstone and mining for diamonds. Before installing Minecraft for your kids, it's a good idea to set boundaries. Whether you want chores done before gaming or you want to set time limits, it's essential to set appropriate expectations beforehand and enforce them.
Minecraft gets stressful (see Redstone for reference), and the graphics can induce headaches and nausea in some people. Protect your child from the adverse effects of too many hours of gameplay by limiting the hours they play.
Going back to Minecraft servers, bullying, and toxic people are common in open Minecraft services. Our best advice in this Minecraft Parents' Guide is to simply avoid public or private servers run by individuals you don't know.
How Much Does Minecraft Cost? Is It Free?
Minecraft is not a free game. However, you don't have to pay any more money after purchasing it. Game pricing can be a tad confusing for those unfamiliar with the industry's pricing structures. Read the following sections of this Minecraft Parents' Guide to get a better understanding of the upfront costs of the game.
Upfront Minecraft Costs
You will need to pay to install Minecraft. The price varies depending on whether your child wants to play the game on an Xbox, PlayStation, PC, or mobile device. However, you only need to pay to install the game.
Furthermore, be mindful of the fact that you must pay for each device they want to use. For example, if you purchase Minecraft Bedrock for PC, you must still buy Minecraft for Android if they're going to play on that device as well.
Fortunately, you don't need to pay for Minecraft twice if you upgrade to a new device. For example, if you purchase Minecraft for your child's Android tablet, you can sign into the same Google Play account on another Android device and reinstall it for free.
In-Game Purchases
Minecraft does have an official Minecraft store. This store is one of the reasons your child may request additional funds. The only question is, "Are these in-game purchases worth it?" Ultimately, only you can answer that question. However, we can explain Minecraft's in-game purchases to help you decide.
Here's what you can buy in the official Minecraft store:
New Skins – Changes the way Steve and other creatures look in the game.
Texture Packs – Changes the way the game and materials look.
Adventure Maps – Changes the Minecraft World and the way it looks.
Mini Games – Introduces games within Minecraft.
Survival Spawns – DLCs that include maps with pre-built structures.
There are plenty of free items in the Minecraft Marketplace, so don't feel pressured to break out your credit card without browsing first. Also, ensure you purchase items from the official Minecraft Marketplace store to avoid scams.
Is There Violence in Minecraft?
One of the main concerns for many parents regarding video games is if they're violent. Minecraft doesn't have gore and it likely isn't going to encourage your child to commit crimes or hurt other people. However, the ESRB rating does include a Fantasy Violence descriptor.
So, what does Fantasy Violence mean and is it inappropriate for kids? Well, your child will battle monsters and harvest sheep, chickens, and other animals for food and supplies. Fortunately, the game's cartoonish style and lack of violent graphics make it relatively harmless. When Steve (Minecraft's main character) needs to eat, you can hit an animal to kill it. The creature disappears and all that's left is floating meat on the screen.
Furthermore, Steve can die, too. However, it isn't brutal. He simply disappears and anything he's carrying floats above the ground on the screen. Overall, most would agree that this game isn't violent because there's nothing graphic.
What Is Minecraft's Age Rating?
Minecraft's official ESRB age rating is E10+. The E10+ rating means it's suitable for everyone over 10 years old. However, that isn't set in stone and this Minecraft Parents' Guide wouldn't do your child such an injustice by failing to explain further.
The only reason the Entertainment Software Rating Board disapproves of it for younger players is because of the in-game chat options, fantasy violence, and in-game purchases. If you think you can monitor those three things, the game may very well be suitable for your younger children.
What Do You Do in Minecraft?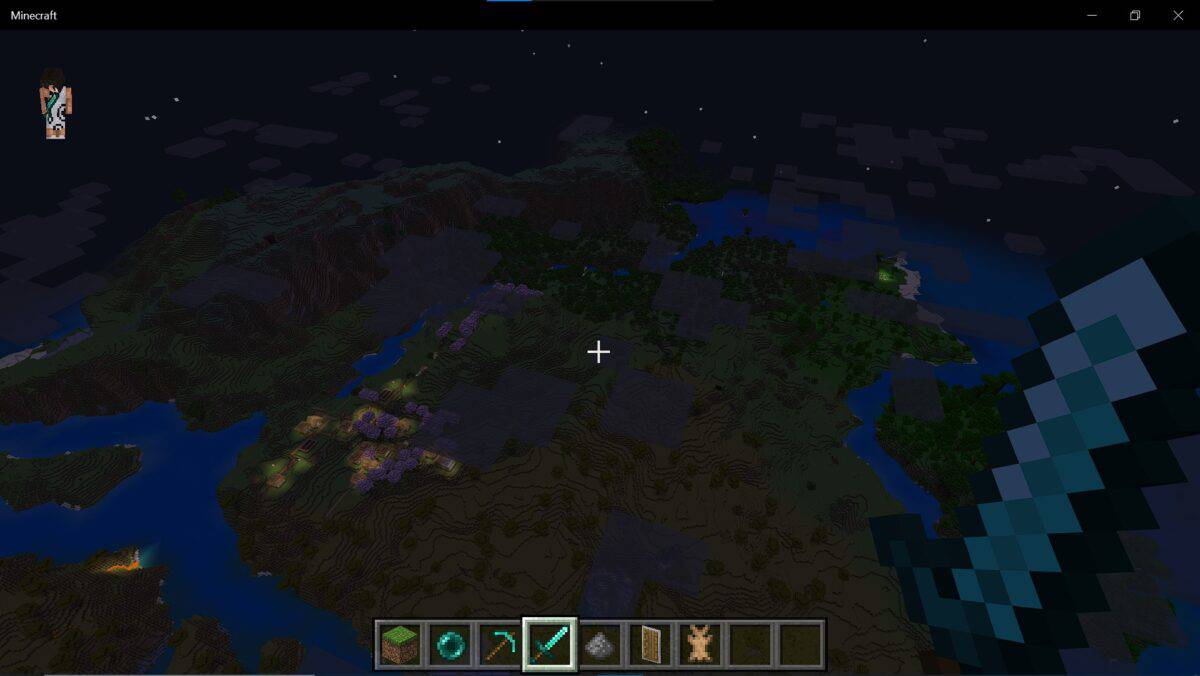 Minecraft is a building and fantasy game where you play from the perspective of Steve. There's no storyline and it's an open-world map. You can travel and explore, build, mine, and defend yourself and your creations from creatures like skeletons, zombies, and Creepers.
When you first create a world, Steve has a workbench and not much else. You can begin gathering supplies from trees and other objects to build shelters, homes, boats, and nearly anything imaginable.
Furthermore, you can play in survival mode where you must fend off creatures of the night, peaceful mode, or creative mode. Those looking for excitement should definitely try survival mode, while those looking to relax typically enjoy peaceful or creative modes.
Is Minecraft Okay for 7-Year-Olds?
Officially, Minecraft is not suitable for 7-year-olds or anyone under 10. However, many younger kids play this game, and it's much safer than other video games on the market. There's no real violence and it isn't too complicated.
The game has been around for more than a decade, so it's incredibly popular, especially as a starter video game. The decision to let your child play Minecraft before the age of ten is yours, but it's definitely one of the better options for younger players.
Of course, like any game, you'll want to monitor your child's activities and enable parental controls. We should also note that even if your child is older, it's still a good idea to monitor their online activities.
Minecraft Parent's Guide Wrap-Up
We hope you've enjoyed this Minecraft Parents' Guide. The game is relatively harmless and a lot of fun! Minecraft is an excellent game for adults and children. However, it's important to ensure your child isn't communicating with strangers or falling for scams on other people's servers. Children have been playing Minecraft for decades, learning new skills, and overcoming obstacles. Although the game isn't right for everyone, it is better for younger gamers than many other video games.
The image featured at the top of this post is ©Kleber Cordeiro/Shutterstock.com.