If you have a gaming console, an HD or 4K TV, a Blu-ray player, or even a desktop computer with a monitor, you have an HDMI cord in your home. In all likelihood, you have several. As a matter of fact, low estimates say that the total number of HDMI cords and devices floating around out there in the world surpasses 11 figures. However, what about those other kinds of HDMI cords? Take micro HDMI vs. mini HDMI, for example. What are they used for? What's the real difference between the two? The answer isn't as simple as you'd think.
Micro HDMI vs. Mini HDMI: Side-By-Side Comparison: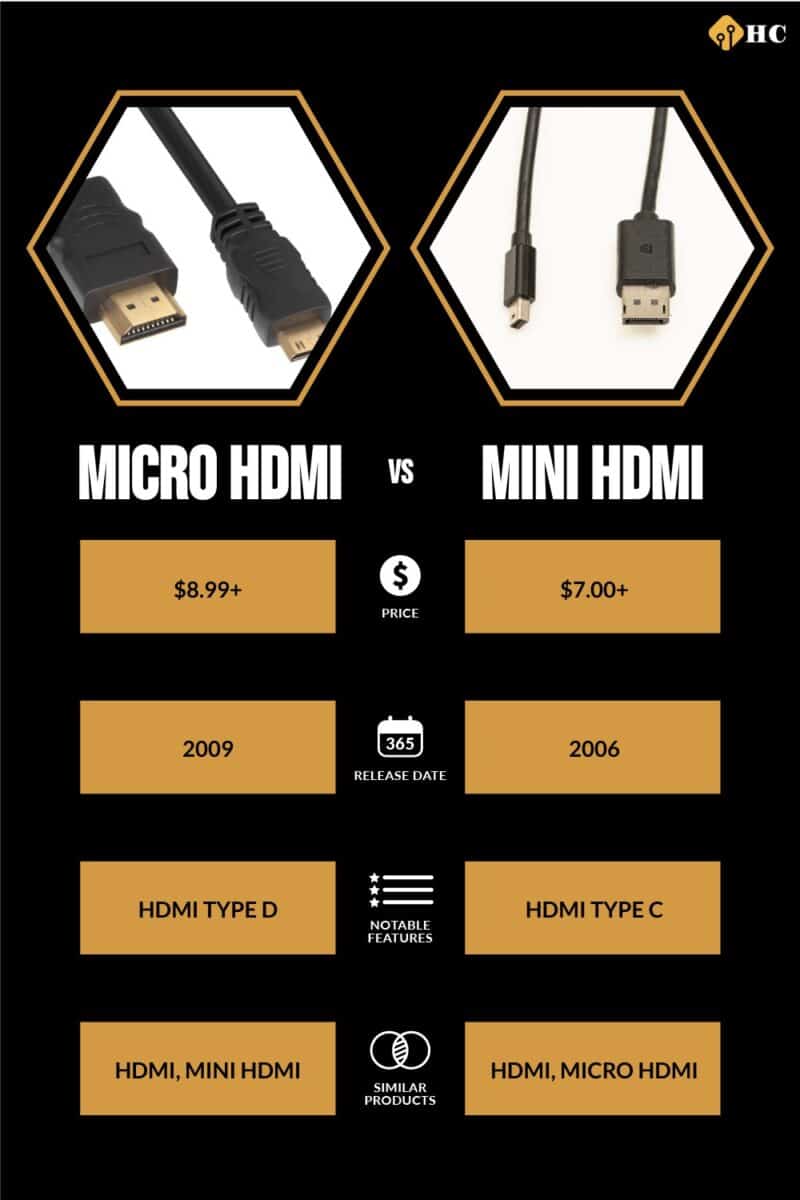 | | The Micro HDMI Cord | The Mini HDMI Cord |
| --- | --- | --- |
| HDMI Version | HDMI 1.4 | HDMI 1.3 |
| First Introduced | June 5th, 2009 | June 22nd, 2006 |
| Also Known As | HDMI Type D | HMDI Type C |
| Size | 5.83 mm x 2.20 mm | 10.42 mm x 2.42 mm |
| Size Compared to HDMI | 72% smaller | 60% smaller |
| Number of Pins | 19 pins | 19 pins |
| Pin Rows | Two | One |
| Primary Uses | Tablets, mobile phones | DSLR cameras, camcorders |
Micro HDMI vs. Mini HDMI: Key Differences
While the chart above shows us that there are many differences between these two similarly named HDMI variants, it nevertheless helps to dive a little deeper into each one of these differences below. From their varying sizes to their differences in use to their different levels of popularity, these are the key differences between the micro HDMI vs. mini HDMI.
Size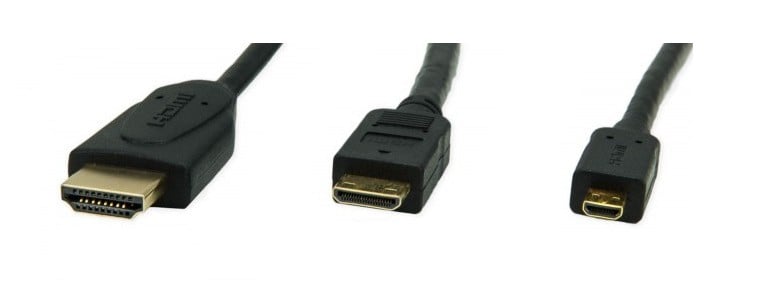 With names like micro HDMI and mini HDMI, it can be hard to say with absolute certainty which of the two is actually smaller. Here's how they measure up: The micro HDMI is about 5.8mm by 2.2mm. the mini HDMI, by comparison, is around 10.4mm by 2.4mm. This makes the micro HDMI slightly smaller than the mini HDMI. (Not to mention significantly smaller than a typical HDMI cord.) Interestingly enough, both the micro HDMI and mini HDMI contain the same number of pins as a standard HDMI cord.
With that being said, the differing sizes of the micro HDMI and the mini HDMI have a direct impact on the layout of the pins. Both have all 19 that a standard HDMI cord is known for, but the mini HDMI lays them all out in a single row. The micro HDMI, by comparison, retains the two-row design of a standard HDMI cord. All in all, the micro HDMI cord is about 72% smaller than a standard HDMI cord while the mini HDMI cord is just 60% smaller.
Our Pick
Amazon Basics Flexible and Durable Micro HDMI Cable
6-foot flexible, lightweight cable
Combines HD audio and video (up to 2160p) into one cable for home theater needs
Connects digital devices to HDTV or a projector with full-size HDMI ports
Supports Ethernet, 3D, 4K HDR and ARC (4K@60Hz, 18Gbps)
Solid copper conductors and full metal jacket shielding for strength and connectivity
We earn a commission if you make a purchase, at no additional cost to you.
Use
As to be expected, different size HDMI cords have different uses. The mini HDMI, introduced a few years prior to the micro HDMI, sees most of its primary usage with DSLR cameras and camcorders. In the early years of this HDMI Type C, it also saw use with mobile phones, MP3 players, and the like. However, across the board, the mini HDMI has largely been replaced by the micro USB and the USB-C. You might encounter a camera or two with a mini HDMI port, but it's growing increasingly likely as the micro USB and USB-C continue to be implemented instead.
The story is very much the same with the micro HDMI. While first debuted in 2009 as an essential part of the mobile phone and tablet user experience, the micro HDMI subsequently saw itself getting phased out in favor of the micro USB and the USB-C. The biggest difference in use between this HDMI and the mini HDMI? The mini HDMI had much more time out there on the market as the go-to in comparison to the micro HDMI. This makes the micro HDMI much more rare than the mini HDMI, though neither one can hold its own against the rise of the USB-C in particular.
Popularity
This previous section leads directly into this final one: The difference in popularity between the micro HDMI vs. mini HDMI. As we discussed, the mini HDMI was — and, with some products, still is — used in DSLR cameras and camcorders across various popular consumer brands. The mini HDMI was a necessary tool for displaying and transferring photos and videos from the camera to a computer or television. Some products still rely on these mini HDMI cords to this day, even with the rising popularity of USB-C.
The micro HDMI, by comparison, is much less popular. Have you ever had to use a micro HDMI cord with your phone or your tablet? In all honesty, probably not. They were only used with these devices for a brief moment in time before micro USB and USB-C took the stage. As such, the micro HDMI was never truly "popular" in the same sense that the mini HDMI was. It's even less popular today, with only a select few GoPro models and other small cameras needing this cord to function. (Even then, they've slowly begun to phase them out for USB-C.)
Mini HDMI to HDMI Cable 10FT, Highwings (4K 60Hz) High Speed HDMI to Mini HDMI Male Bi-Directional 2.0 Cord, for HDTV, Tablet, Camera and Camcorder [Aluminum Shell, Nylon Braided]
【Bi-Directional Mini HDMI Transmission】Supports Mini HDMI to HDMI & HDMI to Mini HDMI. It helps you connect digital cameras, camcorders, tablets, graphics cards, or other Mini HDMI-enabled devices...
【Advanced HDMI 2.0 Feature】The mini HDMI cable support Ethernet, 3D, Audio Return Channel (ARC), Dolby True HD, 48-bit color depth, Meets the latest HDMI standards (4K Video at 60 Hz, 2160p, 48...
【Wide Compatibility】This Mini HDMI Cord works with HDTVs, GeForce GT 430 Graphics Card, Camcorder, NVIDIA SHIELD Tablet K1, Viking Pro 10, NUC Barebones Desktop etc. Compatible with Raspberry Pi...
【Stable Transmission & Ultra-Durable】Gold-Plated Connectors ensure stable and reliable signal transmission; Nylon braided jacket shielding can reduce electromagnetic Interference, which withstand...
【Tips】 This hdmi to mini hdmi cable 10ft is HDMI interface and Mini HDMI interface, the length is 10ft, Please confirm whether this product meets your needs before purchasing. We provide the...
We earn a commission if you make a purchase, at no additional cost to you.
The History of HDMI
Before there was micro HDMI vs. mini HDMI, there was just regular old HDMI. First unveiled in December of 2002, the creation of the HDMI cord was a collaborative effort between some of the top names in tech and production at the time. Scores of talented minds from Panasonic, Universal, Hitachi, Disney, Sony, Fox, Philips, Warner Bros. Silicon Image, Dish Network, Toshiba, CableLabs, Thomson, and DirecTV all came together to bring this new and exciting technology to life. The first products enabled with HDMI ports subsequently began hitting the shelves in early 2003.
By the time 2004 rolled around, HD televisions began adopting HDMI technology over other long-held traditional technologies. Remember those red, white, and yellow RCA cables? Yes, the advent of the HDMI cord effectively eliminated the need for them. Nearly 20 years later, televisions remain one of the most common spots where you can expect to encounter an HDMI port. Other top spots include gaming consoles, desktop computer monitors, and 4K Blu-ray players. By the beginning of 2005, more than 5 million devices with HDMI ports had entered homes, offices, and businesses the world over.
In just five years, that measly 5 million had risen to a much more impressive one billion. Nearly two decades since the HDMI cord was first standardized, that number has multiplied exponentially. Today, it's closer to 10 billion. That's right — around the world, more than 10 billion devices are enabled with HDMI ports or HDMI technology. The HDMI cord hasn't stayed the same throughout that time, however. It has been consistently changed, continually upgraded, and constantly improved over the years. The micro HDMI vs. mini HDMI are proof of this.
Emergence of HDMI Variants
HDMI Version 1.0 was released in December of 2002. Future improvements were practically guaranteed with a name like this. As such, HDMI Version 1.1 made its debut in May of 2004. It added better support for DVD-Audio than the previous HDMI version. This gave way to HDMI Version 1.2, released in August of 2005. This was a much bigger upgrade compared to the previous HDMI variant, adding support for all sorts of new functions and features including 720p video at a refresh rate of 100 and 120 Hz. HDMI Version 1.2a came that December.
It wasn't until HDMI Version 1.3 that we got the first glimpse at the mini HDMI. After the failure of the HDMI Type B — which never truly had a chance to thrive — the establishment and standardization of the mini HDMI was met with some reluctance. However, it didn't take long for the tech industry to see the use and necessity of a smaller HDMI cord for smaller consumer electronics such as cameras and MP3 players. Released in June 2006, an updated HDMI Version 1.3a arrived in November of that same year.
After that, there was no new HDMI type until 2009 with the release of HDMI Version 1.4. This long-awaited update brought forth the micro HDMI along with improved specifications for higher resolutions and even 3D video. It was, without a doubt, the biggest update to the HDMI cord technology since its 2002 debut. HDMI Version 1.4a and HDMI Version 1.4b, released in March of 2010 and October of 2011, only underlined this importance. It's interesting to note that the short-lived legacy of the micro HDMI doesn't line up with the huge legacy of this otherwise major update.
Micro HDMI vs. Mini HDMI: Pros and Cons
| Pros of Micro HDMI | Cons of Micro HDMI |
| --- | --- |
| Supports uncompressed video and audio | Effectively replaced by the USB-C |
| Has a bandwidth of as much 18 GB a second | More difficult to find compared to standard HDMI cords |
| Pros of Mini HDMI | Cons of Mini HDMI |
| --- | --- |
| More widely used than micro HDMI | Also facing replacement by the USB-C |
| Important for DSLR cameras and camcorders | Easier to break than a standard HDMI |
Micro HDMI vs. Mini HDMI: 5 Must-Know Facts
HDMI delivers uncompressed video from one device to some form of display technology. However, audio can be either compressed or uncompressed, depending on the technology.
When tech companies and production studios noticed the potential of HD TV, they collaborated on a technology that could transmit digital video, surround sound, and metadata through one single cord. It replaces nearly a dozen other cords from the analog era.
The latest HDMI version (2.1a) supports data transfers at a bitrate of as much as 48Gbit/s.
HDMI Version 2.1a supports 10K video as well as a frame rate as high as 120 frames per second.
There are three primary types of HDMI cables with various sub-categorizations beneath these three umbrellas: Standard, High Speed, and Ultra High Speed.
Micro HDMI vs. Mini HDMI: Which Is Better For You?
So, is there a winner here? Can it be argued that one of these HDMI variants is somehow better or worse than the other? In truth, not really. Neither one is as capable or as effective as a standard HDMI cord, but they nevertheless serve their own designated purposes in the world of consumer electronics. Therefore, we can't discount either one. They fill a need, even if they don't do it as effectively as a USB-C or other type of mini cord. The best option for you is whichever one your device ultimately calls for.
The image featured at the top of this post is ©Negro Elkha/Shutterstock.com.