Landscaping takes on many forms when spring arrives, but it typically involves lawnmowers both gas-powered and electric. Today we're going to take a look at two collections of mowers designed to make life easy with our Makita self-propelled lawn mower vs. RYOBI 80V mower review.
Makita Self-Propelled Lawn Mower vs. RYOBI 80V Mower: Side-by-Side Comparison
| | Makita | RYOBI |
| --- | --- | --- |
| Industry | Power Tools | Machinery |
| Founded | 1915 | 1943 |
| Headquarters | Anjō, Japan | Cuchu, Hiroshima Japan |
| Website | makitatools.com/ | https://www.ryobitools.com/ |
Great for Larger Lawns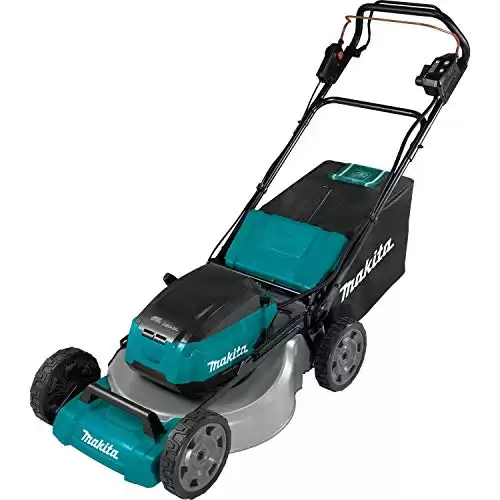 We earn a commission if you make a purchase, at no additional cost to you.
Makita Self-Propelled Lawn Mower vs. RYOBI 80V Mower: What's the Difference?
Manufacturers have managed to add some interesting tech to cordless mowers, but most have a similar set of features once you dig into the tech specs. That's the case with RYOBI and Makita mowers, although one company has an advantage with self-propelled mowers.
Makita Self-Propelled Lawn Mowers
Makita has more than 20 lawnmowers for sale, which may seem overwhelming if you're interested in the brand. Well, that's not the case once you dig into their lineup which consists of bare tools and kits that come with a variety of batteries. There are three types of lawnmowers in their current catalog with XGT, LXT, and ConnectX series mowers between the residential and commercial classes.
| | XML11Z | GML01Z |
| --- | --- | --- |
| Power | 36V | 40V |
| Series | LXT | XGT |
| Motor | Brushed | Brushless |
| Deck | 22 inches | 22 inches |
| Cut Width | 21 inches | 21 inches |
| Cut Height | 1 ¼ – 4 inches | 1 ¼ – 4 inches |
| | CML01Z | XML06Z |
| --- | --- | --- |
| Power | 40V | 36V |
| Series | ConnectX | LXT |
| Motor | Brushless | Brushless |
| Deck | 22 inches | 19 inches |
| Cut Width | 21 inches | 18 inches |
| Cut Height | 1 ¼ – 3 inches | 1 ¼ – 4 inches |
| | XML08Z | XML09Z |
| --- | --- | --- |
| Power | 36V | 36V |
| Series | LXT | LXT |
| Motor | Brushless | Brushless |
| Deck | 22 inches | 22 inches |
| Cut Width | 21 inches | 21 inches |
| Cut Height | 1 ¼ – 4 inches | 1 ¼ – 4 inches |
Makita Residential Self-Propelled Mowers
At this time, there is only one self-propelled mower listed as a residential model with the Makita LXT XML11Z. This mower has many of the same features as models in the commercial class, but with one key difference.
The Maktia LXT XML11Z has a 22-inch deck with a cutting width of 21-inch and it's lightweight at only 62.5 pounds with a battery. The mower has a maximum speed of 3,000 RPMs and is an LXT model, so it uses two lithium-ion batteries instead of one. In this case, it's dual 18V batteries. The cutting height for the Makita LXT XML11Z is 1-1/4 to 4 inches and it has the same basic features as the commercial models.
The biggest difference is the motor, which is brushed on this residential mower, and brushless on commercial mowers. That's important for longevity, and something to consider if you have a large yard and plan to use the mower frequently. This mower is available as a bare tool without batteries, while the Makita XML11CT1 comes with four 5.0Ah batteries and a dual-port charger.
Makita Commercial Self-Propelled Mowers
If you have an eco-friendly mowing business or want something with a bit more oomph for property, Makita's commercial class mowers are an interesting alternative. There are five models to choose from, all of which are available as bare tools or in kit configurations.
The Makita GML01Z is from the XGT line, which uses one 40V lithium-ion battery. It has the same size deck and cutting width as their residential model, but won't break your back at 72.5 pounds with the battery installed. It has a brushless motor like the rest of their commercial mowers and a steel deck for increased durability.
This GML01PL kit comes with a massive 8.0Ah battery while the GML01SM has a 4.0Ah lithium-ion battery and charger. The other 40-volt mower in this lineup is the Makita CML01Z. It has the same base specifications as the rest of their cordless commercial mowers, but with slightly less cutting height and ConnectX compatibility.
There are also three LXT commercial mowers, all with a 36-volt battery system that uses two 18v batteries. Two of these mowers have 22-inch decks, but the Makita XML06Z is smaller. This mower has a 19-inch deck and 18-inch cutting width. The types of batteries that come with these mowers vary depending on whether you want the mower itself or a complete package.
Makita Self-Propelled Lawnmower Pricing
Self-propelled mowers are always more expensive than traditional push mowers regardless of the brand or how it's powered. That's the case with Makita mowers, and the most affordable option is the Makita LXT XML11Z. As a bare tool, it's around $450 but only $100 more with four batteries. That's more than enough power to keep the mower going until most yards are finished.
Commercial models with steel decks are more expensive. The dual-battery powered Makita XML08Z is priced at $750 for the mower while the smaller XML06PT1 is slightly more expensive with four batteries at $850. Pricing is subject to change as new models arrive each season, and Makita cordless mowers are easy to acquire online through Amazon or locally at Home Depot.
RYOBI 80V Self-Propelled Mowers
RYOBI is no stranger to cordless tools whether it's a drill, saw, leaf blower, or lawn mower. The company has an impressive array of cordless mowers that start at 18V and top out at 40 volts. Their lineup is easy to digest, but if you want to go over 40 volts, there's only one option that isn't a riding mower.
The RYOBI RYPM8010 is a new 80V mower from the company with some unique features. It's a Whisper mower, which is said to be 70% quieter than gas. That's due in part to the efficient brushless motor, and the company claims it delivers more cutting power than a 233cc gas-powered lawnmower.
With a rating of 90 minutes, the 80V battery is capable of mowing an acre. It will recharge in less than an hour with the 80V Hyper Charger and has a Smart Trek variable speed system. What got our attention is the deck, and the two sets of lawnmower blades that spin beneath the mower to crosscut your grass.
Beneath the RYOBI RYPM8010 is a 30-inch extended diagonal deck with two blade systems and four blades. The mower has a 10-position single-point height adjustment with a range of 1 to 4" and a bright LED headlight that allows homeowners to finish up when it starts to get dark. The mower, battery, and charger are all backed by a 5-year warranty.
RYOBI Self-Propelled Mower Pricing
While we expect RYOBI's new 80V walk-behind mower to be popular, it was shown off earlier this year with a launch date of spring 2023. The company hasn't released details on pricing, although you can get a rough idea of what to expect based on similar models from RYOBI.
The 18-inch RYOBI PP1100 is self-propelled and from the Whisper series, just like the upcoming 80V RYOBI RYPM8010. With four batteries, it's priced at $579, and while it has dual blades, it's only an 18V mower. By comparison, the 40V brushless RYOBI RY401180 is $479 as a bare tool with no batteries or chargers included.
You can find RYOBI mowers through online retailers including Amazon, but options are limited. Unless you purchase a mower directly from the company's site, Home Depot is where you'll find the best selection locally or online. We also expect that's where the company's 80V mower will make its debut.
Updates on Makita and RYOBI Lawn Mowers
Since February 2023, both Makita and RYOBI have made great strides in the cordless lawn mower market.
New Makita models: The Makita DLM433Z was released in March 2023. It is an 18V cordless lawn mower with a 43cm cutting width. In June 2023, the Makita DLM461Z became available. It is a 36V cordless lawn mower with 90 minutes of runtime on a single charge.
New Ryobi models: The RYOBI 40V Brushless Lawn Mower was released in April 2023. It has a brushless motor that provides up to 60 minutes of runtime on a single charge. The RYOBI 60V Brushless Lawn Mower was released in June of 2023. It's a cordless lawn mower with a 51cm cutting width.
What's Coming Next for Makita and RYOBI Lawn Mowers
In the next six to 18 months, there could be several changes for Makita and RYOBI lawn mowers. Makita might release a new self-propelled lawn mower. This mower would likely have a number of features that make it easier to mow large lawns, such as a variable speed setting and a cruise control feature. They could also release a cordless 56V lawn mower with similar features. RYOBI could release a new 80V cordless lawn mower with a longer battery life.
Makita vs. RYOBI Lawn Mowers: 4 Must-Know Facts
Makita has a cordless coffee maker that utilizes its 18V battery system.
RYOBI manufactured die-cast products and printing presses before moving to power tools.
Makita's cases are Systainer-compatible and easy to stack.
The RYOBI ONE+ battery system works with more than 250 tools and accessories.
Makita Self-Propelled Lawn Mowers vs. RYOBI 80V Mower: Which One Wins?
Cutting a lawn is seasonal in some regions, but a year-round activity in others. Both of these mowers fold up for easy storage and have battery systems that can deal with yards of any size. They are also eco-friendly options to gas-powered mowers with comparable price points.
With that in mind, if you're already in need of a battery-powered lawn mower for your home, the best option is a self-propelled Makita cordless mower. These mowers have already been put to work and you can check out Makita self-propelled mower reviews to see what others think about their current lineup.
You can't do that with the RYOBI 80V RYPM8010, and there's always a chance for issues when a new product is released. RYOBI has a better warranty, however, at 5 years on the charger, mower, and battery, whereas Makita only provides a 3-year guarantee.
If you can wait, the RYOBI may be the better option, otherwise, consider Makita's mowers or comparable options from companies like DeWalt and Ego.
Self-propelled mower with speeds from 1.5 MPH to 3 MPH
Holds four batteries to extend runtime
Commercial model with steel deck and 21" cutting width
3-in-1 feature for mulching, bagging, or side discharge
Quiet mode setting to reduce noise




Buy Now

We earn a commission if you make a purchase, at no additional cost to you.

10/02/2023 11:45 am GMT
The image featured at the top of this post is ©topseller/Shutterstock.com.