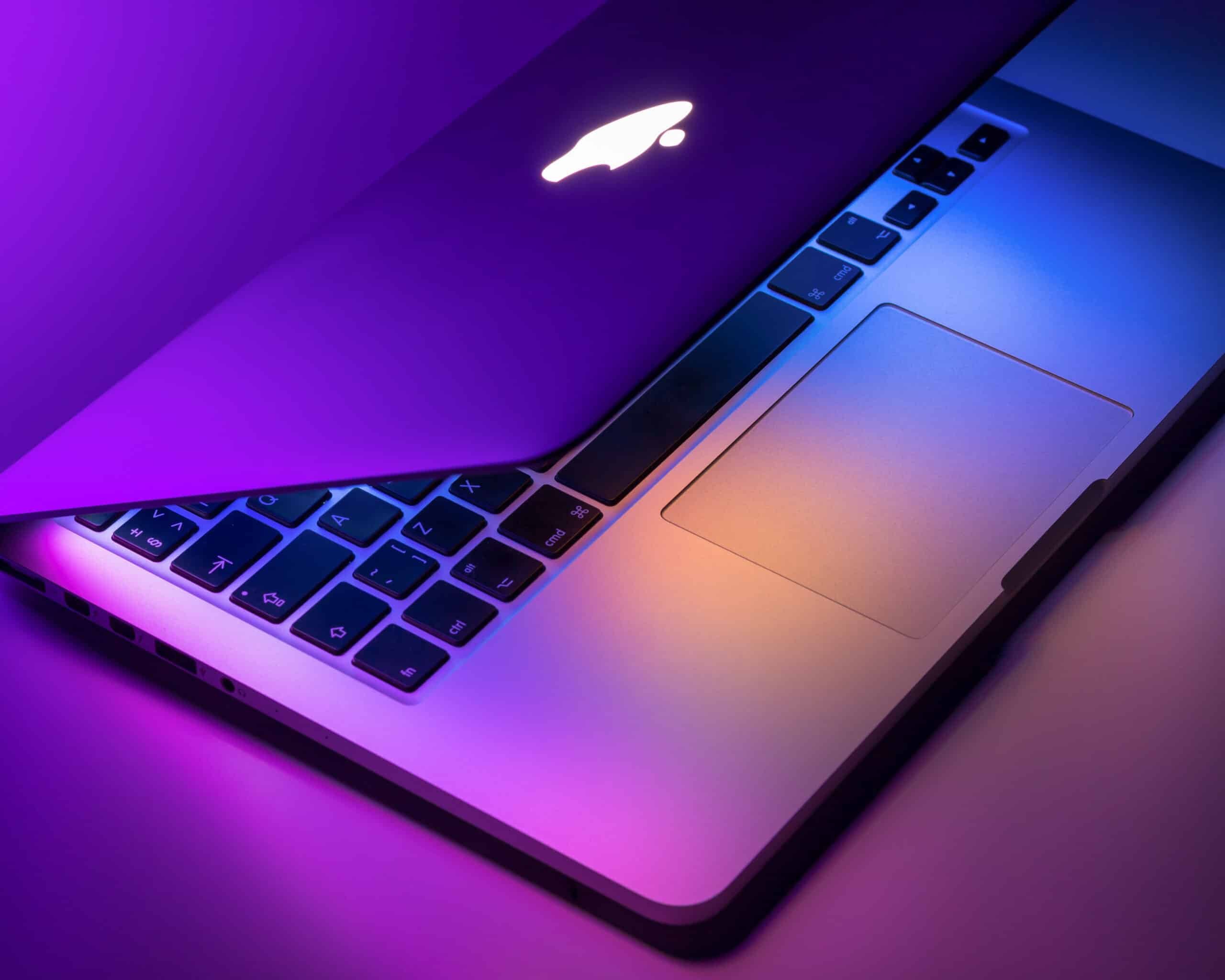 Apple fans were thrilled with the M2 chip on the most recent version of the MacBook Air. While the company recently introduced two new processors to the world with the M2 Pro and M2 Max, they also unveiled with 2023 Mac mini with the M2 processor. Our Mac mini vs. MacBook Air comparison pits two entry-level PCs from Apple against one another to see which provides the better value overall.
Mac mini vs. MacBook Air: Side-By-Side Comparison
| | Apple Mac mini | Apple MacBook Air |
| --- | --- | --- |
| Release Date | January 24, 2023 | June 6, 2022 |
| Form Factor | Mini PC | Laptop |
| Display | None, support for two displays | 13.6-inch 2,560 x 1,664 |
| Processor | Apple M2 8-core | Apple M2 8-core |
| RAM | 8GB, 16GB, 24GB | 8GB, 16GB, 24GB |
| Storage | 256GB, 512GB, 1TB, 2TB SSD | 256GB, 512GB, 1TB, 2TB SSD |
| Dimensions | 7.7"W x 7.7"D x 1.4"H | 11.9"W x 8.4"D x .44"H |
| Weight | 2.6 lbs. | 2.7 lbs. |
| Price | $599+ | $1,199+ |
Mac mini vs. MacBook Air: What's the Difference?
The most obvious difference between the Mac mini and MacBook Air is their form factor. Despite that, you may be surprised at how similar these PCs are once you take a peek inside their cases and look closely at the specifications.
Form Factor
Apple gave the MacBook Air a facelift in 2022. The new model is thinner and flatter than the previous generations. It has a 13.6-inch IPS display with a resolution of 2,560 x 1,664 featuring a wide color gamut and True Tone technology. The panel is vibrant, and the laptop is incredibly light.
At only 2.7 pounds, the MacBook Air won't break your back and slides into backpacks or cases with ease considering it's only .044 inches thick. The sleek laptop comes in four colors with Silver, Starlight, Midnight, or Space Gray.  The newest version of the Mac mini tips the scales at 2.6 pounds, so it's lighter than Apple's laptop.
This compact PC is just as portable at 1.4" H x 7.7" W x 7.7" D, but that's because there's no display or keyboard to deal with. The Apple Mac mini M2 is only available in Silver and is just as attractive as the MacBook Air. Both devices share the company's design language, even if they have completely different designs.
Apple 2022 MacBook Air Laptop with M2 chip: 13.6-inch Liquid Retina Display, 8GB RAM, 512GB SSD Storage, Backlit Keyboard, 1080p FaceTime HD Camera. Works with iPhone and iPad; Space Gray
STRIKINGLY THIN DESIGN — The redesigned MacBook Air is more portable than ever and weighs just 2.7 pounds. It's the incredibly capable laptop that lets you work, play or create just about anything...
SUPERCHARGED BY M2 — Get more done faster with a next-generation 8-core CPU, up to 10-core GPU and up to 24GB of unified memory.
UP TO 18 HOURS OF BATTERY LIFE — Go all day and into the night, thanks to the power-efficient performance of the Apple M2 chip.
BIG, BEAUTIFUL DISPLAY — The 13.6-inch Liquid Retina display features over 500 nits of brightness, P3 wide color and support for 1 billion colors for vibrant images and incredible detail.
ADVANCED CAMERA AND AUDIO — Look sharp and sound great with a 1080p FaceTime HD camera, three-mic array and four-speaker sound system with Spatial Audio.
We earn a commission if you make a purchase, at no additional cost to you.
Hardware
One of the draws to the newest MacBook Air is Apple's M2 processor. The second generation chip was launched in this laptop and has plenty of pop courtesy of the 8-core architecture. It's more efficient with better bandwidth, and it's the same processor you'll find in the 2023 Mac mini.
While these computers have the same processors under the hood, the storage and memory vary depending on the model you choose. With the MacBook Air, you'll get a 256GB or 512GB solid-state drive which is configurable up to 1TB or 2TB through Apple. The base model has 8GB of RAM, but you can upgrade it to 16GB or 24GB.
There are two base versions of the new Mac mini. The cheapest has a 256GB SSD and the other comes with a 512GB solid-state drive. Both are upgradeable to 2TB and come with 8GB of RAM. You can also bump the memory up on these models to 16GB or 24GB of unified memory.
Audio and Connectivity
Apple designed the MacBook Air with media in mind. Content produced or consumed on the laptop looks fantastic, and you won't be disappointed with the audio. It utilizes a four-speaker system with stereo sound and Dolby Atmos. The MacBook Air also supports Spatial Audio with head tracking when synced up to compatible AirPods.
This laptop has a three-microphone array with directional beamforming and a 3.5mm jack that's compatible with high-impedance headphones. On the Mac mini, you'll find the same type of headphone jack along with a built-in speaker. The tiny PC supports Wi-Fi 6E and Bluetooth 5.3 whereas the MacBook Air only has Bluetooth 5.0.
Given how these PCs are designed, it's understandable that the MacBook Air has an edge with audio – just like it does with video. With that in mind, they have a similar set of ports that can extend each computer's connectivity.
Features
Apple's Mac mini may be small, but the company packed plenty of ports onto the device. The regular model has an Ethernet and HDMI port along with two Thunderbolt 4 ports and two USB-A ports. There are also two Thunderbolt 4 ports on the MacBook Air, but that's where the similarities end.
While the MacBook doesn't have as many ports, it can simultaneously support an external monitor with a resolution up to 6K. It also provides users with up to 18 hours of battery life per charge and has a 1080p FaceTime camera which pairs nicely with the speaker array. Touch ID, the Force Touch trackpad, and MagSafe 3 are other notable features on the MacBook Air.
This is an area that's not particularly close as the Mac mini is a barebones PC when it comes to flagship features. While it can do many of the same things as Apple's laptop, you won't get a webcam, fingerprint scanner, or any other traditional features.
Apple 2023 Mac Mini Desktop Computer M2 chip with 8‑core CPU and 10‑core GPU, 8GB Unified Memory, 512GB SSD Storage, Gigabit Ethernet. Works with iPhone/iPad
SUPERCHARGED BY M2 — Get more done faster with a next-generation chip. From rich presentations to immersive gaming, M2 flies through work and play. M2 has 8 CPU cores, 10 GPU cores, and up to 24GB...
CONNECT WHAT YOU WANT — Mac mini with the M2 chip has two Thunderbolt 4 ports, two USB-A ports, an HDMI port, Wi-Fi 6E, Bluetooth 5.3, Gigabit Ethernet, and a headphone jack. And if you want faster...
SIMPLY COMPATIBLE — All your go-to apps run lightning fast on your Mac mini desktop, from Microsoft 365 to Adobe Creative Cloud to Zoom. And over 15,000 apps and plug-ins are optimized for M2.
EFFICIENT MEMORY — Unified memory on Mac does more than traditional RAM. A single pool of high-bandwidth, low-latency memory allows Apple silicon to move data fast — so everything you do is fluid....
KEEP IT SAFE AND SECURE — M2 and macOS Ventura give Mac mini industry-leading privacy and security features, including built-in protections against malware and viruses. And the next-generation...
We earn a commission if you make a purchase, at no additional cost to you.
Pricing
Both the MacBook Air and Mac mini are marketed towards consumers interested in an affordable PC from Apple. They are also incredibly popular for that reason considering Apple is known as a premium brand and price their products as such.
Apple's Mac Mini arrives on January 24th, 2023 with a price of $599 for the base model with a 256 solid-state drive. The 512MB edition of the new Mac mini is $799. Both are affordable, but because they are new, you won't see a discount for quite some time.
By comparison, the entry-level MacBook Air with the M2 processor starts at $1,199. That's twice the price of the Mac mini with the same basic specs, although the MacBook has a monitor and keyboard. Those are two things you'll need to buy if you purchase the Mac mini unless you already have compatible gear.
Mac mini vs. MacBook Air: What's the Same?
The Mac mini and MacBook Air have very similar specifications from the RAM configurations to the M2 chip that powers the PCs. They both have a design that screams Apple and runs the latest version of the company's Mac OS.
You'll also find that the MacBook Air and Mac mini have the same warranty and excellent customer support from the team at Apple. The company also takes a sustainable approach to its products. That means you can expect eco-friendly packaging and recycled materials with the Mac mini and MacBook Air.
MacBook mini vs. MacBook Air: 4 Must-Know Facts
The fourth-generation MacBook Air was the first PC from Apple to use the M2 processor.
Apple has released five generations of the Mac mini.
The Mac mini is commonly used as a server or in home theater systems.
Steve Jobs unveiled the original MacBook Air during a keynote address in 2008.
Mac mini vs. MacBook Air: What's the Better Value?
Whether you should purchase the new Mac mini or the MacBook Air boils down to what you want from a PC and your budget. They are two of the more affordable models from Apple and both use the company's flagship processor.
Students and people that need a PC to use on the go will want to go with the MacBook Air, despite the higher price point. The Mac mini is cheaper, but you need to buy a keyboard, mouse, and monitor if you don't already have them, which can make it just as expensive as the MacBook Air.
Regardless of which model you choose, rest assured you'll be thrilled with the performance of either PC. If you like what the M2 MacBook Air brings to the table but you want more power, check our comparison with the MacBook M2 Pro.