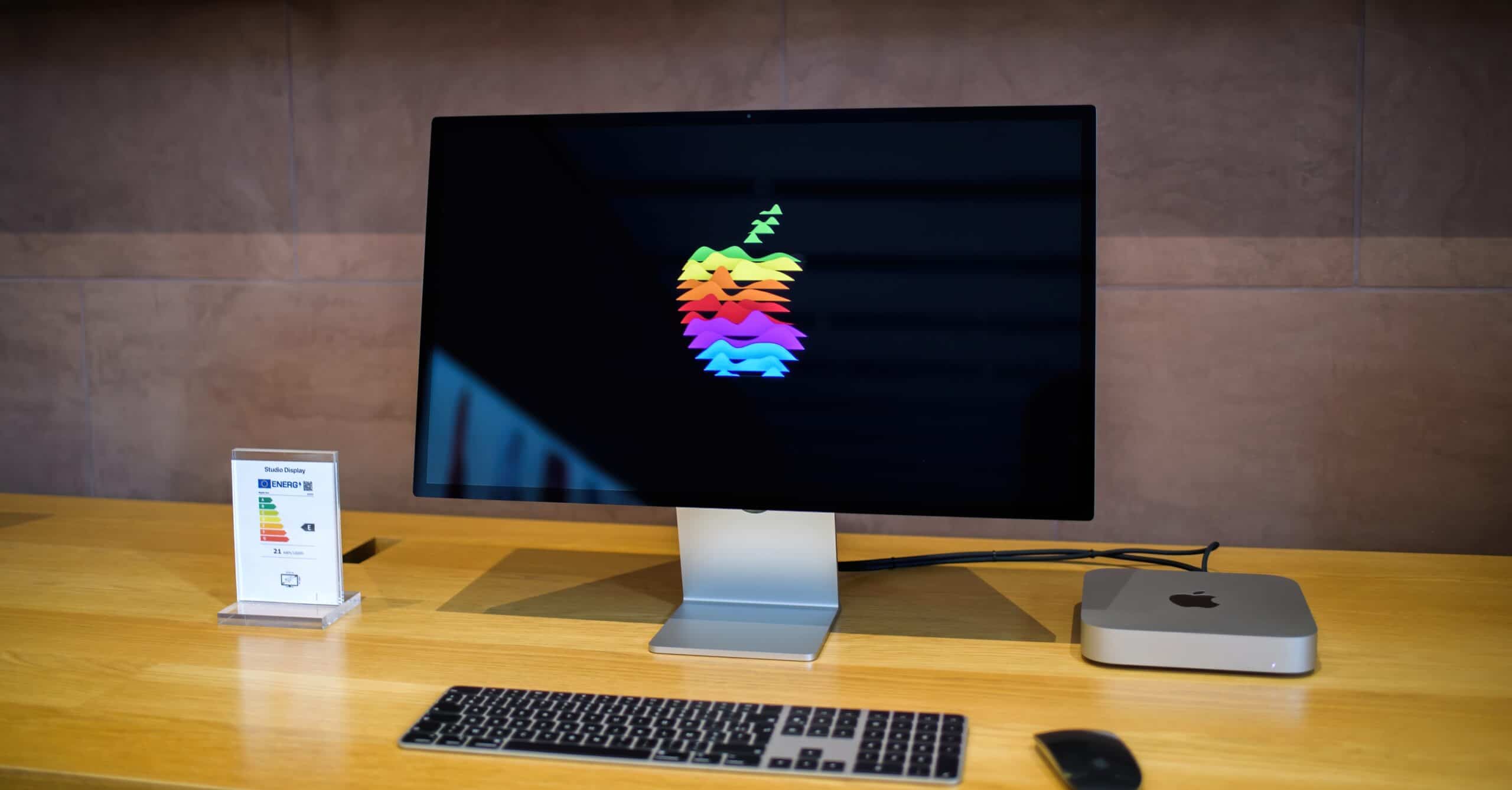 The iMac has long been the go-to PC for consumers looking for an all-in-one solution from Apple. The Mac mini line is an interesting alternative, especially when you compare the Mac mini M2 vs. iMac. We're going to break down both PCs from top to bottom to help you find the best option for your needs.
Mac Mini M2 vs. iMac: Side-by-Side Comparison
| | Mac mini M2 | iMac (M1) |
| --- | --- | --- |
|   | Mac mini M2 | iMac M1 |
| Release Date | January 24, 2023 | April 20, 2021 |
| Form Factor | Mini PC | All-in-One PC |
| Display | None, support for two displays | 24-inch 4,480 x 2,520 |
| Processor | Apple M2 8-core | Apple M1 8-core |
| Memory | 8 GB, 16 GB, 24 GB | 8 GB, 16 GB |
| Storage | 256 GB, 512 GB, 1 TB, 2 TB SSD | 256 GB, 512 GB, 1 TB |
| Dimensions | 1.4"H x 7.7"W x 7.7"D | 18"H x 21.5"W x 5.8"D |
| Weight | 2.6 lbs. | 9.83 lbs. |
| Price | $599+ | $1,299 |
Mac Mini M2 vs. iMac: What's the Difference?
You may think that comparing the Mac mini against an iMac would be a fruitless endeavor, but that couldn't be further from the truth. These desktop PCs have different designs, but have a lot in common once you move past their form factors.
Design
Apple 2023 Mac Mini Desktop Computer M2 chip with 8‑core CPU and 10‑core GPU, 8GB Unified Memory, 256GB SSD Storage, Gigabit Ethernet. Works with iPhone/iPad
SUPERCHARGED BY M2 — Get more done faster with a next-generation chip. From rich presentations to immersive gaming, M2 flies through work and play. M2 has 8 CPU cores, 10 GPU cores, and up to 24GB...
CONNECT WHAT YOU WANT — Mac mini with the M2 chip has two Thunderbolt 4 ports, two USB-A ports, an HDMI port, Wi-Fi 6E, Bluetooth 5.3, Gigabit Ethernet, and a headphone jack. And if you want faster...
SIMPLY COMPATIBLE — All your go-to apps run lightning fast on your Mac mini desktop, from Microsoft 365 to Adobe Creative Cloud to Zoom. And over 15,000 apps and plug-ins are optimized for M2.
EFFICIENT MEMORY — Unified memory on Mac does more than traditional RAM. A single pool of high-bandwidth, low-latency memory allows Apple silicon to move data fast — so everything you do is fluid....
FAST SSD STORAGE — Mac mini comes with all-flash storage for all your photo and video libraries, files, and apps. Choose up to 2TB SSD with M2.
We earn a commission if you make a purchase, at no additional cost to you.
The new Mac mini M2 has a design similar to the previous generations. It's essentially a "mini" PC that won't take up much space on a desktop and is small enough to take on the go. At only 2.6 pounds, it's lighter than many laptops. It's only available in Silver, but is stylish and resembles a media streamer like the Roku or Apple TV.
Apple also designed the iMac to leave a small footprint behind, although it has a large display. It's larger and heavier than the Mac mini M2 as a result, and measures 18" H x 21.5" W x 5.8" D. Unlike its smaller sibling, you can pick up the iMac in a variety of colors including Green, Blue, Pink, and Silver on the base model with two ports.
It's hard to compare the design of these two PCS, but both have a sleek modern look suitable for any type of décor. The Mac mini is more portable, although pointless without a monitor, keyboard, and mouse.
Processor & Memory
There are two base versions of the iMac, and each is configurable to a degree. Both are powered by the M1 processors from Apple, however. It's an octa-core processor with a 7-core GPU, and a chip that's quite capable, as proven by benchmark tests. This version of the iMac comes with either 8GB or 16 GB of memory.
Inside the new Mac mini M2, you'll find the same options for RAM with an additional tier of 24GB. The next-generation M2 processor from Apple keeps things humming along on this small PC, and it's a significant improvement over the M1. According to Apple, the M2 processor is faster with 25% more transistors than the M1.
Unified memory bandwidth has doubled and it's more efficient than the M1 as well. If performance is important to you, this is an easy choice. Apple's M2 processor will provide a better overall experience than the Mac mini M2.
Storage
Storage is important on any device whether it's a desktop PC, Android tablet, or the new Apple Watch. While it's something you can expand with ease on "most" computers, it has an impact on the final price and could cause headaches down the line. It's also an area that's fairly even between the Mac mini M2 vs. iMac.
The iMac M1 with two ports is the base model and comes with 256 GB, 512 GB, or 1 TG of storage, courtesy of a solid-state drive. The four-port model keeps the M1 chip but allows you to double the storage to 2 TB. On the Mac mini, you can get the same storage capacities from 256 GB to 2 TB on the entry-level edition.
Features
Apple 2021 iMac All-in-one Desktop Computer with M1 chip: 8-core CPU, 8-core GPU, 24-inch Retina Display, 8GB RAM, 256GB SSD Storage, Matching Accessories. Works with iPhone/iPad; Purple
SUPERCHARGED BY M1 — M1 delivers exceptional performance for all you do on your iMac desktop. Everyday things like flipping through photos and browsing Safari are faster, and all your...
FITS PERFECTLY INTO YOUR LIFE — The all-in-one desktop design is strikingly thin and available in seven vibrant colors. And iMac comes with a color-matched Magic Mouse with Magic Keyboard.
SIMPLY COMPATIBLE — All your go-to apps run lightning fast — including Microsoft 365, Adobe Creative Cloud, and Affinity Photo. You can even run many of your favorite iPhone and iPad apps directly...
CINEMATIC DISPLAY — The 24-inch 4.5K Retina display features 500 nits of brightness and support for 1 billion colors, so everything from streaming movies to editing photos is sharp, vivid, and...
CONNECT ALL YOUR ACCESSORIES — iMac features two Thunderbolt / USB 4 ports, up to two USB 3 ports, Wi-Fi 6, Bluetooth 5.0, and a headphone jack.
We earn a commission if you make a purchase, at no additional cost to you.
Storage and memory are comparable on these PCs, but it's not even close when it comes to features. You won't find many of them on the Mac Mini M2 outside of ports and connectivity options, including Wi-Fi 6E and Bluetooth 5.3.
The Mac mini M2 has an HDMI port and can support up to two monitors. There's a headphone jack designed for high-impedance headphones and two Thunderbolt 4 ports, but that's about it. By comparison, the biggest feature of the iMac is arguably its gorgeous display which supports 1 billion colors.
Apple's panel has a resolution of 4,480 x 2,520 with a P3 color gamut. It's colorful, responsive, and comes with a 1080p FaceTime camera. This PC also has a six-speaker sound system with spatial audio support, a variety of ports, and a studio-quality microphone array. You get hands–free Siri support through this iMac along with their popular keyboard and magical mouse.
Pricing
The iMac is considered a complete PC, so you won't have to pick up any extras unless you want to upgrade your system. It comes with a Magic Keyboard, Magic Mouse, cables, and adapters so it's ready to go out of the box. Pricing starts at $1,299 and goes up from there, but it's still cheaper than the premium MacBook Pro.
While newer, the Mac mini M2 is only $599 with comparable specifications and a new processor. If you already own a monitor and have a keyboard and mouse that are compatible with the PC, it's an excellent price. If not, you could end up spending just as much as you would on the iMac depending on the type of monitor you choose.
Mac Mini M2 vs. iMac: 5 Must-Know Facts
The original iMac was introduced in 1998.
3rd and 4th gen Mac minis have a removable panel for RAM upgrades.
Jeff Goldblum narrated the first iMac commercial.
There were no visible screws on the first Mac mini, which also had an optical drive.
Before the iMac, most PCs came in beige or white, not colors like Blueberry or Flower Power.
Mac Mini M2 vs. iMac: Which One Is Better?
Are you interested in an all-in-one PC or would you like to upgrade down the line? If you think you may want a larger monitor or an ultra-widescreen display, the Mac mini M2 is an obvious choice. The design allows for a degree of customization you can't get with the iMac. It also has impressive power given its size thanks to the new M2 processor.
The current version of the iMac is no slouch, and a great system for productivity, creativity, and entertainment. It may be more expensive, but the PC provides a lot of bang for the buck with its attractive, space-saving design. If you're sold on Apple's new M2 processor but are interested in a different form factor, consider the MacBook M2 Pro or M2 Max.