Since IBM invented the computer hard drive in 1956, it has undergone many improvements as technology advanced over the past sixty-plus years. This first drive was about the size of two refrigerators and only stored 3.75 megabytes on a stack of fifty-two disks.
Fast forward to today, and drives like the M.2 are significantly smaller—even more so than the other typical 3.5" drives. Despite its tiny size, it also has the capacity to store up to eight terabytes of data. 
The M.2 drive isn't the only option you have to choose from today, though. If you're trying to decide between an M.2 drive and the other SSDs out there, you've come to the right place.
Side-by-Side Comparison: M.2 vs. SSD
| | M.2 | PCIe (U.2) | SATA (mSATA) |
| --- | --- | --- | --- |
| Specification Released | 2013 | 2011 | 2011 |
| Storage Capacity | 8TB | 8TB | 16TB |
| Physical Size | < 2.5" | 2.5" | 3.5" |
| Connection | M.2 slot (no cables) | PCIe slot (no cables) | requires cables |
Nickel-coated controller and heat spreader provide optimum heat dissipation
Can reach sequential read/write speeds up to 3,500/3,300 MB/s
NVMe interface
Expands storage capacity to save space for other components

Buy Now on Amazon

We earn a commission if you make a purchase, at no additional cost to you.

05/11/2023 09:14 am GMT

560 Mb per second transfer rate
SATA 6.0 Gb/s hardware interface
2 TB digital storage capacity
Serial ATA interface

Buy Now on Amazon

We earn a commission if you make a purchase, at no additional cost to you.

04/26/2023 01:35 am GMT
M.2 vs. SSD: What's the Difference?
Previously known as the Next Generation Form Factor (NGFF), M.2 is a set of specifications used to describe hardware that gets installed internally, through expansion slots similar to what you'd see on a laptop. And, like the expansion slots on laptops, M.2 hardware connects directly to the slots without a need for connecting cables.
While you can use the M.2 slots for other devices, it's typically used for storage drives, giving you a faster option than the SATA drives that typically require cables to connect the device. When you purchase an M.2 hard drive, you will typically choose between a PCIe or SATA bus.
Originally created as an answer to the limitations of the Peripheral Component Interconnect (PCI) bus, the Peripheral Component Interconnect Express (PCIe) specification allows you to connect high-speed peripherals to your computer. PCIe drives either come as an M.2 drive or a U.2 drive, which is the NVMe specification. These PCIe connections are slots that allow you to connect your hardware directly to your computer without any need for a cable or any wires, making it much easier to install with the right tools. The biggest improvement PCIe provided over PCI was the speed at which data can transfer.
Serial Advanced Technology Attachment (SATA) hard drives connect to your computer through cables that allow the hardware to interface with the computer's motherboard. This type of drive either comes as an M.2 drive or an mSATA drive. SATA drives have been the industry standard for many years. Their non-SSD counterparts did so with revolving disks and a needle to read and write data—much like a music album would—but the solid-state SATA drives do not have any moving parts. This is actually what categorizes them as solid-state drives.
Speed
One of the biggest improvements the M.2 drives offer over the other SSD options is that of speed. These types of peripherals connect directly to your computer's motherboard through an M.2 slot. Because this specification removes the requirement to use a cable to connect to your computer, their data transfer rates tend to be much faster.
If your computer has the available slots and enough memory to support an M.2 drive, you will experience speeds up to 7.5 GB per second, depending on the interface of the drive. However, SATA drives can only transfer data up to 550 MB per second.
While both data transfer rates sound fast enough for most computing needs, you will notice the speed difference right away. The higher data transfer rate will be especially helpful to you if you use your computer primarily for resource-intensive tasks, such as video/graphics editing, gaming, and other tasks that require regular transfer of large media files.
On the other hand, if you mainly use your computer for word processing, you probably don't need that extra power that M.2 drives offers. In the latter scenario, the better choice for you might not be an M.2 drive because they tend to be more expensive.
Storage
Most of the M.2 drives on the market today only go up to a 2-TB storage capacity; however, they are capable of storing up to 8 TB. These high-end M.2 hard drives aren't ideal if you are on a budget, though. Currently (2023), you're looking at spending at least close to $1,000 for a high-end capacity M.2 hard drive. Just like with other technology, those costs will go down once they're on the market longer, but right now, they are quite expensive. And, because PCIe uses similar technology, the costs for a PCIe drive would be similarly high.
On the other hand, you can purchase a SATA SSD for around half the amount of what you'd spend on an M.2 drive. Remember from our previous discussion of speed what that means for the data transfer speed. If cost is your main concern, you'd be sacrificing data transfer speed for affordability.
Installation
One of the first things you need to do when you're deciding between M.2 vs. SSD is to find out if your computer supports the technology. If you have a computer that's more than a few years old, it's likely it might not have the necessary components for an M.2 drive. 
Now that we have that out of the way, let's get to the fun part: installation! Before you get too excited, you should take a few precautions:
Your computer must be turned off and disconnected from the power. 
Next, you will want to remove the power cable and the battery (if you're installing your hardware on a laptop).
Additionally, if you have a laptop, you need to hold the power button for several seconds to ensure any residual electricity is discharged.
Now, you can open your computer's case.
Ground yourself by touching an unpainted metal surface to ensure your data doesn't suffer any loss due to static electricity.
Now, on to the actual installation. This will vary depending on your specific computer, but this is generally how the process will look:
Check the manual for your motherboard (if you have one) to locate where the M.2 slot is. Hint: it's typically found close to the CPU.
One thing to keep in mind is that many high-end motherboards have heat sinks installed in the M.2 slot. If this happens to be the case in your computer, you will need to remove that heat sink before installing the M.2 drive.
There should be a screw installed in the M.2 slot. You will need to remove this before you insert the drive.
The next step is to insert your M.2 drive at an angle. Once you have it in, you'll push until it's flat, then re-install the screw you recently removed.
If you had to remove the heat sink, now is the time to put it back on.
This is all there is to it. It might sound complicated at first, but once you do it, you'll find that it's much easier than you originally thought.
Installing Sata or PCIe SSDs
U.2 PCIe drives are installed similarly, so they will be just as easy to install.
With a SATA SSD, there are two primary differences in how you install the drive:
SATA SSDs are larger than their M.2 counterparts, so there is a different place on your motherboard designated for installation. Your motherboard should have a rectangular mount that will easily accommodate SATA SSDs.
SATA drives also require connecting power and data cables before they will work. This is one of the reasons why they have limitations on their data transfer rates.
If ease of installation is a deciding factor in what type of drive you choose to purchase, we recommend leaning toward an M.2 drive, as they have a slight edge over the SATA drives. However, the difference in expertise you'll need is not very large.
M.2 vs. SSD: 5 Must-Know Facts
M.2 drives can either use SATA technology, or they can use PCIe technology at their foundation.
M.2 drives can either be installed on a desktop computer—if it has an M.2 slot—or a laptop computer that has an open PCIe slot.
M.2 drives are the most expensive option, especially if you need a larger-capacity drive.
M.2 and other SSD drives are categorized by how they store and access data; they don't have any moving parts.
There are two types of drives: hard disk drives (HDD) and SSDs. HDDs read and write data on spinning disks with a needle. These operate similarly to how a music album would be played on a record player.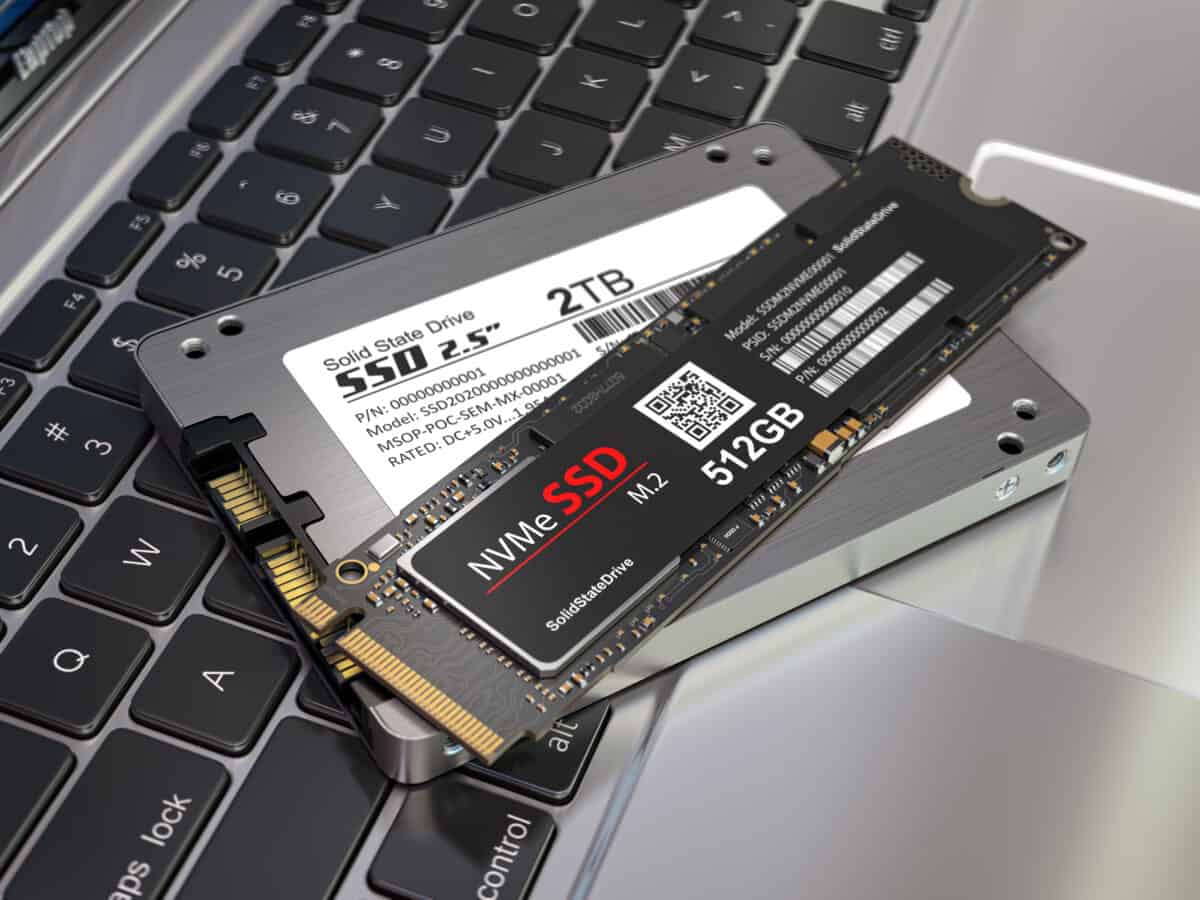 M.2 vs. SSD: Which is Best? Which Should You Choose?
If you've read the above technical information on all these different SSDs yet still can't decide between M.2 vs. SSD, we recommend asking yourself the following questions:
1. What are my most pressing data needs?
Start with acknowledging whether you'll be using this computer for business or personal reasons. Next, the primary tasks you'll be performing will also be important to consider. For instance, if you're a photographer who spends many hours working with media on your machine, it's likely you'll need a hard drive that's fast and can store a lot of data. An M.2 drive would be ideal for this use case. However, if you're a freelance writer, your needs will be much different. In that case, you wouldn't need anything more advanced than a SATA drive.
2. What is my budget for purchasing a new storage drive?
If your budget is under $200, but you need a large hard drive, a SATA drive might be a better choice. However, if cost is not a deciding factor, you will have no problem deciding to purchase a high-end M.2 drive.
3. How long do you need your storage drive to last?
In a perfect world, your new drive would last for many years to come. However, we don't live in a perfect world. M.2 drives tend to overheat more than SATA drives, so if durability is your main concern, then we'd recommend choosing a SATA drive. However, if you're still leaning toward an M.2 drive, we recommend installing a heat sink if you don't already have one in your M.2 slot.
Nickel-coated controller and heat spreader provide optimum heat dissipation
Can reach sequential read/write speeds up to 3,500/3,300 MB/s
NVMe interface
Expands storage capacity to save space for other components

Buy Now on Amazon

We earn a commission if you make a purchase, at no additional cost to you.

05/11/2023 09:14 am GMT

560 Mb per second transfer rate
SATA 6.0 Gb/s hardware interface
2 TB digital storage capacity
Serial ATA interface

Buy Now on Amazon

We earn a commission if you make a purchase, at no additional cost to you.

04/26/2023 01:35 am GMT