Key Points
Wireless mouses rely on batteries for power and connect via a USB adapter or Bluetooth.
Some wireless mouses use proprietary wireless connections that require a special adapter.
To connect a Bluetooth mouse, enable Bluetooth on your computer, put the mouse in pairing mode, and complete the setup process.
If your mouse does not support Bluetooth, you can use a universal mouse USB dongle to connect it.
If all else fails, you may need to find a replacement wireless mouse USB dongle.
A wireless mouse is perhaps the most important computer peripheral that you can buy, that is, until you lose the USB dongle. Not all wireless mouses work the same, but generally, they rely on batteries for power and connect via a small USB adapter or Bluetooth. In the case of Bluetooth, you really don't need the mouse's USB dongle, although some are bundled with one.
However, certain brands use proprietary wireless connections that do require a special adapter. While losing a dongle is definitely frustrating, there are a few ways to get the mouse working without it. The steps outlined below will walk you through identifying the type of mouse you have and then alternative methods for connecting it to your PC or Mac.
Determine Wireless Connectivity Technology
First, you must determine the type of wireless connectivity that the mouse uses. This will indicate whether or not you can connect it with Bluetooth or if you must use a different adapter. The best way to do this is to look at the bottom of the mouse or inside the battery compartment. There should be a label with an FCC ID, model number, or even the word "Bluetooth."
For instance, Logitech wireless mouses often do not have a label on the bottom, but they do have a gear logo, which tells us that it must connect to a USB Unifying Receiver. In contrast, a Bluetooth mouse can connect directly to the computer. If there are no obvious ways to identify the mouse's connectivity, then perform a search using the FCC ID or model number.
Method 1: Connect the Mouse with Bluetooth
If you have a mouse that supports Bluetooth, you're in the right place. If not, proceed to Method 2. The first method we will go over is connecting to your computer's Bluetooth.
Step 1: Enable Bluetooth
On a PC, under Settings, go to Bluetooth & devices to make sure Bluetooth is turned on. If you have a Mac, make sure Bluetooth has been enabled in System Preferences.
Step 2: Put Your Mouse in Pairing Mode
Put your wireless mouse in pairing mode by pressing the button on the underside. Sometimes, the pairing button is hidden inside the battery compartment. Once your mouse is in pairing mode, you can connect it to your computer. Your computer must have Bluetooth connectivity, which is common in laptops. A standard USB Bluetooth receiver will also work if you prefer using a dongle.
Step 3: Connect Your Mouse and Complete the Setup Process
Click the "Connect" button when the notification pops up for your mouse, then wait for it to finish setting up. If you do not get a notification, go back to Bluetooth & devices, then click the "Add device" square at the top of the page. Next, select "Bluetooth" and wait for your computer to discover your mouse to complete the setup process. Now you're ready to use your mouse again.
On a Mac, Click the "Control Center" icon and then "Bluetooth." Next, choose your wireless mouse from the list of nearby devices to pair it. From now on, your wireless mouse should automatically connect to this computer without needing a dongle.
Method 2: Get a Universal Mouse USB Dongle
As we noted above, a standard USB Bluetooth receiver will work if your mouse supports Bluetooth. However, if it does not, you'll need to go another route. Some manufacturers use a special channel to broadcast their wireless signals, but the same channel is often used for all the company's devices. This is true for Logitech, which uses a couple of different dongles for its mouses and keyboards. The most common is the USB Unifying Receiver, which easily connects a number of popular Logitech devices.
The exact steps will vary between brands, but you first need to get one of these universal adapters for your brand of mouse. You may already have one from another device, such as a keyboard. Otherwise, you can find them online. Since Logitech devices are very popular, we will use them as an example.
You must download the dongle's control software, which is known as "Unifying." Then, connect the dongle and launch the application. In Logitech's Unifying software, you will need to choose the connectivity type before going through the setup procedure. When finished, your mouse should be paired with the dongle.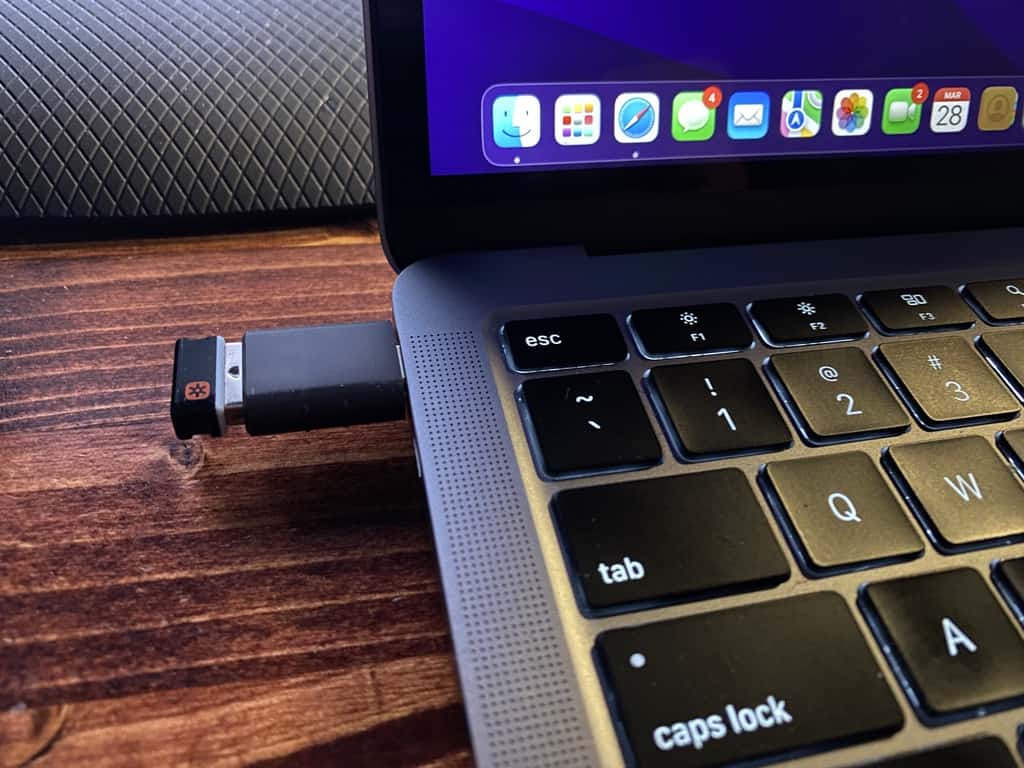 Method 3: Find the Proper Replacement Mouse USB Dongle
If all else fails, you will need to locate a replacement wireless mouse USB dongle. In some cases, you may not be able to find a dongle. Try checking sites like eBay for old or rare USB dongles. Unfortunately, many cheap, wireless mouses have the same problem, and it will oftentimes be cheaper to purchase an entirely new wireless mouse rather than search for a replacement dongle.
How to Avoid Losing Your USB Mouse Dongle
The best way to avoid going through the steps above is by not losing your mouse's dongle in the first place. That is obviously easier said than done, but it is also the reason that most dongles are very small. Keeping them compact means they can stay plugged in and out of the way.
If you don't use your wireless mouse all the time and need to take the dongle out, then you should check to see if there is a place to store it inside the mouse. Many mouses, including ones from Logitech, have a special slot in the battery compartment to hold the dongle.
Wrapping Up
Hopefully, your mouse is now connected and working again. If not, be sure to check out our guide on the best wireless mouses. Additionally, you should consider whether you really need a wireless mouse or if a wired one will do the trick. Finally, remember to regularly check the batteries in your wireless mouse, as it can lead you to believe there is a connection problem.
The image featured at the top of this post is ©Jacek Halicki, CC BY-SA 4.0, via Wikimedia Commons.