Buying a new gaming headset can be overwhelming because there are so many options. Back in 2015, Logitech launched the G933 gaming headset and it was met with mostly positive reviews. It's a high-end wireless headset with excellent audio quality.
At the time, the G933 (also called Artemis Spectrum) was a revolutionary wireless headset. How does it hold up today? Is the Logitech G933 worth buying in 2023? We recently got our hands on the Logitech G933 wireless gaming headset and wanted to share our thoughts with you.
Best Deal Today
Logitech Wireless Gaming Headset G933 on Newegg – $168.80
Logitech Wireless Gaming Headset G933 on Amazon – $99.90
Our Pick
We earn a commission if you make a purchase, at no additional cost to you.
Logitech Wireless Gaming Headset G933 Overview
Release Date and Price
The Logitech G933 was released in October 2015. When it first launched, it was priced at $200 USD. Surprisingly, the listing price hasn't dropped much over the years. Today, it's often listed for between $150 and $199.
Different Models
Another very similar model is the Logitech G935, released in 2019, which is meant to be an upgraded version of the G933. We won't be doing a full comparison here but there are a couple of key points to keep in mind.
On closer inspection, the G935 doesn't provide any major improvements over the G933. When comparing these two models, audiophiles may notice the audio quality on the G935 is slightly better. Interestingly, the wireless range on the newer model (G935) is shorter than the older model and the wireless latency is higher.
Finally, the newer headset has cut back on some customization options. For example, the in-line remote controls (the buttons on the 3.5 mm wire) have been removed on the G935.
Having said that, the G935 is usually a little cheaper than the G933 headset. Ultimately it depends on which headset features are important to you.
Another headset is the G633 which is the wired version of the G933. It has practically all the same features as the G933 but without wireless capabilities. Naturally, it's cheaper too.
The G935 and the G633 are on our list of Best Logitech Pro Gaming Headsets.
Features
2.4 GHz wireless. Includes USB dongle.
Rechargeable battery with Micro-USB.
Supports 7.1 Dolby Surround Sound
Multiple source audio mixing
Customizable RGB LEDS (Programmable with Logitech G Hub)
Three programmable G-Keys
Retractable Boom Microphone
USB to 3.5 MM adapter
In-line 3.5 mm audio controls (mic select, volume, playback)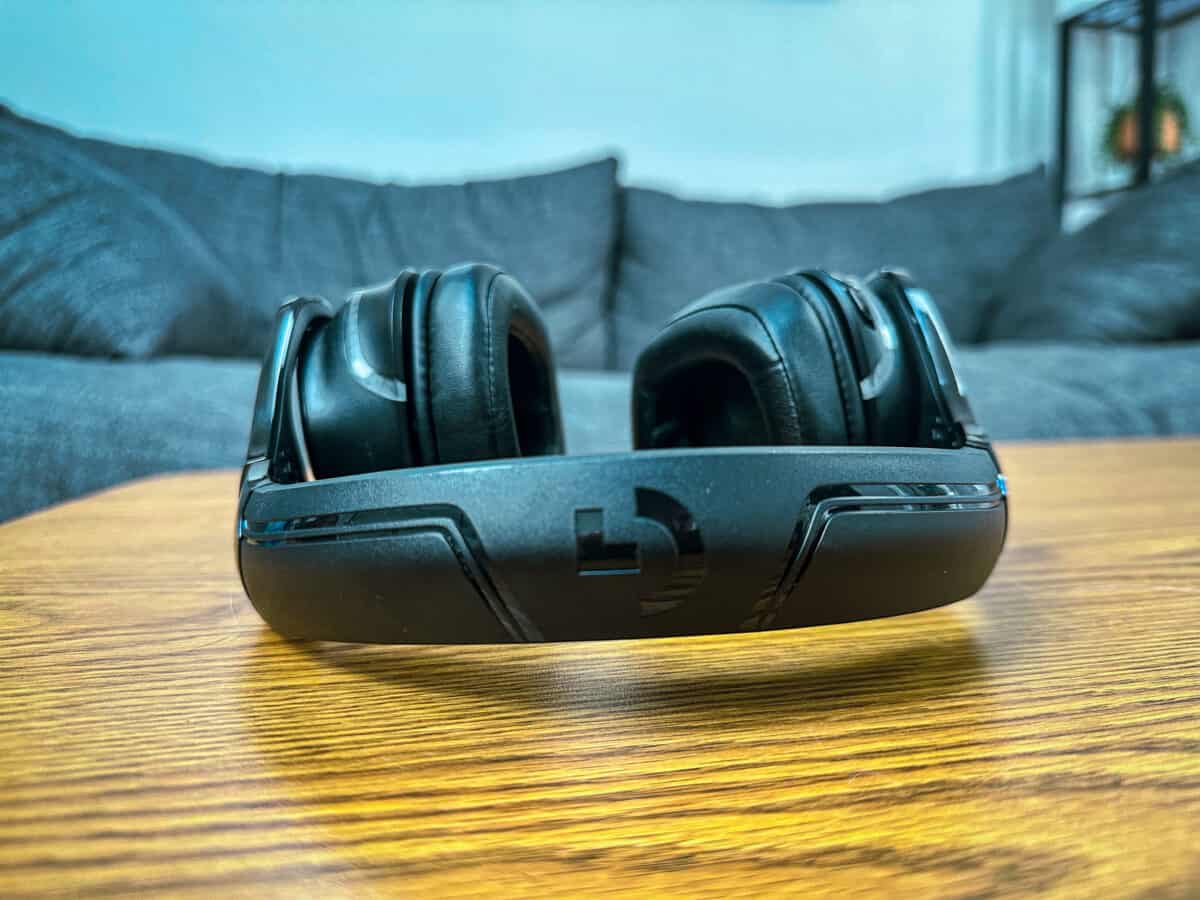 Specifications
Headphone Specifications
| | |
| --- | --- |
| Driver | 40 mm |
| Frequency | 20 – 20,000 Hz |
| Impedance | 39 Ohms |
| Headphone Sensitivity | 107 dB |
| Length | 9.85 Inches |
| Width | 8.9 Inches |
| Height | 3.85 |
| Warranty | 2 Years |
Microphone Specifications
| | |
| --- | --- |
| Pickup Pattern | Cardioid (Unidirectional) |
| Size | 4 mm |
| Frequency Response | 100 Hz to 20 KHz |
| Noise Canceling | Passive |
Logitech Wireless Gaming Headset G933 Review
Build Quality & Design
Overall the build quality and design of the G933 headset are pretty good. The only downside is the bulkiness. The earpieces are significantly thick and contribute to the weight of the headset. However, the headset is very durable and made from hard-shell plastic with a matte finish.
Compatibility
Logitech G933 is compatible with almost every device. However, the wireless mode is only compatible with PC and MacOS at the moment. You can't use the G933 wirelessly with consoles. The headset will work with other devices but only via the 3.5 mm cable. In other words, to use the G933 with your Xbox you need to plug the 3.5 mm cable into the audio slot on your controller.
Wireless
It's important to remember that the G933 doesn't use Bluetooth. It connects via a 2.4 GHz USB wireless dongle. The range of the wireless headset is surprisingly good, it's rated at 15 meters indoors. You can stay on a call while walking around your home without worrying about dropouts. Latency is good too, at around 24 ms over wireless.
Wired
The Artemis Spectrum provides plenty of wired connectivity options. In the box, you'll find a USB to Micro USB cable, a 3.5 mm cable, a 3.5 mm to 2.5 mm adapter, and finally an RCA to 3.5mm cable. The wireless USB dongle also includes a 3.5 mm audio slot.
Battery
The G933 headset includes a rechargeable battery. It can be charged via the included Micro USB cable. On a full charge, the battery lasts for around 12 hours. With regular use, it lasts for around 8 hours. It takes about 3.5 hours to fully charge the headset. I recommend charging it overnight.
Of course, the battery is only needed when using the headset wirelessly. If you use the 3.5 mm cable, the headset won't use the battery. In fact, you can use the headset while it's charging!
When the battery reaches a critical level, you'll hear a series of warning tones, and the RGB lights will dim. The Logitech G Hub software will also provide you with a battery level indicator.
One bonus battery-saving feature is the sleep mode. The headset will automatically turn off when no audio signal is detected after 5 minutes.
Audio Quality
As for audio quality, the Logitech G933 delivers powerful and clear audio with strong bass that can be further tweaked using equalizer settings. G933 also supports advanced audio processing such as 7.1 Dolby Surround sound and DTX.
For gamers, the surround sound gives you an advantage because you can clearly hear enemy footsteps and easily pinpoint them. The ear pads provide a good seal around your ear which offers good noise cancellation. We don't have any complaints about the audio quality!
Some people mentioned Logitech's preset equalizer could be better optimized. To change the equalizer settings, install Logitech Gaming Software and adjust the audio equalizer. You may need to plug the headset in via USB for the software to detect it. There are presets to play around with too.
Microphone
The G933 headset includes a built-in microphone. The microphone folds up into a notch on the left earpiece, making it practically invisible. No need to worry about that microphone breaking or snapping! Another plus is the microphone automatically mutes when retracted.
Microphone Quality
The microphone quality is acceptable but not the absolute best. Recordings tend to sound a little tinny. However, it's good enough to communicate with teammates in competitive games. It's also acceptable for calls on Discord, Zoom, or Skype.
Bear in mind, the G933 headset does not have active noise canceling so you need to rely on software. Combined with software noise canceling and audio optimizations, the microphone quality is acceptable. Just don't expect professional, studio-recording quality from this headset's microphone. Most gaming headsets don't have professional-quality microphones.
For professional recordings, it's recommended to invest in a dedicated microphone. The Blue Yeti and HyperX Quadcast are two of the best microphones on the market at the moment.
On that note, if you have another dedicated microphone, you can use the in-line controls on the G933 to switch between the headset's microphone and your dedicated one.
Customization Options
3 G-Keys
The G933 has three "G" keys that can be assigned to preset commands or macros. To assign commands to the G-Keys you will need to use the Logitech G Hub software.
RGB LED Strip
While not the most useful feature, the Logitech G933 has a small RGB lighting strip around the earpieces and buttons. The strip can be customized using the Logitech software.
Other Buttons
Besides the customizable G-Keys, the G933 headset has a few physical buttons. It has a power button as well as one to mute the microphone. There's a classic volume dial on the earcup too.
Logitech Wireless Gaming Headset G933 Pros and Cons
Pros
Excellent audio quality
Plenty of customization options
Good build quality
Wireless
Decent battery life
Comfortable
Cons
Bulky and heavy
Microphone quality is not the best
Wireless mode is not compatible with Xbox
The headset can easily slide off your head
Large earcups
The power switch can disconnect at random times
Software bugs from time to time
Our Pick
We earn a commission if you make a purchase, at no additional cost to you.
Logitech Wireless Gaming Headset G933 Is It a Buy?
Buy it If…
You want a good quality wireless headset and game primarily on PC.
You use a lot of shortcuts and macros.
Don't Buy If…
You want a wireless headset for consoles. The G933 doesn't work with consoles. You have to use a cable.
You have small ears. The ear cups are significantly large.