Key Points
When it comes to gaming, each equipment must be as precise as possible as a seconds delay can mean a huge loss for the player.
Out of all the gaming mouse, the Logitech G502 stands out due to its superior design and low latency.
Available in both wired and wireless forms, find out what makes this mouse preferred by gamers.
The Logitech G502 is a notable contender for the most popular gaming mouse. It was released in 2016 and is still going strong. Since then, the line has had two updates, including the G502 Hero and the G502 Lightspeed. The Hero and the Lightspeed are available on the official website and are similar but come at different price points. The Lightspeed is a wireless mouse, while the Hero is a wired one.
Over time, Logitech G502 has become one of the most popular gaming mouse models, competing with the likes of Razer, Corsair, and Cooler Master. The Lightspeed, its most expensive variant, costs over $100. While that price seems a lot for a basic work mouse, it isn't an unreasonable cost for a gamer looking for a customizable and high-precision piece of machinery. Let's deep-dive into Logitech G502 and see what makes this mouse special, and whether to get one.
Quick Facts
Release Date

01/05/2019

Original price

$149.99.

Units Sold

N/A
Best Deal Today:
If you are interested in getting a Logitech G502, here are some of the best places to look. These prices regularly change, but you may be able to snag a deal while it's available!
Logitech G502 Hero
Logitech G502 Lightspeed
Logitech G502 Lightspeed Wireless Gaming Mouse with Hero 25K Sensor, PowerPlay Compatible, Tunable Weights and Lightsync RGB - Black
Selling Wireless Gaming Gear Brand - Based on independent sales data (FEB '19 - FEB'20) of Wireless Gaming Keyboard, Mice, and PC Headset in units from: US, CA, CN, JP, KR, TW, TH, IN, DE, FR, RU,...
PowerPlay wireless charging: Never worry about your battery life again. Add the power play wireless charging system to keep your G502 Lightspeed Wireless Mouse and other compatible G mice charged...
Light speed wireless gaming mouse: Exclusive Logitech G ultra-fast wireless technology used by Pro gamers in competitions worldwide
Hero 25K sensor through a software update from G HUB, this upgrade is free to all players: Our most advanced, with 1:1 tracking, 400plus ips, and 100 - 25,600 max dpi sensitivity plus zero smoothing,...
11 customizable buttons and hyper fast scroll wheel: Assign custom macro and shortcut commands to the buttons for each game with Logitech G hub software. Use hyper fast scrolling to rapidly review...
We earn a commission if you make a purchase, at no additional cost to you.
Logitech G502 Overview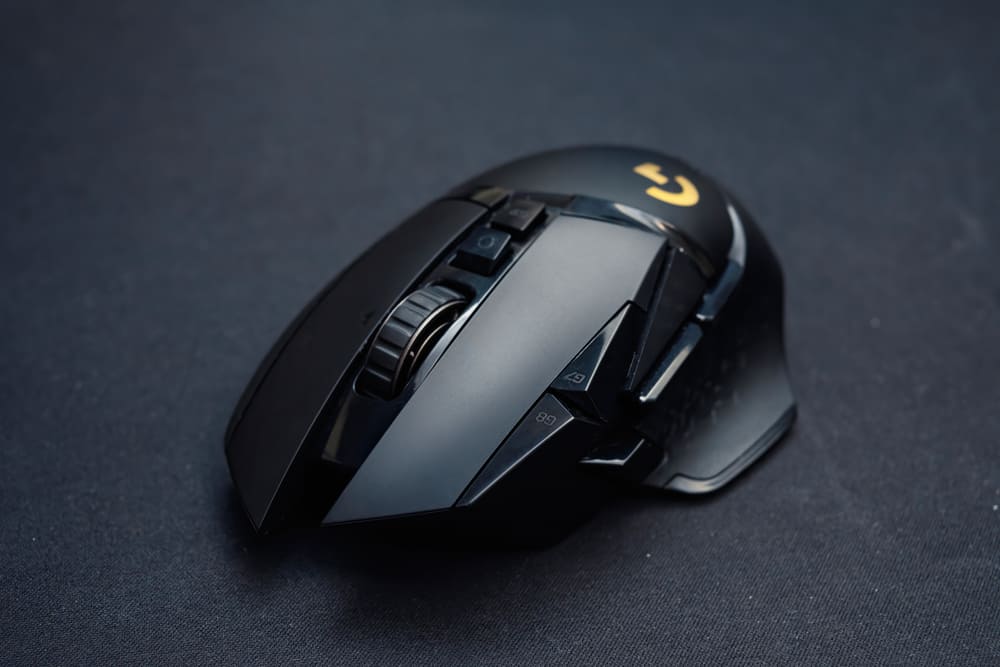 Release date and price
The original G502 launched with the Proteus Spectrum in early 2016. It's a bit old, but many people still use them and haven't quite upgraded yet. Due to their age, the Proteus isn't available for official purchase, although some second-party sites sell it. Be aware that most second-party sellers are selling the Proteus for more than the newer Hero model, and getting an older model for more isn't a good idea. The initial launch cost of the G502 Proteus was $79.99.
The G502 Hero was released in October of 2018 as an upgraded model of the Proteus. It retailed at $79.99 and had some updated features compared to its predecessor.
The newest edition of the G502 is the Lightspeed. The major update with the Lightspeed is its extremely low latency (1ms) wireless mouse. For many gamers, having a wireless mouse can cause lag issues, but Lightspeed seeks to change that. The Lightspeed retails for $150, although many places carry it for less.
Different models
There are three different models of the G502:
G502 Proteus Spectrum (2016)
G502 Hero (2018)
G502 Lightspeed (2019)
Features
One of the major features of every model of the G502 is the high-accuracy sensors, the various programmable buttons (up to 11), and the adjustable weights for maximum comfort. Aside from the physical elements, each G502 mouse can store various user profiles for different gaming scenarios and can be customized with an RGB interface.
Specifications
| | Hero | Lightspeed |
| --- | --- | --- |
| Sensor | Hero 25k sensor | Hero 25k |
| DPI range | 100 – 25,600 dpi | 100 – 25,600 dpi |
| Interface | Wired | Wireless (but can be wired) |
| Buttons | 11 programmable buttons | 11 programmable buttons |
| Weight | 4.27 oz. Extra weights up to 18 g | 4.02 oz. Extra weights up to 16 g |
| Dimensions | 5.20 x 2.95 x 1.57 inches | 5.20 x 2.95 x 1.57 inches |
| Battery life | Wired | ~48-60 hours. Also offers wireless charging. |
Logitech G502 Review
The Logitech G502 is a superb mouse and one of the best-made gear. Anyone who needs a new gaming mouse would be happy to pick it up. Easily competing with the big names, the G502 is ready to battle for the top spot. Multiple online reviews share a common verdict: G502 Lightspeed is an excellent gaming mouse.
The build quality of the G502 is superb. Whether you get the Hero or the Lightspeed, the mouse will feel and look identical. In both options, the company gave the design some serious thought. For example, the 11 programmable buttons are in easy-to-reach spots, the thumb rest isn't just for looks, and the mouse itself is made with supposedly carbon-neutral materials.
Customization is paramount in the world of gaming. While modern gaming mouses allow for light and profile customization, only a few models allow you to change the mouse's weight. And the G502 mouse is among them. It comes with an adjustable weight system for personal balance. You can adjust the mouse weight from 4.3oz to 9.1oz.
Although the two models are listed at different prices, they are nearly identical. The only difference between the two is that the Hero has a wire while the Lightspeed has a low-latency wireless connection. As crazy as it sounds, many gaming enthusiasts refuse to play on a wireless mouse, so Logitech giving that option is a great nod. If you plan on keeping the mouse plugged in constantly, save yourself some money and just go with the Hero. However, if you crave the look of a sleek workspace and want things to look tidy, the extra money spent on the Lightspeed may be worth it.
Logitech G502 Pros and Cons
Pros:
Endlessly customizable
Wired and wireless options
Well-built
2-year warranty
Over 2 days of battery life
Wireless charging
One of the best sensors on the market
Cons:
Expensive compared to some competitors
It May be TOO customizable for some hobbyists
Weights don't always play well with certain surfaces
Logitech G502: Is It a Buy?
The Logitech G502 is, without a doubt, one of the best gaming devices on the market. The two available options (the Hero and the Lightspeed) give gamers a choice between an ultra-premium wireless mouse and a slightly less expensive wired mouse.
Buy if…
You have preferred button designations or love playing around with RGB settings. The customizable weights of the Logitech G502 gaming mouse allow you to hone in on those acceleration timings for the perfect FPS in your fast-paced games.
Don't buy if…
If you are just getting into gaming and haven't used any gaming gear. The level of customization could be overwhelming, and the price might be a bit too much. Still, these devices are great even if you are buying gaming gear for the first time and barely know how to use them.
Check out the Logitech G502 mouse on Amazon.
Next Up…