Key Points
Lincoln Electric welding machine companies, is actually well-positioned for making DC fast chargers.
Lincoln's move into DC fast chargers isn't a spur-of-the-moment decision but of detailed planning during most of 2022.
The charger will enable 30-minute charging for vehicles with a compatible CSS-1 connector.
Keeping your vehicle mobile and ready to go is naturally an important consideration for owners of both passenger cars and commercial vehicles.
61% of potential EV buyers view range as the most important factor when choosing an electric vehicle, according to InsideEVs. Being able to go where you want, when you want is the most important part of vehicle ownership for most.
This is why a robust network of DC fast chargers is key to the more widespread adoption of EVs in the U.S.
Lincoln Electric, a welding machine manufacturer, has entered the fast charge arena with plans to build its own fast charger line. With $7.5 billion in funding earmarked for a fast charger network by the Bipartisan Infrastructure Law, there's plenty of investment to back worthwhile projects.
The White House's press release about the Bipartisan Infrastructure Law even mentions Lincoln Electric by name. With this kind of backing, Lincoln appears to have at least a chance to add its chargers alongside existing networks.
Here's what we know so far.
Tough, High-Powered DC Chargers from Lincoln
Lincoln Electric said in an early September 2022 press release it has already developed a 50 kW DC fast charger able to scale up to 300 kW output or more.
It says the charger will enable 30-minute charging for vehicles with a compatible CSS-1 connector. However, with 300 kilowatts of output or higher already in the works, 10 to 15-minute charges will likely be possible for vehicles with suitable charging architecture.
While Lincoln Electric currently manufactures powerful, reliable welding machines, it has plenty of advantages for making fast chargers, too:
More than a century of experience in building high-output DC machinery capable of operating around the clock
Full U.S.-based manufacturing setup including metal fabrication, plastic manufacture, and 3D printing enabling end-to-end in-house production
Claimed superior lifespan and reliability for its chargers over competing models. The company says its "equipment is engineered to be highly durable and reliable across a range of harsh outdoor operating conditions." This could be particularly important for developing DC charger networks in northern climate zones.
Its products are U.S.-made, aligning with government funding requirements for domestic manufacture
Already has a large field service division probably able to maintain a charger network, too
Lincoln Electric, and potentially other welding machine companies, is actually well-positioned for making DC fast chargers. It manufactures high-quality welding machines and devices that have to work reliably for many years under demanding conditions.
Welders are also machines that produce high-energy DC output for many applications (there are both AC and DC welders). The company already has a 44 kW DC welder; it isn't much of a leap from there to a 50 kW fast charger in terms of high-output electrical architecture.
The Need for Fast Charger Reliability
Lincoln Electric's promises of rugged DC fast chargers that keep working day-in, day-out, 365 days a year are timely. Not only does the U.S. need more fast chargers to encourage EV adoption, but drivers also need chargers they can count on.
Though anecdotal, a September 2022 Los Angeles Times article says unavailable fast chargers plague California's public EV charging network, which is the nation's biggest. Problems included nonfunctional chargers, failed credit card payment availability, and app difficulties requiring a long phone call to solve.
More concretely, 34% of EV owners find nonfunctional chargers to be a "moderate concern" according to a Plug In America survey. In the same survey, 14% of people said broken chargers are a "major difficulty" or even a "dealbreaker" for EV ownership.
A University of California Berkeley study said that during the study period, 22.7% of Greater Bay Area chargers were nonfunctional. The same study looked at the top three charger operators in the area. The number of broken chargers came to 36.6% for ChargePoint, 25.5% for EVGo, and 19% for Electrify America.
These figures are very alarming given that California is the epicenter of EV adoption and use in the U.S. It's also the first state to legislate a complete switch to EVs by 2030. A fifth to a third of the biggest EV network providers' chargers are nonfunctional at any given time in California. If this is the case in the EV-friendly Golden State, there's clearly a need for greater charger reliability.
Lincoln's engineering and manufacturing background point strongly to it being able to meet these reliability needs. Its welders, which also operate by transmission of huge volumes of electricity, are made for the toughest industrial applications. Using its design expertise should enable it to manufacture Level 3 chargers with much higher reliability rates.
Lincoln Electric's Carefully Planned Campaign
Lincoln's move into DC fast chargers isn't a spur-of-the-moment decision but of detailed planning during most of 2022. The company also draws on deep resources of cash, technical expertise, and research to support its plan.
It even owns a patent from 1914, before World War I started, detailing a charging system for electric batteries. The system's development might have been sparked partly by the numerous electric cars invented from the 1890s to the 1920s before gasoline won out in the early auto market.
As Industry Week reports, Lincoln began publicly discussing making EV chargers in April 2022. Once again, customer demand for ruggedness and reliability were at the forefront of the discussion.
Lincoln's Power Wave power supply system, used throughout its welders, is almost perfectly adapted to DC Level 3 charger use, too. The company will need to make a few tweaks but the electrical architecture between the two is nearly identical. Lincoln's VP of Global Equipment, Steven Sumner, says the main change will be switching from low voltage and high current to high voltage and low current.
The welding machine manufacturer recently advertised for 75 qualified engineers to help accelerate its charger production plans. It says it will pay a $10,000 sign-up bonus to the best of these candidates, according to Cleveland Business.
The jobs will be located in Cleveland and Detroit, where Lincoln intends to build the new chargers. The first designs should be out in late 2022 and full-scale production will start sometime in 2023.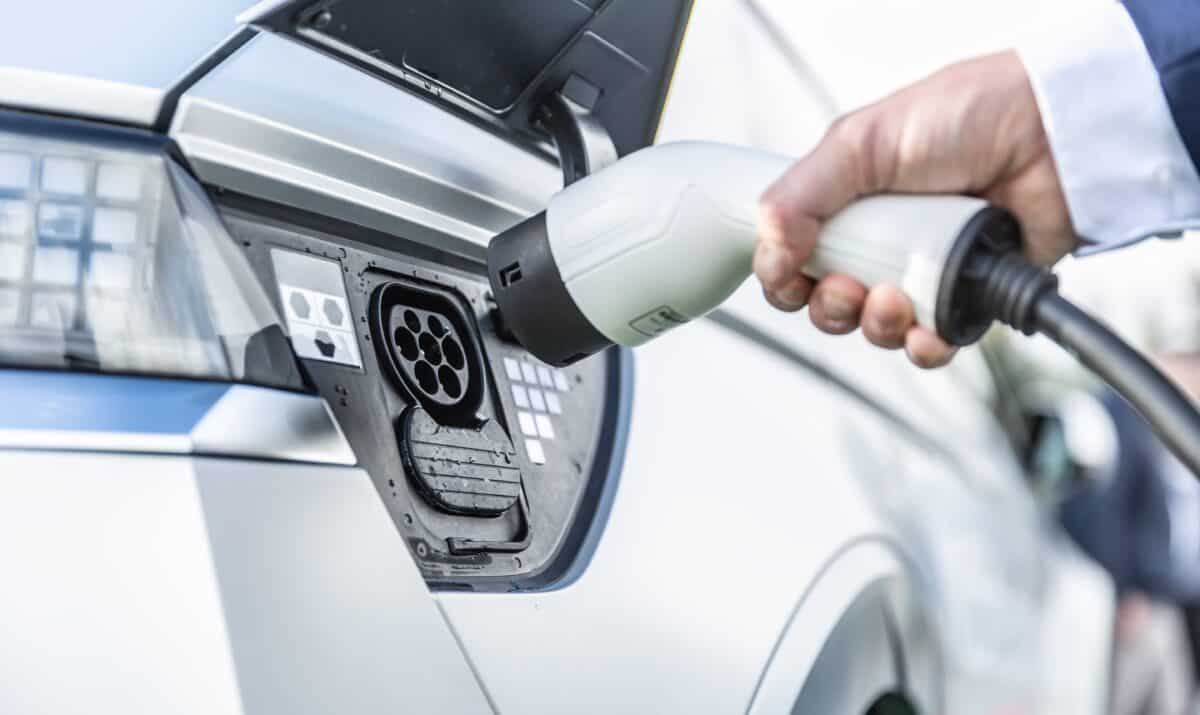 Lincoln Electric Versus Other Major Networks
Several other fast charger networks already exist in the U.S. or are in the process of planning or rollout. Lincoln Electric isn't operating in a vacuum, after all. Both the current Tesla Supercharger Network and the upcoming Rivian Adventure Network offer fast charging services across America. However, for the moment, both these networks are proprietary.
Tesla plans to open its U.S. Supercharger stations to other EV brands late this year. It has already done so in Iceland, Electrek reports, alongside most other European countries. The company could gain government funding under new EV infrastructure plans by enabling other EVs to charge at its network. Rivian, meanwhile, already has physical compatibility with CSS chargers, with other brands locked out by programming, not plug type.
Lincoln Electric's fast chargers will give non-Tesla and non-Rivian drivers more recharge options outside the proprietary networks. Rivian and Tesla owners will also benefit if the network goes live, gaining additional nodes for DC charging.
Since Lincoln's chargers feature CSS connections, Rivian owners can plug their EVs in directly, no adapter is needed. Tesla also recently started making $250 "CSS Combo 1" adapters allowing some of their vehicles to charge at third-party CSS chargers. Green Car Reports says the adapters only work with the recent model year Tesla Model 3, Tesla Model S, and Tesla Model Y EVs.
Regardless, Lincoln Electric's DC chargers will open more charging locations to many Tesla and Rivian owners. This is in addition to numerous other brands locked out of the proprietary networks.
Lincoln's EV Chargers: Pros and Cons
Lincoln's plan for Level 3 DC chargers is bold for a company that hasn't dabbled in the EV world before. However, on the positive side, its high electrical flow industrial welders use basically the same technology as DC fast chargers.
It already has the manufacturing capacity within the United States to fabricate large numbers of chargers. Perhaps most importantly, it may bring added durability and resilience to a Level 3 charger design.
It can likely build chargers with much higher "uptime" than its competitors. This factor will give it a big marketing advantage among states looking to build out their charger networks.
Bringing in a long-established industrial company with the hard-headed ability to make tough Level 3 chargers that just work, regardless of weather, temperature, or harsh conditions, could also help make EVs a more appealing option for potential buyers, too.
There are very few cons at this point to weigh against Lincoln's pros. Its lack of previous direct experience in building chargers might be viewed as a downside. But, since a DC fast charger is almost the same design as a reconfigured industrial DC welder, Lincoln still looks like a likely winner.
Next Up…
Did you like this article? Don't forget to share and take a look at some of our other pieces: