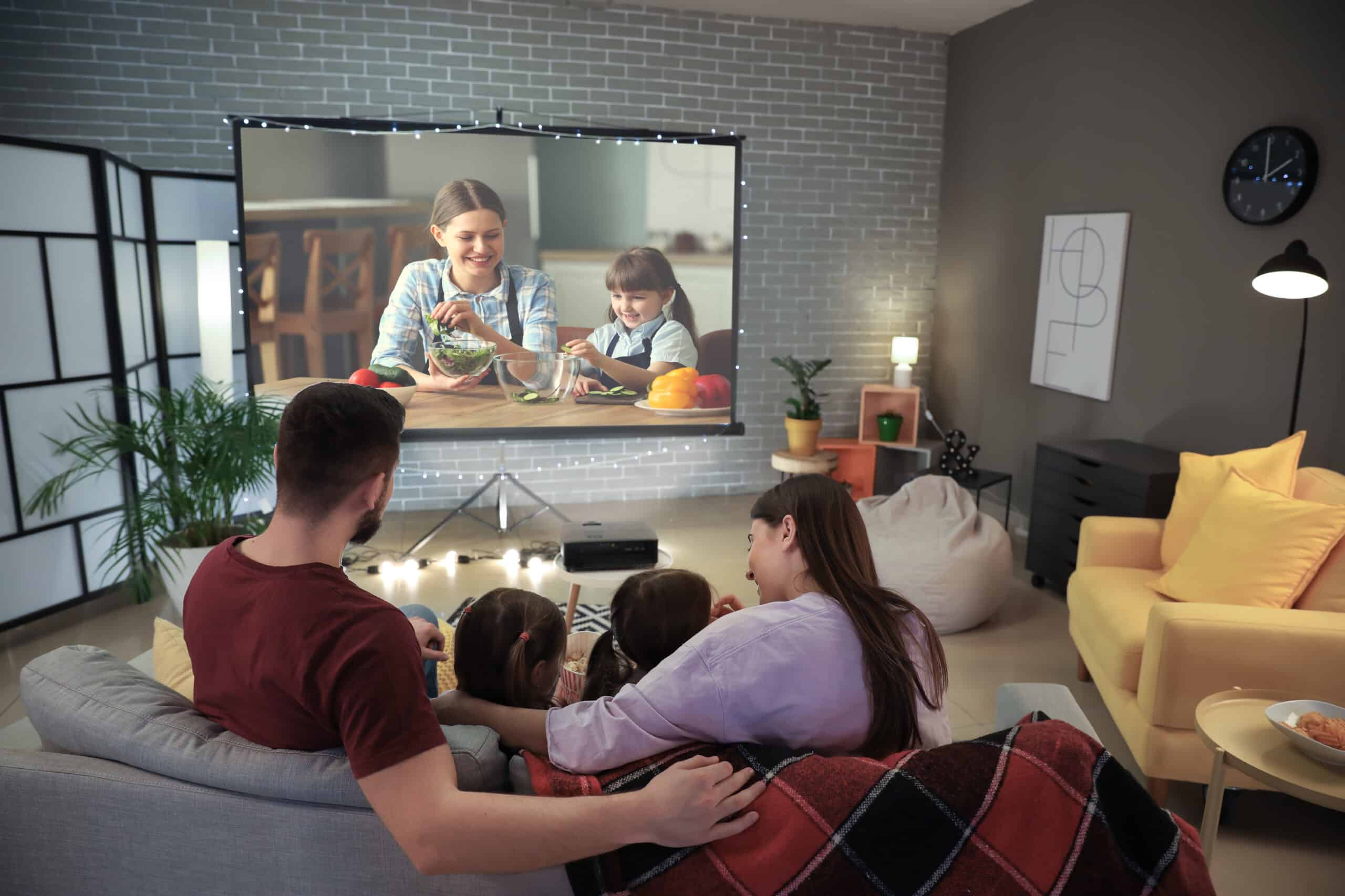 When building a dream home cinema, it's natural to want the best visual experience. Whether you're a movie buff or streaming enthusiast, the choices often come down to a laser projector or a high-resolution television. LG makes both, but deciding between the LG UHD Laser (Short Throw) vs. LG 8K TVs can be challenging. Each device has unique characteristics, and this guide might help you determine your best choice.
LG UHD Laser (Short Throw) Vs. LG 8K: Side-by-Side Comparison
Comparing the LG UHD Laser (Short Throw) to an 8K TV is like comparing apples with oranges. The two are fundamentally different devices, even if they provide a visual experience. So, here's how the two compare.
LG UHD Laser (Short Throw) Vs. LG 8K: What's the Difference?
Projectors have been common fixtures in public theaters since the dawn of cinema. Modern living-room projectors, like the LG CineBeam, have an ultra-short throw ratio. This allows you to place the device just mere inches from the wall or screen. However, the substrate (your screen or wall) plays a crucial role in determining image quality.
High-resolution televisions, such as 8K TVs, can often provide an immersive visual experience better than a projector. However, image quality and color accuracy vary widely, depending on the display technology. Display sizes are also smaller compared to projectors, even when considering the biggest TV displays.
Display Technology
The main difference between LG CineBeam and the 8K TVs is their display technology. CineBeam doesn't have an actual display. Instead, it uses digital light processing (DLP) technology to project images onto a screen or wall.
DLP technology uses micro-mirrors that capture and reflect images from an optical device onto a large surface. The main advantage is the smoother video compared to LCD projectors. DLP units can project higher-resolution images and generate richer blacks and higher contrast. The downside is a rainbow effect when ambient light falls onto the lens at a certain angle, but LG mitigates most drawbacks with its high dynamic range (HDR) image quality.
LG's 8K TVs feature various display technologies. They all deliver good image quality, but some are better than others. NanoCell is the brand's proprietary display technology, similar to QLED. These TVs have a standard LCD panel coated with a layer of nanoparticles. Each nanoparticle has a diameter of one nanometer, and its work is to enhance color accuracy and contrast. NanoCell TVs with an 8K resolution deliver crisp images, but image quality pales compared to QNED or OLED TVs.
LG 8K QNED MiniLED TV is perhaps the brand's most sought-after ultra-high resolution TV. The TV's display combines NanoCell, quantum dot, and mini LED technologies with enhanced image quality and brightness. The main difference compared to NanoCell is the division of the screen into smaller dimming zones, which results in richer blacks and brilliant color reproduction.
OLED TVs from LG are different than both NanoCell and QNED. These displays are not LCD but consist of organic light-emitting diodes that can turn on and off independently. Since each pixel is independent of all other pixels, the display can achieve true black and infinite contrast. The colors are richer and brighter, and the image quality is superlative.
Image Quality
LG UHD Laser (Short Throw) and the 8K TVs from the brand are designed for home cinema setups. They provide good image quality, but the CineBeam has a lower resolution of only 4K. Considering the scarcity of 8K content, this isn't necessarily a drawback. However, if you want to be ahead of time and have the best image quality, then an 8K TV is a better choice.
That said, the CineBeam is capable of delivering impressive images. Its secret is the XPR pixel-shifting technology that helps the projector achieve true 4K resolution regardless of the DMD chip's number of native pixels.
A brightness of up to 2,700 lumens also results in great contrast and excellent image quality, even without blackout curtains. However, while image quality is maintained under ambient lighting conditions, full sunlight can alter color accuracy and overall image quality.
As far as the 8K TVs are concerned, the OLED TV provides the best image quality. Like the CineBeam, LG's 8K OLED TV integrates high dynamic range (HDR) technologies and tone mapping features, delivering more crisper images than the projector. NanoCell and QNED televisions have slightly lower image quality than OLED, delivering a visual experience closer to the CineBeam.
Color Accuracy
The LG 8K OLED TV also has the upper hand in the color accuracy department. This television features infinite contrast and creates richer, more brilliant colors thanks to its self-lighting pixels. The visual experience is true to life, which can hardly be achieved with any other display technology.
This may come as a surprise, considering that LG's OLED panels are native 10-bit, whereas the CineBeam's 3-channel laser ensures a color reproduction performance up to 12-bit. What truly makes the difference is the advanced technology behind the OLED panels that, currently have no rivals.
Another factor that can make or break the deal when shopping for CineBeam is the substrate you're projecting onto. Gray is generally considered the best wall color for home cinema projectors, and any other hue can have a negative impact on image quality and color accuracy. Alternatively, invest in a quality projector screen.
Screen Size
A factor that could turn the odds in favor of CineBeam is the screen size. This short throw projector can turn any wall or screen into a 120-inch display when placed at a distance of 7.2 inches from the surface. LG's largest 8K TVs have a max diagonal of 88 inches. If you want a really big screen that can deliver a true home cinema experience, then CineBeam is your best option.
Viewing Angle
Screen size aside, the viewing angle is another factor that can make or break the deal. When your eyesight falls perpendicular to an image (you sit straight in front of the screen, at the right distance), the actual viewing angle may not seem that important. However, when sitting at an angle from the screen, a wide viewing angle is essential for maintaining good image quality.
As a projector, the CineBeam has a standard viewing angle. However, all 8K TVs from LG have a wide viewing angle that allows you to enjoy high-quality images no matter where you sit. Due to this factor alone, an 8K TV is the best choice for most homes – unless you plan to build a dedicated home cinema room with theater-like seating.
Smarts and Connectivity
Another difference between CineBeam and LG 8K TVs is the smart and connectivity features on each device. From this standpoint, all 8K TVs from the brand feature similar characteristics. They come with four HDMI, three USB ports, Bluetooth support, Ethernet input, and Wi-Fi.
These televisions have built-in Google Home and Alexa but are also compatible with external smart home devices, including Google Home, Alexa, and Apple Homekit or Airplay. Content partners vary from Netflix and HBO Max to Apple TV, YouTube TV, Spotify, Paramount+, and Hulu, to name just a few.
CineBeam features built-in Google Home and Alexa, but it is not compatible with external devices. Premium content providers include Netflix, Disney+, and others, but options are limited compared to TVs. Limited is also the connectivity ports. This projector comes with two HDMI and two USB ports (plus a USB type C outlet), and wireless connectivity consists of Bluetooth only.
Another highlight of LG 8K TVs is the Game Optimizer and additional gaming features that might appeal to avid gamers. Cloud gaming is also integrated into these televisions, meaning you can access dozens of games even if you don't have a gaming console. The CineBeam lacks all these features.
Price
Budget plays an important role when choosing a device, and if you're on a tight budget, a NanoCell 8K TV might help you save a buck. Based on the screen size, you may spend under $1,800. QNED and OLED options are more expensive, with the 88-inch LG Signature OLED TV coming with an eye-watering price tag (about $24,990).
CineBeam isn't as expensive as the LG Signature TVs but isn't as affordable as a NanoCell TV. Based on the version, you could spend between $2,500 and $4,999. Bundles available from selected sellers typically bring more value for money.
LG UHD Laser (Short Throw) Vs. LG 8K: 5 Must-Known Facts
LG UHD Laser (Short Throw) is a home cinema projector, while LG 8K is a range of 8K TVs with different display technologies.
CineBeam is a great choice for dedicated home cinema rooms with controlled light conditions. However, it is bright enough to provide quality images in ambient lighting.
LG 8K TVs work well in living room setups and home cinema rooms, providing exceptional image quality in all lighting conditions.
Image quality and color accuracy can vary from one 8K TV to another. OLED TVs are the best, followed by QNED and NanoCell.
OLED TVs are the most expensive, with models in the Signature series often exceeding $20,000. QNED and NanoCell 8K TVs are more affordable.
LG UHD Laser (Short Throw) Vs. LG 8K: Which One Is Better? Which One Should You Use?
Finding the best home cinema device requires careful consideration. Do you have a dedicated home cinema room or want to turn your living room into a multi-functional space? Are gaming features in a TV important to you?
If you're building the ultimate home cinema, the LG UHD Laser (Short Throw) might be your best choice. This projector can deliver a huge screen size and excellent image quality in a dedicated room with controlled lighting – such as blackout curtains. However, an 8K TV might be the best choice for your living room if you don't have a dedicated home cinema room.
The backlit panel of televisions and various display technologies deliver crisper and brighter images. Infinite or almost infinite contrast enhances image quality in all ambient lighting conditions. The colors are also more brilliant and true-to-life compared to CineBeam. Ultimately, if you want a streaming device and a huge gaming screen in one, you should opt for an 8K TV.