In the run-up to CES 2023, LG introduced a brand new line of state of the art OLED televisions. The most impressive of the bunch — the LG G3 — caught the greatest amount of attention from critics and consumers alike. But how does this exciting new OLED offering from LG compare to the television types they already have on the market, like LG's QNED TVs?
Let's take a look and see which is the better TV between the two.
LG G3 vs. LG QNED: Side-by-Side Comparison
| | LG G3 | LG QNED |
| --- | --- | --- |
| Release Date | Q1 2023 | May 2021 |
| TV Type | OLED | Mini LED |
| Subtype | WOLED | IPS |
| Available Sizes | 55″, 65″, 77″, 83″ | 55″, 65″, 75″, 86″ |
| Refresh Rate | 120Hz | 120Hz |
| HDR | HDR10, Dolby Vision, HLG | HDR10, HDR10+, Dolby Vision, HLG |
| Ports | 4 HDMI, 3 USB | 4 HDMI, 3 USB |
| Operating System | webOS | webOS |
| Processor | α9 AI Processor Gen6 | α7 AI Processor Gen5 |
Fantastic Colors
LG QNED80 Series 65-Inch Smart TV
The fifth generation α7 AI Processor uses algorithms to automatically adjust the sound and picture as you watch
Quantum Dot NanoCell Color Technology delivers more vivid and accurate colors
Supports HDR10, HLG, and Dolby Vision
FreeSync Premium, VRR, Auto Low-Latency Mode, and HGiG compliance
120Hz refresh rate for colorful and sharp images
We earn a commission if you make a purchase, at no additional cost to you.
LG G3 vs. LG QNED: What's the Difference?
There are a number of factors that make a little bit of difference between the LG G3 and LG QNED. Sure, they come in slightly different sizes. Yes, they use different processors. Of course, they have different versions of the same operating system. But, in comparison to other key differences, these ultimately seem like minor points.
Let's focus on the big factors: the differences in TV type, subtype, and display quality between the LG G3 and LG QNED.
TV Type
Firstly — and, without question, most importantly — the difference in these two TV types, and it's about a lot more than two different offerings from the same brand. While the LG QNED lineup uses highly innovative and very impressive mini LED technology, it's ultimately still an LCD at the end of the day. The LG G3, by comparison, is an OLED TV. OLED is far superior to LCD technology, even if it's the best of the best that LCD can get (as in LG QNED's case). At the end of the day, OLED is the better TV type.
TV Subtype
While we've established that the LG G3 is an OLED and the LG QNED is a mini LED LCD, what about the specific type of OLED or mini LED technology? In the LG G3's case, it's WOLED: a layer of OLEDs with semitransparent white layer over the top for increased brightness and clarity. The LG QNED is IPS, a thin layer of liquid crystals placed between two layers of glass for increased sharpness and color gamut. While IPS certainly makes LG QNEDs look good, WOLED is the superior TV subtype for the way it enhances LG G3's OLEDs.
Display Quality
We know that the LG G3 has the greater display technology as well as the optimal version of that display technology. However, we can just as easily see that the LG QNED line offers more HDR variants than the LG G3 does. Does this make much of a difference when the LG QNED is still ultimately mini LED? It's hard to say, especially when the human eye will be the true determiner. Looking at it objectively, the LG G3's newer processor more than makes up for this lack of additional HDR types.
The History of the LG G3
You know that San Diego Comic Con is the place for today's hottest movies and TV shows to make their big announcements regarding their upcoming projects. Likewise, CES, the Consumer Electronics Show, is the place for our biggest and greatest tech brands to announce their upcoming products and services to the world. That's why it's so interesting that LG announced a number of its new OLED TVs before CES 2023 even began. In the days leading up to this year's show, LG released new information on the LG G3 and its sister product, the LG C3.
This pair of new LG OLED TV models exist as the newest editions of the ever-popular G Series and C Series. Once they hit shelves, they will replace the current models: the LG G2 and the LG C2. Additionally, the LG G3 will serve as a step above the LG C3 — both in overall quality and price.
With that being said, both the LG G3 and the LG C3 will come with the α9 AI Processor Gen6 inside. This top-of-the-line smart TV processor takes high-quality LG OLED TV display technology and implements superior upscaling skills and increased dynamic range.
The α9 AI Processor Gen6 is about more than just better picture quality over the previous generation. The Gen6 also works to bring 9.1.2 virtual surround sound to the LG G3's built-in sound system. What's more, it also helps power the LG G3's new "Brightness Booster Max" feature. OLED TVs — and especially WOLEDs — are bright and crisp and vibrant enough in their own right, but with this optimized feature, the LG G3 becomes as great as 70% more bright compared to the quality of other rival OLED TVs.
Excellent OLED Screen
LG C2 65-Inch OLED evo
Great contrast, deep blacks, and over a billion colors
8 million self-lit OLED pixels
Alpha 9 Gen 5 AI Processor 4K, exclusive to LG, intuitively adapts to what you're watching
LG Game Optimizer mode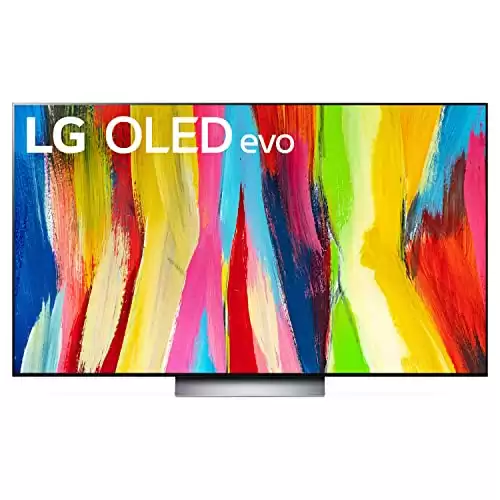 We earn a commission if you make a purchase, at no additional cost to you.
Best Dual Purpose
LG G2 Series 65-Inch Class OLED evo
8 million self-lit OLED pixels provide stunning depth and clarity in 4K resolution with Dolby Vision HDR
Gallery Edition hangs closely to the wall and displays art photography when not in use
Ideal for gamers with a VRR, ALLM, and Game Optimizer Mode
Alexa-enabled with streaming support for HBO Max, Disney+, Hulu, Netflix, and more
We earn a commission if you make a purchase, at no additional cost to you.
How QNED Compares
QNED, ULED, OLED, QLED… what in the world is going on in the TV aisle at your local electronics store or tech department at your usual box store?
There's no doubt these various, similar-sounding four-letter abbreviations are designed to trip consumers up, overwhelm them with identical-seeming choices, and ultimately convince them to buy whatever one's the most appealing to them in the moment. LG's line of QNED TVs is no exception to this confusion. Thankfully, we're here to set things straight.
QNED TVs first emerged on the scene in December 2020. LG first introduced their line of QNED TVs shortly after, subsequently rolling them out over the course of summer 2021. The first LG QNEDs began hitting shelves in May of 2021, with others coming in June and July of that same year. The press release for these LG QNED televisions was peppered with some very attractive claims, including (but not limited to) the notion that these LG QNEDs would stand as the best LCD TVs on the market. They called the new QNED TVs the biggest jump forward in LCD technology in the entire history of LG.
While they inevitably pale in comparison to the quality and look of the LG G3, LG QNED TVs are nevertheless exactly what LG claimed they were: among the best LCD TVs that money can buy today. Equipped with high-performing mini LEDs, attractive NanoCell technology, and innovative Quantum Dots for even better display technology, the LG QNED lineup might not be as great as the LG G3, but it's still an excellent bet for fans of LCD. As a matter of fact, LG was the first company to use mini LEDs in both a 4K and an 8K television in the consumer market. All in all, LG QNEDs make for great LCD TVs.
LG G3 vs. LG QNED: Pros and Cons
LG G3
| Pros | Cons |
| --- | --- |
| The brightest OLED TV on the market | No sizes below 55 inches |
| Top-notch processor | Expected to be quite pricy |
| Very little lag when navigating menus | Faces obsoletion with the future LG G4 |
| 9.1.2 virtual surround sound system built in | As with all OLEDs, burn-in is a risk |
LG QNED TVs
| Pros | Cons |
| --- | --- |
| Very little glare | No need to shell out for an 8K QNED TV |
| Equipped with NanoCells | Lower color gamut than the LG G3 |
| Utilizes Quantum Dots | Many QNED TV options creates much confusion |
| The first and the best mini LED LCD TVs today | Like the LG G3, LG QNEDs are pretty expensive |
5 Must-Know Facts About OLED and QNED
If you're confused about what QNED means, think of it like a smorgasbord of all the best things about LCD TVs. It's a combination of NanoCell and Quantum Dot tech used in conjunction with a mini LED backlight, which uses 2,500 unique dimming zones comprised of over 30,000 small LED bulbs to create the best LCD picture quality on the market.
QNED and QLED sound nearly identical, but there are some important distinctions to make here. For one, the QLED is a Samsung technology, not an LG one. Additionally, the QLED lacks the NanoCell layer that gives the QNED its second initial. For these two reasons, the QNED is the superior version of the QNED.
As of this writing, OLED TV technology reigns supreme over any and all LED LCD TVs, no matter if it's mini LEDs or regular-sized LEDs being used. This is because of the very nature of OLED technology: it is electroluminescent, meaning it does not have to rely on dimming bulbs in zones. Each OLED can light up or turn off individually, meaning it can go both darker or brighter than any LED.
Both mini LED and OLED technology are some of the most expensive TV tech on the market today. However, OLED tech is ultimately more expensive than mini LEDs because of the assembly process. Mini LEDs are less technologically advanced compared to OLED, making them slightly cheaper as a result.
Sony and Samsung are the industry's leaders in OLED offerings. Conversely, QNED is offered by one brand and one brand only: LG. This makes QNED a more exclusive offering in comparison to OLED.
LG G3 vs. LG QNED: Which is Best for You?
Let's think about what we've learned throughout this piece thus far. For one, we know that the LG G3's OLED technology is superior to the LG QNED's mini LED technology. What's more, we know a WOLED TV is better than an IPS TV. Additionally, we can see that the LG G3's processing power is greater than that of any LG QNED.
All things considered, it would be outright unfair to name anything other than the LG G3 the winner of this debate. It's the LG G3, and although it's a close call, it's undoubtedly the right one.
LG G3 and LG QNED: Technology Updates
The LG G3 and LG QNED TVs have not undergone significant technological upgrades in recent times. Nonetheless, both variants have undergone minor software updates aimed at enhancing performance and resolving bugs.
LG G3 and LG QNED: Looking Forward
Over the next six to 18 months, the LG G3 and LG QNED TVs are projected to undergo several technological enhancements:
Enhanced Brightness: While the LG G3 and LG QNED TVs already offer remarkable brightness, the possibility of even brighter display panels is on the horizon. This advancement would be particularly advantageous for elevating the visual impact of HDR content, which thrives on heightened brightness levels.
Expanded Viewing Angles: OLED TVs, including the LG G3 and LG QNED models, are recognized for their superb viewing angles. The future holds the potential for even wider viewing angles, enabling an enriched viewing experience from diverse and extreme vantage points.
Improved Upscaling: The LG G3 and LG QNED TVs currently excel at upscaling lower-resolution content. Anticipate the integration of superior upscaling algorithms in upcoming updates, enabling the enjoyment of a broader range of content with enhanced quality, even if it originates in resolutions below 4K or 8K.
Novel Features: Ongoing innovation by LG entails the introduction of novel features to their TV offerings. Future enhancements for the LG G3 and LG QNED TVs could encompass automatic adjustment of picture settings based on content type, along with the capacity to reduce image noise. These features promise to augment the overall viewing experience.
The image featured at the top of this post is ©Sorbis/Shutterstock.com.