LG is big on innovative TV technology, so what better place for the tech giant to reveal its new 2023 OLED TVs than CES 2023? At the event, the company presented its newest OLED evo panel packed in the G3, as well as the world's first wireless OLED television, the M3.
How do the LG G3 and LG M3 compare, you ask? Let's dive into all the juicy details!
LG G3 vs. LG M3: Side-by-Side Comparison
| | LG G3 | LG M3 |
| --- | --- | --- |
| Release Year | 2023 | 2023 |
| Display Type | OLED evo | OLED evo |
| Dimming Technology | Pixel-level dimming | Pixel-level dimming |
| Display Resolution | 4K | 4K |
| Picture Processor | α9 Gen 6 AI Processor | α9 Gen 6 AI Processor |
| Refresh Rate | 120Hz | 120Hz |
| High Dynamic Range | Cinema HDR | Cinema HDR |
| Game Optimizer? | Yes | Yes |
| Cloud Gaming | GeForce NOW | GeForce NOW |
| Ports | 4 HDMI, 3 USB | 3 HDMI, 2 USB |
| Available Sizes | 55", 65", 77", 83" | 77", 83", 97" |
| Price | Less expensive | More expensive |
LG G3 vs. LG M3: What's the Difference?
The G3 and M3 are the two newest televisions from LG, announced to be released in the first half of 2023. The former is an upgrade from LG G2, with this television delivering improved brightness and better image quality than its predecessor.
The LG M3 is part of the brand's Signature series and it is expected to be an exclusive affair. While prices have not yet been revealed, it will likely cost much more than the G3. Prices aside, each television comes with unique features that may make you prefer one over the other.
Best Gallery Feature
We earn a commission if you make a purchase, at no additional cost to you.
Design
The LG G3 and M3 are two premium OLED TVs, and they both impress with sleek designs that fit well in most spaces. However, while the G3 is designed to be wall-mounted, the M3 comes with an easel-like stand. Combined with the no wires promise, you might believe that placing it in the middle of the living room sounds like a good idea.
Sadly, it isn't. Even though this television has sleek lines and a very thin bezel, it only really looks good from the front. Its back is pretty unenthusiastic and not so different from the back of the G3. The wireless promise is also only true as far as additional devices (i.e., PlayStation, sound systems, and the like) are concerned. The television draws actual power from a standard wall outlet, and you must plug it in. However, the power cable runs through one of the easel legs and remains hidden from sight, giving the device a wireless appearance.
A unique design element is the Zero Connect transmission box that uses radio frequency (RF) technology to allow for audio and video transmission of 4K up to 120Hz. This box can be placed anywhere up to nine meters (29.5 feet) from the TV as long as it maintains a line of sight. However, a dial on top of the box allows you to adjust the direction of the signal. As you can imagine, this box is the plug-in station for wired game consoles, sound bars, Bluray players, and other devices. Wireless devices connect directly to the TV –– no transmission box needed.
The LG G3 doesn't come with a stand, and its back is designed to sit flush against a wall. Its power wire is as minimal (although not as hidden) as the M3's, but all wired devices plug directly into the various ports on the television's back panel. Unless you're a cable management pro or plan to mount the TV inside a wall, some cable clutter may remain visible.
Image Quality
Something the LG G3 and LG M3 have in common is image quality. Both televisions feature the same OLED evo panels and come with identical α9 Gen 6 processors. However, there might be some quality differences between the two models.
According to LG, the M3 will be about 75 percent brighter than the LG B3 OLED and a lot brighter compared to the LG B2. However, this is only true for the 77-inch variant of the TV. The larger variants are only about 30 percent brighter, which is still a lot. The LG G3 features the same panel, and we know that the Brightness Booster Max brings an image quality improvement of around 70 percent compared to standard, non-evo OLED panels.
Specifically, you can expect a peak brightness of around 2,100 nits. Outstanding sharpness and infinite contrast combine with the panel's high dynamic range (HDR), delivering exquisite images, true-to-life colors and an impressive amount of details in shadows and highlights.
Best for Movies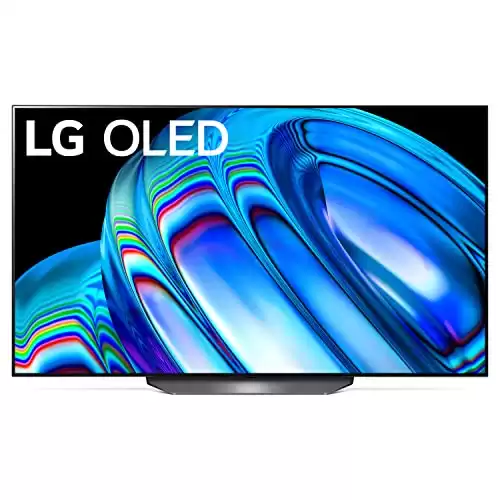 We earn a commission if you make a purchase, at no additional cost to you.
Ports and Connectivity
Whether you want to connect a gaming console or soundbar or watch some pictures stored on a flash drive, both the G3 and the M3 come with sufficient ports. However, while the G3 has all ports on the back panel, the M3's ports are all fitted on the Zero Connect box.
What this means for consumers is that if you truly want a wireless TV, you'll have to sacrifice the outlets. Specifically, the Zero Connect transmitter features three HDMI and two USB ports. Like all other OLED televisions from LG, the G3 features four HDMI and three USB ports.
Both televisions support gaming features like VRR, Nvidia G-Sync, and AMD FreeSync Premium, an Ethernet port, an optical port, and a TV antenna coaxial port. Voice control and compatibility with Alexa and Google Home are also available on both devices.
Gaming
Avid gamers who want to enhance their experience can't go wrong with either option. Both the G3 and the M3 come with a Game Optimizer feature. When enabled, this function allows you to optimize the screen based on the game genre, enhance video quality by eliminating afterimages, and reduce the blue light to prevent eye strain during those long gaming sessions.
This mode also minimizes input delay according to the image signal, cutting off lag. Moreover, the VRR function allows you to adjust frames to minimize screen stutter and calibrate the brightness of dark areas for the best image quality.
Beyond these optimizations, both the G3 and the M3 allow for seamless gaming even if you don't have a gaming console. They both come with GeForce NOW cloud gaming from NVIDIA, and you can access dozens of online games whenever you feel like playing.
Price
The LG G3 and M3 are not yet on the market, and the brand didn't reveal their prices. However, we can expect a significant gap. The M3 model is officially part of LG's OLED Signature series. Most televisions in this series have five-figure price tags, with some costing over $24,000. Meanwhile, the G series is a lot more affordable, with prices in the four-figure range. If the past years are any indication, we can expect the G3 to be slightly more expensive than the G2, but under $5,000.
LG G3 vs. LG M3: 5 Must-Know Facts
The LG G3 and LG M3 are two OLED TVs unveiled at CES 2023. They are both expected to come onto the market in the first half of 2023.
The G3 model is an upgrade of the LG G2. It is a TV designed to be wall-mounted, and it doesn't come with a stand.
The M3 is dubbed the world's first wireless OLED TV. It only has a power cable that runs through one of the stand's legs, hidden from sight.
LG M3 features three HDMI ports and two USB slots, all found on the RF transmitter box. LG G3 has four HDMI and three USB slots.
Both the G3 and the M3 feature the same OLED evo panel and deliver similar sound and image quality.
LG G3 vs. LG M3: Which One is Better for You?
Choosing between the LG G3 and LG M3 comes down to your needs and preferences. Do you want a wall-mounted TV or a freestanding one? Do you mind cable clutters behind the TV, or you couldn't care less?
LG G3 is an excellent –- and relatively affordable -– option if the wireless transmission is not that important to you. This TV comes with a last-generation OLED evo panel, a brightness peak of up to 2,100 nits, and impressive overall performance. Sizes range from 55 to 83 inches, so finding the right TV for your space should be easy.
However, if you don't want to see cables hanging behind your television and don't mind the price tag, the M3 is a solid choice. This wireless OLED TV only has one cable that stays invisible for the most part. The transmitter is a discreet box that you can store on a shelf, and you'll still get an outstanding TV usage experience. Overall, the G3 brings the best balance between price and performance, but you should get the M3 if you want to feel fancy.
LG G3 and LG M3: Technology Updates
As of the latest information, there have been no recent technology updates on the LG G3 and LG M3. However, LG has been actively releasing software updates for both models since their respective releases. The most recent software update for the LG G3 was made available in April 2023, while the latest update for the LG M3 was released in May 2023. These updates primarily focus on enhancing security through the integration of security patches and addressing various bugs to ensure smoother and more reliable device operation.
LG G3 and LG M3: Looking Forward
In the coming six to 18 months, both the LG G3 and LG M3 smartphones are expected to receive notable technology updates, enhancing their overall performance and user experience.
LG G3:
New Processor: The LG G3 is speculated to receive a fresh processor, potentially the Snapdragon 8 Gen 2. This anticipated upgrade promises substantial performance enhancements beyond the current Snapdragon 8 Gen 1 processor, resulting in smoother multitasking and faster overall operation.
Enhanced Camera: Rumors suggest that the LG G3 will feature an upgraded camera module, possibly a 50MP main camera. This anticipated advancement is poised to deliver improved image quality, enabling users to capture even more detailed and vivid photos.
Revamped Display: The LG G3 is also expected to sport an updated display, potentially a 6.7-inch OLED screen boasting a 120Hz refresh rate. Such an innovation promises a heightened visual experience characterized by smoother animations and enhanced immersion while interacting with the device.
LG M3:
New Processor: The LG M3 is anticipated to receive a fresh processor iteration, potentially the Snapdragon 7 Gen 2. This prospective enhancement is poised to bring noticeable performance improvements over the existing Snapdragon 695, resulting in snappier performance and more efficient multitasking.
Improved Camera: Similarly, the LG M3 is rumored to incorporate an upgraded camera system, potentially featuring a 48MP main camera. This advancement would translate to superior image quality, allowing users to capture clearer and more vibrant photographs.
Enhanced Display: The LG M3 is also expected to embrace a rejuvenated display, potentially a 6.5-inch OLED panel with a 90Hz refresh rate. This enhancement promises smoother visual interactions, making navigation and content consumption a more enjoyable and immersive experience.
The image featured at the top of this post is ©mitchFOTO/Shutterstock.com.