So, you want to get an OLED TV. You're not wrong to be drawn to this TV type, even with all the other options out there.
Across the board, from QLED to LCD to Plasma to LED and beyond, OLED continually ranks above the competition. It's widely considered to be the best TV type on the market today. However, the choice between OLED TV brands is not an easy one. How can you know which is best?
Take the LG C2 and Sony Bravia OLED TVs, for example. Two great brands, two excellent TVs, but no obvious winner between them. Which OLED TV is best?
Let's take a look at LG's C2 OLED TV line and Sony's Bravia OLED TV line and pit them against one another. We'll pay close attention to their specs, key differences, and their respective pros and cons. All of this will be done in an effort to determine which OLED TV line is ultimately the best.
Let's get into it below to figure out the superior TV!
LG C2 vs. Sony Bravia: A Side-By-Side Comparison
| | LG C2 OLED TVs | Sony Bravia OLED TVs |
| --- | --- | --- |
| Model Year | 2022 | 2022 |
| Sizes | 42″, 48″, 55″, 65″, 77″, 83″ | 42″, 48″, 55″, 65″, 77″, 83″ |
| MSRP Range | $1,399-$5,499 | $1,399-$5,999 |
| Display Type | OLED Evo | OLED |
| Display Quality | 4K UHD | 4K UHD |
| Picture Processor | α9 Gen 5 AI Processor 4K | Cognitive Processor XR |
| Refresh Rate | 120Hz | 120Hz |
| HDR | Dolby Vision, HDR10, HLG | HDR10, HLG, Dolby Vision |
| Sound Quality | Dolby Atmos | Dolby Atmos |
| HDMI Ports | 4 | 4 |
| USB Ports | 3 | 2 |
| Bluetooth | 5.0 | 4.2 |
What are the Key Differences?
In many respects, the LG C2 OLED TVs and the Sony Bravia OLED TVs are quite evenly matched. From their picture and sound quality to their HDR support, various sizes, and refresh rates, there are numerous places where the two report the exact same specs.
However, there are still plenty of distinguishing factors worth noting here. Let's explore them more below.
Price
Both the LG C2 and the Sony Bravia OLED TV lines start at $1,399 for their respective 42″ models. However, the sale prices for each differ significantly. The 42″ LG C2 is available at a discounted price of $999 on the LG site and other retailers, while the 42″ Sony Bravia XR A90K is discounted at a slightly higher $1,149. When the MSRP is identical, these sale prices make all the difference. In effect, the LG C2 OLED TV becomes more affordable than the Sony Bravia OLED TV (even though both have the same MSRP).
The MSRPs on the larger offerings from both brands are much more varied. The 83″ LG C2 has an MSRP of $5,499. On sale, the 83″ LG C2's price drops down a thousand dollars to $4,499. The 83″ Sony Bravia XR A90J, on the other hand, boasts an MSRP of $5,999. Its sale price is also a thousand dollars cheaper at $4,999. Alas, that's still a whole $500 more than the LG C2. It's a similar story throughout the other sizes, as well. No matter which way you look at it, the LG C2 proves to be the more affordable OLED TV model across the board.
Amazon has countless deals on LG C2 models and Sony Bravia models, like the ones below, just in time for the holiday season!
Excellent OLED Screen
LG C2 65-Inch OLED evo
Great contrast, deep blacks, and over a billion colors
8 million self-lit OLED pixels
Alpha 9 Gen 5 AI Processor 4K, exclusive to LG, intuitively adapts to what you're watching
LG Game Optimizer mode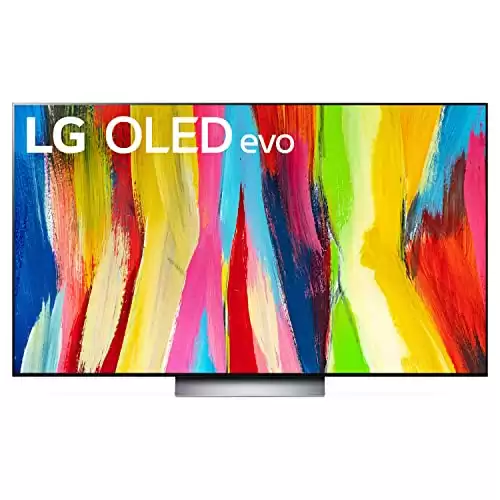 We earn a commission if you make a purchase, at no additional cost to you.
Best for Audio
We earn a commission if you make a purchase, at no additional cost to you.
Picture Processor
Sort of like your TV's brain, the picture processor is akin to a computer processor. It controls the speed at which your television operates, processing the films, television shows, sporting events, and videos you're watching in real-time. Both the LG C2 OLED TVs and the Sony Bravia OLED TVs use their own unique picture processors, making their performances slightly different (but nevertheless worth mentioning here).
The LG C2 is equipped with an α9 Gen 5 AI Processor 4K. Referred to in LG marketing as the company's most powerful chip ever used, it's designed to automatically determine the optimal audio and visual quality for the best viewing experience imaginable. By and large, this results in much brighter, more vibrant visuals.
The Sony Bravia, on the other hand, uses a Cognitive Processor XR. Described as "intelligent TV processing," this picture processor aims to make visuals more in line with the way humans look and listen in real life. The result is slightly inferior compared to the LG C2.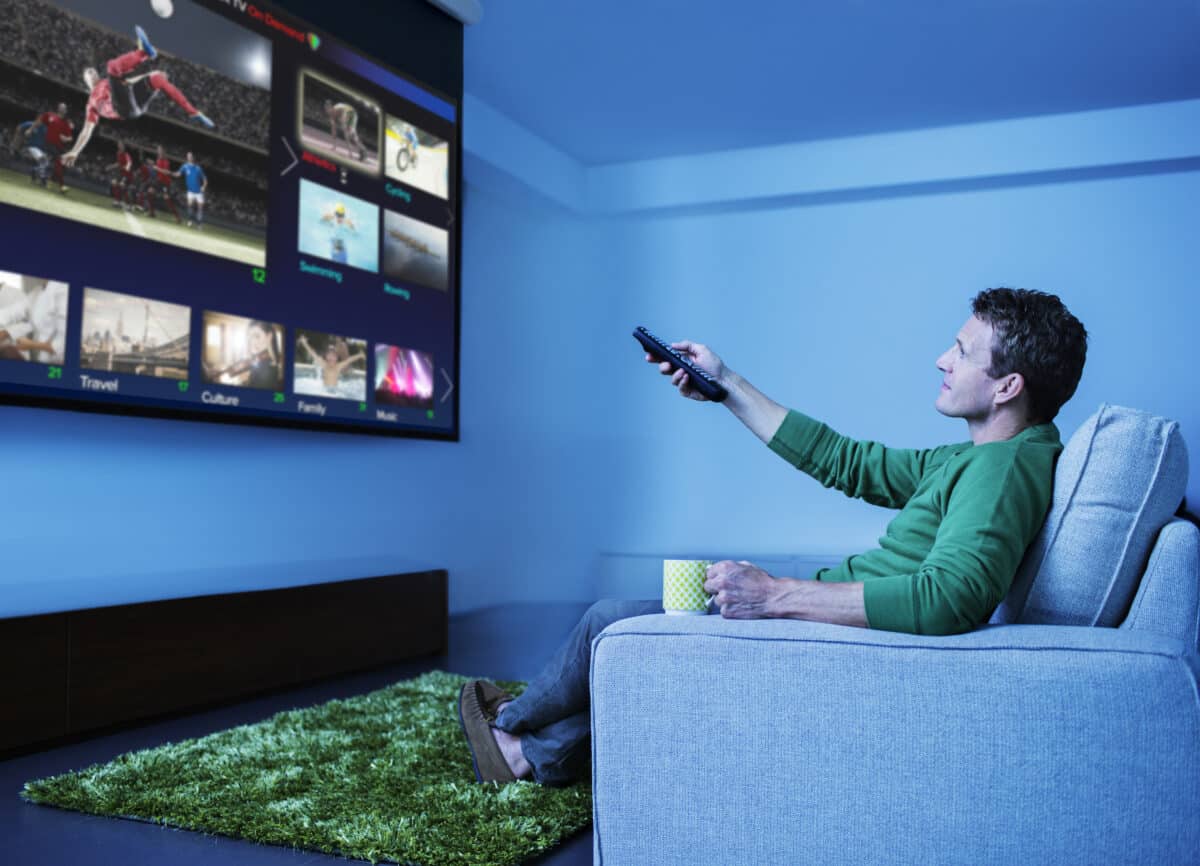 Finer Details
The LG C2 offers four HDMI ports, three USB ports, and supports Bluetooth 5.0. The Sony Bravia, conversely, offers four HDMI ports, two USB ports, and only supports Bluetooth 4.2. This gives LG C2 an additional edge, as there are more input/output options as well as superior Bluetooth technology.
Beyond this, there's the simple fact that the LG C2 line is far more streamlined and unified than the Sony Bravia line. Across the board, all LG C2 televisions are confined under the same model name and number. Sony, by comparison, spreads out its Bravias over multiple models and numbers, all with the same sizes to choose from. This is pretty confusing, as it's hard to tell exactly which Sony Bravia TV is best.
A80K, A90J, A95K, A90K, A80J, A80CJ, A80CK… The average consumer is going to be totally overwhelmed by all these options, while the LG C2 keeps it comparatively simple.
5 Must-Know Facts About OLED TVs
With their remarkably high refresh rates, OLED TVs turn on significantly faster than other TV types.
OLED stands for organic LEDs. These organic LEDs consist of an emissive electroluminescent layer paired with an organic compound film responsible for emitting light when charged by a current of electricity. This differs from regular LEDs, which rely on inorganic compounds.
Whereas LED TVs need constant backlighting, OLED TVs only emit light on each individual pixel. This makes OLED TVs much more energy efficient than regular LED TVs.
OLED TVs are incredibly thin because they lack the need for a backlight. OLEDs are electroluminescent, which means they provide their own light source.
Because OLED TVs have no backlight, they can achieve true blacks — something that LED TVs and other TV types simply can't reach because of the backlight brightening even the darkest pixels.
LG C2 vs. Sony Bravia: Pros and Cons
LG C2
| Pros | Cons |
| --- | --- |
| Unprecedented brightness on-screen | Far more expensive than some lower and mid-range televisions |
| Incredibly thin and lightweight design | Lacks HDR10+ support |
| Plenty of ways to connect sources to the TV | The sound quality out of TV speakers is subpar |
| More affordable than other OLED TVs | Smaller models lack the brightness of bigger ones |
Sony Bravia
| Pros | Cons |
| --- | --- |
| Magnificent infinite contrast ratio | Brightness pales in comparison to the LG C2 |
| Great wide viewing angles | A bit more expensive than the LG C2 and others |
| Plenty of different Bravia options, models, and sizes to choose from | As with any OLED, Sony Bravias are known to burn the screen if left on too long |
| Very fast processor | A significant amount of glare on the screen |
LG C2 vs. Sony Bravia: Which OLED Brand is Best?
So, you already know that OLED TVs are a must-have this holiday season. You also know that there are plenty of brands, options, models, and sizes to pick from across the board. However, what's still not 100% clear is which OLED TV is best: the LG C2 or the Sony Bravia.
Thinking back to what we've gone over thus far, a winner seems to present itself across nearly every category. From its lower prices to its simplified product line to its better picture processor, it's the LG C2 almost every single time.
Make no mistake: the Sony Bravia makes for an impressive OLED TV offering in its own right. It's by no means a bad television, especially when the difference in quality is probably very minimal (if not completely indiscernible) to the average consumer. Alas, the LG C2 makes all the difference where it counts the most. Namely, lower sales prices, increased connectivity, and improved branding over its Sony counterpart.
The Sony Bravia isn't a bad choice, but the LG C2 is without a doubt the best OLED offering of the two.
The image featured at the top of this post is ©iStock.com/simpson33.