Unlike LCD panels, the latest OLED TVs offer rich and precise HDR contrast. So, it's unsurprising that TV manufacturers focus on producing the best OLED panels. Two of the top contenders are LG and Sony. Midrange models like the C2 and A80K are the most popular in their respective lineups. The two TVs are similar in many ways, but some differences make one better for gamers and cinephiles and the other for casual viewers. This head-to-head between the LG C2 and Sony A80K might help you pick the right TV.
LG C2 vs. Sony A80K: Side-by-Side Comparison
| | LG C2 | Sony A80K |
| --- | --- | --- |
| Release year | 2022 | 2022 |
| Display type | OLED evo | OLED |
| Color accuracy | True-to-life | True-to-life |
| Display resolution | 4K | 4K |
| Picture processor | α9 Gen5 AI Processor 4K | Cognitive Processor XR™ |
| Refresh rate | 120Hz | 120Hz |
| Peak brightness | 800 nits | 650 nits |
| Design | Slim | Slim |
| Sound | Dolby Atmos | Dolby Atmos |
| Operating System | webOS 22 | Android TV |
| Available sizes | 42″, 48″, 55″, 65″, 77″, 83″ | 55″, 65″, 77″ |
| Price | $999.99 – $3,999.99 | $1,299.99 – $2,899.99 |
Excellent OLED Screen
LG C2 65-Inch OLED evo
Great contrast, deep blacks, and over a billion colors
8 million self-lit OLED pixels
Alpha 9 Gen 5 AI Processor 4K, exclusive to LG, intuitively adapts to what you're watching
LG Game Optimizer mode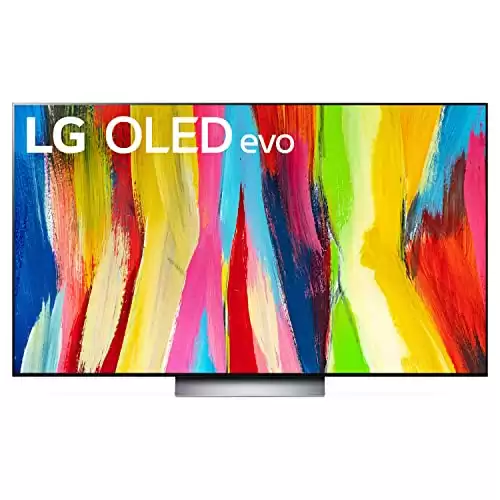 We earn a commission if you make a purchase, at no additional cost to you.
LG C2 vs. Sony A80K: What's the Difference?
If you're shopping for a new OLED TV and don't want to splash out on a top-of-the-line, options often come down to LG C2 and Sony A80K. Both TVs are available in various sizes and have similar features. Price differences exist but are slight. However, image and sound quality, smart features, and gaming capabilities vary. Let's look at these differences in detail.
Image Quality
When shopping for OLED TVs, image quality is a decisive factor. After all, better contrast is the fundamental asset of these panels. C2 and the A80K produce perfect blacks and can create depth you can't get from LCD TVs. Since each pixel can turn on and off independently, neither panel has a blooming effect.
However, there are differences in color accuracy. The Sony TV wins in this aspect with a palette that covers about 99 percent of the wide HDR color gamut. LG C2 has a wide color gamut, but the color accuracy is only 97 percent. That's a minor difference and almost imperceptible difference.
Yet, even though Sony delivers greater color accuracy, the C2 eclipses it in terms of brightness. This is undoubtedly LG's strongest point, as OLEDs are not exceptionally bright.
However, you can expect brightness up to 800 nits from the C2, which means better overall performance in a brightly lit environment. The A80 K's brightness tops at around 650 nits. Higher brightness, infinite contrast, and true-to-life colors give the C2 the upper edge.
Apart from the above, you can expect 4K resolution from both TVs. Both feature AI upscaling that can turn TV content into 4K quality. Moreover, you can choose from several picture modes on both models. This allows you to enjoy content the way the creators originally intended.
Sound Quality
Sound quality can impact your decision whether you're a cinephile, an avid gamer, or just a casual viewer. Again, there aren't significant differences between the two. LG C2 has 2-channel audio, but AI upscaling transforms it into a 7.1.2 channel. Sony A80K features three actuators, two subwoofers, and technologies that create a simulated surround sound. These include 3D sound upscaling and DTS digital surround.
Sony A80K lets you choose various sound modes to optimize your listening experience. Available modes include theater, music, sports, and dialog, in addition to the standard and Dolby Audio.
Smart Features
A significant difference between LG C2 and Sony A80K is the smart platform. The former is built on webOS, an operating system that delivers a friendly user interface but is not as friendly as Android TV. If you crave the latter, you can find it in the A80K.
Google's interface is perfect for dedicated streamers looking for smooth navigation. All apps are easy to find. You can even download other apps you might want to use from the Playstore and mirror your Android mobile to the Sony TV.
While the A80K doesn't come with a cam, it is compatible with external cameras. This makes it possible to use the TV as a big-screen conference platform. Productivity apps are also easy to find and download from the app store, should you need them.
The webOS platform doesn't come with all these smarts. Sure, you'll get all the regular streaming services and even the RemoteMeeting app for conferences. Still, you might not be able to use all of your productivity apps – unless you're happy to do so via mobile-to-TV mirroring, accessing the apps from your phone.
Gaming
If Sony A80K wins in smart features, LG C2 is more likely to appeal to gamers. Its greatest highlight is the presence of four HDMI 2.1 ports, all of which support 4K gaming at 120Hz. This makes the C2 an excellent choice for those who game across multiple platforms and use different consoles.
Sony A80K offers seamless compatibility with all PlayStation consoles but only comes with two HDMI 2.1 ports. If you have a PS, Xbox, and another console, you'll have to relegate one to an essential HDMI port that tops out at 60Hz.
Both TVs deliver variable refresh rates and auto-low latency modes, but the C2 has another ace up its sleeve. LG's TV comes with powerful cloud gaming courtesy of Nvidia GeForce NOW, while Nvidia G-Sync and AMD FreeSync Premium further enhance the gaming experience.
Design
Design-wise, the LG C2 and Sony A80K may look similar. Both TVs feature slim panels and are wall mountable. You can also fit them with stands. However, a more careful look reveals a much slimmer panel in the C2.
Its bezel is also minimal, giving the panel a sleek appearance. This could be important if you want the TV to blend seamlessly into your interior. The A80K may have a slim panel but is thicker than the C2. However, if you don't care about the thickness, a deciding factor might be the stand.
LG C2 features a central pedestal with a downward-facing angle. The stand mounts pretty high on the panel, leaving a narrow clearance between the TV and the surface it's sitting on. While this design conceals the stand beautifully, it might bother you if you want to pair the C2 with a soundbar. The 42-inch C2 swaps the pedestal for two feet set at the corners of the panel, but the clearance is still minimal.
Sony A80K comes with two legs that can be arranged in three different configurations. This lets you decide the clearance between the panel and the surface beneath it. In the tallest configuration, you can get enough inches to fit a narrower soundbar under the TV without obscuring your view.
Size-wise, LG C2 offers more options than Sony. You can choose from six diagonal sizes between 42 and 83 inches. Sony only offers its A80K in three sizes: 55, 65, and 77 inches.
Bright Colors
Sony OLED 65-Inch BRAVIA XR A80K
Features XR Cognitive Processor developed by Sony
Triluminos Pro enhances the already outstanding picture
Dolby Vision HDR and Auto HDR tone mapping for PS5
8.5ms input lag
4K at 120Hz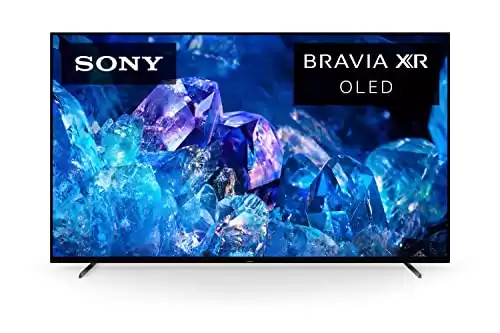 We earn a commission if you make a purchase, at no additional cost to you.
Price
LG C2 and Sony A80K are two midrange TVs in their lineups. They share similar technology and characteristics, and it doesn't come as a surprise that their prices are also similar. However, comparing the exact sizes, the C2 can save you about $100.
The 55-inch LC C2, for instance, costs $1,199.99. Sony A80K, in the same size, can set you back $1,299.99. The same difference can be noted in the 77-inch size – the C2 is priced at $2,799.99, whereas the A80K at $2,899.99.
LG C2 vs. Sony A80K: 5 Must-Known Facts
LG C2 and Sony A80K are two midrange OLED TVs with similar characteristics.
Sony A80K delivers more accurate colors and a wider color gamut. However, the C2 is brighter and provides crisp images in all light conditions.
LG C2 comes with impressive gaming performance. Nvidia GeForce NOW cloud gaming makes this TV perfect for avid gamers who don't want to use a console.
Sony A80K doesn't have the same gaming capabilities, but its Android TV platform makes it the preferred choice for streamers and smart workers.
The C2 impresses with a slimmer profile and an overall sleeker look. However, the A80K offers more clearance, which is handy for pairing the TV with a soundbar.
LG C2 vs. Sony A80K: Which One Is Better? Which One Should You Buy?
LG C2 and Sony A80K are two midrange TVs with similar capabilities, but each model has features that appeal to different people. For its part, the C2 is the perfect TV for avid gamers who don't want to go over the top. You get four HDMI 2.1 ports and 4K at 120Hz, with cloud gaming from Nvidia. This TV also has a lower lag and delivers a better performance regardless of what you're playing. However, avid streamers and casual viewers may find the webOS interface messy.
Sony A80K offers the cleaner interface of Android TV. You can access Google Play seamlessly and download your favorite apps too. Navigation is as easy as it gets, while the richer color gamut boosts image quality. You might also prefer Sony's TV if you're a gamer committed to PlayStation. As both are Sony products, you can expect seamless compatibility. Overall, this TV is a better choice for casual viewers and streamers.
The image featured at the top of this post is ©Studio Romantic/Shutterstock.com.