For the first time in many years, Samsung is making a play in the OLED space, having focused solely on LED and QLED technology for many years. LG has long used OLED screens for its televisions and is one of the primary manufacturers of the panels for many brands around the world like Sony, Vizio, and Hisense.
When Samsung released the S95B OLED earlier this year, it came as quite a surprise to the tech world which has grown accustomed to Samsung's emphasis on QLED technology. Of course, Samsung didn't just release any OLED screen but QD-OLED, so it's a worthy comparison to LG's vaunted OLED Evo panels on televisions like the LG C2.
We'll compare the two brands' OLED TVs to give you the full picture of how they stack up. Let's dive in!
LG C2 vs. Samsung S95B: Full Comparison
| | LG C2 | Samsung S95B |
| --- | --- | --- |
| Price | Starting at $799 MSRP (42") | $1449, $1799 |
| Screen Sizes | 42, 48, 55, 65, 77, 83" | 55, 65" |
| Panel | OLED Evo | QD-OLED |
| Processor | Alpha9 Gen 5 AI Processor 4K | Neural Quantum Processor 4K |
| Resolution | 4K | 4K |
| HDR Support | HDR10, HLG, Dolby Vision | HDR10, HLG, HDR10+ |
| Refresh Rate | 120Hz | 120Hz |
| Smart TV Software | webOS 22 | Samsung Tizen 2022 |
| Inputs | 4 x HDMI 2.1 | 4 x HDMI 2.1 |
| Sound Output | 60W | 20W |
| Smart Hub? | Yes | Yes |
LG C2 vs. Samsung S95B: 5 Must-Know Facts
The S95B represents Samsung's first television with an OLED panel after spending many years focused on QLED technology.
The LG C2 has long been the standard for OLED panels, and with the 2022 model, released OLED Evo technology that makes for a 20% brighter panel.
Samsung has only released the S95B in two sizes for its inaugural year, with 55 and 65" sizes available to consumers.
Samsung includes a three-month trial of Xbox GamePass Ultimate as it looks to attract customers with cloud-based gaming compatibility.
The LG C2 has widely been considered the best OLED TV on the market, thanks to its picture quality, audio, and gaming capabilities.
LG C2 vs. Samsung S95B: What's the Difference?
Build
No matter which TV you pick up, the Samsung or the LG, you are going to get an ultra-thin model. It's safe to say that both of these televisions, save for where the internal parts are stored, are as thin if not thinner than a smartphone. What's more, LG actually packs a mounting bracket in its box which helps it sit almost entirely flush against a wall.
The company also took a major leap forward in hardware design in 2022 with the C2 by utilizing a composite fiber material. The result is a television that weighs significantly less than the year prior and much less than its closest competitors.
Unfortunately, for Samsung, as thin as it is, it doesn't use the OneConnect box of televisions like the Samsung Frame, so it's not as flush against the wall as LG. Still, it's hard to ignore that the S95B is still very, very thin. What's really nice about the Samsung is that the company took great pains to make sure they left room for plenty of space for a soundbar, which is a nicety most manufacturers don't account for.
Perhaps the other major factor that affects the build is the available size options. For the LG C2, you can choose from 42 to 83" in size while Samsung only offers a 55 and 65" model.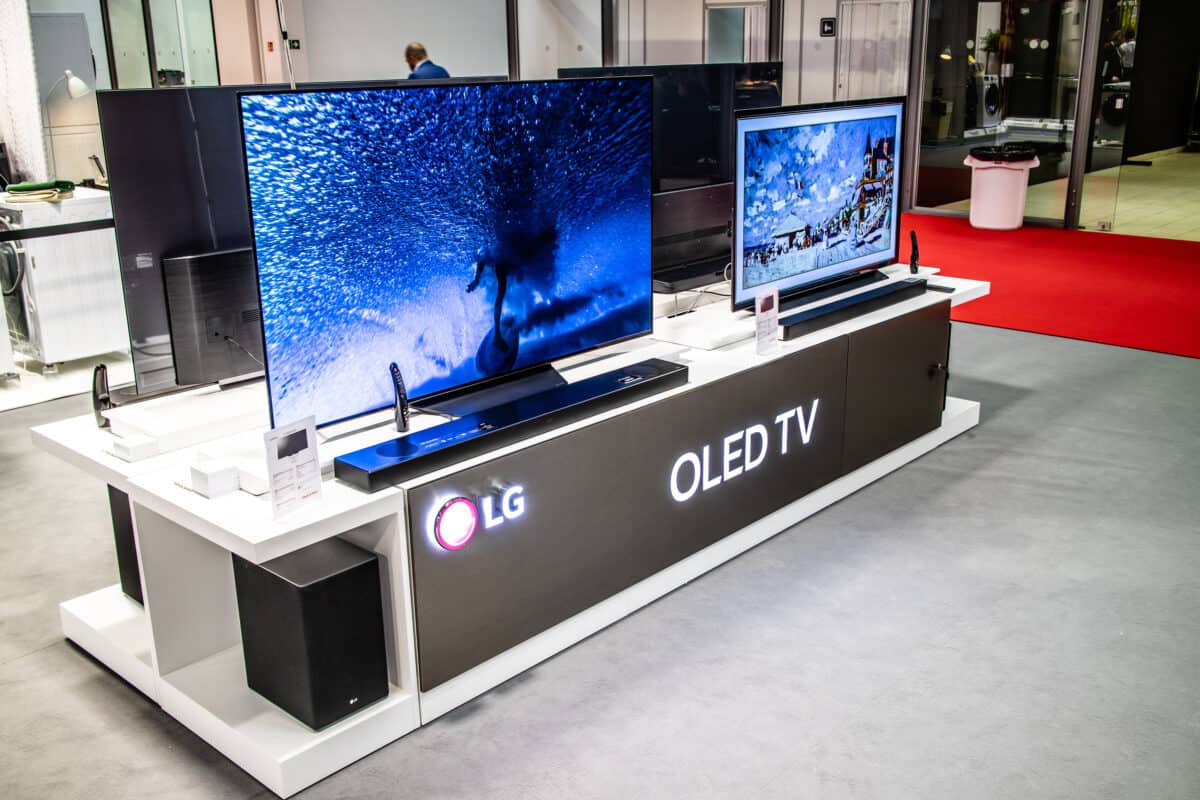 Performance
When it comes to dueling OLED screens, the biggest consideration is going to be where they excel individually. Thankfully, that question is pretty easy to answer for both the LG C2 and the Samsung S95B.
For LG, the discussion very much centers around its ability to provide incredibly deep blacks and excellent contrast. The OLED Evo screen of the LG also really excels at wide angles as well, making it ideal for large rooms.
Where things get a little more tricky is with brightness, and as strong as the LG C2 is, Samsung offers a brighter experience that's really showing a major strength of the S95B. Thanks to Samsung's "quantum dot" technology, you get a brighter and more color-rich picture and, while Samsung has utilized this technology in its QLED screens previously, it really shows itself off on OLED panels.
If you look at both televisions side by side, there is no question they are very close in picture quality. However, when it comes to HDR viewing, Samsung is noticeably brighter, especially in darker rooms where the brightness really shows off. Colors also pop a little more with the Samsung, though, again, the LG still provides excellent skin tones and other color gradients.
Setup
Where things get a little murky is that there is plenty of evidence to support the idea that out of the box, the LG offers a better picture overall. Samsung asks for a little work as far as tweaking the settings, and so as long as you are comfortable making adjustments after purchase, the Samsung can squeak out a small win as far as overall performance.
Smart TV
Unsurprisingly, the LG C2 and Samsung S95B differ greatly in their smart TV feature presentation, though the overall smart features are pretty much the same. For LG, webOS 22 is not quite a full revamp of its previous interface, but they have taken some great strides in making an already good experience better.
webOS
In 2022, the newest version of webOS introduced the option to create up to six different user profiles, so all content recommendations can be kept separate from any family members who use the same television. Likewise, room-to-room technology allows one LG C2 to mirror itself to another LG television in another room of the house so long as it's on the same Wi-Fi connection.
The overall presentation is strong, web and content discovery is great, and the Magic Remote with its point-and-select technology is just a blast to use.
Tizen
For 2022 and the S95B, Samsung completed something an overhaul with its Tizen operating system. While app selection would take place by scrolling across a row of apps along the bottom of the screen, everything is more centered. It makes for a significantly cleaner and more user-friendly interface, though it's definitely a little slower to navigate around as far as response time over webOS.
Both televisions have a downside as they are prone to showing more sponsored content than someone spending upwards of $1,000 on a television may like. It's easy to ignore when you're not in the smart interface but it's frustrating all the same when you are looking for something new to watch.
Voice Assistant
If Samsung has an edge anywhere, it's the inclusion of three voice command systems with Samsung Bixby plus support for Google Assistant and Alexa. LG offers Google and Alexa as well, but at the end of the day, Bixby isn't so good that it moves the overall smart platform needle in Samsung's direction.
Gaming
When it comes to gaming, Samsung and LG have long been considered among the best televisions to use with next-generation consoles, with LG often edging out the competition. This time around, both the LG C2 and the Samsung S95B offer a lot of similar features.
Both televisions support 4K at 120Hz so you get the highest possible frame rates with consoles like the PlayStation 5 and Xbox Series X. There are four HDMI 2.1 ports on each television and they both include support for ALLM, VRR, and FreeSync right from the start.
Samsung
Samsung stands out with two different big options, including its built-in support for Xbox GamePass with the Samsung "Gaming Hub." Samsung presents the S95B as one of its first TVs to support its partnership with Microsoft, meaning you don't need an Xbox console, just a GamePass subscription to play streaming games through the television.
Samsung also adds a "Game Bar" menu that provides detailed information on frame rates, picture adjustment recommendations, and the ability to tweak VRR settings. Motion Xcelerator Turbo+ is another high point for Samsung where it looks to reduce lag to an almost imperceptible level while gaming at 120Hz and 4K.
LG
Similarly, LG offers its own ultimate gaming experience with support for NVIDIA G-Sync, Dolby Vision, and support for GeForce NOW built right in to stream thousands of games right to the C2 television. Not to mention "Game Optimizer" which, like Samsung, provides detailed information while gaming to help tweak settings for the best gaming output at 4K with a 120Hz refresh rate.
Audio
Like most TV buyers, looking for the best audio experience without third-party hardware is a top feature to consider when purchasing a TV.
LG makes great strides to provide a fantastic TV experience at home with its AI Sound Pro functionality. Thanks to the Alpha9 Gen 5 AI Processor, the LG punches well above its weight with its ability to up-mix its 2-channel audio into a virtual 7.1.2 channel surround sound. Add to that "Filmmaker Mode" and watching a movie sounds as great as it looks, thanks to Dolby Vision IQ and Dolby Atmos. While you can certainly enhance the audio with a soundbar or surround sound system, out of the box, the LG C2 sounds fantastic and its audio is a perfect match for its excellent picture.
Likewise, Samsung provides an equally strong audio experience with Dolby Atmos built right into the S95B. Sound is pumped in every direction and you absolutely feel like you are right in the action as it comes on screen. Samsung also adds object-tracking sound across the six built-in speakers which helps you feel like there is a similar 3D surround sound system built into the TV before you even consider adding a compatible soundbar or surround system. Overall, both televisions are somewhat on equal ground here.
Where to Buy
The Samsung S95B and LG C2 are available through Amazon.
Great Value
SAMSUNG S95B 55-Inch Class OLED 4K
Over 8 million self-illuminating pixels with limitless contrast
Neural quantum processor optimizes picture scene-by-scene
Excellent detail and color for streaming
Fantastic Dolby Atmos surround sound
We earn a commission if you make a purchase, at no additional cost to you.
Best Smart Televison
LG C2 42-Inch OLED evo
8 million self-lit OLED pixels deliver deep blacks and bright colors
Alpha 9 Gen 5 AI Processor 4K automatically adjusts your content to 4K
Supports Dolby Vision IQ and Dolby Atmos
Game Optimizer mode with NVIDIA G-SYNC, FreeSync Premium, and VRR
We earn a commission if you make a purchase, at no additional cost to you.
LG C2 vs. Samsung S95B: Which One is Better?
This is a really tough call as both televisions are so capable and provide excellent value across the board.
The OLED Evo panel on the LG C2 continues to outshine the competition as an overall contender, but Samsung's first foray back into OLED with the S95B gives them plenty to be proud of. In fact, Samsung's quantum dot technology with its OLED panel takes the lead when it comes to which television offers stronger overall brightness. That's a big consideration given how important brightness is for watching at different times of the day.
On the other side, LG offers deeper blacks and stronger overall contrast, so there's an argument to be made for both panels but we can't quite call this one a draw, so Samsung takes out a small win.
When you start to dive deeper into features, especially price and television sizing, LG takes the win due to its wide selection of sizes from 42 to 83" while Samsung is still limited to just a 55 and 65" panel. LG also takes the win for smart features due to the faster navigation of the webOS platform, even if Samsung offers one more voice assistant option.
At the end of the day, this is a difficult choice, but because the LG is so excellent and often, less expensive, it takes the win. But, Samsung has plenty to cheer about and you can't go wrong either way.
The image featured at the top of this post is ©alphaspirit.it/Shutterstock.com.