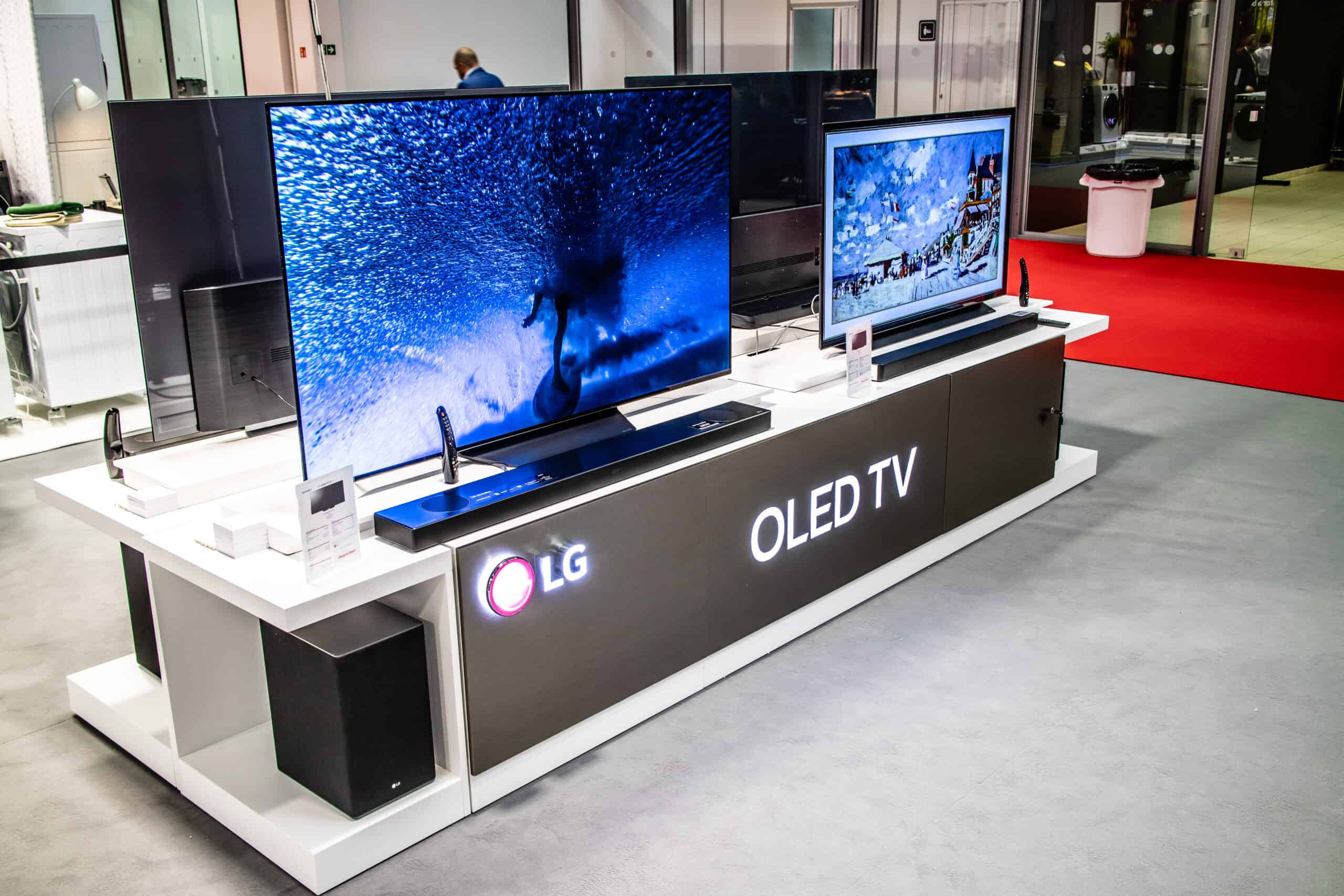 LG is undoubtedly one of the best television brands on the market today. Its sleek designs and incredible picture quality makes it a go-to brand for top-tier entertainment. Recently, the company sought to improve its customers' experience by releasing affordable quality OLED TVs.
With that said, the new LG C2 and G2 TV series are great options if you fancy image quality and design. The devices contain state-of-the-art technology, including the new Evo panel that ensures you enjoy quality 4K resolution pictures during screen time.
However, the LG G2 series is fitted with a heat sink that gives you peak brightness levels, increasing the images' intensity. With these impeccable features, you may have a dilemma deciding which of the two LG series offers better value for money.
Well, worry no more. In this comparison, we'll systematically look into the features of the LG C2 and G2 TV series and their differences to decide which one suits you best. Here's a review of the LG C2 vs G2 OLED TVs.
LG C2 vs G2: Side-by-Side Comparison
| | LG C2 | LG G2 |
| --- | --- | --- |
| Release Date | March 2022 | April 2022 |
| Sizes | 42, 48, 55, 65, 77, and 83 inches | 55, 65, 77, and 83 inches |
| Resolution | 4K | 4K |
| Audio | 40W | 60W |
| Operating System | Google Android | Google Android |
| Starting Price | $1,300 (42 inches) | $2,199 (55 inches) |
LG C2 vs G2: What's the Difference?
The LG C2 and G2 TV series offer a cool bargain when it comes to picture quality, design, and interface, with the potential to take your entertainment experience to the next level. However, although they are of the same brand, the two have some considerable differences that lead to different experiences when using them.
And so, it is essential to consider their features and differences before selecting your most-preferred option. Here's our LG C2 vs G2 review in detail.
Design
LG C2 Series 42-Inch Class OLED evo Gallery Edition Smart TV OLED42C2PUA, 2022 - AI-Powered 4K, Alexa Built-in
Experience amazing, beautiful picture quality with infinite contrast, deep black, and over a billion colors, now even brighter*, thanks to LG's 8 million self-lit OLED pixels
Engineered exclusively for LG, the α9 Gen 5 AI Processor 4K adapts to the content you're watching, automatically adjusting the TV's settings for improved picture and sound quality
Eliminate unnecessary processing with movies and preserve the action the way film directors intend with Filmmaker Mode, and enhance every moment of your viewing experience with Dolby Vision IQ and...
LG Game Optimizer mode with NVIDIA G-SYNC, FreeSync Premium, and Variable Refresh Rate (VRR) improve your gaming experience with fluid on-screen motion. Game Optimizer manages your game settings all...
Mount it on the wall with a 300 x 200 VESA mount (sold separately). Magic Remote with Magic Tap, remote control batteries (AA), power cable, wall mount, and quick start guide are included. TV stand...
We earn a commission if you make a purchase, at no additional cost to you.
The first thing you notice when you buy anything, including televisions, is their design features. You want one that looks classy and blends with your home's setup. Although the LG C2 and G2 series have a neat design and elegant thickness, they have different design features that make them ideal for different settings.
If you are not keen enough, you will likely miss the difference in design between these two OLED TVs. While they look ridiculously similar, the G2 series TVs have a bracket at the back and mounting equipment that allows you to mount it to a wall.
They also have a stand that makes it possible to place them on top of furniture. On the other hand, the C2 series only have a table stand. These design differences make the G2 series more versatile than the C2 models.
Whether your setup needs a mounted television or it'd look better with a stand, the G2 OLED TVs are perfect. The mountable aspect is also a great security feature for TVs meant for public spaces.
Nonetheless, other design features, including the remote controls, are similar in the LG C2 and G2. They both have fantastic build quality defined by premium material and style.
Smart Features
Like most modern televisions, the LG C2 and G2 OLED TVs are equipped with the latest smart features to ensure users have access to premium entertainment. The 4K TVs are primarily powered by LG's smart platform, webOS 22.
The platform gives you access to various streaming applications on its home page, including Netflix, Hulu, HBO, and a range of others you can download on the system's streaming hub. All you need is a stable internet connection, and you'll have your favorite content at your disposal.
OLED televisions are AI-Powered, so you can enjoy a host of features that make operating them easy and convenient. The C2 and G2 series AI-themed operation also gives you access to various smart assistants, including Amazon's Alexa, Google Assistant, and Apple's Siri.
The AI complements LG's voice assistant, allowing you to control the television remotely through voice commands. You can navigate various apps and settings and give commands without touching your remote.
The C2 and G2 software systems also take gamers into account with their impressive gaming features. They have Variable Refresh Rate (VRR) and HGiG system support, allowing users to manage the HDR system through their consoles.
These features, coupled with the devices' Auto Low Latency Mode, ensure gamers have an enhanced gaming experience and more control over their game's display. All in all, the LG C2 and G2 OLED TVs have similar smart features. Therefore, whichever LG screen you go for, you will surely enjoy top-notch home entertainment technology.
Sound Quality
We earn a commission if you make a purchase, at no additional cost to you.
A television's sound quality is a crucial feature to look out for when deciding on a device to purchase. Whether watching a movie or gaming, you will enjoy the entertainment better if your TV has a clear sound.
The LG C2 and G2 series are fitted with the company's latest AI Sound Pro System, which improves any sound quality, regardless of the audio channel. However, a slight difference makes the G2 series' sound superior to the C2 series'.
The AI Pro Sound system, fitted in the C2 and G2, is undoubtedly superior to the preceding G1 and C1 series with their ability to create a more extensive and clearer sound stage under the pressure of loud soundtracks. However, the G2 has higher audio power at 60W, distributed across a 4.2-channel system, while the C2 has a 40W spread across a 2.2-channel system.
Although this audio power difference is minute, it is noticeable when the systems play loud music. The C2 series exhibit slight rattling and unnecessary bassy sounds, and the G2 sound remains smooth when playing the same sounds. Thus, the G2 series is sonically superior to the C2 OLED series.
Picture Quality
Picture quality is an essential feature to consider when buying a television. After all, who'd want one with a low-quality, grainy display? It defeats the purpose.
Luckily, LG OLED TVs have good picture quality. Unlike previous LG models, the C2 and G2 versions have an EVO panel that optimizes picture processing, culminating in a punchier and more exciting image display on your screen.
The images are further enhanced by LG's new Alpha 9 Gem 5 AI processor that refines displayed pictures, making them crispier. The quality will surely leave you glued to your screen without noticing how time passes.
With these shared features, it is indisputable that the C2 OLED series has one of the best picture qualities in the market, compared to competitors such as the Samsung A80J. However, there is a palpable difference between the images displayed on LG C2 and G2 series. The G2 images are crispier and more refined.
The quality difference is attributable to the heat sink component in the G2 series that is lacking in LG C2 TVs. The heat sink increases the screen's performance and gives it a higher contrast range. Therefore, users have access to higher brightness levels that enhance HDR images and make them more lively and vibrant. Watching the images feels as though they are jumping into your living room.
Considering the realistic experience you get from the G2 series, it is apparent that it beats the C2 OLED series in picture quality. However, C2s' display is still quite impressive compared to other brands.
Price
We cannot end our LG C2 vs G2 comparison without discussing their prices. Finances are always a priority when making a purchase. Save for the quality and features, it is good to compare how high-end LG OLEDs are priced before making the final decision. This way, you can ensure that you get value for your money.
In this regard, the new LG OLED televisions are considerably newer on the market, so they are relatively highly-priced. However, as a step-down model, the LG C2 series is cheaper than G2. The pricing depends on size, with the 42-inch C2 OLED TV selling at $1,300 and the largest, the 83-inch, selling at $5,400. There are six sizes available.
On the other hand, the G2 series is priced higher. The compact size, a 55-inch screen TV, sells at $2,100. The most expensive is the 97-inch version, the largest OLED TV on the market, selling at $24,000. There are three sizes between them.
LG C2 vs G2: 5 Must-Know Facts
The LG G2 OLEDs are generally larger than the C2s, with the smallest G2 screen size coming in at 55 inches and the smallest C2 at 42 inches.
The 97-inch LG G2 is the largest OLED ever manufactured.
LG G2 OLEDs have better sound and picture quality than the C2 series.
The LG C2 and G2 OLED have similar software features with voice control system access.
The LG OLED televisions have slightly different design features, as the G2 series has a bracket at the back for mounting while C2 OLEDs only have a table stand.
LG C2 vs G2: Which One Is Better? Which One Should You Use?
Now that we've covered their features and underlying differences, you may be wondering which high-end OLED is better: the LG C2 or G2?
While they share many features, including the design and software, the LG G2 OLED packs better features where it matters. It has a better sound and picture system. It ensures a high-quality, realistic entertainment experience; whether that be gaming, playing music, or watching a movie. It is the go-to OLED if you do not mind the high prices.
If you wish for a relatively affordable OLED with excellent qualities, then the LG C2 will suffice. You will get a good bargain with similar software features, quality pictures, and sound compared to competing OLEDs on the market. Ultimately, deciding what suits you better depends on your entertainment needs and finances.