OLED TVs are synonymous with LG. Known for their bright and beautiful displays, they're often the first choice for those looking for a premium cinematic or gaming experience. LG releases new models consistently and is known for producing superior TVs with huge screens. There are many options, and the LG C2 and CX are popular. While the CX was released two years ago and the C2 this year, how do they stack up? Read on to find out what you need to know with our LG C2 vs CX comparison.
LG C2 vs CX: Side-by-Side Comparison
| | (65″ model) | LG CX (65″ model) |
| --- | --- | --- |
| Dimensions | 56.7 x 32.5 x 1.8″ without stand | 57.0 x 32.7 x 1.8″ without stand |
| Display size | 65″ | 65″ |
| Display type | OLED evo | OLED evo |
| Weight | 36.6 lbs without stand, 40.8 lbs with stand | 52.9 lbs without stand, 71.9 lb with stand |
| Processor | Alpha 9 Gen 5 AI processor | Alpha 9 Gen 3 AI processor |
| Resolution | 4K Ultra HD 3840 x 2160 | 4k Ultra HD 3840 x 2160 |
| Refresh rate | 120Hz | 120Hz |
| HDR | Dolby Vision IQ, HDR10, HLG | Dolby Vision IQ, HDR10, HLG |
| Software | WebOS 22 | WebOS 5.0 |
| Ports | 4x HDMI 2.1, 3x USB, Ethernet, RF, digital audio | 4x HDMI 2.1, 2x USB, composite, Ethernet, RF, digital audio |
| Sound | 40 watts | 40 watts |
| Price (MSRP) | $2,999.99 | $2,799.99 |
Excellent OLED Screen
LG C2 65-Inch OLED evo
Great contrast, deep blacks, and over a billion colors
8 million self-lit OLED pixels
Alpha 9 Gen 5 AI Processor 4K, exclusive to LG, intuitively adapts to what you're watching
LG Game Optimizer mode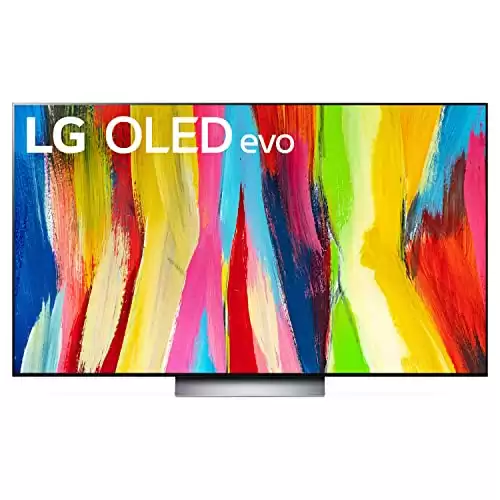 We earn a commission if you make a purchase, at no additional cost to you.
LG C2 vs CX: What's the Difference?
Design
Both the C2 and CX are remarkably thin TVs, thanks to the OLED technology; there is no need for LCD backlights because the LEDs (organic light-emitting diodes) emit their light when an electric current is supplied. This allows the thickness of the TVs to be substantially reduced. Overall, the dimensions of the two models are very similar, so you won't notice much of a difference.
A more notable point of difference is apparent pretty much as soon as you take the TV out of the box – the C2 weighs considerably less than the CX, which fits in with the general trend of LG TVs over time. Even though the sheer width of the screen will likely make setup a two-person job, the reduction in weight due to the use of composite materials helps to make it a less daunting task, as well as minimizing strain on the wall if you intend to mount the TV.
Further design differences exist between the C2 and CX, mostly in the frames and the stands. With the C2, the bezels have been slimmed down to be almost invisible, and the taller and narrower stand provides greater clearance for any soundbar you might use so that your viewing is not interfered with.
Display
The C2 and CX will provide an excellent picture, whether for movies or gaming, as the OLED displays are crisp, with impressive contrast and deep blacks, and both models utilize the same HDR technologies. The C2 uses the newer OLED Evo displays, which essentially give enhanced brightness compared to their older counterparts. The Evo displays have an extra green emitting layer and improved efficiency, so highlights seem brighter and dark tones have more depth.
According to LG, the OLED Evo displays provide up to 20% more brightness, so it's a bonus if you're using your TV in a particularly bright room. As well as the Evo display, the C2 also boasts a newer processor, so it does a better job of optimizing the processing of images in both the background and foreground of the picture. Both displays are sharp and vivid, but the Evo display of the C2 is nice in very bright environments.
Sound
It'd be fairly uncommon to use an OLED TV without an accompanying soundbar, but in terms of built-in speakers, the C2 and CX are definitely usable for a short time. While they don't provide much in the way of bass, the audio can be calibrated to the specific environment through AI tuning, which helps make the sound more palatable. There are also sound presets, including Cinema mode, so testing those out will be a good idea to produce your preferred audio. Sound is also helped by Dolby Atmos support, which you get with both models. Even still, there's going to be a big and rather unpleasant contrast between the audio and display quality, so you'll likely want to get a soundbar set up as soon as possible to eliminate excessive bass and tinny elements.
Features
The C2 features the newer webOS 22 software as opposed to the CX's webOS 5.0, but on the whole, these provide a very similar range of features. Popular apps such as Hulu, Disney+, Netflix, Vudu and Showtime are supported, but there's still a lot lacking in comparison to Android-based TV sets. LG Channels is a good add-on, though, which gives you access to local channels and a range of online digital channels. WebOS updates are regular from LG, so rest assured these features will be consistently improved and bugs removed.
You can use the so-called Magic Remote with both models, essentially a universal controller. The design of it is pleasantly ergonomic and features a scrollable wheel as well as the standard channel, volume and numerical buttons. There's also a microphone button for using Google Assistant, which is a nice touch for those that prefer voice control to search for content or switch channels. This is especially useful for the CX as it doesn't have built-in microphones for this purpose like the C2 does. Both models can also use Alexa and LG's built-in assistant, so there are plenty of options for navigating your favorite channels and apps with ease.
Ports
The C2 and CX both have many options when it comes to connectivity, with plenty of HDMI 2.1 ports and USB ports. There is an extra USB port with the C2, though, so that may be important if you use many USB-supported devices. The CX has a composite video adapter for use with older equipment, which doesn't allow the user to play all the retro consoles on the TV but does make a huge difference. They both have an RF plug for an antenna or cable box and the expected Bluetooth and Wi-Fi support. The main difference is the aforementioned composite adapter and the extra USB port.
Gaming
The HDMI ports of both models support a 120Hz refresh rate and 4K resolution, so where gaming is concerned, you can't fault either of them. The latency of the C2 is slightly superior, so a smoother experience is expected compared to the CX. The TVs are equally capable of recognizing gaming hardware and bringing up a dashboard with the press of a button, where the picture can be easily tailored to the game you're playing. The C2 and CX are excellent for the latest generation of consoles, particularly the Xbox Series X and PS5, thanks to their support of Dolby Vision and VRR (variable refresh rate) functionality.
It's also great that these TVs have FreeSync and G-Sync support so gamers can connect their powerful gaming laptops for the most seamless experience. Gaming is outstanding on both these models, with the major difference being the relatively sharper and brighter display of the C2 rather than noticeable gains in performance.
Price
While the price of the C2 was initially greater than the CX, there isn't as much of a gap these days. As expected, the price of both TVs increases substantially as the size of the display increases, so those on a budget will have to consider their usage and whether they need the largest screen. It's worth mentioning stock shortages are going on at the moment, so certain models may not be available. It's best to keep on the lookout at your favorite retailer.
Our Pick
LG CX 4K OLED
Pixel level dimming
webOS platform
α9 GEN 3 AI PROCESSOR 4K
Features NVIDIA G-SYNC and FreeSync
We earn a commission if you make a purchase, at no additional cost to you.
LG C2 vs CX: 5 Must-Know Facts
The OLED Evo display of the LG C2 is sharper and much more visible in brighter environments.
Both displays deliver incredible picture quality with vivid colors and perfect blacks.
The LG C2 is significantly lighter so easier to set up.
The pedestal stand for the LG C2 is taller, providing more clearance underneath for a soundbar.
The channels and streaming services available to both are identical.
LG C2 vs CX: Which One is Better?
In terms of performance, the C2 and CX are almost identical. They differ mostly because the C2 is much lighter, offers a significantly brighter display and has a narrower frame. The C2 also has a taller stand, which is great as otherwise, a soundbar can potentially get in the way of the screen. Overall, if you have money to burn and are after the latest LG model, or are new to LG TVs, the C2 is a worthwhile investment. If you're on a tighter budget and already own the LG CX, it's probably not worth upgrading to the C2 and you'll be better off waiting for the next generation to be released.
LG C2 vs CX: Further Reading
Now that you've looked at our LG C2 vs CX comparison, check out these other articles if alternative LG TVs interest you.
The image featured at the top of this post is ©Grzegorz Czapski/Shutterstock.com.
Last update on 2023-10-03 / Affiliate links / Images from Amazon Product Advertising API