Trying to pick a new television that will last for years is not an easy decision as there are many factors that play a role in making a choice. That's especially true when you try to compare two televisions like the LG C1 and LG C2, two mid-range models from the OLED panel manufacturing king, LG.
The 2021 LG C1 and its successor, the LG C2, have helped raise the bar for what a mid-range television should offer as far as gaming support and overall performance. Of course, a newer device like the LG C2 also commands a higher price, so how do you know if it's worth it over its predecessor with the C1?
Let's take a look at some of the key differences so you can make an informed decision on which one is right for you.
LG C1 vs. LG C2: A Side-by-Side Comparison
| | LG C1 | LG C2 |
| --- | --- | --- |
| Price | $1,299 (before sale pricing on 48-inch) | $999 (before sale pricing on 42-inch |
| Model Year | 2021 | 2022 |
| Screen Sizes | 48, 55, 65, 77, 83-inch | 42, 48, 55, 65, 77, 83-inch |
| Processor | Alpha 9 Gen 4 | Alpha 9 Gen 5 |
| Display Type | OLED | OLED |
| Resolution | 4K UHD | 4K UHD |
| Smart TV Software | webOS 6.0 | webOS 22 |
| Voice Assistance | Google Assistant, Amazon Alexa | Google Assistant, Amazon Alexa |
| Refresh Rate | 120Hz | 120Hz |
| VRR Support? | Yes | Yes |
| Inputs | 4 HDMI 2.1, 3 USB, eARC | 4 HDMI 2.1, 3 USB, eARC |
LG C1 vs. LG C2: 5 Must-Know Facts
Every size of both the LG C1 and LG C2 produces 4K resolution at 3,840 x 2160 pixels on OLED panels.
The LG C2 uses OLED Evo technology, LG's second-generation OLED panel, which improves the overall brightness of the screen.
The LG C2 uses a much-improved version of webOS which is more user intuitive and introduces personal profiles so every person in a home can have their own content recommendations.
The introduction of the 42-inch size to the LG C2 lineup gives it one extra size over its predecessor.
LG makes its own OLED panels so you are guaranteed to get the company's best technology in every television they make.
LG C1 vs. LG C2: What's the Difference?
Build and Design
For anyone trying to do a direct comparison of both the LG C1 and C2 when they are turned off, it's incredibly difficult to tell them apart. They both look very premium with incredibly thin OLED panels, but there are a few differences worth noting.
First and foremost, the LG C2 is about 50% lighter than its predecessor. When compared to the popular 65" model, between the two years, the weight is that much different. The cause of this significant reduction in weight is due to LG utilizing a new composite fiber material as part of the television build, and as lightweight as it feels, the C2 still feels super sturdy when not mounted on a wall.
Additionally, the LG C2 offers buyers a slightly thinner bezel around the OLED panel at only 6mm thick. The LG C1 is 10.2mm thick, which is still impressively thin, but for those looking for as small of a bezel as they can find, the C2 is the easy winner. The lone exception is the 42-inch model of the C2 as it swaps out the rest of the C series pedestal stand for a pair of sharp-looking feet as it's also recommended as a dedicated gaming monitor.
For anyone keeping score, that's three primary differences worth noting before you even get into the picture quality.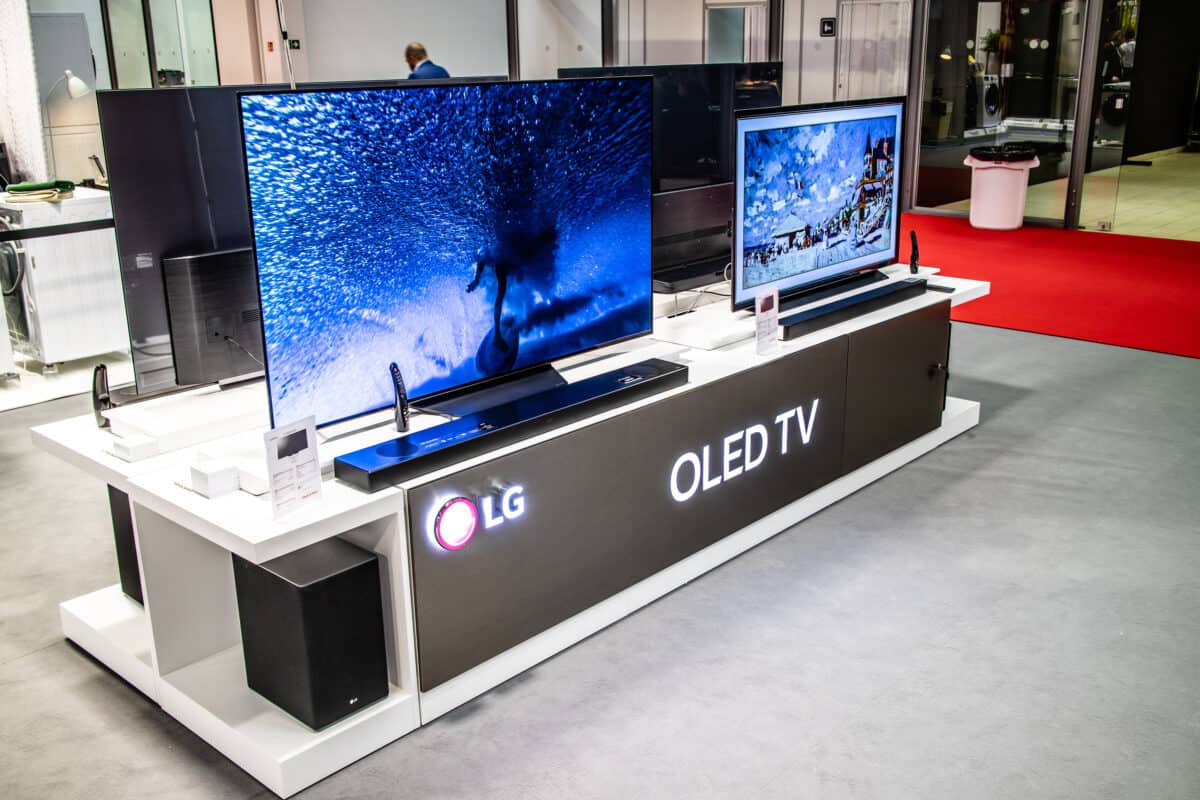 Smart TV
LG has used webOS for many years and, for the most part, it has remained an interface that has been well-received if not as impressively featured as Google TV or Roku.
LG introduced a new look and feel with webOS 6.0 for the 2021 LG C1 and it added some big additions like a whole new set of voice commands from Google Assistant or Amazon Alexa. The update also updated the home screen for significantly better content discovery and overall usability over previous versions of webOS. As far as overall changes, webOS 6.0 was a much bigger overhaul for the C1 introduction than between C1 and C2.
The introduction of webOS 22 with the LG C2 added a number of new personalization options, including personalized profiles for every TV watcher in a home. Room-to-room sharing was also included for mirroring content from one television to another in the same home over a Wi-Fi network.
Last but not least, LG is boosting its free ad-supported channel count to over 350 total channels. Ultimately, the differences between the two televisions are notable, but not a large enough gap to sway a buyer one way or another.
Features
Everything that helped make the LG C1 one of the best televisions on the market is incorporated in the LG C2, but the differences between the two feature-wise aren't all that much.
Both televisions include four HDMI 2.1 inputs, which include 4K at 120Hz, one of which provides pass-through to Dolby Atmos soundbars through eARC. Even as the same number of ports are included, the data transfer rate has been upped to 48 Gbps for the C2, over 40 Gbps from the C1. Is that enough to be noticeable for many users? Probably not, and there is no gaming source that supports such a data transfer rate, but it's a good addition to have as far as future-proofing.
While it's not something you should regularly use to help prevent burn-in, LG added an "always ready" mode on the LG C2, which turns it into a media display when the TV is "off." On top of that, LG also utilized its ThinQ AI smart features to help make the LG C2 a central hub for smart devices, plus support for Matter, which is a new smart home standard.
Gaming
When it comes to gaming, both the C1 and C2 are among the best gaming televisions on the market. Support for both VRR (variable refresh rate) and ALLM (auto low latency mode) are among the most desirable features for the best possible gaming experience. Where the C2 slightly pulls away for gaming is with "Dark Room" mode, which helps reduce eye fatigue when you are playing in the dark or even in just a low-lit environment.
LG also added something known as "Game Optimizer" on the LG C2 that utilizes the "dark room" mode to provide the best possible picture. On top of pre-existing presets on the C1 for first-person shooter titles, RPGs, and real-time strategy games, the C2 also adds a mode for sports for upping the realism factor as much as possible.
Performance
One of the biggest differences between the two televisions is that the LG C2 is upgraded to the new 5th generation AI-enhanced processor over the 4th generation for the C1. That increase in generations not only brings about a number of enhancements, one of the most notable of which is the inclusion of Dolby Vision IQ. The ability to actively adjust the screen to increase contrast or sharpness ensures that the C2 is always providing the best possible detail, regardless of whether you are watching a movie or TV show.
The next big upgrade is the use of the OLED Evo panel in the C2 over the "regular" OLED panel in the C1. The difference is around a 20% increase in overall brightness compared to the C1, and when combined with the upgraded processor, it's one of the most notable differences between the two television sets.
By all accounts, the C2 is brighter, and that's especially important in rooms with a strong light source, but for most people, it's questionable as to how much more the brightness will be perceived.
LG C1 vs. LG C2: Which One Should You Buy?
If you've come this far, you know the two televisions are not all that different, but there are some key takeaways that will help make for an easier decision.
Beautiful Visuals
LG C1 Series 77-Inch OLED
Over 8 million pixels
a9 Gen4 AI Processor 4K
Game Optimizer (low input lag and fast response times with Auto Low-Latency Mode and HGiG)
Google Assistant and Alexa built-in
Cinema HDR, Dolby Vision IQ & Dolby Atmos
We earn a commission if you make a purchase, at no additional cost to you.
#1 Best Overall
LG C2 Series 77-Inch Class OLED
Devices stunning, brighter pics with infinite contrast,
Powerful α9 Gen 5 AI Processor upgrades content to 4K
Watch movies and action just as the director intended
Supports Dolby Vision IQ and Dolby Atmos
LG Game Optimizer mode improves your gaming experience
Supports multi-view
We earn a commission if you make a purchase, at no additional cost to you.
Data Transfer
The first is the use of full HDMI 2.1 bandwidth at 48Gbps which is great for the future. Realistically, most people won't benefit now or potentially ever benefit in the future with this benefit. However, it's great to know you have these data speeds available for gaming or home theater needs in the future.
Voice Commands
The LG C2 has additional voice command features with webOS 22. That's good news for anyone who doesn't want to pick up the remote control, and it's especially useful thanks to webOS 22 and its personalized individual user profiles.
OLED Evo
As for the third biggest key difference, the LG C2 and its OLED Evo screen means you'll get even better color reproduction. The inclusion of things like "dark mode" is going to come in very handy for watching in darker roomsm and the increased brightness provided by the Evo panel is going to be helpful when in lighter rooms.
It's a win-win for LG's C2. The wider color gamut of the C2 as part of the Evo panel is also impressive, but none of this should take away from the fact that the LG C1 was already a best-in-class OLED experience.
Gaming
For gaming, the C2 is also a winner thanks to its "game optimizer" mode and the inclusion of a "sports" mode that will be particularly fun to use with the next Madden or FIFA title. Throw in NVIDIA G-Sync, FreeSync Premium, and VRR, and both televisions are equally great, but game optimizer mode is hard to ignore for anyone with a PlayStation 5 or Xbox Series X.
Build
Last but not least is the updated construction of the C2 against the C1, thanks to the composite carbon-fiber body. At almost 50% lighter than the LG C1, that's definitely positive for less stress when hanging on a wall or resting in or on an entertainment center. It makes no impact on the OLED panel, but it's a nicety all the same.
The Winner is…?
When the LG C2 first came out, the answer would have been the C1, since the latter was already seeing some pretty hefty discounts as its successor came to market. Months later, the C2 is also seeing some strong discounts, and the difference is down to only a few hundred dollars, sometimes less.
Given the improved OLED Evo panel, extra gaming features, better smart TV interface with webOS 22, and extra voice commands, the LG C2 is the winner. The LG C1 remains a great television, but for a little more money, you get future proofing with the C2 that's pretty hard to pass up.
The image featured at the top of this post is ©iStock.com/Oleg Elkov.