LG's 8K TVs promise to bring the best image quality into your home. But when trying to figure out whether they're worth it, many people try to compare LG 8K to LG OLED. The truth is that we can't compare the two. The former refers to the display's resolution, while the latter is a type of display.
LG even manufactures 8K OLED TVs. Another type of 8K TV from LG features the brand's proprietary NanoCell technology. Knowing how they compare could help you decide which one is best for you.
LG 8K Vs. LG OLED: Side-by-Side Comparison
The table below compares the various types of 8K TVs from LG.
| Features | 8K NanoCell | OLED |
| --- | --- | --- |
| Display type | Real 8K NanoCell LED | Self-lighting OLED |
| Backlight | Direct | No backlight |
| Viewing angle | Limited viewing angle | Wide viewing angle |
| Color accuracy | True-to-life | True-to-life |
| Dimming technology | Full array dimming | Pixel level dimming |
| Bezel width | 1.8″ | 2″ |
| Perfect black | No | Yes |
| Refresh rate | 120Hz Native | 120Hz Native |
| Picture processor | α9 Gen 4 AI Processor 8K | α9 Gen 5 AI Processor 8K |
| AI Picture Pro | Yes | Yes |
| Size | 65″ to 86″ | 77″ to 88″ |
| Typical power consumption | 248.9W | 308W |
| Annual power consumption | 457kWh | 565kWh |
| Price | More affordable | Expensive |
LG 8K Vs. LG OLED: What's the Difference?
LG's 8K televisions are the latest-generation TVs with the highest resolution available to date. The brand's OLED line features 4K and 8K televisions with OLED displays. While comparing 8K with OLED is not possible, we can compare the two types of 8K TVs from the brand. Currently, LG manufactures NanoCell and OLED televisions with 8K (7,680 pixels x 4,320 lines) resolution.
Display Type
The main difference between NanoCell and OLED televisions is the type of display. NanoCell refers to an LG-proprietary technology that coats an LCD screen with a film of nanoparticles. The display is a regular LCD backlit by standard or mini LEDs.
8K Greatness
LG NanoCell 99 Series 75" Alexa built-in 8k Smart TV (7680x4320), 120Hz Refresh Rate, AI-Powered 8K Ultra HD, Dolby Cinema, Dolby Vision (75NANO99UNA, 2020)
REAL 8K NANOCELL DISPLAY: Real 8K LED is here. LG's 8K NanoCell TVs meet the industry definition for 8K resolution. It's 4 times the resolution of 4K, complete with the natural, lifelike color of Nano Color, precise color at wide angles with Nano Accuracy, and deeper black and contrast of precisely balanced lighting.
FULL ARRAY DIMMING PRO: Your movies, sports and games are lit and balanced with near perfection. Full Array Local Dimming Pro executes our most precise level of backlighting control for deeper black and enhanced contrast from edge to edge.
WEBOS AND THINQ AI: Entertainment access made easy. Hover over an app for personalized entertainment recommendations, easily find what you're looking for, and access Disney Plus, the Apple TV app, Netflix, Hulu, Sling, Prime Video and more. A huge library of content awaits.
Our most advanced 8K processordoes it for you with 8K 4-step noise reduction, AI Picture Pro, AI Sound Pro and AI 8K Upscaling.Our most advanced 8K processor does it for you with 8K 4-step noise reduction, AI Picture Pro, AI Sound Pro and AI 8K Upscaling.
SPECTACULAR GAMEPLAY: LG NanoCell TV gives you a gaming advantage. AI-powered picture quality transports you to the moment. Gaming features and the latest tech give you an edge with less lag, high refresh rates, and incredibly responsive gameplay.
We earn a commission if you make a purchase, at no additional cost to you.
The NanoCell coating consists of nanoparticles with a diameter of one nanometer, the role of which is to improve light dispersion, enhancing color accuracy and contrast. NanoCell TVs have backlighting divided into multiple dimming zones that provide full array dimming. Yet, they can't achieve pure black and infinite contrast like OLED displays.
In fact, LG OLED displays consist of millions of self-lit pixels that can turn on and off independently from one another. This technology enables infinite contrast, which translates into the screen's ability to display pure black.
The organic compounds in the LED lights (OLED stands for organic light-emitting diodes) also reflect true-to-life colors, increasing image quality. OLED displays perform much better than NanoCell. However, the difference in technology makes them a lot more expensive.
Image Quality
A TV's image quality is determined by a variety of factors, including the display type and processor. Between NanoCell and OLED televisions, the latter has the upper hand.
Not only does LG's 8K OLED TV feature a better display, but it also has a more powerful processor. This TV is equipped with an α9 Gen 5 AI Processor 8K that provides the motherboard with all the power and speed needed to minimize blur.
Picture motion is fluid and, paired with the infinite contrast and pure black, ensures outstanding image quality. The self-lighting pixels also increase the viewing angle – LG's OLED televisions have the widest viewing angle in the brand's line.
LG's 8K NanoCell TV delivers the high-quality images expected from a device that costs thousands of dollars. However, the image quality is inferior to its OLED counterpart. Since these TVs have backlit screens divided into dimming zones, they can deliver a good but not exceptional contrast.
The processor, an α9 Gen 4 AI Processor 8K, is also slightly slower than the OLED. This doesn't come as a surprise, considering that the 8K OLED is part of LG's Signature series and has a price tag about six times higher than the NanoCell. That said, blur is still minimal, and the image quality is good compared to most other brands.
Color Accuracy
Another difference between NanoCell and OLED TVs is the color accuracy. The latter has the upper hand in this case, too, thanks to the self-lighting OLEDs. Each pixel on the screen – from the over 33 million in this TV – can turn on and off independently and modulate the amount of reflected light to deliver true-to-life colors.
This television also features Dynamic Tone Mapping Pro, a feature that further improves picture quality by analyzing thousands of blocks across the screen and modulating contrast to reveal every detail.
Incredible Picture Quality
We earn a commission if you make a purchase, at no additional cost to you.
NanoCell televisions utilize distinctive nanoparticles to filter and refine color, resulting in true-to-life colors as well. The nanoparticles also remove impurities from the RGB wavelengths, resulting in vibrant and more realistic pictures.
However, the lowest level of contrast takes away some of that vibrancy. The result isn't that far from OLED, but you can still tell the difference when comparing the two side-by-side.
Size and Energy Efficiency
Big TVs are staples in the current market, and the two flagship products from LG don't disappoint. Both come in various size options – even though NanoCell offers an ampler range. In fact, LG 8K NanoCell televisions are available in three screen sizes: 65″, 75″, and 85″. Options are more limited when it comes to the OLED version, which only comes in 77″ and 88″.
While NanoCell gives you more options, the TVs in both lines suit large living rooms. This can be disappointing if you want an 8K television for a small space or a tiny bedroom, as you won't be able to enjoy the full image without the proper distance from the screen.
As far as energy efficiency is concerned, NanoCell wins the round. Due to the smaller screen and less demanding technology, these TVs have a typical power consumption of 248.9W and an estimated annual power consumption of 457kWh. The OLED's larger screen and more advanced technology require more energy, with a typical power consumption of 308W and an estimated annual consumption of 565kWh.
Price
Price-wise, all LG 8K TVs are expensive, but the OLED ones are much more expensive than NanoCell. You can expect to shell out over $10,000 for the smaller version and at least twice as much for the 88-inch variant. Meanwhile, LG 8K NanoCell TVs are about two times cheaper than the 77-inch OLED.
Considering that image quality and color accuracy differences are negligible, you could save thousands by choosing the NanoCell. If you want to build the ultimate home cinema and entertainment center, however, you should get the OLED.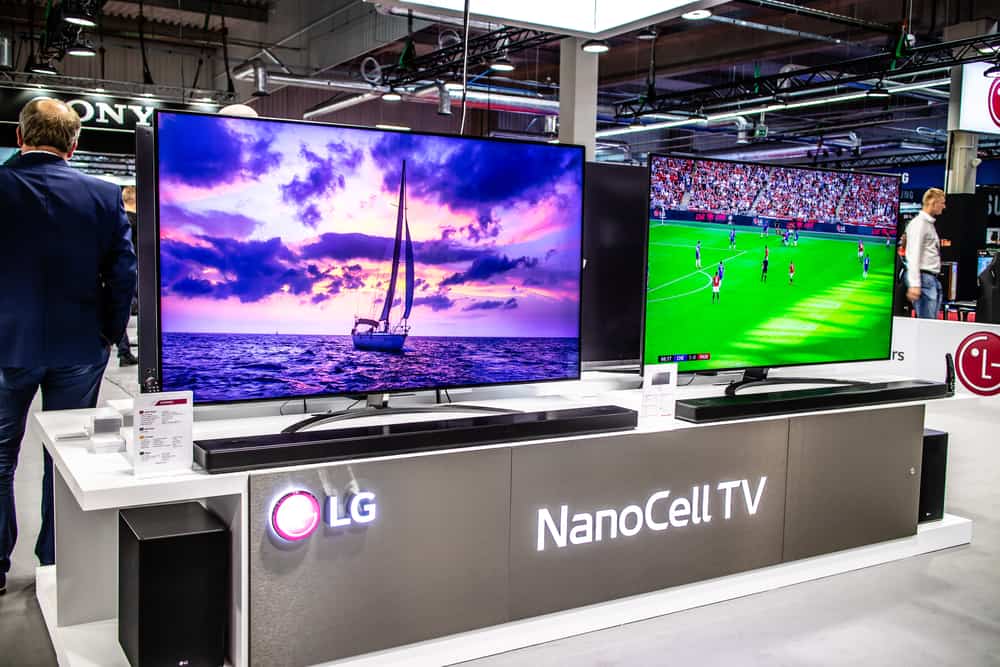 LG 8K Vs. LG OLED: 5 Must-Known Facts
LG 8K TVs are televisions with true 8K (7,680 x 4,320) resolution. The OLED TVs are televisions with OLED displays. LG's OLED TVs can have 4K or 8K resolution.
Currently, LG manufactures two lines of 8K TVs: NanoCell and OLED.
LG NanoCell 8K TVs come in three sizes and feature full-array dimming. They have a wide viewing angle and true-to-life colors.
The 8K OLED TVs from LG have a wider viewing angle than NanoCell and more vivid colors. They also have better contrast and enhanced image quality. These televisions are available in two sizes.
Part of LG's Signature line, the LG 8K OLED TV was nominated honoree of the Digital Imaging and Photography category at CES 2022 Innovation Awards.
LG 8K Vs. LG OLED: Which One Is Better? Which One Should You Buy?
Finding the perfect TV can be challenging, but options are still limited when it comes to 8K resolution. While you can't choose between LG 8K vs. LG OLED TVs, you can pick between LG OLED and LG NanoCell 8K TVs. Beyond image quality, color accuracy, and features, the choice often comes down to affordability.
LG 8K OLED TVs undoubtedly perform better than NanoCell, but they are ridiculously expensive. If you can afford tens of thousands of dollars, then get one, by all means. If you want fantastic image quality and resolution without handing out the down payment for your house, then you should go for NanoCell.
While this TV has a lower contrast than OLED due to its inability to display pure black, you can rest assured the quality of both images and colors is superlative, and you won't be disappointed.
Technology Improvement Highlights for the LG 8K and the LG OLED
Both the LG 8K and LG OLED TVs have seen advances in technology since February 2023. Here are some of the highlights:
LG 8K
New processor: The α9 Gen5 AI Processor 8K uses artificial intelligence to adjust the picture settings to match the content being watched.
Improved upscaling: The improved upscaling technology upscales lower-resolution content to 8K resolution.
New features: There are several new features, such as Filmmaker Mode. This ensures movies are displayed as the director intended.
LG OLED
New panel technology: New panel technology delivers color reproduction and better contrast.
Improved brightness: Brighter images are now produced because the LG OLED TVs have improved brightness technology.
New features: Game Optimizer is a new feature that provides gamers with settings that give them the best possible gaming experience.
Potential Technology Advancements for the LG 8K and the LG OLED
Based on what we've seen from LG thus far with their technology, we could see the following advancements in the next six to 18 months:
Use of new AI processors: LG could use new AI processors to improve performance and image quality. These AI processors would analyze the content being watched and adjust the picture settings accordingly.
Improved upscaling technology: LG could improve the upscaling technology of both TVs. Users would be able to enjoy their favorite TV shows and movies in stunning 8K quality.
New HDR formats: HDR formats, such as HDR10+ and Dolby Vision, could be used in the LG TVs. This would display TV shows and movies in even more realistic and lifelike quality.
New gaming features: New gaming features, such as VRR and ALLM, would make the TVs even more suitable for gaming. This would provide gamers with a smoother and more responsive experience.