The Lenovo 300e is one of the latest slim and light laptops. As online schooling and college education continue to grow in popularity, more buyers are searching for the lightest laptop for the job. While there are plenty of portable options on the market, the Lenovo 300e brings a solid combination of performance, hardware, and features.
But is the 300e worth the hype? And can this little Lenovo laptop compete with the Dell Latitude series and the rest of Lenovo's slim and light laptops, like the ThinkPad X1 Carbon? Let's find out!
Lenovo 300e: Best Deal Today
Lenovo offers the 300e in a few different configurations, depending on your use case and budget. The ChromeOS version will work best if you want a lightweight, fast, and secure web browsing system. Conversely, the Windows model is best if you need to run OS-specific applications or if you prefer the familiar Windows 10 interface.
Lenovo 300e: Overview
Lenovo 300e 11.6" 2-in-1 Touchscreen Chromebook (Intel N4020, 4GB RAM, 32GB Storage, Stylus, Webcam), Ruggedized & Water Resistant, Flip Convertible Home & Education Laptop, IST Pen, Chro...
This 11.6-in 2-in-1 Chromebook offers the versatility of a 360-degree hinge and 10-point multi-touch technology. The 300e Chromebook bends into four different modes – Laptop, Tablet, Tent, or Stand...
11.6" HD (1366x768) IPS, 250nit, touchscreen display. Light, Portable, Rugged and Productive. The 300e Chromebook is powered for teaching and durable for the classroom. The Drop-Resistant design and...
Memory: 4GB LPDDR4 RAM; Storage: 32GB eMMC; Weight: 2.89 lbs. Intel Celeron N4020 Processor (2 cores 2 threads, base clock speed 1.1GHz, max turbo to 2.8GHz, 4MB L3 Cache); User-Facing 720p HD Camera,...
Non-Backlit Keyboard, 2 x USB-A 3.1 Gen 1, 2 x USB-C 3.1 Gen 1 (Supports DisplayPort and Power Delivery), 1 x Combo mic/audio jack, 1 x MicroSD card reader. Want Big Screens at Home? No problem, it...
Chrome OS, chromebook is a computer for the way the modern world works, with thousands of apps, built-in cloud backups. It is secure, fast, up-to-date, versatile and simple. Idea for K12 Education,...
We earn a commission if you make a purchase, at no additional cost to you.
With Lenovo's long history of producing quality laptops, like the famed ThinkPad series, the bar has been set very high for the 300e. The company's laptop legacy dates back over two decades, with Lenovo producing some of the most pivotal laptops of the 1990s and early 2000s.
As the company's success grew, more and more Lenovo laptops appeared in schools, colleges, and corporate offices. As a result, Lenovo is currently one of the best-selling laptop brands in the world.
While many of Lenovo's previous models focus on durability and performance, the 300e takes a different approach. Like the IdeaPad series, the 300e offers entry-level performance for web browsing, office work, or cyber schooling. Unlike the IdeaPad, the 300e sacrifices some of the bells, whistles, and performance benefits to save on costs.
As a result, the 300e is one of Lenovo's smallest laptops and the most budget-friendly. While you won't get to play the latest games on this laptop, you'll have no problem browsing the internet, working on small files, or typing up documents on the go. This laptop is aimed squarely at students, and it's no wonder why: with such a small form factor, it is perfect for carrying around between classes and taking notes.
Release date and price
Lenovo launched the first generation of the 300e on March 1, 2018. Despite its original retail price of $329, you can now easily find this laptop for a more reasonable price thanks to recent price decreases. However, you should be careful to opt for the 2nd generation, which offers a more powerful Intel CPU, better battery life, and improved display quality.
Different Models
We earn a commission if you make a purchase, at no additional cost to you.
Lenovo offers the 300e in three configurations. Two of the most popular configurations are Chromebooks, with the third option being a full-fledged Windows computer. There are a handful of reasons you might want to go with a Chromebook. But there are even more reasons you should lean towards the Windows model.
While ChromeOS offers all of the capabilities you need for a lightweight browsing laptop, you might run into some limitations. If you use your laptop for work, your company may require you to use Windows. This is especially true in financial, medical, and research fields, which often require Windows-specific applications.
On the other hand, the Chromebook is a good choice if you want the most inexpensive option. Using ChromeOS is similar to Windows in many ways. However, you'll need to be connected to the Internet to use your system, and you'll need to ensure you have a Google account to use your device. 
While this isn't a severe limitation for many buyers, others will undoubtedly find more freedom with the Windows version of this laptop. The 300e offers full support for Windows 10. And, thanks to Lenovo's business-grade reputation, you even get to enjoy all the benefits of the professional version of Windows.
You can install Linux on the 300e, which makes it even more appealing to tech-savvy individuals. If you want to enjoy the true freedom Linux offers, this system will give you an excellent base to start with.
Features
The Lenovo 300e is designed for versatility. As such, it is as full-featured as you could expect a laptop of this size to be. The 300e looks like a regular laptop from a distance, but pick it up and fold the display over, and you have an 11-inch tablet. Also referred to as a 2-in-1 laptop, this design allows you to enjoy the best of both the tablet and laptop form factors.
While not the best quality, the touchscreen display offers a range of inputs from multitouch, pen, or stylus control. The color accuracy is an unimpressive 57% sRGB, but the screen itself is bright enough to view under harsh lighting conditions. Additionally, viewing angles are reasonable, especially for an 11-inch screen.
You also get an HD webcam above your display, perfect for conferencing with Zoom or Skype. Turn it around, and you'll find a rear-facing camera for snapping those candid photos. Thanks to rubber bumpers surrounding the display bezels, you can pick this laptop up and handle it without worrying about dents or dings from use.
As for ports and connectivity, this laptop keeps you connected just as well as a full-size laptop. Along the righthand side of the laptop, you'll find a Micro SD card slot, Kensington lock, and a USB 3.2 port.
The touch stylus is also integrated into the casing on this side. The left side houses a USB Type-C port and another USB 3.2 port. You also get an HDMI port for connecting an additional monitor.
Specifications
| | |
| --- | --- |
| Display | 11.6" IPS 1366 by 768 |
| Processor | Intel Celeron, Pentium, or AMD A4 |
| Connectivity | WiFi AC + BlueTooth 5.0  |
| RAM Type | Soldered |
| RAM Capacity | 4GB or 8GB |
| Storage Type | eMMC or M.2 SSD |
| Storage Capacity | 64GB, 128GB, or 256GB |
Lenovo 300e: Review
Lenovo 300e 11.6" 2-in-1 Touchscreen (4-Core Intel Celeron N4120, 4GB RAM, 128GB SSD, Active Stylus Pen, Webcam) Ruggedized & Water Resistant Flip Convertible Laptop, Type-C, Wi-Fi, Win 10 Pr...
The 300e's 360° hinge lets you stand or tent the laptop on a desk, or you can swivel the display all the way around for tablet use. Pencil Touch Technology is designed to allow students to interact...
11.6" HD (1366x768) IPS, 250nit, touchscreen display, light, portable, rugged and productive. The 300e Gen 2 Winbook is powered for teaching and durable for the classroom The drop-resistant design...
Memory: 4GB LPDDR4 RAM, Storage: 128GB SSD. 2.98 lbs and up to 10 hours battery life. Intel Celeron N4120 Processor (4 cores 4 threads, base clock speed 1.1GHz, max turbo to 2.6GHz, 4MB L3 Cache);...
2 x USB 3.0, 1 x USB 3.1 Gen 1 Type-C (Charging Only), 1 x HDMI, 1 x Combo mic/audio jack, 1 x MicroSD card reader
Everything is Original from manufacturer. Windows 10 Pro in S model; Windows 10 in S Mode is a more limited, locked-down Windows operating system. In S Mode, you can only install apps from the Store,...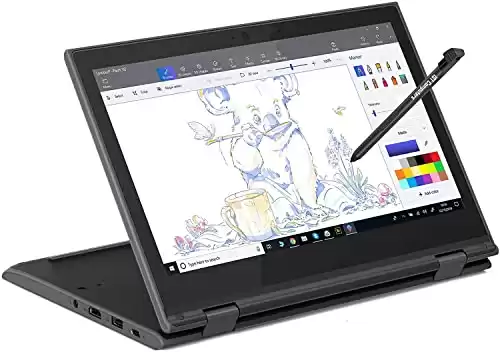 We earn a commission if you make a purchase, at no additional cost to you.
With an 11-inch touchscreen display, the 300e is designed for portability. While you might be disappointed with the screen's low resolution, the 300e has a trick up its sleeve: the contrast ratio and viewing angles are significantly enhanced due to the IPS display. The result is a laptop with a small but highly usable screen.
Lenovo 300e's weak point is its specs. With a meager Celeron or Pentium processor, you're extremely limited in performance capabilities. The story isn't much better when discussing the RAM and storage. While the choice of 4GB or 8GB of RAM is not much freedom to begin with, the 300e is further limited by the fact that the RAM is soldered to the motherboard and not expandable after purchase.
You can order the Lenovo 300e with either an eMMC drive or an M.2 drive. While both formats are solid-state drives in nature, the M.2 choice offers better performance. Selecting the eMMC version means you won't be able to upgrade your storage at a later date. Since the 300e only comes in 64GB or 128GB capacities, this can be pretty limiting.
The battery is more than sufficient to power this little laptop. With a 42wHr 3-cell lithium-ion battery, you can expect between 12 and 16 hours of runtime. Of course, this depends on your usage, as heavier tasks will wear down the battery faster. For web browsing, checking emails, and browsing your socials, achieving over 10 hours is no problem for this laptop.
What's more, one of the strengths of the 300e is its small size. In addition to being highly slender, this laptop is also very lightweight. More specifically, it is as light as a feather at an insubstantial 2.9 pounds or 1.31kg. 
Lenovo 300e: Pros and Cons
Pros:
Affordable
Great battery life
Can run Windows, ChromeOS, or Linux
Highly durable construction
Cons:
Weak specs
Low display resolution
Not upgradeable
Lenovo 300e: Is It a Buy?
The Lenovo 300e is not for everyone. With so many limitations surrounding the specs, this is not the laptop to get if you need to do any intensive computation. But with such an attractive price, it can be tempting to pick it up. So how can you tell if the 300e is a good move or if you should pick something else?
Buy it if…
You want a basic laptop for college or school
This laptop is also ideal for kids to use thanks to its durable design, rubber bumpers around the screen, and touchscreen display. Your kiddos can hop on the internet, play simple games, watch YouTube videos, or do homework. Also, carrying the 300e around in your backpack all day is no issue, making it the perfect system for a student.
You need a cheap laptop to get the job done
The 300e won't stress your budget, either. While you don't get the high performance of pricier laptops, the 300e includes all the basics to accomplish simple tasks.
Don't buy it if…
You want a fast, high-performance laptop
The 300e is not it. In fact, this laptop's performance is dismal compared to slightly better laptops. However, if your needs are simple, you'll hardly notice. The limitations become more apparent if you want to use your laptop for anything more than web browsing.
Since the 300e struggles with advanced and resource-intensive tasks, you will be better served by looking for a more powerful Windows 11 laptop. You can certainly find a cheap gaming laptop without breaking the bank if you want to use your laptop for gaming and more demanding apps.