Key Facts
Most of Pennyslyvania's tech companies are located in Pittsburgh, a city once known for its steel industry which has since moved onto computing and electronics.
The state is rapidly making a name for itself in the tech space and notable giants in the sector have established a base of operations there. They include Amazon, Google, and Uber.
Other tech companies of note which also call Pennsylvania home include Bentley Systems, Black Box Corporation, Comcast, Duolingo, Radial Inc., and Triumph Group Inc.
While Pennsylvania is most famous for its coal, steel, and agricultural industries, some pretty large tech companies are still located there. From well-known businesses like Duolingo to some more unknown gems, Pennsylvania is home to some of the most exciting start-ups and tech companies in the USA.
Come with us as we explore some of the largest tech companies in Pennsylvania and take a look at what they're all about.
Which Tech Companies Were Founded in Pennsylvania?
Although not the first state that comes to mind, some major players were founded in Pennsylvania. Here are some of the biggest ones.
Carpenter Technology Corporation
Carpenter Technology Corporation was founded a long time ago in 1883, in Reading, Pennsylvania. Specializing in the manufacture and distribution of stainless steel and corrosion-resistant alloys, their steels were even used for the engine of the first motor-operated airplane, developed by the Wright brothers in 1903. Aside from the aerospace industry, their products are also used in the medical, transportation, energy, and consumer industries. They have more than 4000 employees to date and headquarters are currently located in Philadelphia, Pennsylvania.
Ansys
Ansys, founded in 1970 by John Swanson, develops engineering simulation software for product design and testing, offering these services worldwide. Swanson created the company working out of his farmhouse in Pittsburgh. He was motivated to do this when his idea to develop software capable of automating engineering equations was rejected by his former employer, Westinghouse Astronuclear Laboratory.
Ansys has over 5000 employees currently, and has headquarters in Canonsburg, Pennsylvania.
Duolingo
Duolingo is an educational technology company, which produces apps used for learning a variety of languages. They report having over 500 million registered users, using either the free or premium versions of the app. Located in Pittsburgh, Pennslyvania, Duolingo was officially launched in 2011, with a public release in 2012. The idea was formulated in 2009 by Luis von Ahn, a professor at Carnegie Mellon University, and his post-graduate student Severin Hacker.
Duolingo employs over 500 people and plans to release an application for learning mathematics in the future, called Duolingo Math.
Sabre Systems Inc.
Sabre Systems Inc. is an Information Technology company that provides innovative technology solutions in various areas, including Cyber, business intelligence, and data analytics for both commercial and government sectors. Located in Warrington, Pennsylvania, Sabre was founded in 1989 and has around 500 to 1000 employees to date.
Black Box Corporation
Initially conceived as Expandor Inc. by Richard Raub and Eugene Yost in 1975, Black Box Corporation was founded in Lawrence, Pennsylvania. Their first main products were printer switches, also known as black boxes; their publication the 'Black Box Catalog' led to them changing their name to Black Box Corporation in 1982. Nowadays, they are a subsidiary of AGC Networks and operate as a worldwide telecommunications provider. Black Box has over 4,000 employees.
What Are the Biggest Tech Companies Located in Pennsylvania?
We've discussed some of the tech companies founded in Pennsylvania, so now it's time to go through some of the largest tech companies located in Pennsylvania, by market capitalization and revenue.
Comcast – $116.38 billion in revenue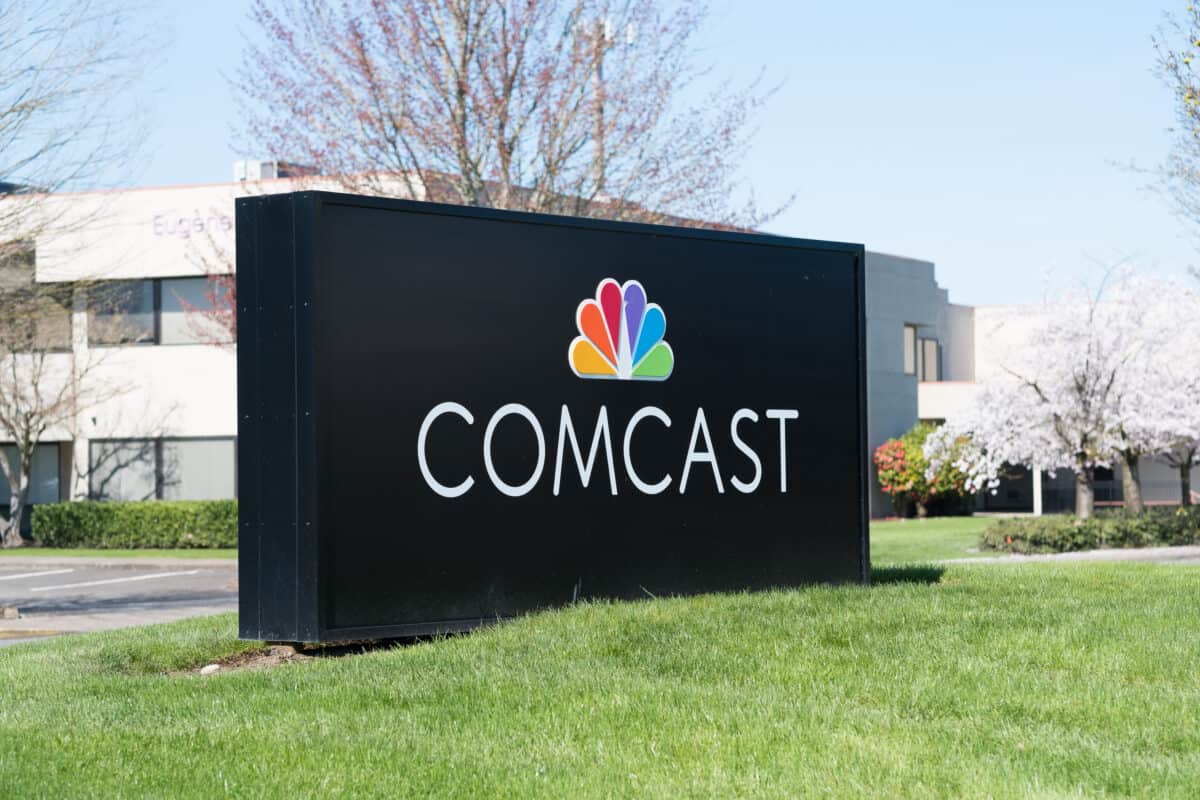 Being the second-largest broadcasting and cable TV company in the world by revenue (behind AT&T), Comcast started its life as American Cable Systems in 1963. By 1969, the company was re-incorporated in Pennsylvania as the Comcast Corporation. Along with being the largest cable TV company and internet service provider in the USA, they're also the third-largest home telephone service provider.
Comcast is a very large tech company, employing over 200,000 people and with a huge market cap of $141.06 billion.
Unisys – $2.05 billion
With headquarters in Bluebell, Pennsylvania, Unisys is an information technology and consulting company providing workplace and business computing and cloud solutions. Unisys was formed in 1986 through the merger of Sperry and Burroughs, which were manufacturers of electronics equipment and business equipment respectively. Unisys employs around 20,000 people and has a market cap of $0.61 billion.
Ansys – $1.90 billion
Ansys offers computer-aided engineering solutions and software to customers worldwide and was founded in 1970. The Ansys Workbench system is one of their main products, allowing users to break down complex systems into simple components which can be individually modeled and tested. As well as this, Ansys offers software for data backup and academics, and even offers a course in dynamics simulation in partnership with Cornell University.
Radial Inc. – $1.1 billion
Radial is an e-commerce company, which is headquartered in King of Prussia, Pennsylvania. Founded in 2016, Radial was formed from the merger of eBay Enterprise, Inc. and Innotrac Corporation. Radial provides payment processing, order management, and analytics services for commercial companies such as GameStop, Shoe Carnival, and DSW (Designer Shoe Warehouse). Radial has 7000 employees.
Bentley Systems – $965 million
Bentley Systems was founded by Keith and Barry Bentley in 1984 and has headquarters located in Exton, Pennsylvania. They are a software development company that develops and sells software and services for areas such as construction and infrastructure. Their products are used in the engineering and construction of railways, roadways, buildings, bridges, and industrial power plants to name a few. Bentley Systems have a market cap of $10.30 billion.
Sungard AS – $773 million
Sungard Availability Services, or Sungard AS, was formed as an independent company when it split off from SunGard Data Systems in 2014. Located in Wayne, Pennsylvania, Sungard AS is responsible for providing IT production and recovery services such as IT infrastructure, Disaster Recovery, and Cloud computing. Sungard AS employs 3000 people.
The Largest Private Tech Companies in Pennsylvania
These private companies may not come to mind when you think of large tech companies in Pennsylvania. With that in mind, let's take a closer look.
Sungard AS
Sungard AS, or Sungard Availability Services, has over 1,500 IT and business professionals and manages 20 mobile facilities and 75 hardened data centers (designed to withstand natural or man-made disasters). They provide a variety of IT recovery services, focusing on building and running IT infrastructure that is resilient and accessible. Its parent company is Fidelity Information Services, Inc. (FIS), which is mostly known for its development of FinTech (Financial Technology).
Black Box Corporation
While their first products were 'black boxes' or printer switches, Black Box is known nowadays mostly for providing IT services and telecommunications. Their services range from complete IT management to workplace consulting and the provision of IT infrastructure solutions and products.
Sabre Systems Inc.
Sabre Systems Inc. provides many IT services, focusing on integrated and sustainable solutions in fields such as Digital Transformation, C4ISR and Cyber. They work in the commercial sector, providing cloud and cyber solutions, and also on the national level, delivering specialized technology services to keep up with modern national security challenges.
The Largest Publicly Traded Tech Companies in Pennsylvania
Publicly traded companies tend to be more well-known than those that are privately owned. Even if that's the case, there may be some in Pennsylvania that you haven't heard of. Here's a list of the biggest ones that you will want to know about.
Ansys
Widely known for its multiphysics engineering software, Ansys is a public company that came about from developing software to automate finite element analysis (FAE). This still makes up the core of their software offerings, with Ansys software being used to simulate computer models of electronics and machine components to analyze their physical attributes. In 2021, Ansys was even used by Samsung to help develop its latest process technology.
Bentley Systems
The family-founded Bentley Systems creates software mainly for the construction industry, and are traded on the NASDAQ stock exchange. Bentley provides innovative software for professionals and all-sized organizations worldwide, and their solutions are used in the design, construction, and operation of many kinds of infrastructure.
Duolingo
Producing one of the best-known apps for language learning, Duolingo has since branched out into literacy apps for children, and soon plans to release an app for learning mathematics. With free access (albeit with adverts), Duolingo provides one of the most accessible starting points for language learning in the online space.
Comcast
The second-biggest player in the cable TV and broadcasting industry by revenue, Comcast not only provides TV broadcasting services but also telecommunications solutions such as internet and telephone services. Comcast has been around for 59 years and is now the parent company of NBCUniversal (since 2011), and produces feature films for both TV programming and the theatre.
Forgotten Tech Companies in Pennsylvania
The fate of tech companies can be uncertain, as they're often acquired by other companies, rebranded or have simply gone out of business. While they may not be as well known as the larger tech companies, they're still significant in the history and economical development of the state.
Now we're going to look at some tech companies in Pennsylvania that may have been forgotten.
BoardBookit
Founded in 2013, BoardBookit was a software company based in Pittsburgh that originally provided portal software to help connect organizations with their boards, streamlining corporate governance processes.
BoardBookit rebranded as Govenda, aided by an investment from Growth Street Partners, an equity firm based in San Francisco. They now focus on compliance management and board relationships, helping boardrooms to design and execute strategies in line with Environment, Social, and Governance (ESG) standards.
NPower Pennsylvania
Rebranded as Tech Impact in 2013, NPower Pennsylvania was a nonprofit company that provided technology support for nonprofits. Continuing this mission, Tech Impact helps nonprofits with solutions from technology maintenance to large-scale projects, broadening its focus from the local to the national level. They also support young adults wanting to move into a career in IT through their award-winning ITWorks program.
Up Next…
Interested in similar articles? Click on the links below:
The image featured at the top of this post is ©Sean Pavone/Shutterstock.com.