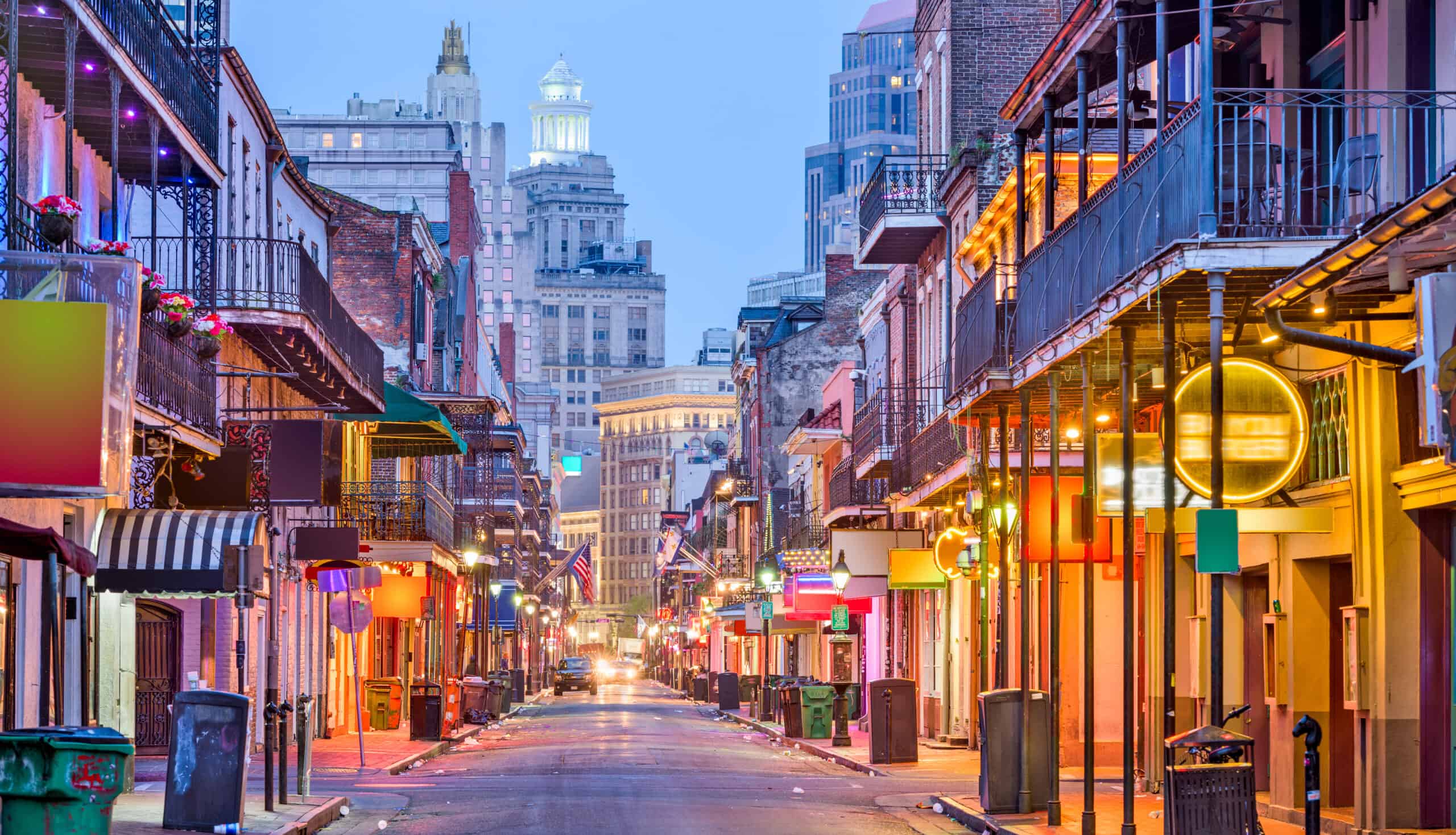 While Louisiana isn't the first place that springs to mind when thinking of the tech industry, it is home to one of the most steadily growing in the American South. Starting in 2006, Louisiana began courting tech companies in the hopes of establishing the state as a central hub for the industry.
Since 2012 Louisiana has led the nation in technology job growth. Part of the explosive growth comes from the arrival of firms and the continual support of local colleges. Additionally, diverse and reliable talent also serves to fuel this growth, and the industry at large has noticed. 
Exponential growth has led to numerous tech companies entering Louisiana. This has in turn led to continued expansion in the last decade.  Louisiana is also home to a plethora of startups, with many carving out their own niche within the business landscape.
Which Tech Companies Were Founded in Louisiana
TurboSquid
TurboSquid is a 3D modeling firm established in 2000 in New Orleans, LA.  Ever since its founding, TurboSquid has gone on to provide 3D models and assets to numerous industries.  It is one of the largest companies to come out of Louisiana. Over 2.5 million people have joined to create and sell their own 3D assets. Shutterstock acquired TurboSquid, indicative of their previous success, for $75 million. 
TurboSquid was founded by Matt Wisdom and Andy Wisdom, a pair of CGI artists who honed their craft at Chimera Digital Imaging.  Their previous experience was in developing 3D animation for commercials, which lasted from 1994 to 2000. 
TurboSquid is one of the largest 3D marketplaces in the nation.  At the time of this writing, they have over 800,000 models in their library available for purchase.
Align
Align is a business management software provider. Started in 2012 in New Orleans, LA, they provide cloud-based business solutions and other software-as-a-service solutions. The intended goal of their product is to provide an easily scalable means of managing all facets of a business. However, this also comes with ease of use, while keeping training to a minimum and increasing productivity.
Having received Series A funding as of last year, Align is new to the Louisiana tech industry. 
They have positioned themselves to take advantage of the growing cloud-based market. Their software solutions see usage by clients in over seventy-six countries.
PlantBid
PlantBid is a Madisonville, LA-based company specializing in plant placement and purchasing. At the center of the company is co-founder and CEO, Cameron Cantrelle. Mr. Cantrelle originally operated as a landscaper by trade and found himself frustrated with sourcing plants. Determined to make a change, he, and co-founder Dave Wooden started PlantBid as a means to gather up resources for sellers and buyers of plants. 
PlantBid is an atypical marketplace, primarily dealing in plants and other landscaping materials. Purchasers can locate plants, view photos, and purchase from nurseries.  Sellers can leverage the platform to sell their inventory and offer loyalty discounts without having to maintain their own storefronts. 
PlantBid is modest in size, with no more than 50 employees at the time of this writing. Founded in 2012, this unique company has made a solid impact in its decade in the field.
What Are the Biggest Tech Companies in Louisiana
Lumen Technologies – $3.78 billion in revenue
Lumen Technologies is a massive tech company in Louisiana going by annual revenue. Generating $3.78 in revenue, Lumen offers cloud-based solutions for a variety of industries. They leverage their technologies and services to better aid businesses in a variety of sectors. 
They offer a variety of services beyond just the typical cloud services, with specializations in internet-based telephony and risk mitigation. 
Entergy Corporation – $2.84 billion in revenue
Entergy is an energy company and electricity provider based out of New Orleans, LA. The company is one of the larger energy providers in the region. Entergy serves as one of the larger tech employers in the state. They utilize local talent and provide IT, cybersecurity, and telecom architectural design among other roles.
Entergy has provided electrical services to Louisiana since its establishment in New Orleans in 1922. Currently, the power company is looking at ways of optimizing power delivery, as well as focusing on renewable energy sources for the benefit of the environment.
Turner Industries – $2.36 billion in revenue
Turner Industries is one of the largest commercial contractors in the United States, headquartered and operating out of Baton Rouge, LA. Construction and commercial development are one of their primary focuses, but with the merging of technology in all facets of businesses, Turner has been a pioneer in proprietary software solutions for the industrial marketplace.
Their software initiative, DECIDE WITH DATA, is an innovative means of streamlining and more effectively managing civil engineering projects, estimating the cost and quantity of steel for shipment, and the effective delivery of electrical instrumentation and pipe fittings on a massive scale.
Turner has an impressive technological department and is one of the driving hiring forces in the area of software development without being a start-up seeking seed funding.
The Largest Private Tech Companies in Louisiana
InXile Entertainment
While massive gaming franchises aren't synonymous with Louisiana, this successor to Fallout developer Interplay maintains a sister studio in New Orleans. InXile has had steady success since its original founding in 2002 in Newport Beach, CA. A second studio found its home in the Big Easy in 2014. Xbox Game Studios acquired InXile Entertainment in November 2018.
Their last major release is Wasteland 3, launching August 28th, 2020. They've been quiet for the last two years, but with two concurrently operating studios, they surely have something up their sleeves.
Advano
Overall, great strides have happened in the development of battery technology over the years. Advano started in 2016 in New Orleans, LA, and boasts funding from iPod designer Tony Fodell with an initial $18.5 million seed investment.
This Louisiana company has positioned itself well to capitalize on the growing need for state-of-the-art battery-based solutions. Advano has created a special proprietary replacement for graphite in lithium-ion batteries, surpassing the power storage limitations of previously established.
Battery technology has been more and more in demand with growing needs for electric vehicles, smartphones, laptops, and other consumer electronics benefiting from greater power storage. Advano is on the cutting edge in ushering in a more effective battery manufacturing platform.
Geocent
This information technology firm started in 1992 in Metairie, LA. Founded originally to provide IT services and consulting on a business-to-business basis, Geocent has since been acquired by Sev1Tech and brought under its umbrella.
Geocent is certainly one of the oldest tech companies to originate from Louisiana and has remained a private company since its inception 30 years ago. Their main headquarters have shifted since their acquisition, but they still maintain operations in Louisiana.
Geocent had continual support which foresaw the growing tech industry in Louisiana.
The Largest Publicly Traded Tech Companies in Louisiana
Lumen Technologies
Lumen Technologies provides vital cloud-based infrastructure and services to a variety of sectors. This software-as-a-service magnate is a public quantity. Their financial growth maintains an impressive upward swing, further it would appear it is only primed for continued expansion as the cloud takes a more prominent place in the tech sector.
Entergy Corporation
This New Orleans power company is one of the largest in the South and lays claim to the development and deployment of one of the first nuclear power plants in the region. Entergy has a sizable IT department, focused on maintaining operational systems and delivering effective services to its large user base.
Entergy has been a mainstay of the region for well over a century now, providing valuable electrical services to a customer base covering areas of Louisiana, Michigan, Texas, and Arkansas.
ASAP Food Delivery and Takeout
ASAP, formerly Waitr, is a food delivery and takeout service headquartered in Lake Charles, LA. The delivery service has stiff competition in the form of Uber Eats, Doordash, and Postmates, but has made recent strides towards capitalizing on processing orders and delivering cannabis products.
It has had a somewhat rocky few years, struggling to find its footing in a market niche where more established companies have already made a good deal of headway. This Louisiana tech company has made some recent acquisitions, however, obtaining competitors like Bite Squad, and capitalizing on potential growth in the cannabis industry by acquiring Retail Innovation Labs.
ASAP came under fire recently as it originally operated as Waitr, but had to undergo a name change as part of a legal statement from the California-based Waiter.com.
Forgotten Tech Companies from Louisiana
There are many large Louisiana tech companies, but not every company is so fortunate. This can be due to insolvency, mergers, or rebranding. The tech industry is ultimately a very volatile business sector, it's consequentially just a result of the usual business upheavals centered in this particular sector.
Geocent
Geocent served as a mainstay in the Louisiana tech industry for a number of years, it was established in 1992. Their recent acquisition by Serv1tech has placed their headquarters in Alabama however, but they still maintain operations in Louisiana.
Geocent's operational model centered on providing managed IT services to other businesses. A variety of services were rendered, with cybersecurity-centric tasks like loss mitigation and risk assessment being of special note. Managed service providers have grown in popularity, with simple contracts replacing the need for on-campus IT staff.
Fifth Generation Systems
Once the developer of a variety of business-oriented software, defunct developer Fifth Generation Systems closed its doors in 1993. Fifth Generation Systems was founded in Baton Rouge, LA in October of 1984, and made an initial splash with their software product Fastback. Fastback was noteworthy for being one of the first viable and easy-to-use backup solutions for IBM's PC and proved to be a success. Such success attracted the attention of software magnate Symantec, who acquired the company and all relevant assets in 1993.
Fifth Generation Systems did serve as a sign of things to come in Louisiana, with this tech company being a notable acquisition by a development house that has gone on to rebrand multiple times to the present-day Gen Digital.
CenturyLink
CenturyLink served as an internet service provider operating in Louisiana. Brightspeed purchased the company outright on August 22nd, 2022. Operations will remain the same across Louisiana, with Brightspeed offering up similar service plans at a competitive price for those who were former CenturyLink subscribers.
CenturyLink was an old name in the communications arena, having been founded in 1930 in Monroe, LA. Their original service line was based around telephony, but with the advent of wider internet access, it added additional services like television and internet access. Their acquisition by Brightspeed promises no interruptions to those who previously engaged their services.