Key Points
Adobe Inc has a market cap of $198.9 billion.
Salesforce, Inc has a market cap of $182.9 billion.
Intuit Inc has a market cap of $130.9 billion.
Whether in the creative space, engineering, or personal relaxation, there is likely a company that provides the software that makes your life easier. Without large SaaS (software as a service) companies, modern life as we know it wouldn't be possible.
Software is any program or app you run that performs a set task or series of tasks for you. Additionally, you can find software in almost any field you can think of.
The following are the ten largest SaaS companies in the world by market cap and a detailed history of each.
1. Adobe Inc – Market Cap $198.9 billion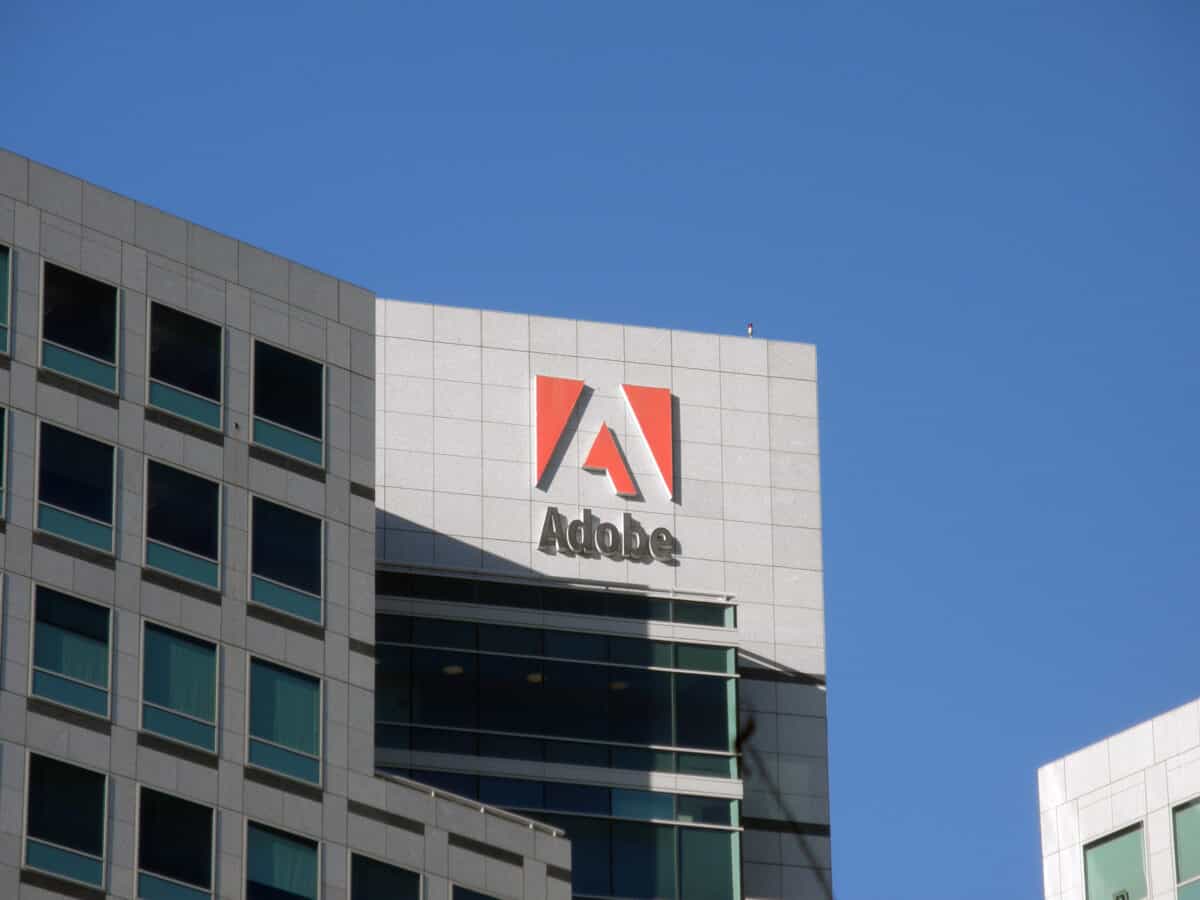 Adobe was founded in 1982 by John Warnock and Charles Geschke. These two engineers had developed a programming language while working at Xerox that would later be called PostScript, which Xerox declined to put into production.
This technology helped drive the desktop publishing revolution, and licensing fees for the language through companies like Apple and Microsoft formed the bulk of their revenue through the 1980s.
During the 1990s, Adobe built on its increasing library of fonts and programs for computer-generated documents, laying the foundations for software like Photoshop that make up the Adobe Creative Suite. The 1990s also saw the company develop its Acrobat product family for processing PDF documents.
By 1997, almost 80% of Adobe's total revenues were from application sales. In the early 2000s Adobe expanded its software options to include web-authoring software and programs (Shockwave and Flash) for distributing interactive media inside web pages.
At the time of writing, Adobe had a market cap of approximately $198.9 billion, making this the largest SaaS company.
2. Salesforce, Inc. – Market Cap $182.9 billion
Marc Benioff, Parker Harris, Dave Moellenhoff, and Frank Dominguez founded Salesforce in 1999, and the first headquarters was a one-bedroom apartment in San Francisco.
Salesforce is a customer relationship management (CRM) service at its core. The company was born out of the need to replace papers or spreadsheets tracking clients and their status in the sales funnel with a comprehensive software solution that made this process effortless.
Salesforce has seen rapid growth and development as it continues to drive towards a "360 view" of a company's customers. Some key milestones towards this objective are the addition of Service Cloud in 2009 to allow third-party developers to expand the software, the acquisition of Heroku in 2010 for better infrastructure, and the acquisition of Tableau in 2019 to add dashboarding and business intelligence functions into the service.
At the time of writing, Salesforce had a market cap of approximately $182.9 billion
3. Intuit Inc. – Market Cap $130.9 billion
Scott Cook and Tom Proulx founded Intuit in 1983. The company provides financial, accounting, and tax preparation services that target small businesses and individuals. You've probably heard of, and maybe even used, one of their products.
Intuit launched its initial product named Quicken in 1983. This product focuses on helping people manage their personal budgets. Looking to expand its financial software aimed at individuals, Intuit acquired TurboTax, a personal tax assistant software, in 1993.
In 1998, Intuit again developed a new product and launched QuickBooks, an accounting software aimed at small to medium-sized businesses.
At the time of writing, Intuit had a market cap of approximately $130.9 billion
4. ServiceNow, Inc – Market Cap $96.2 billion
ServiceNow was founded in 2003 by Fred Luddy and incorporated in California in 2004. The company calls itself the "platform of platforms" and is a platform as a service provider. They have a strong focus on IT operational events, including a platform designed to streamline the flow of IT help desk functionality.
They've also recently expanded their cloud-based offerings. In 2020, they released a version of their cloud software called "Orlando" that embedded artificial intelligence. An example of the extended functionality includes an automated virtual assistant for simple requests like a password reset.
At the time of writing, ServiceNow had a market cap of approximately $96.2 billion
5. Atlassian Corporation PLC – Market Cap $68.3 billion
Mike Cannon-Brookes and Scott Farquhar founded Atlassian Corporation in 2002. Their business model focuses on software that helps software developers collaborate and track projects more effectively.
Atlassian has a history of launching high-profile software products. For example, they launched Jira in 2002, Confluence in 2004, and acquired Trello in 2011. This suite of products allows users to collaborate, track issues, and coordinate tasks as a remote team. Additionally, as of October 2021, they are also constructing their new headquarters in Sydney.
At the time of writing, Atlassian Corporation had a market cap of approximately $68.3 billion
6. Snowflake Inc – Market Cap $49.0 billion
Snowflake was founded in 2012 by Denoit Dageville, Theirry Cruanes, and Marcin Zukowski in San Mateo, California. They are a cloud-based computer company that focuses on "data as a service." Snowflake services allow users to store and analyze data on the cloud and their services run on all three major cloud providers (Amazon S3, Microsoft Azure, and Google Cloud.)
The company went public in 2020, raising $3.4 billion, one of the largest IPO offerings in history. Additionally, they have also leaned into the remote revolution. As of May 2021, they announced a headquarterless model.
At the time of writing, Snowflake Inc had a market cap of approximately $49.0 billion
7. Autodesk, Inc – Market Cap $48.4 billion
Autodesk is one of the older companies on this list. John Walker founded the company in 1982 in San Francisco. The company's first product was AutoCAD, a computer-aided design program used by engineers and industrial designers. Notably, the company didn't offer a web version of its software until late 2001.
Although they are best known for AutoCAD, Autodesk expanded beyond just AutoCAD in the early 2000s to offer more specialized CAD and computer-aided manufacturing (CAM) software with Inventor and Fusion 360, the latter now being used by hobbyists and makers.
Additionally, Autodesk produces software for the film and FX industry through its Media and Entertainment divisions, such as Maya.
At the time of writing, Autodesk Inc had a market cap of approximately $48.4 billion
8. Crowdstrike Holdings Inc – Market Cap $44.2B
George Kurtze, Dmitir Alperovitch, and Gregg Marston founded Crowdstrike in 2011. Crowdstrike provides cyber security services for its customers, ranging from threat detection, network monitoring, endpoint security, and internal credential monitoring. In short, Crowdstrike likes to advertise itself as the Salesforce for security.
Since Crowdstrike first launched, it has made waves within the security industry. The same year it was founded, MIT named Crowdstrike to its list of 50 disruptive companies. Additionally, it was named a leader in Gartner's 2019 magic quadrant for endpoint protection and was named the best security company by SC magazine in 2020. Given the accolades, it's no surprise that top companies depend on Crowdstrike to secure their IT infrastructure.
At the time of writing, Crowdstrike Holdings had a market cap of approximately $44.2B
9. Block Inc – Market Cap $43.9 billion
Jack Dorsey and Jim McKelvey founded Block Inc in 2009. Block Inc is a financial services company focusing on payment processing and eCommerce for individuals and businesses. Two of its well-known products include Square, launched in 2009, and Cash App, launched in 2013.
Aside from its focus on payment processing, Block has expanded its services to web design through the acquisition of Weebly in 2018. Additionally, Block Inc continues to expand its payment processing and investment capabilities by acquiring Verse Technologies, a Spanish peer-to-peer payment solution, and Third Party Trade LLC, an online brokerage, in 2019. Block is one of the largest SaaS companies in the world today.
At the time of writing, Block Inc had a market cap of approximately $43.9 billion.
10 Shopify Inc – Market Cap $43.4 billion
Tobias Lutke, Scott Lake, and Daniel Weinand founded Shopify in 2006 after they attempted to open an online store for snowboarding gear. Shopify's main offering is the Shopify platform, which allows people to build an eCommerce store. Although they only have one main product, the market is bullish on Shopify. In 2015, the company went public and raised more than $131 million during its IPO.
Furthermore, there is a good chance you have interacted with a Shopify store and didn't even realize it. As of 2021, users have developed approximately 1.58 million websites on the Shopify platform. Shopify has continued to expand through a series of acquisitions and partnerships. One of the most notable was a deal with Amazon in 2015, where Shopify was named as the preferred migration provider when Amazon closed its Amazon Webstore.
At the time of writing, Shopify Inc had a market cap of approximately $43.4 billion.
Up Next…
Top 10 Largest Chip Manufactures – The hardware that runs all these software tools depends upon these top chip manufacturers to create the brains behind your computers.
Largest Web Hosting Companies – Websites like this one and the e-commerce solutions developed by Shopify rely upon these web hosting companies to ensure steady and reliable access to the web.
Top 10 Largest Subscription Companies – Many software service providers double as subscription companies to stabilize revenue and get us to watch just one more episode.
The image featured at the top of this post is ©Panchenko Vladimir/Shutterstock.com.