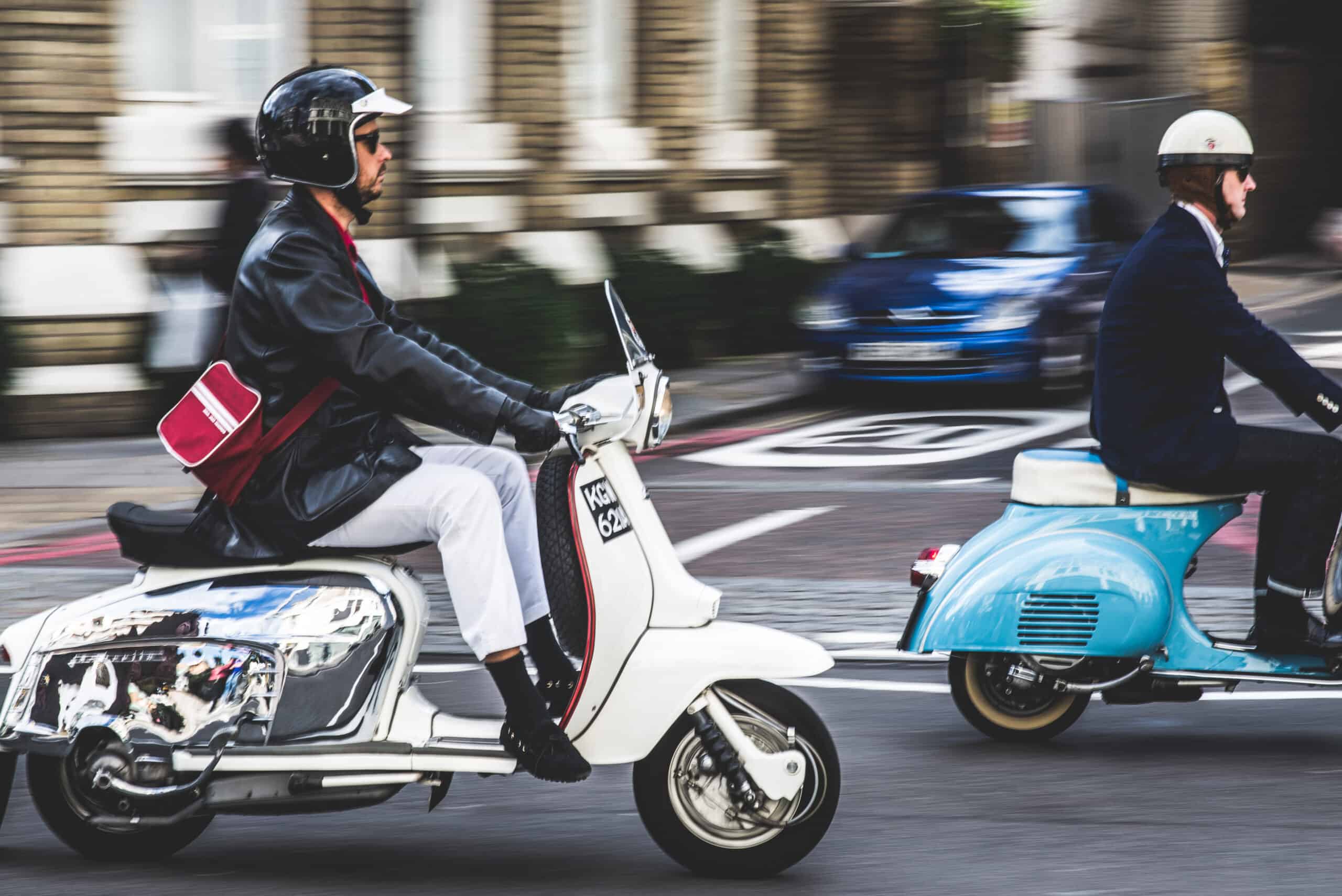 The world-renowned scooter manufacturer Lambretta is back and about to launch a range of new products in international markets. The first new product is a line of 200cc-350cc gas-powered scooters that will launch in India in 2023.
They also announced a new EV scooter that will officially come out in 2024. However, this will be similar to their other sit-down scooters and not standing scooters.
The original Lambretta company was located in Milan, Italy, and that is where the scooters were made. They also had a major impact on the European scooter market. However, one of their largest markets was actually in India. Lambretta shut down about twenty-five years ago, but the brand has been resurrected with a focus on the Indian market.
Gas Scooters
Lambretta has been hard at work building out new lines of scooters and establishing a dealer network throughout Europe. They currently offer three different scooter models, including the G, V, and X series. Each has its own unique personality and comes in a range of engine sizes. While they all have a classic Italian style, they also include many modern features.
To start with, you have the V series, which offers a simple yet elegant design. Overall, this is the simplest and least powerful of Lambretta's offerings.
However, it still manages to pack enough power to get around. It has modern features like an electric start and a CVT transmission, but misses out on some luxury features like the more premium suspension and wheels of the higher-end models.
Next up, we have the X series, which is a step up in finishes as well as engine sizes. The engines on the V series start out very small and get into a mid-range.
However, all X series scooters come with a 275cc engine that is more than enough to get you around town and even up to higher speeds. Besides being a more refined bike, it also has some nice features like antilock brakes and a more robust suspension.
Last but not least is the G series which also consists of just one model. This one offers the best that Lambretta has to offer, with a 330cc engine that is very powerful for its size.
Just like the other models, it uses a CVT transmission, and it also has many of the features of the X series. But what sets the G series apart is its refinement and luxurious features like a TFT display and USB charging station.
Lambretta's gas-powered scooter offerings are very impressive and competitive with other two-wheeled bikes on the market. You can get plenty of power while also getting some nice features that really improve rideability. Each of these models will expand with Lambretta into international markets as they expand their number of dealer partnerships.
Electric Scooters
While Lambretta was well-known for gas-powered scooters, it is hard to look past the fact that the world is going electric. The company has already launched an electric bicycle, but it looks like they may also release an electric scooter in the near future. But for now, the bicycles come in a few different sizes and styles.
One nice feature that comes on most bicycle models is a metal cargo rack. This is a great way to carry around a few things or even a backpack. Just cinch it on the rack and get going.
What's really cool about these bikes is that they also have pedals, so you can keep riding even if your battery dies. Another nice addition to all models is a small computer that keeps track of both speed and distance.
Lambretta
Lambretta has a rich history dating back to the 1940s when it first made scooters. Its parent company Innocenti also made small cars, with the Lambretta brand serving as a spinoff into the smaller, two-wheeled market. It competed alongside the popular scooter brand Vespa for a number of years before finally going out of business.
Lambretta and Innocenti went out of business in 1972, which is when their Milan operations shuttered. However, by this time, the brand was immensely popular in India, so the Indian government purchased the Lambretta factory to begin manufacturing the scooters again. Where things get a little murky is that a company in Switzerland claims to be the rightful owner of the Lambretta name.
In a new partnership with an investment group, the owner of the Lambretta name is going full bore into the Indian market. There were already some small efforts back in 2017 to test the waters, but this time Lambretta is launching a number of products in India. They will roll out over the course of the next few years, many of which are already available in Europe.
Indian Scooter Market
India's scooter market is massive. Even going back to the original Lambretta company, the scooters were always very popular. Part of the reason for their popularity, and why the Indian government ended up taking over the manufacturing facilities, is the matter of the roads in the country and its overall population. India is very heavily populated, and it is much easier to fit scooters on the roadway than cars.
Scooters help cut down on congestion and can navigate crowded roadways more easily. But the main reason Lambretta scooters took India by storm was their price. In the early 1970s, India was seeing dramatic growth, and its population needed to get around. Scooters offered a means of transportation that many people could afford.
This was the main reason that the government took over production at the Lambretta factory after the company's closure. There was a massive demand for transportation, and the scooter was by far the most practical. It also helps spawn an entire culture centered around Lambretta, and scooters in general. After all, many people start scooter clubs for fellow riders.