Key Points
Kindle and iBooks are both digital book platforms that provide users with millions of digital books to choose from.
E-books bring in an estimated $1.1 billion a year in the U.S. This is accumulated from an estimated 75.2 million e-book readers across the country.
For e-books the Kindle is the better option, as there are more books to choose from. As a tablet, the iPad is a better overall device for downloading apps and playing games.
Everybody loves a good e-reader. Initially feared as the one thing that might manage to kill physical media for good, it eventually became clear that — once people actually got their hands on an e-reader — both physical and digital books could exist side by side. However, that is not to suggest that there isn't a battle going on between all the different varieties of e-readers out there. Take Kindle vs iBooks, for example. The two have been duking it out for more than a decade now.
Both have their own respective advantages and disadvantages, and neither one is perfect. With that being said, the Kindle vs iBooks debate is definitely a debate worth having. We'll begin by making a full comparison between Kindle and iBooks, then move on to a side-by-side comparison of their specs. From there, we'll go over some fast facts about e-books and continue on to an overview of the history of the Kindle and iBooks. Once that's said and done, we can conclude with an answer as to which e-book platform is truly best.
Full Comparison: Kindle vs iBooks
When you think about Kindle vs iBooks, your mind almost goes toward the Apple vs Android debate. However, the Kindle vs iBooks debate is quite unlike this (or any other) rivalry. That's because the Amazon Kindle and the Apple iBooks app are similar but different technologies. The Kindle name originated as an e-reader and e-book store that eventually evolved into an app for smartphones and desktop computers. Apple iBooks, on the other hand, is exclusively an app. Unlike the Kindle, there is no one designated iBooks device. (The closest thing would be the iPad, which iBooks was first created for.)
This is the biggest, most significant difference between Kindle and iBooks: The Kindle exists solely for e-books and audiobooks, while the iBooks app is just one of many countless apps available for Apple devices. From the iPad to the iPhone to the Mac to the Apple Watch, the iBooks app brings the e-book and audiobook experience exclusively to Apple products. The Kindle app, on the other hand, is available across multiple different smartphone and desktop brand names as well as being integrated into the Kindle e-reader.
In other words, one is a device with an app while the other is an app for a device. Sound confusing? It's actually pretty simple when you think of it this way. Kindle is primarily concerned with being an e-reader first and an e-book store second. iBooks, on the other hand, is an e-book store first. All e-book capabilities come second to this fact. This is evidenced by the way Apple has never made a specific e-reader device and instead chooses to simply make the iBooks app available across its wide range of products.
Side-by-Side Comparison of Kindle vs iBooks
| | Kindle | iBooks |
| --- | --- | --- |
| Date Released | November 19th, 2007 | April 2nd, 2010 |
| Developer | Amazon | Apple |
| Number of Books Available at Launch | 750,000 | 60,000 |
| Platform | Kindle e-readers, smartphone app, desktop app | Apple iOS, macOS, Watch OS |
| Key Features | E-books, audiobooks, e-book store | E-books, audiobooks, e-book store |
| Price of Device | $89.99 (Kindle 10th generation) | $279 (iPad 10.2 inch) |
Best for Avid Readers
Kindle Paperwhite
6.8" display and thinner borders
Up to 10 weeks of battery life
300 PPI glare-free display (with 20% faster page turns)
Adjustable warm light
We earn a commission if you make a purchase, at no additional cost to you.
5 Must-Know Facts About E-Books
75% of all e-books in the United States are sold from the Kindle store. (Compare that to 95% in the United Kingdom.)
E-books bring in an estimated $1.1 billion a year in the U.S. This is accumulated from an estimated 75.2 million e-book readers across the country.
While there are far more Kindle e-book sales than iBook sales, there are still more iPads sold than Kindles.
American e-book sales have a compound annual growth rate of 13.3% each year.
While e-books did not catch on until the mid-to-late 2000s, the first e-book was created in 1971. The book in question? It was the United States Declaration of Independence.
The History of the Kindle
The Amazon Kindle first emerged around Thanksgiving 2007. While it wasn't the first e-reader of its kind, it was most certainly the most popular and the most revolutionary for the time. None of its predecessors nor its successors could hold a candle to the capabilities, features, or allure of the Kindle e-reader. Its first generation sold out in less than six hours and remained sold out for more than five months after. It didn't return until April 2008, when sales once again skyrocketed.
Due to the massive success of the Kindle — which included the Kindle Store, where users could buy e-books — it was only a matter of time before Amazon released Kindle for PC, an application that allowed Kindle readers to access their e-books from Windows computers. This 2009 release was followed by a smartphone app in 2010 and an expansion of its PC app to include various other operating systems and brand names.
The Kindle has since broadened its horizons from its first generation e-reader to Fire tablets, the Kindle Paperwhite, the Kindle Oasis, and beyond. Across the board, the Kindle app continues to allow users to purchase e-books from Amazon's online store as well as audiobooks through Audible. However, the Kindle nor the Kindle app allow for integration with Apple's iBooks. Naturally, this shutting out of Apple opens the door for Apple to try and appear as the bigger person.
The Emergence of iBooks
For being the other side of the Kindle vs iBooks debate, Apple's e-book store seems to have very little interest in directly competing with Amazon's e-reader. Instead of putting time and energy into creating an e-reader of their own, Apple made it clear that their tablet — the iPad, also introduced in April of 2010 — was about more than just reading e-books and listening to audiobooks. The iPad was capable of far more, from gaming to music streaming to conducting business to turn-by-turn navigation and beyond.
This broad range of features might suggest that iBooks falls short of the Kindle's offering simply because it's not the only feature available to iPad users. However, this isn't completely true. The iBooks app — also known as Apple Books in some official Apple descriptions — is still full of impressive, competitive features not unlike the Kindle. Initially offered exclusively on the iPad before expanding to the iPhone and the iPod Touch later in 2010, the iBooks app integrates an e-book store with an e-reader for utmost convenience.
As time went on, the iBooks app also made its way to Macs and even Apple Watches. Today, the iBooks app — or Apple Books, depending on where you look — offers affordable e-books, audiobooks, and sleek page-turning software that replicates the look and feel of reading a physical book. What's more, the iBooks app also allows users to upload PDFs, purchase textbooks, and even gift e-books to other iBooks users. (Not to mention, iPads and other Apple devices are also compatible with the Kindle app, effectively delivering the best of both Kindle and iBooks. This is something Kindle e-readers cannot do.)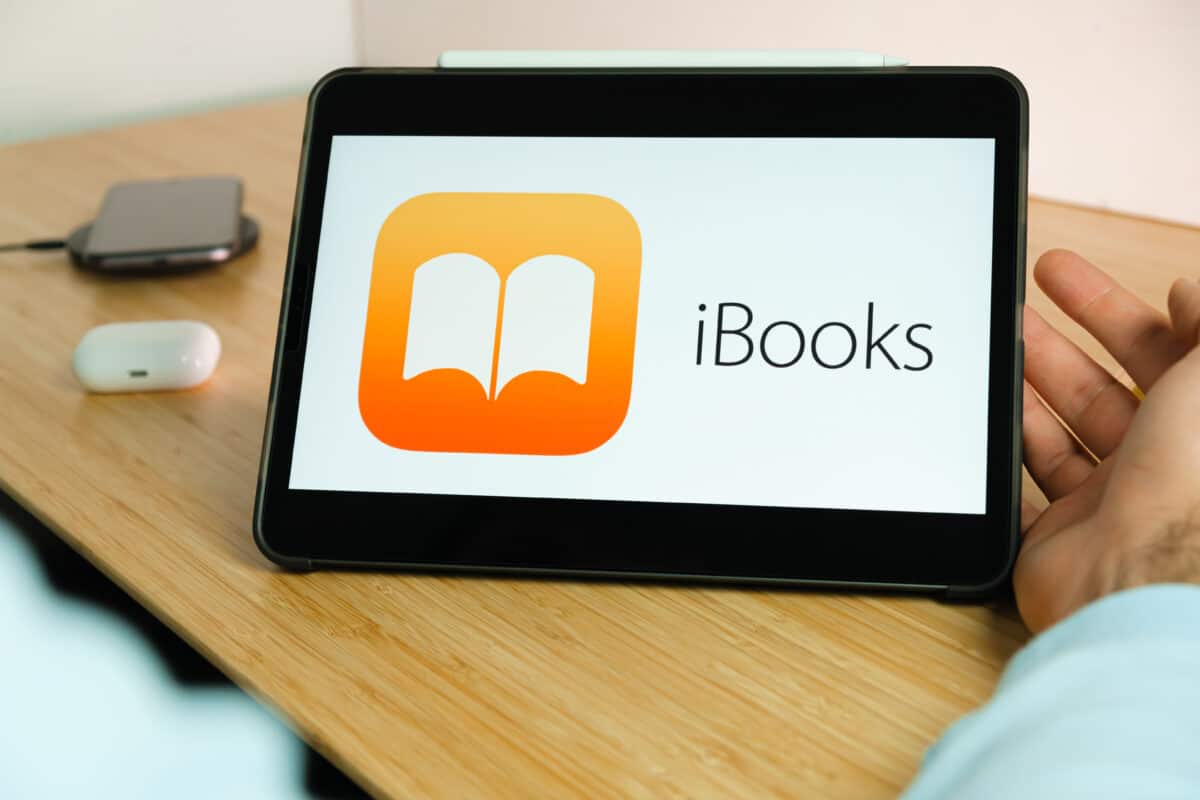 Pros and Cons of Kindle vs iBooks
Pros of KindleCons of KindlePros of iBooksCons of iBooksMade exclusively for reading e-booksKindles do not offer many other features beyond reading or listening to booksThe iBooks app can be downloaded to the iPhone, the iPad, the Apple Watch, or a MacThere is no designated Apple e-reader, leaving them without a true Kindle competitorComes in both a Paperwhite and an Oasis model, giving different readers different optionsThe Kindle does not offer support for iBooks like Apple does for the Kindle appApple users interested in a Kindle can simply download the Kindle app to their Apple deviceAs just an app, it's far easier to get distracted by other apps when reading on iBooksMost Kindles are far cheaper than an iPadAmazon tried and failed to compete with the iPad with the Kindle Fire, making another attempt at a true iPad competitor unlikelyThe iBooks app is newer and goes through far more frequent updates than the Kindle storeFar fewer titles compared to the Kindle store's selectionA far larger selection of e-books on the Kindle store compared to iBooksThe Kindle is not compatible with Bluetooth headphonesiBooks utilizes an innovative, sleek page-turning animation to better replicate the experience of readingApple devices tend to be much more expensive than Kindle e-readers
Kindle vs iBooks: Which Is Better?
Without question, the iPad is far more functional and much more versatile than even the most high-end Kindle. You can do more business. You can play more games, and you can run more apps… It's simply a better tablet, no ifs, and, or buts about it. However, this isn't a comparison of the iPad vs the Kindle. This is a comparison of Kindle vs iBooks. For this reason, we have to hand it to Kindle.
The Kindle is a device made specifically for reading and listening to e-books. Comparatively, iBooks is merely an app you can download to an Apple device. The Kindle feels like it's far more dedicated to creating a great e-book experience, while iBooks feels more like an afterthought. It's just one more feature on a long list of features for Apple devices. The Kindle, on the other hand, is made specifically for e-reading. This dedication is what ultimately makes it the superior e-book option. (Plus, the Kindle app is also available on Apple devices, making it the best of both worlds.)
NEXT UP…