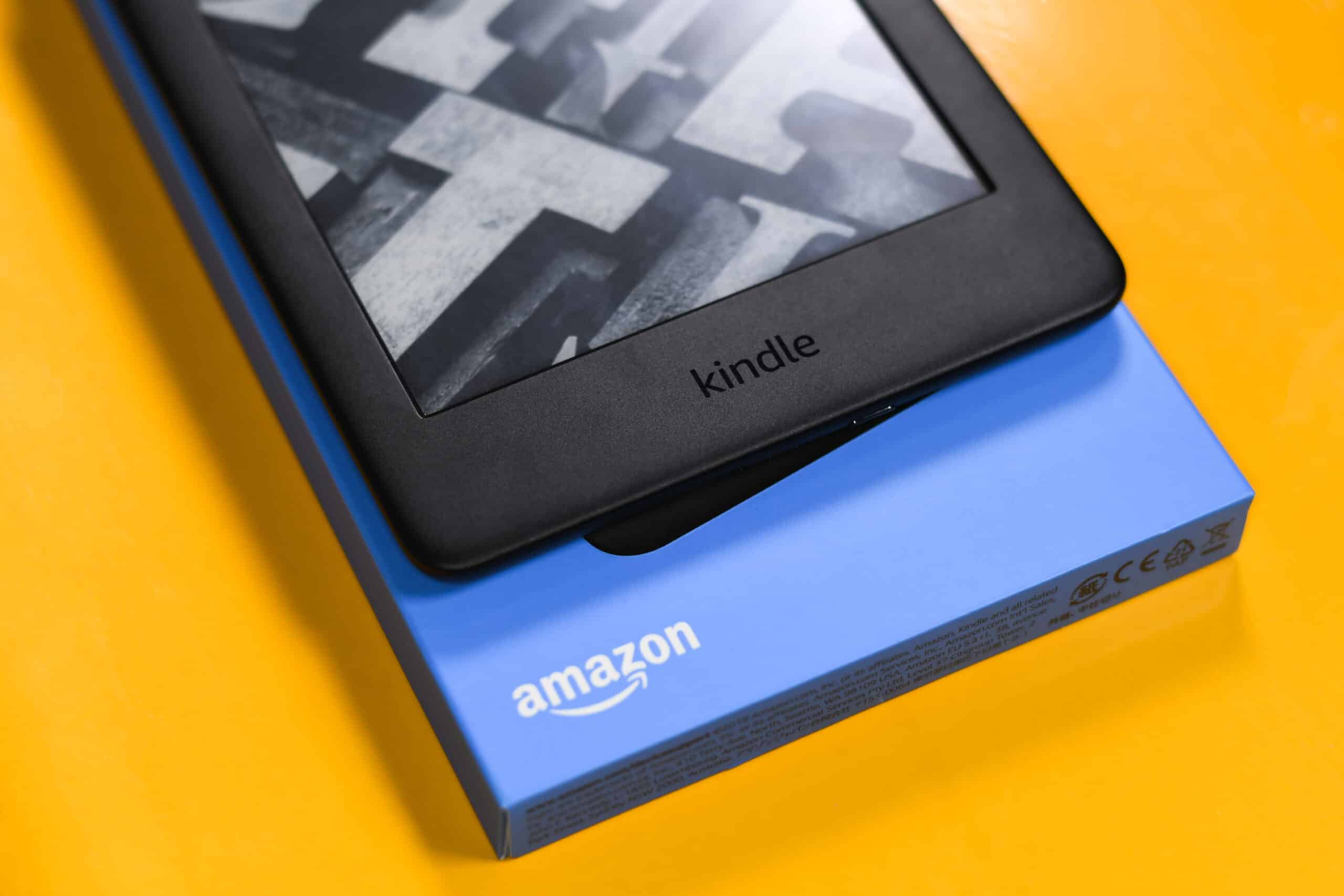 Since first emerging onto the scene in November of 2007, the Kindle has been a brand name synonymous with e-readers. Amazon — still on the up and up at the time — had a serious hit on its hands from the very beginning. Since then, Amazon has tested out Kindle Fire, Kindle Paperwhite, Kindle Oasis, Kindle Voyage, and Kindle Touch.
Not everything has stuck, but two definitely have: the Kindle Fire vs Kindle Paperwhite. How do they compare? And which is best? To find out the answer, have a look at our Kindle Fire vs Kindle Paperwhite comparison below.
Kindle Fire vs Kindle Paperwhite: Side by Side Comparison
| | Kindle Fire | Kindle Paperwhite |
| --- | --- | --- |
| Release Date | November 15th, 2011 | October 1st, 2012 |
| Latest Release | Fire 7 (12th iteration) | Kindle Paperwhite (5th iteration) |
| Starting Price | $59.99 | $139.99 |
| Screen Type | Touchscreen glass display | E-ink display with LED backlight |
| Storage | 16 GB, 32 GB | 8 GB, 16 GB |
| Battery Life | 10 hours | 10 weeks |
| Features | Front and rear cameras, app store, Alexa, productivity suite | Waterproof, glare-free display, long battery life, warm light mode |
| Upcoming Release | Fire HD 8 (2022) | TBA |
Kindle Fire vs Kindle Paperwhite: What's the Difference?
Despite their obvious differences in price and display, the Kindle Fire and the Kindle Paperwhite have a number of key differences worth going over in-depth. From its battery to its internal specs, the Fire and the Paperwhite are distinguished by more than just their names. Overall, these are the key differences between the Kindle Fire vs Kindle Paperwhite.
Fire 7 tablet, 7" display, 32 GB, (2019 release), Black
7" IPS display; 16 or 32 GB of internal storage (add up to 512 GB with microSD)
Faster 1.3 GHz quad-core processor
Up to 7 hours of reading, browsing the web, watching video, and listening to music
Hands-free with Alexa, including on/off toggle
1 GB of RAM
We earn a commission if you make a purchase, at no additional cost to you.
Battery Life
When dealing with e-readers, is there anything more important than battery life? After the actual display itself, there's little that matters more to the quality of an e-reader than how much reading time you'll actually be able to get out of it. With this in mind, the most recent Fire tablet boasts up to 10 hours of battery life. Granted, this would require users to keep the brightness low, limit Web browsing to a minimum, and reduce the use of apps. In reality, taking into consideration the average tablet user's activity, the battery is likely much lower.
The Kindle Paperwhite tells a similar story. The fifth iteration of the Paperwhite advertises an astoundingly 10-week battery life. If this seems too good to be true, that 10-week life would require a user to turn the brightness way down, turn the wireless connection off, and limit reading time to less than 30 minutes a day. In reality, this means the Kindle Paperwhite's battery is much closer to 30 hours or less. That's where the 10-week life comes from; stretching those hours out to 30 minutes or less a day. Still, the Paperwhite's battery soars above the Fire's.
Functionality
This brings us to the next key difference – functionality. The Fire tablet and the Kindle Paperwhite e-reader offer very different, very distinct features. For instance, the most recent Fire tablets offer HD displays, cameras on the front and back of the device, and also support streaming and social media apps from Amazon's app store.
In addition to reading, Fire tablet users can watch Netflix, scroll TikTok, browse Facebook, stream music, and more. Its functionality is not unlike a smartphone's, minus the calling and texting aspect. Reading is definitely not the top priority here.
The Kindle Paperwhite, on the other hand, does not have many features or functions to boast outside of e-book reading. As a matter of fact, most of Paperwhite's functionality pertains to its reading experience; warm-toned backlighting, long battery life, an e-book store, and waterproofing. If you're looking for a device that also allows you to browse the Web, use social media, or stream the latest movies and television shows, Paperwhite is not the device for you. It sets itself apart from Fire by keeping the focus strictly on literature.
Best for Avid Readers
Kindle Paperwhite
6.8" display and thinner borders
Up to 10 weeks of battery life
300 PPI glare-free display (with 20% faster page turns)
Adjustable warm light
We earn a commission if you make a purchase, at no additional cost to you.
Internal Hardware
Last but not least, let's consider the internal hardware of the Fire and the Kindle Paperwhite. For one thing, Fire has far more storage than Paperwhite. The latter's base models top out between 8 and 16 GB, while the Fire's storage stretches to as much as 64 GB.
16 GB is plenty of storage for the Paperwhite — it's equivalent to around 5,000 e-books — while 64 GB can go pretty quickly for a tablet. From social media apps to video streaming, storage can get used up significantly faster on a tablet than on an e-reader.
Memory
Comparatively, the memory of the Fire and the Paperwhite tells a similar story. The fifth-iteration Paperwhite has 1 GB of RAM. Meanwhile, the Fire 10 HD has as much as 3 GB of RAM. Once again, that's a lot for the Paperwhite and not a lot for the Fire. The Paperwhite has plenty of memory to recall where you left off, how much you have left to read, and so on.
Contrarily, Fire faces the risk of running out of memory and slowing down performance when running too many apps at the same time. 3 GB is around the same as your average smartphone.
Kindle Fire vs Kindle Paperwhite: 5 Must-Know Facts
There are currently over 12 million books on the Amazon e-books store.
Amazon dominates 68% of the e-book market. Looking at indie books, that market further bumps up to 83%.
Surprisingly, Amazon has never released figures themselves. Nevertheless, analysts estimate that the company has sold anywhere between 20 and 90 million e-readers since 2007.
Amazon allows independent publishers to release their own books on the Kindle e-book store.
The Fire tablet dropped the "Kindle" name in 2014. It's now known simply as the Amazon Fire.
Kindle Fire vs Kindle Paperwhite: Pros and Cons
| Pros of Kindle Fire | Cons of Kindle Fire |
| --- | --- |
| Retails for as little as $60 | Fire 7 tablets are presently not HD |
| Fire 10 HD tablets have 1080p displays | Pales in comparison to the iPad |
| Can stream audio and video from all the top services | Battery life significantly lower than on the Paperwhite's battery |
| Front and back cameras | Reading can be distracting |
| Pros of Kindle Paperwhite | Cons of Kindle Paperwhite |
| --- | --- |
| The battery is remarkable | More expensive |
| Plenty of storage | Amazon takes a long time to release new models |
| Warm light mode makes reading in low light much more comfortable | Ad-based models can be annoying |
| Waterproof | No mobile data; relies on Wi-Fi only |
Kindle Fire vs Kindle Paperwhite: Which One Is Best?
The sheer number of differences between the Fire and the Paperwhite speak to the distinct uses for each Kindle product. The Fire is a tablet first and an e-reader second, putting more emphasis on tablet functionalities than e-reader capabilities. The Paperwhite, however, is solely an e-reader.
There are very few things a user can do with a Paperwhite beyond reading e-books and listening to audiobooks. As such, the best Kindle is whichever one suits your needs best. Are you looking for a tablet full of apps, or are you looking for an e-reader full of books?
Final Verdict
Nevertheless, it's still possible to name an objective winner between these two Kindles. Judging by their functionality, their features, and how they compare to the competition, is there a true winner between the Fire and the Paperwhite? If one had to be ultimately named, it would have to be the Paperwhite.
There are plenty of tablets that offer more than the Fire, but no e-reader does what the Paperwhite can do as successfully as the Paperwhite. Basically, the Fire is a successful tablet-Kindle hybrid that ultimately fails to beat the iPad. That's why Kindle Paperwhite is the best of the best.
NEXT UP…