Key Facts
Kia Motors have been producing EVs for half a decade.
Both the company and its partner, Hyundai are now second behind Tesla.
Both brands hold 12% of the European electric vehicle market.
Already operating in the EV market for half a decade, South Korean electric vehicle automaker Kia has been stepping on the sales accelerator; even as Tesla continues grabbing most of the headlines. Kia and its partner Hyundai are overtaking Elon Musk's company, with the partners now second behind Tesla, Jalopnik reports. If counted separately, Kia Motors is still in third place in the USA EV market, behind Tesla and Ford. The two allies have also laid claim to a shared 12% of Europe's electric vehicle market.
Runaway popularity among EV buyers also points to strong future growth for Kia. The company's sales boomed in the spring and summer of 2022, both in the United States and Europe. It's selling both all-electric BEVs and plug-in hybrids (PHEVs) almost as fast as it can make them. Inflation Reduction Act changes to electric vehicle tax credits could be a speed bump for Kia's U.S. success. However, the company already has plans in motion to adapt to the new regulatory world and continue its rivalry with Tesla.
Kia: Rapidly Overtaking Tesla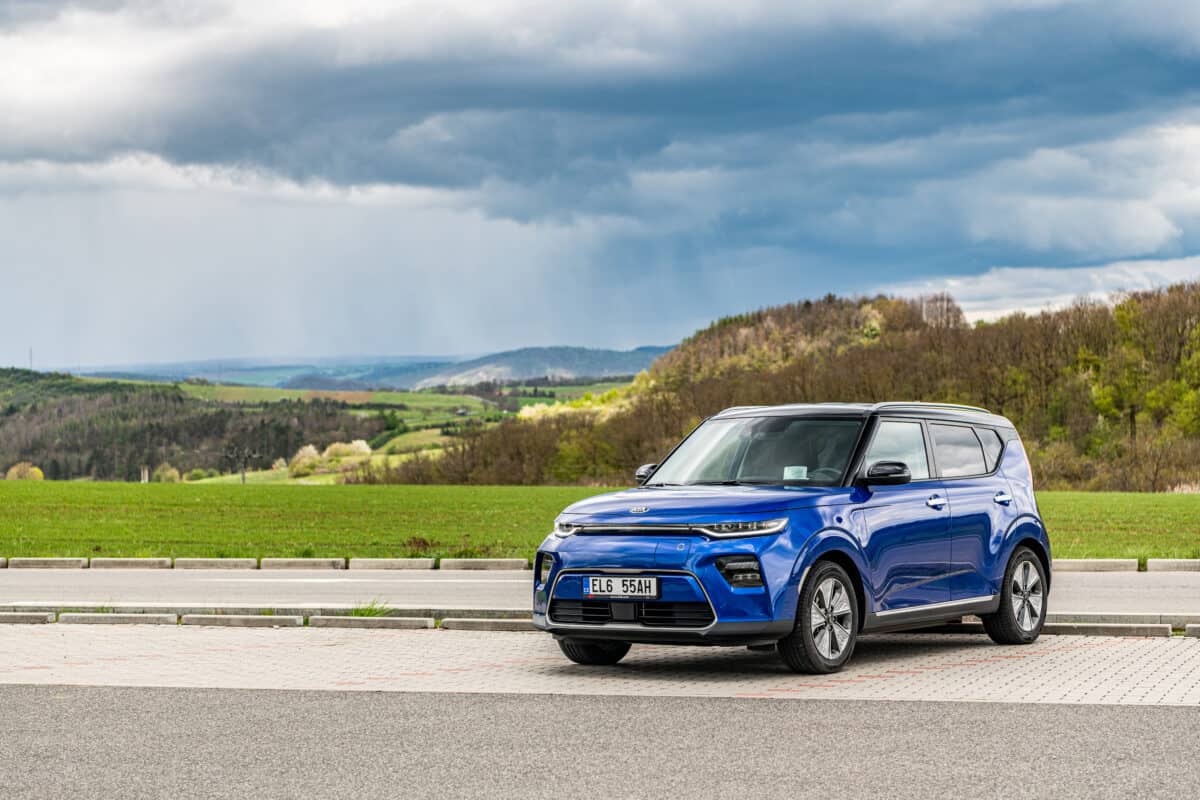 Kia's rise to the top three EV sellers in the USA is even more impressive in light of its late start. It launched its first all-electric vehicle, an EV version of the Kia Soul subcompact crossover, in spring 2014. The Soul EV came half a decade after the Tesla Roadster first put wheels on pavement in 2009. The Tesla Model S sedan also beat the Soul EV to market by two years with its 2012 debut. Additionally, the Model S was a ground-up EV build, while the early Soul was an electrified version of the gasoline model.
Kia's interest in electric vehicles stretched back much farther in time. It started offering its first fuel cell electric vehicle (FCEV) in 2004, MotorBiscuit reports, with more fuel cell vehicles and hybrids in the following years. However, the Soul EV was its first electric-only model.
Kia's Dedicated EVs
The Korean automaker sold its 10,000th Soul EV in early 2016, according to the Yonhap News Agency. The early Soul EV's 27kWh battery provides about 95 miles of range. While limited to a maximum 50kW charging speed, its limited battery capacity means it reaches 80% charge in 33 minutes.
Kia opened a new chapter in electrification when it rolled out its first dedicated EV, built as an electric vehicle from the ground up. Kia introduced the EV6 on March 30, 2021, and made it available to customers on August 2nd, 2021. The EV6 beat Soul's performance, boosting its range to 310 miles. Its all-electric drivetrain generates the torque needed to send it leaping from 0-60 mph in a lightning-fast 4.6 seconds. Despite its features and performance, the EV6 is competitively priced at $41,400 MSRP. The Kia EV6 is just the first of 11 electric vehicles the company aims to launch by 2025.
Kia in 2022: Booming Sales
Kia's mix of affordability and performance appears to be making it a winner in both Europe and North America. Kia's May 2022 EV sales rose 132% year over year, far outpacing its ICE vehicle sales (though these also increased significantly). May 2022 sales of the Niro EV were up 28% compared to May 2021. Monthly EV sales growth accelerated even more by August, soaring 151% year-over-year. While the EV6 wasn't available in 2021, it sold 16,124 vehicles in the USA by August. Strong purchases for a newly-introduced EV.
So, let's take a look at the current EV models contributing to Kia's success, as well as the near-future model likely to keep that success growing busily into the future.
Kia Niro EV: A Comfortable Everyday Crossover
Going head to head against the Tesla Model Y in the crossover category, the Kia Niro EV is a highly popular model. The Niro EV, like the Soul EV, switches an all-electric system for an existing internal combustion chassis. The result is a compact EV SUV with a somewhat restricted interior, though the 2023 model promises more elbow room.
The Niro's designers built it as a four-door crossover able to seat 5 people. Its battery offers an EPA-tested range of 239 miles, though this, too, could increase with the next generation. It generates an adequate but not outstanding 201 horsepower and 291 ft-lbs of torque, enough for 6.2 second 0-60 time. The Kia Niro features a heat pump, important for maintaining good range in cold winter weather.
Kia Nero EV: Advantages
Reviewers point to the Niro's comfort, range, and cold-weather driving features as its advantages. The heat pump, heated seat, and steering wheel help make it an attractive option for EV drivers in northern climates. While it's not an offbeat or groundbreaking vehicle, it's still a solid passenger EV with plenty of modern details.
Its 2023 incarnation promises upgrades such as a bigger interior, 253-mile projected range, and semi-autonomous driver assist, Kia says. It will also feature fast-charging battery architecture able to add 100 miles of range in 25 minutes on a Level 3 DC charger.
Kia EV6: All-Electric Range and Performance
The EV6 was engineered as a dedicated electric vehicle from the get-go. Affordability is once again an advantage for the base model, with an MSRP set at $41,400. Part of Kia's success in the EV world is its slick, stylish design, as well as the kind of good performance that average drivers can afford. The EV6 also has higher-end trims for potential owners looking for a more luxurious ride.
The EV6 offers 310 miles of EPA-estimated range, making it a solid contender with Teslas and other EVs in terms of this key metric. Its high-capacity electric architecture complements its long range; plugging it into a Level 3 DC fast charger brings it to 80% in just 18 minutes.
Kia EV6: Slick Design
Its upcoming performance trim, the 2023 EV6 GT, adds even more moxie to an already peppy design. Bucket seats, alloy wheels, and a flat-bottomed steering wheel are all intended to provide a sports car ambiance to the GT. With a dual-motor all-wheel drive (AWD) setup, it gains 576 horsepower and accelerates from 0-60 mph in 3.4 seconds. As Kia is quick to point out, this puts its acceleration in the same ballpark as some Lamborghini models. Jalopnik reports that the car's unique suspension also gives it superior handling and cornering.
The EV6 is also winning awards, most recently at the highly competitive 2022 Trophée de L'argus in France. It was judged the top entrant in the Family SUV and Crossover category. The award joins multiple Car of the Year awards presented to it by other European EV judges. U.S. News & World Report also named it Best Electric Vehicle in May 2022. US News cited its "exceptional" 310-mile range, "comprehensive" safety features, and "comfortable and attractive interior."
Kia EV9: A Thrifty Three-Row SUV
Slated for production sometime in summer 2023, the Kia EV9 SUV is a full-size sport utility vehicle just now emerging from the last stages of testing and development. A challenger to just a handful of EV SUV rivals like the Rivian R1S, the vehicle features three rows of seating. Edmunds expects its base model to have an affordable price; somewhere around $50,000. If accurate, this means its base price will be less than half the roughly equivalent Tesla Model X.
Kia says it's looking to achieve 300 miles of range with the EV9, an important factor for almost all EV buyers. Some of the EV9's possible features echo those of the Fisker Ocean SUV. These include sustainable or recycled materials used for the interior's upholstery and surfaces, and a solar panel in the hood to add range in sunny climates.
It features a 27-inch display mounted above the quirky square steering wheel, the rounded-corner shape of which is colloquially known as a "squircle." Edmunds further guesses the SUV may have a roughly 100 kWh battery, and a trim level with range exceeding 350 miles.
More Upcoming Kia EVs
Kia isn't resting on its laurels with its first two dedicated EVs and all-electric standard model variants, like the Niro EV. The company's ambitious Plan S involves 11 dedicated EV models (not just conversions or hybrids) by 2025, as a press release revealed. Its target is 500,000 EV sales and 1 million "eco-friendly vehicle" sales by 2026, the latter accounting for 25% of its total sales.
Reaching a 6.6% market share in the worldwide EV market by that date won't come cheap, but Kia is committing fully to the project. It says it will spend $25 billion on its electrification efforts by 2025. With Plan S, it's clearly going all-in on the electric vehicle revolution, even if it doesn't meet every one of its aggressive goals in the published timeframe.
Kia's Inflation Reduction Act Challenge
The government's EV tax credits overhaul with the Inflation Reduction Act could disrupt Kia's strong growth trajectory in the USA. The new Clean Vehicle Credit will only be available to vehicles with final assembly in North America, along with new requirements for battery sourcing and assembly.
Kia's vehicles currently don't meet any of the new tax credit's benchmarks. A Korean automaker association petitioned Congress for a South Korean exemption to the rule, The Korea Herald reports. The association argues that the free trade agreement between the United States and South Korea makes this exemption reasonable. But at this point, Congressional action is uncertain and looks rather like a long shot.
Kia's EV Factory
Kia is also building a major EV factory in Georgia, but the first vehicles won't roll off the assembly line until 2025. The automaker is seeking ways to speed up the attainment of the Inflation Reduction Act tax credit eligibility. A Samsung researcher named Lim Eun-young told The Korea Times that if companies don't speed up "the production of electric vehicles in the U.S., we may miss the opportunity to dominate the market ."
Is Kia Quietly Becoming the Next Tesla: Verdict
For the moment, it looks like Tesla may keep the EV crown in the USA despite Kia's momentum. The Inflation Reduction Act also favors Ford. But with the proven popularity of its EVs, Kia could still manage to emerge as the next Tesla; if it maneuvers out of its tax credit handicap, that is.
It could also keep producing high-quality, feature-rich EVs at good prices; like the EV9 SUV promises to be. If so, it may overtake Tesla, even without the tax credit's aid. Kia's growing lineup appears well suited for ordinary drivers eager for an affordable but polished EV experience.
Up Next…
Interested in more articles on electrical vehicles? Click on the links below: