Looking at the Kia EV6 and the Volkswagen ID.4 is an exercise in what the future of family-friendly electric vehicles might look like. These crossover SUVs are perfect for hauling the family around town, a night out on the town and maybe even a road trip or two.
Volkswagen has quickly impressed with its practicality and impressive overhaul of its interior infotainment system. On the other hand, Kia has the ID.4 beat on range plus overall power and arguably beats the Volkswagen in the looks department too.
Regardless of which of these two SUVs you choose, you're still getting a sharp electric vehicle that offers solid driver assistance and safety features plus an extra perk or two. Here's a closer look at each of these electric SUVs to help determine which one is right for you.
Kia EV6 vs. Volkswagen ID.4: Side-by-Side Comparison
Kia EV6
Volkswagen ID.4
Date of Release
February 2021
September 2020
Starting Cost
$48,700
$38,995
Range
206-310 miles
209-275 miles
0-60 Speed
3.2 seconds (GT trim)
5.7 seconds (depending on model)
Charging Speed
20-80% in 20 minutes, over 7 hours on 240V charger
10-80% in 30 to 36 minutes on a 240V charger
Number of Seats
5
5
Cargo Space
24.4 cubic feet
30.3 cubic feet
Self-Driving
Semi-autonomous driving assistance, Highway Driving Assist
IQ.DRIVE
Warranty
5-year 60,000 mile basic
10-year, 100,000-mile powertrain
4 year 50,000-mile new vehicle limited warranty
8-year 100,000-mile battery warranty
Volkswagen ID.4 vs. Kia EV6: What's the Difference?
Pricing
Kia EV6
Any discussion over pricing is definitely going to favor the Volkswagen ID.4 on paper with a starting MSRP of around $10,000 less than the Kia EV6. However, pricing on paper doesn't tell the whole story of what you get for the price.
At a starting MSRP of $48,700, the Kia EV6 Wind (RWD) is very much a standout choice thanks to its excellent range and feature set. Moving to its mid-level trim, the Kia EV6 upgrades to the GT-Line (RWD) for $54,225 or jumps all the way to the speedy GT (AWD) variant for a starting MSRP of $61,600.
As is the case with most crossover SUV electric vehicles, you can add AWD to both the Wind and GT-Line trim levels for an MSRP cost of $52,600 or $57,600, respectively. Just know that making the jump from RWD to AWD will not only cost you more money but will cost you range as well. When it comes to extras that can increase the price, only the Wind trim level adds anything beyond a premium exterior paint color with its Wind Technology Package for $1,500. This package includes a surround view, blind spot monitoring and remote smart parking assist.
Volkswagen ID.4
Pricing with the Volkswagen ID.4 is a little more complicated, at least on paper, as the company appears to offer nine separate models of the EV. In reality, there are just different names for each trim based on whether it's AWD or RWD, but there's no question Volkswagen could simplify things a little. Possible confusion notwithstanding, the ID.4 Standard adds a starting price of $38,995 or you can jump all the way to the ID.4 AWD Pro S Plus for $55,245.
Sandwiched in-between the top and bottom trims are the Pro and Pro S trims, which offer different range options, as well as some extras like heated front seats, a trailer hitch, 12-way power-adjustable front seats, hands-free power lift gates, and more.
Like Kia, Volkswagen offers some premium paint colors for a few hundred dollars more, but for the most part, those are the only extras you can tack on that will impact MSRP pricing.
Range
Looking at the range is thankfully easier to understand than the various pricing options for both automobile manufacturers. At their absolute best, the WIND (RWD) and GT-Line (RWD) for the Kia EV6 are going to put out 310 miles of range on a single charge. This is among the highest numbers you can get in the crossover SUV space and while not quite as high as the Tesla Model Y, it remains a competitive range number overall.
Shifting to the Wind (AWD) and the GT-Line (AWD) will drop the available range down to 282 miles and 252 miles respectively. This is an okay number for range overall but in terms of comparing these two vehicles, the EV6 still outpaces the Volkswagen ID. Where things get really interesting is with the GT (AWD) which is the speediest version of the EV6 lineup. Offering only 206 miles of range on a single charge, the GT trim is less likely to be purchased by families and, instead, by someone who wants a non-Tesla combination of speed and looks while still benefiting from an EV lifestyle.
With the Volkswagen ID.4, you have a variety of ranges available starting with the ID.4 S trim which offers an entry-level number of 209 miles of range. Jumping up to the ID.4 Pro S, you get the maximum range number in the ID.4 lineup with 275 miles of range on a single charge.
The rest of the Volkswagen ID.4 lineup bounces between 255 miles, 275 miles, and 209 miles, depending on RWD versus AWD as well as battery size. The three most expensive trims, the ID.4 AWD Pro S, ID.4 Pro S Plus, and ID.4 AWD Pro S Plus all offer an 82 kWh battery for 255, 275, and 255 miles of range, respectively.
Ultimately, even at 275 miles of range, the Volkswagen ID.4 still comes up short against the Kia EV6's 310 miles, which gives the latter an easy win in the range category.
Charging
Looking at charging between Volkswagen and the Kia is one of the more closely aligned comparisons between the two vehicles. For the Kia EV6, you have strong charging speeds, especially when you use an 800V DC Fast Charger which gives you up to 217 miles (10-80%) in approximately 18 minutes. Pair this number with the idea that you can find a fast charging plug at one of 41,400 plus DC Fast Charging stations available in the U.S. (and growing) and you're in good shape with the Kia EV6 on long road trips. As a bonus, Kia is also giving away a complimentary 1,000 kWh hours of charging with the EV6 at any Electrify America station to new buyers of the 2022 or 2023 model year.
Bring the Kia EV6 home and you can plug it directly into your Level 2 240V home charger and charge up overnight in around 7 hours' time. Of course, in an emergency, you can always plug directly into a Level 1 charging outlet at 120V and fully charge the Kia EV6 in around 68 hours. It's recommended to use the 120V option only in a pinch but it's worth noting that the Kia Level 1 recharge time is fairly short compared to some competitors which can require as much as a full week to fully charge on a 120V plug.
Shifting attention to the Volkswagen ID.4 and there's another good story here as well as far as charging. Like the Kia, taking the ID.4 home and plugging it into a Level 2 charger will help you gain a full charge overnight in as little as 7.5 hours. On the larger battery trim levels, that number can increase to as much as 11 hours.
On an 800V Level 3 DC Fast Charger, the Volkswagen ID.4 can gain between 10 and 80% battery life in as little as 30 minutes (approximately) which is not all that far off from the Kia EV6. That you can find a fast charger at any of the 45,000 chargers nationwide that support the ID.4 electric system is a huge bonus. An even bigger bonus is that Volkswagen ID.4 has one of the best perks in the EV game with three years of 30-minute complimentary charging sessions at any of the 1,700 (and growing) Electrify America stations nationwide.
Driver Assistance and Safety
One of the benefits of picking up an EV is the increased emphasis on driver assistance and safety. Kia has been at the forefront of advancing driver safety for years and the EV6 is no different. The best features kick off with Highway Driving Assist 2 which utilizes forward-facing cameras, navigation data, and radar sensors to help maintain both the appropriate speed and distance from the cars in front of you. On top of that, it will also assist with steering wheel control during lane changes so long as the turn signal is active.
Auto Emergency Braking Technology is designed to help the EV6 avoid any potential collisions both from oncoming and side vehicle traffic by detecting obstacles and alerting the driver. Speaking of alert drivers, a surround-view monitor provides a 360-degree view around the car using four exterior cameras that give you a full view of your surroundings which is especially helpful when parking. A heads-up display can also provide drivers with route guidance and speed to avoid looking down at the dashboard.
As a 2022 Top Safety Pick+, the Volkswagen ID.4 is also packed with driver assistance and safety equipment. The basics are all included like blind spot monitoring, rear traffic alert, lane keep assist, and adaptive cruise control to help adjust your speed and distance from vehicles in front of you. Audio and visual alerts will also sound when you are getting too close to another car at high speeds and, if necessary, the ID.4 will automatically brake to help avoid a collision.
With its Driver Assistance package, the ID.4 adds Light Assist which directs the headlights ahead of the vehicle around soft turns so you can see exactly what's coming before the car does. Park Distance Control with Maneuver Braking is also incredibly helpful for anyone who fears parallel or perpendicular parking as the ID.4 will do all of the work for you.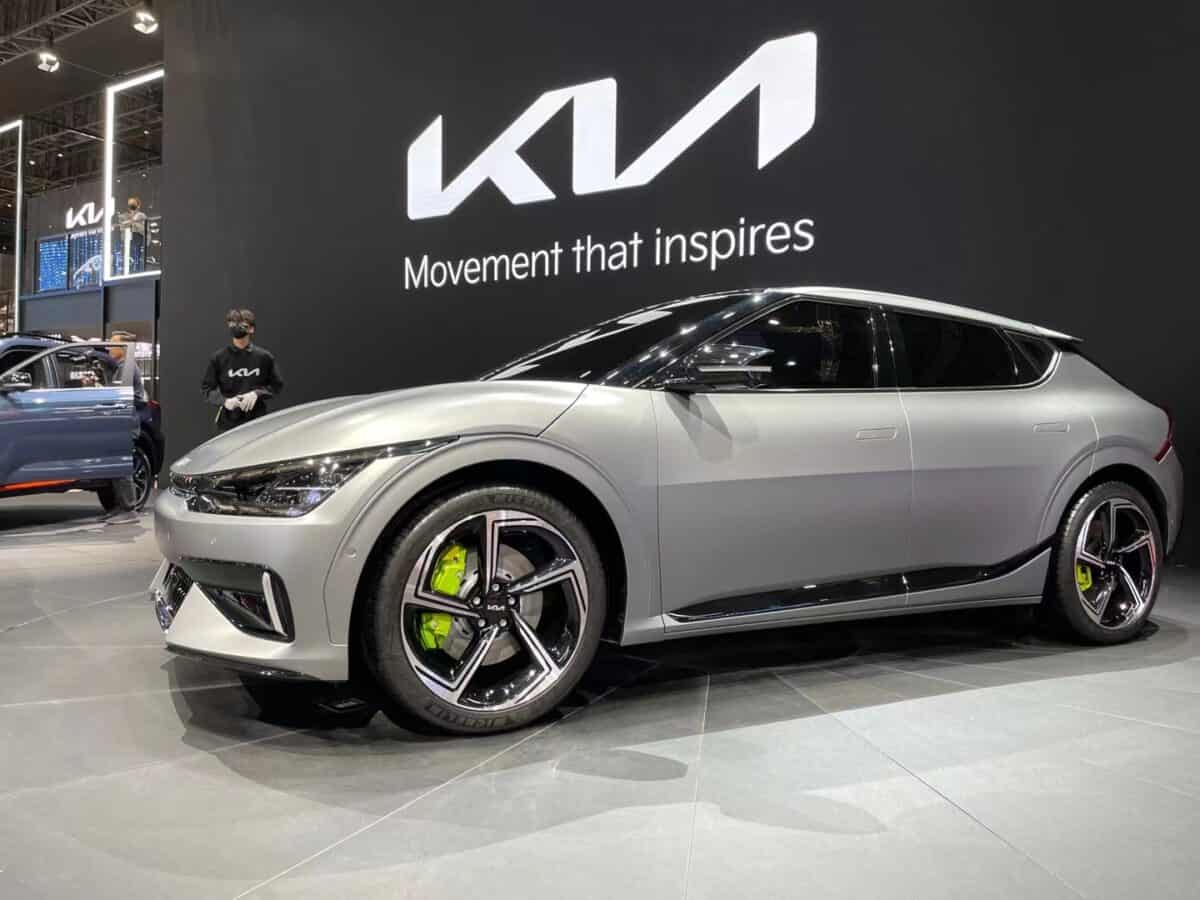 Kia EV6 vs. Volkswagen ID.4: 6 Must-Know Facts
Volkswagen ID.4 buyers will receive complimentary 30-minute DC Fast Charging sessions at any Electrify America station for three years.
Both the Kia EV6 and the Volkswagen ID.4 have been named Top Safety Pick+ vehicles for 2022 in the small SUV/4-door SUV category.
With a $10,000 price difference between the two standard trims for both the Kia EV6 and Volkswagen ID.4, the cost is definitely a factor.
At the highest end, the Kia EV6 offers more standard range on its Wind RWD trim model with 310 miles against the ID.4's best range of 275 miles.
Neither company has made a significant investment in autonomous driving in the same form as Tesla with its Full Self-Driving Capability.
The Kia EV6 offers a much more futuristic interior with dual 12.3-inch touch screens versus one single 12-inch touch screen for the Volkswagen ID.4.
Kia EV6 and Volkswagen ID.4: What's new?
Kia and Volkswagen have made the following updates to their EVs since February 2023:
Kia EV6
Kia's Auto Emergency Braking Technology now comes standard.
Kia's Highway Driving Assist 2 technology now comes standard.
Volkswagen ID.4
There is a low-cost model available.
The ID.4 comes standard with a 12-inch infotainment screen.
A heat pump that improves efficiency in cold weather is standard.
Kia EV6 and Volkswagen ID.4: What's next?
Here are some updates we might see for the Kia EV6 and the Volkswagen ID.4 in the next six to 18 months:
Improved battery technology. New developments in battery technology could lead to improvements in range, charging speed, and lifespan.
Advanced driver-assistance features. We could see both vehicles include features like automatic emergency braking, lane-keeping assist, and adaptive cruise control.
Over-the-air updates. Both the EV6 and ID.4 already receive over-the-air updates. We can expect more over-the-air updates in the future as a convenient way to keep the car's software up-to-date and add new features.
Kia EV6 vs. Volkswagen ID.4: Which One is Better?
If you can only choose one electric vehicle and, let's be honest, more than 99.9% of you will only choose one, then the Kia EV6 is the better option. Even with the not-so-insignificant price difference, you are just getting more standard features with the EV6 including a better sound system, more comfortable ride, greater range, and faster charging.
The Volkswagen ID.4 really shines with its three-year complimentary charging perk but that won't be enough to sway buyers in either direction. At the end of the day, the Kia EV6 offers better lifetime value, you just have to accept you'll pay a little more for it.
The image featured at the top of this post is ©letspicsit/Shutterstock.com.