When it comes to crossover electric vehicles, no name on the market has more power than the Tesla Model Y. Tesla's outstanding range, interior and it factor have helped the company rocket to the top of the charts as far as EV sales and adoption. Of course, being at the top of any list means your competitors are coming for your throne, and that's doubly true with the Kia EV6.
Over the past decade or so, Kia has enjoyed a brand revitalization unlike the automobile industry has previously seen and, because of that, all eyes are on its electric plans. With plans to have half of its global sales be electric by 2030, this is no half-measure by Kia as they are fully committed to their EV lineup.
Can the Kia EV6 dethrone the Tesla Model Y as the crossover SUV EV to beat? Let's find out how these two vehicles compare and which one might be right for you.
Kia EV6 vs. Tesla Model Y: Side-by-Side Comparison
Kia EV6
Tesla Model Y
Starting Price
$48,700
$54,990
Date of Release
February 2021
March 2020
Range
206-310 miles
303-330 miles
0-60 Speed
3.2 seconds (GT trim)
3.5 seconds (model dependent)
Charging Speed
20-80% in 20 minutes, just over 7 hours on 240V charger
Up to 162 miles in 15 minutes at Supercharger, 8 hours on Level 2 charger
Number of Seats
5
5-7 (optional third row)
Cargo Space
24.4 cubic feet
30.2 cubic feet
Self-Driving
Highway Driving Assist, semi-autonomous driving assistance
Enhanced Autopilot, Full Self-Driving Capability
Warranty
5-year 60,000 mile basic
10-year, 100,000-mile powertrain
4-year 50,000-mile basic
8-year, 120,000-mile powertrain
Kia EV6 vs. Tesla Model Y: What's the Difference?
Pricing
When it comes to pricing, the good news is that the Kia EV6 and the Tesla Model Y are not so far apart as to be a huge factor. There are considerations about what you get for the price as far as range, features, autonomous driving, etc., but if price alone is your primary consideration, these two vehicles are not super far apart.
Kia EV6
The Kia EV6 starts off at $48,700 for its Wind RWD trim level, which is considered the base model option. You can up the price by $500 if you choose a premium paint color like Glacier or Snow White Pearl as well as an additional $1,500 for the Wind Technology Package (which includes blind spot detection, remote smart parking, surround view monitoring, etc.).
At the top end, the GT trim level offers AWD and a significantly faster 0-60 speed all while jumping up in starting price to $61,600. The same considerations also apply to spending another $500 or a premium paint color but, for the most part, Kia doesn't offer a whole lot of packages to significantly increase the cost.
However, with five different configurations possible as far as trim levels, you can pick how much you want to spend based on range or AWD versus RWD.
Tesla Model Y
Tesla has made pricing much easier with the Model Y with only two trim levels to decide from. The Model Y Long Range starts off at $54,990 with a few different options that can increase your cost. These available selections include a premium exterior paint color, moving from 19" to 20" wheels, adding a tow hitch, selecting a white interior (instead of the standard black), and adjusting from a five to seven-seat interior.
The Model Y Performance starts off at $57,990 and offers similar considerations around premium paint choices, tow hitch, and interior color but only comes in a five-seat configuration. The biggest price consideration for any Tesla Model Y will be whether to include Enhanced Autopilot for $6,000 or Full Self-Driving Capability for $15,000.
Range
If pricing isn't the primary factor for you, range very well might be and, for the most part, this is an area where the Tesla Model Y has been able to set itself apart from the competition. Only two of the five possible Kia EV6 configurations with the Wind RWD and GT-Line RWD offer 310 miles of range, which is as close to the Tesla as Kia is going to get.
If you opt for the Wind AWD or GT-Line RWD trims, you're looking at 282 and 252 miles of range, respectively, in those configurations. The GT AWD, the premiere Kia EV6 trim level with the highest top speed and fastest acceleration, can only muster 206 miles of range on a single charge.
Now compare the numbers of the Kia EV6 to the Tesla Model Y and it's easy to see why Tesla is setting the standard as far as crossover SUVs. The Model Y Long Range offers the longest possible range on a single charge with 330 miles. This number dips a little down to 318 miles if you select the larger 20" induction wheels, 326 miles with the seven-seat configuration, or down to 314 miles if you go with seven seats and the 20" wheels. The Model Y Performance includes 303 miles of range as standard and there are no mix-and-match possibilities with wheels or seating arrangements that can negatively impact the overall range.
Charging
When it comes to charging, the Kia EV6 and the Tesla Model Y are much more competitive than with range.
As you look at the Kia EV6, it's clear that Kia considered charging speed from the very beginning of their EV designs. Charging from a Level 2 charger at home is pretty standard fare adding up to around seven hours of recharging for a full battery. Things get a little more interesting if you use a DC Fast Charging Station (800v) which can provide up to 217 miles of range or 10-80% for the Wind and GT-Line RWD trim levels in approximately 18 minutes.
Should you need to charge while on the road, the Kia EV6 can be recharged at one of the over 41,400 available charging stations in the United States that support 400v DC fast charging. One final perk awaits all EV6 buyers as Kia is throwing in 1,000 kWH of charging credits on the Electrify America network which works to be around 3,000-5,000 miles of driving range depending on which EV6 model you purchase.
As competitive as the Kia EV6 is with charging, Tesla isn't too far behind thanks to its large Supercharger network that offers 1,400 independent locations around the country. This number doesn't include the 40,000 and growing Supercharger plugs available around the country which significantly increases charging availability. When you plug your Tesla Model Y into any available Supercharger, you receive around 200 miles of driving range in approximately 15 minutes. If you plug into the Tesla wall plug at home, as a Level 2 240V charger, you can expect to receive around 30 miles of range per hour fully charging your Model Y in around 6.5-7 hours.
Technology
Looking at the technology of both vehicles is an exercise in the vision of how both manufacturers believe the interior of cars should look both now and in the future.
For Kia, it's been careful to balance the type of interior many drivers are used to with knobs and buttons while also creating a heavier emphasis on screen usage. To that end, Kia has included dual 12.3-inch displays that make up the entirety of the EV6 dashboard. These panoramic displays provide all of the diagnostic, navigation, convenience, entertainment, and vehicle information any EV6 driver could want. When paired with the heads-up display, drivers have yet another opportunity to learn about route guidance and keep their eyes safely on the road ahead.
Like Tesla, Kia has taken huge steps forward with smartphone access allowing both Android and iOS users to remotely manage vehicle charging, set cabin temperatures before entering the car, and monitor energy usage.
As far as Tesla, the Model Y has had its focus based entirely on the beautiful 15-inch touch screen that controls nearly every aspect of the vehicle. Outside of a few buttons like window controls, volume control on the steering wheel, or shifting gears, the Tesla Model Y is controlled entirely through the touch screen. This is as basic as selecting a radio station to navigate to the nearest Supercharger station, checking battery status, or opening up the rear tailgate of the vehicle or the front trunk. Tesla has also leaned heavily into entertainment to provide its customers with something to do while recharging as well as ensuring just about every aspect of the vehicle, including turning it on and off, can be controlled via the smartphone app.
Driver Assistance
Driver assistance is a big topic for electric vehicles lately as conversations around autonomous driving and its future continue to push more into the mainstream. Tesla has been at the forefront of this conversation with its CEO, Elon Musk, continuing to hype the company's potential. Kia, on the other hand, is making slower progress into the autonomous driving stage, preferring to add driver assistance features that help increase overall safety.
This means the addition of safety options like Highway Driving Assist 2 which incorporates a front-facing camera, radar sensors, and GPS navigation data to make sure you are driving a safe distance from vehicles in front of you while moving at high speeds on major roadways. It also means Kia is adding things like Auto Emergency Braking Technology to help avoid potential collisions with oncoming vehicles or pedestrians when turning left through an intersection.
Tesla, on the other hand, has gone all in on Driver Assistance with its Enhanced Autopilot and Full Self-Driving Capability. The former enables automatic lane changes when enabled, auto park, and smart summoning of the car from a parking spot to the driver using the smartphone app. Full self-driving is much more futuristic as the Tesla Model Y will have all of the enhanced autopilot features plus traffic light and stop sign control and, in the future, auto steering on city streets.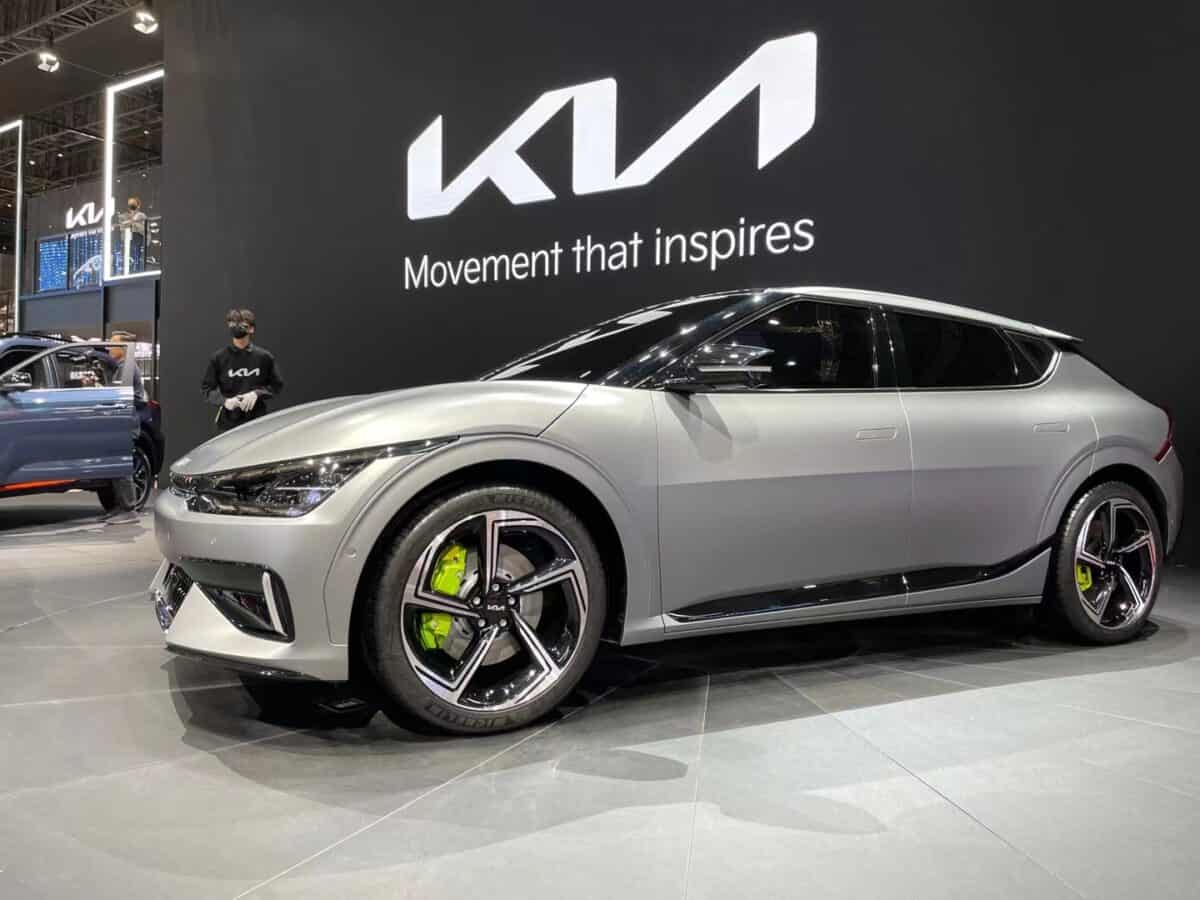 Kia EV6 vs. Tesla Model Y: 5 Must-Know Facts
Both Tesla and Kia offer recharging availability at more than 40,000 Supercharger or Electrify America stations, respectively, around the country.
Tesla offers two trim levels of the Model Y while Kia offers five different configurations.
The Tesla Model Y is the superior option if total range is your biggest consideration with the Long Range model hitting a peak of 330 miles of range on a single charge.
The Kia EV6 is the better option if pricing is the main consideration with a starting price that is over $6,000 less expensive.
Tesla has removed everything but a 15-inch touch screen in the interior of its vehicles that controls all functions of the car.
Kia EV6 vs. Tesla Model Y: Which One is Better?
This is definitely one of the tougher choices electric vehicle shoppers will have in the crossover space. If you like the cool factor of the Tesla Model Y, there is no question you are going to lean that way.
However, the Kia EV6 is likely the better option for most buyers as it is more practical price-wise with a wider range of trim levels, but it doesn't quite hold up to the Tesla Model Y range. Still, Kia has made huge leaps with its more futuristic interior and if you can sacrifice some games and fart noises, the Kia EV6 is the better option for most people.
Kia EV6 and Tesla Model Y: Technology Updates
Here are the recent technology updates for the Kia EV6 and Tesla Model Y:
Kia EV6:
Enhanced Battery Technology: Kia has introduced a new battery technology variant for the EV6, known as the Long Range AWD, which offers an impressive range of up to 330 miles on a single charge.
Expanded Driver-Assistance Features: The EV6 has received new driver-assistance capabilities from Kia, including the integration of a blind-spot monitoring system and a rear cross-traffic alert system, contributing to enhanced safety and convenience.
Updated Infotainment System: Kia has revamped the EV6's infotainment system, featuring notable improvements such as a larger touchscreen display and a fresh user interface, providing users with a more engaging and user-friendly experience.
Tesla Model Y:
Advanced Self-Driving Capabilities: Tesla has rolled out a recent software update for the Model Y, equipping it with new self-driving features. Notably, the update enables the vehicle to autonomously change lanes on highways, enhancing the overall driving experience.
Kia EV6 and Tesla Model Y: Looking Forward
Here are some anticipated technological advancements for the Kia EV6 and Tesla Model Y over the next six to 18 months:
Kia EV6:
Over-the-Air Updates: The EV6 is already capable of receiving over-the-air updates, enabling potential performance enhancements, new feature additions, and bug fixes.
Enhanced Battery Technology: Kia is actively developing new battery technology to potentially enhance the EV6's range, offering drivers more miles on a single charge.
Advanced Driver-Assistance Features: Kia is also focused on introducing advanced driver-assistance features, including technologies like lane-keeping assist and traffic jam assist, to elevate the EV6's safety and convenience.
Revamped Infotainment System: While the EV6's infotainment system is commendable, Kia is rumored to be working on an upgraded version that promises even greater user-friendliness and an expanded range of features.
Tesla Model Y:
Over-the-Air Improvements: The Model Y's over-the-air update capabilities will continue to be leveraged to optimize performance, introduce fresh functionalities, and rectify any issues.
Progressive Battery Innovations: Tesla is actively researching new battery technology to potentially extend the Model Y's driving range, providing users with enhanced mileage per charge.
Advanced Self-Driving Capabilities: Tesla is striving to introduce innovative self-driving features, including the potential for hands-free driving on city streets, to elevate the Model Y's autonomous driving capabilities.
Reimagined Design Aesthetics: While the Model Y boasts a contemporary and streamlined design, Tesla is reportedly exploring a new design direction that could further enhance aerodynamics and style, keeping the vehicle at the forefront of modern aesthetics.
The image featured at the top of this post is ©letspicsit/Shutterstock.com.