At CES 2023, Sony Honda Mobility unveiled the prototype for its entertainment-focused Sony Afeela EV. Two years before the brand's planning on taking pre-orders, Afeela is already making waves. At the moment, Sony and Honda keep most details under wraps, but we can compare what we know so far with other electric vehicles.
A popular contender is the Kia EV6. When the time comes, should you make the switch? This comparison between Kia EV6 vs. Sony Afeela EV might help you make up your mind.
Kia EV6 vs. Sony Afeela EV: Side-by-Side Comparison
The table below compares the disclosed features of the Sony Afeela EV and Kia 2023 EV6 GT.
| Features | Kia EV6 GT (e-AWD) | Sony Afeela EV |
| --- | --- | --- |
| Model year | 2023 | 2026 |
| Length | 184.8 in | 192.7 in |
| Width | 74.4 in | 74.8 in |
| Height | 60.8 in | 57.5 in |
| Wheelbase | 114.2 in | 118.1 in |
| Front tire size | 255/40R21 | 245/40R21 |
| Rear tire size | 255/40R21 | 275/35R21 |
| Suspension type | Dual lower arm and multi-link | Double wishbone and multi-link |
| Drive | AWD | AWD |
| Autonomy | Semi-autonomous | Level 3 autonomous driving |
| Safety and security | Four external cameras | 45 cameras and sensors |
| In-car entertainment | Audio | Audio, video, and gaming console |
| Exterior entertainment | N/A | Media bar |
Kia EV6 vs. Sony Afeela EV: What's the Difference?
Comparing a car that's already on the market with a prototype isn't completely fair. While we know all there is to know about the Kia EV6, the Sony Afeela EV is pretty much a mystery.
The first vehicle from Sony Honda Mobility, Afeela, promises to be a revolutionary addition to the automotive market. Yet, almost everything about it is still under wraps.
Neither Sony nor Honda revealed much about the vehicle's specs, such as engine power, battery life, or mileage per charge. The specifications made public only disclose the vehicle's size, tire types, suspension, and drive.
During the unveiling, Sony also talked about some of the car's entertainment and safety abilities. With this in mind, let's see how the Kia EV6 vs. Sony Afeela EV compare.
Design
Perhaps the most striking difference between Kia EV6 (2023 GT) and Sony Afeela EV is the type of car itself. The former is a sports utility crossover with all-wheel drive. It might be compact compared to other SUVs, but it maintains the sporty lines of vehicles adapted to both urban and off-road use.
Sony Afeela EV also features all-wheel drive, but this car is essentially a sedan. Its fluid lines are more reminiscent of Tesla X's elegance than of Kia EV6's sporty allure. Similar to Tesla, Sony Afeela presents a minimalist interior inspired by a futuristic world. What makes it different is the enhanced level of entertainment you can find both inside and outside the car.
In-cabin infotainment includes a sleek touch console that integrates audio and video entertainment, but also gaming options. Perhaps you won't find the newest PlayStation in the car, but the entertainment center developed in collaboration with Epic Games integrates real and virtual worlds seamlessly.
Meanwhile, Kia EV6 features a high-end infotainment system, but its in-car entertainment is limited to audio and ambient lights – at least while the car is moving. Nevertheless, the Meridian Premium sound system with 14 speakers creates an immersive experience no matter what you listen to.
Size
Kia EV6 and Sony Afeela alike are full-size cars with four-plus-one doors and a capacity of five passengers. As a sports utility car, Kia EV6 is spacious and delivers a comfortable drive. Surprisingly, though, Sony Afeela is more spacious.
This car is 7.9 inches longer and 0.4 inches wider than the Kia. It is shorter, but likely because of the chassis design; all sedans are shorter than SUVs and other utility vehicles. While the difference in size isn't jaw-dropping, it still translates into a larger space and likely a more comfortable drive in the Afeela.
Another size-related difference regards the tires. Both cars come with 21-inch tires, but Kia's have the same width both in the front and the back. Meanwhile, Afeela has narrower tires on the front wheels and wider tires on the rear wheels, which are wider than Kia's.
Wider wheels provide more traction and enhance acceleration. While we don't know Afeela's engine power and acceleration specs, we can only assume they won't disappoint.
Autonomy
With government plans to end gas-powered vehicles by 2035, electric vehicles are the new mainstream – and there are quite a few expectations regarding their capabilities. One of them is the autonomous drive, a feature that is not as new as it seems.
In fact, self-driving cars have been around for decades, and Tesla already provides full self-driving packages for its cars. Sony Afeela EV is expected to deliver similar features with its Level 3 autonomous driving that's optimized for specific conditions.
This feature will be an addition to the Level 2+ autonomy for urban and non-urban conditions as well as driving assistance features, including parking aid. Kia EV6 only features semi-autonomous systems, such as smart cruise control and intelligent speed limit assist.
Safety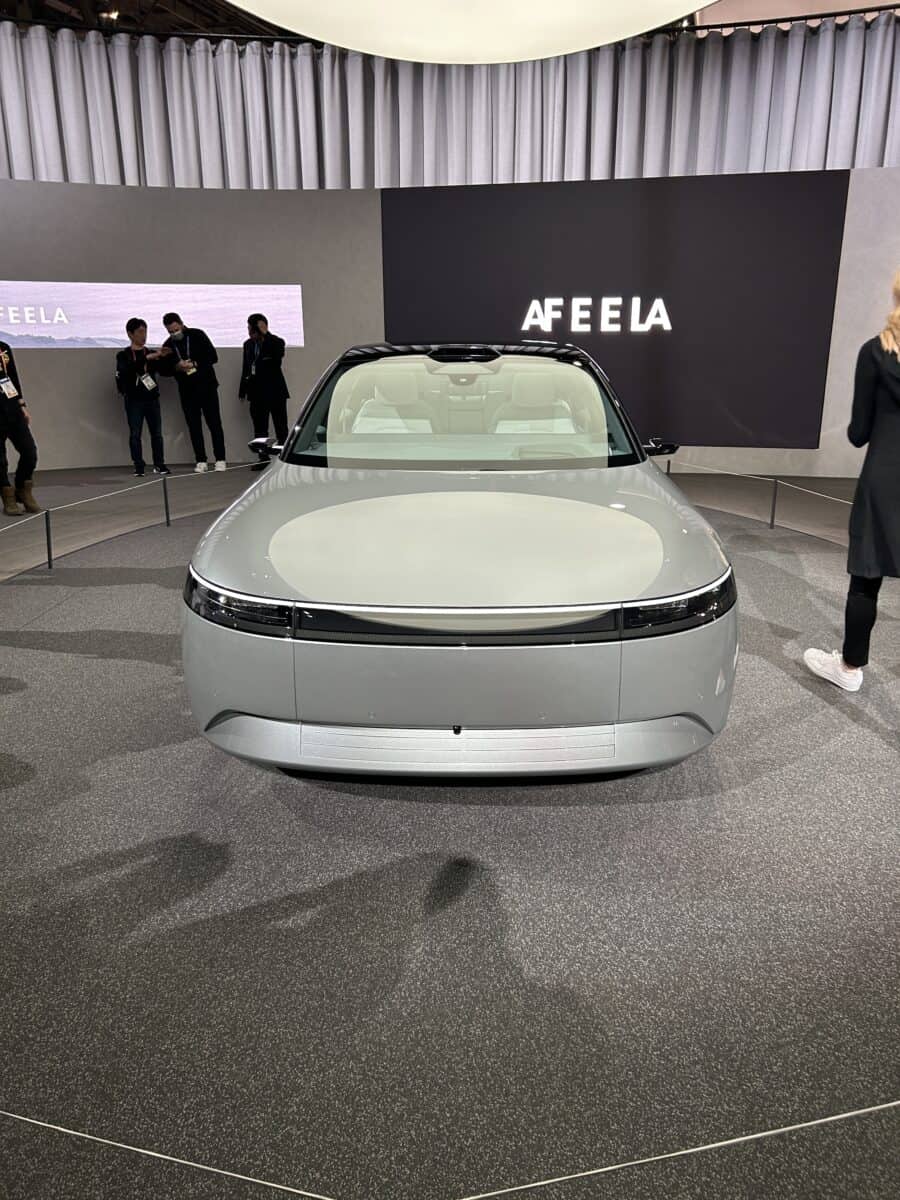 Both Kia EV6 and Sony Afeela EV feature an array of safety systems, but Sony Honda Mobility doesn't disclose which systems will be present on their electric vehicle. The only thing we know is that Afeela features 45 cameras and sensors, as well as the integration of the SoCs from Snapdragon Digital Chassis that delivers safe, secure, and customizable mobility experiences.
Meanwhile, all safety systems present in Kia EV6 are fully disclosed. This car includes a variety of driver assistance and safety systems, including lane assist, 360-degree view, parking assist, blind-spot and forward collision-avoidance assist, and even safe exit assist that warns occupants when they're trying to open a door while a vehicle is approaching.
Entertainment
As you'd expect from a car developed by Sony, Afeela impresses with expansive in-cabin entertainment options that extend to the outside of the vehicle. You can easily infuse personality into the minimalist interior with endless customization options for the console. These can include original designs, games, and movie themes.
Ambient lights make it easy to set the mood and turn the cabin as relaxing or vibrant as you want for a seamless driving experience. An exterior media bar even allows you to interact with other traffic participants. This bar displays your chosen theme and other information you might want to share with those around you.
As if this wasn't enough, Afeela promises to take in-cabin entertainment to the next level with movies and video games. These options can be accessed from the main control panel, but for safety reasons, movie streaming and video games are only available on rear seat multi-screens while the vehicle is moving. Audio is also expected to be spectacular, with surround audio for each seat.
Kia EV6 also features a wide dashboard screen and compatibility with Apple CarPlay and Android Auto. However, in-cabin entertainment options are limited to audio – which is spectacular – and ambient lights. The console can be customized with a variety of themes, but options are not as expansive as Afeela promises.
Kia EV6 vs. Sony Afeela EV: 6 Must-Known Facts
Kia EV6 is an electric vehicle first released on August 2, 2021. Its third edition, Kia EV6 2023, arrived on the market in December 2022.
Sony Afeela EV is a prototype developed by Sony Honda Mobility. According to the brand's timelines disclosed at CES 2023, pre-orders will start in 2025, with the first cars expected to be delivered in the U.S. in 2026.
Kia EV6 is a sports utility vehicle crossover, whereas Sony Afeela EV is a sedan. Both vehicles feature all-wheel drive (AWD).
Sony Honda Mobility hasn't yet made public any information regarding the car's power, battery life, and other performance specs.
Kia 2023 EV6 GT features a 576-horsepower engine and a fast-charging battery that can go from 10 to 80 percent in about 18 minutes at 350kW.
The Afeela EV promises an immersive in-cabin entertainment experience that extends to the outside of the car. Kia EV6 features limited in-cabin entertainment options.
Kia EV6 vs. Sony Afeela EV: Which One Is Better? Which One Should You Use?
The Sony-Honda collaboration has the potential to become an exquisite car, but it just isn't available right now. While the prototype looks nice, your only real option at the moment is the Kia EV6.
Kia's 2023 edition includes rear-wheel and all-wheel drive options, with suggested retail prices starting at $48,700 for the EV6 Wind model. The brand's top-of-the-range EV6 GT is more expensive, with a manufacturer-suggested retail price starting at $61,600.