When Nissan released the Leaf in December 2010, there wasn't nearly as much momentum for buyers to jump into electric vehicles as there is today. Over the past few years, demand for electric vehicles has skyrocketed and prices have jumped up in price to match.
Given that, the Nissan Leaf is in a great position to draw in customers with one of the lowest prices in the EV space.
Kia, on the other hand, is just starting to make its presence in the electric vehicle space really known and it's doing it in style with the Kia EV6. Already named the world's most reliable EV, Kia has given customers a reason to not just pay more than the Leaf, but also to skip the cool factor of Tesla and try something new.
So, how do you choose between these two EVs? Let's take a look at the differences and see which one is right for you.
Kia EV6 vs. Nissan Leaf: Side-by-Side Comparison
Kia EV6
Nissan Leaf
Starting Price
$48,700
$28,040
Date of Release
February 2021
December 2010
Range
206-310 miles
149-212 miles
0-60 Speed
3.2 seconds (GT trim)
6.8 seconds
Charging Speed
20-80% in 20 minutes, just over 7 hours on 240V charger
10-80% in 40 minutes, 7.5 hours on a 240V charger
Number of Seats
5
5
Cargo Space
24.4 cubic feet
23.6 cubic feet
Self-Driving
Highway Driving Assist, semi-autonomous driving assistance
ProPILOT Assist
Warranty
5-year 60,000 mile basic
10-year, 100,000-mile powertrain
3-year 36,000-mile
5-year 60,000-mile powertrain
8-year 100,000-mile battery warranty
Kia EV6 vs. Nissan Leaf: What's the Difference?
Pricing
There's very little debate about whether the Nissan Leaf wins the price war on paper. With a starting price tag that's almost $20,000 less than the Kia EV6, that quickly ends the debate as to which car is less expensive.
For Nissan, you will pay a starting MSRP of $28,040 for the S trim level which offers a 40 kWh lithium-ion battery. There are no extras available like premium paint colors or different wheel sizes that can up your initial cost. The same goes for the interior of the vehicle as there are no special technology packages that will quickly increase your price tag.
However, if you do want to pay a little more, you can opt for the SV Plus trim level of the Nissan Leaf which has a starting MSRP of $36,040 and arrives with a 60 kWh battery. Unlike the lower S trim, the SV Plus does offer the opportunity to choose a different exterior paint color like Pearl White TriCoat for $395 or Two-tone Pearl White TriCoast Super Black for an extra $695.
As far as the Kia EV6 goes, your starting price with the Wind RWD trim level, considered the entry point for the EV6 model lineup, will be around $48,700. From there, you can jump up to the GT-Line RWD for $52,700 or the top-of-the-line GT (AWD) trim for a premium $61,600. There are also two AWD models sandwiched in between for a total of five different trim levels and starting price points. The Wind RWD model does offer some extras in the case of a few premium paint colors as well as the Wind Technology Package for $1,500 that includes surround view and blind spot monitoring as well as collision avoidance when in reverse (for use in parking lots).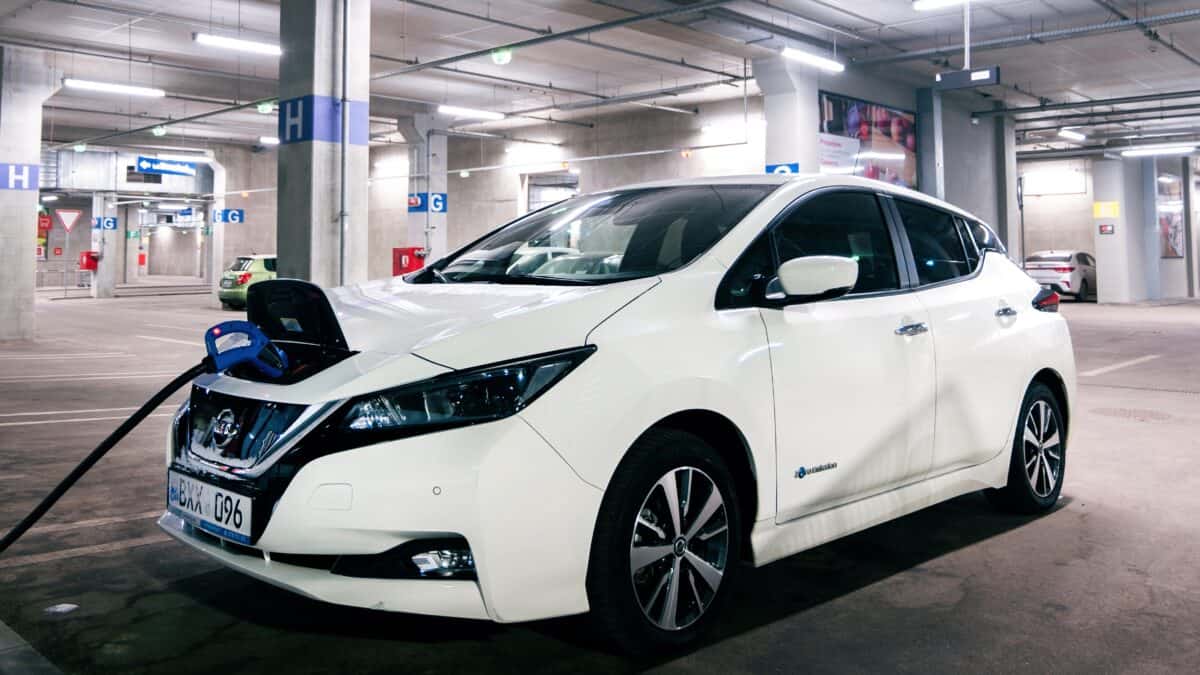 Range
As easily as the Nissan Leaf wins on price, the Kia EV6 wins on range. There's no question that the Leaf was built more for running around town or taking the family to dinner. What the Nissan Leaf wouldn't be recommended for is a cross-country road trip. This recommendation is based on the idea that the Nissan Leaf S only provides 149 miles of range on a single charge. If you jump up to the SV Plus, the range only increases to 212 miles, which is better but not substantially so. None of this is to say that you can't take the Nissan Leaf on a road trip, you just need to account for charging more frequently than many other electric vehicles on the road today.
When comparing the range on the Kia EV6, things get a little more interesting. The best case scenario is to choose from either the Wind RWD or the GT-Line RWD which offer the most range at 310 miles. If you opt for either the Wind AWD or GT-Line AWD, range drops down to 282 miles and 252 miles, respectively. Finally, the speedster of the Kia EV6 lineup, the GT, only enables 206 miles of range as it trades range for 0-60 performance.
The bottom line is that if range is the biggest factor for you, there is no question the Kia EV6 is the better choice.
Charging
As important as range is for an electric vehicle, that range is a result of how fast (or how slow) an EV can charge up.
In the case of the Nissan Leaf, even with its smaller batteries, its recharge time isn't all that impressive compared to the likes of Kia, Hyundai and Tesla. As most people will use a Level 2 Home Charger to power up their Leaf, this is likely the most important battery time to know going into any potential Leaf purchase.
When using one of these chargers, the Nissan Leaf S is able to recharge in approximately 7.5 hours. This number jumps to 11 hours for Level 2 charging on the Nissan Leaf SV Plus trim level. Nissan also indicates the Leaf is compatible with around 6,000 DC Fast Charging stations around the country and, when using one of these chargers, the S trim can go from 10-80% in around 40 minutes. The SV Plus will go from 10-80% in around 60 minutes.
Kia is undoubtedly offering more value in the recharging category. With more than 41,400 DC Fast Charging stations around the country, the Kia EV6 can go from 10-80% (217 miles) in battery life in approximately 18 minutes of time. Of course, Level 2 charging is equally important, and when using one of these chargers at home, expect to see a full charge in around 6.5 hours.
Adding to the value, Kia is also throwing EV6 buyers a bonus with 1000 kWh of charging credits at any Electrify America station which is the equivalent of 3,000-5,000 miles of range. 
Driver Assistance and Safety
One of the biggest reasons buyers are looking closely at electric vehicles these days is the advancement of driver assistance and safety. Unfortunately for Nissan Leaf buyers, to maximize these features, you need to really focus on the SV Plus trim level, but if you do, you are rewarded with the Nissan Leaf ProPILOT Assist technology package.
Included in this package are little things that can help with daily driving like maintaining a safe distance from the car ahead of you as it detects traffic flow. The Leaf will also keep you centered in your lane even if you enter a gentle curve.
Additionally, you have other features available on both trim levels like blind spot warning, automatic emergency braking with pedestrian detection, rear cross-traffic alerts, and more. The SV Plus also includes 360 degrees of camera views so you can see all around the vehicle when parking. Add in 10 standard airbags, traction control and advanced braking systems and you have one safe vehicle in the Nissan Leaf.
The Kia EV6 takes everything the Leaf does but goes even further with standard features across its entire lineup. This includes the use of four cameras that surround the vehicle for a bird's eye view with displays that pop up and utilize the large dual 12.3-inch screens. Highway Driving Assist II incorporates the use of advanced radar sensors, navigation data, and the forward-facing camera to help maintain a safe distance behind the vehicles in front of the EV6 when traveling at high speeds. Blind spot detection is also standard and assists the driver by popping up either of the side cameras when changing lanes inside the digital display to alert the driver of potential hazards. 
Technology
Technology is one aspect where the Kia EV6 is really going to separate itself from the Nissan Leaf in some pretty big ways. None of this is to take away from the Nissan Leaf as you can still get all of the information you need about your vehicle from the Nissan smartphone app. Checking the charge status, warming up or cooling down the car as well as using voice commands are all available right through the app. The 8-inch display inside both trim levels of the Leaf also incorporates Android Auto, Apple CarPlay, and built-in navigation. You can also use the display to see all aspects of the vehicle's charge status as well as the current battery status.
For the Kia EV6, right from the start it has a leg up on technology with its dual 12.3-inch displays, augmented reality heads-up display that is standard, and remote smart parking assist technology. Like the Leaf, every critical aspect of the vehicle can be controlled from the smartphone app including choosing the cabin temperature or checking the battery and charge status. To top off the technology, the Kia EV6 also receives as standard a 14-speaker Meridian Premium Audio sound system.
Kia EV6 vs. Nissan Leaf: 5 Must-Know Facts
The Nissan Leaf is only available in two different trim options whereas the Kia is available in five different configurations.
The Nissan Leaf SV Plus is the longest-lasting trim with an available range of 212 miles while the longest available Kia EV6 (Wind RWD) can go for 310 miles on a single charge.
The starting price of the Nissan Leaf is approximately $20,000 less than the starting price of the Kia EV6.
Every purchase of a Kia EV6 comes with 1000 kWh of free battery fill-ups at any Electrify America station, good for up to 5,000 miles of range.
Both the Nissan Leaf and Kia EV6 are five-seater vehicles which makes them great as family vehicles.
Kia EV6 vs. Nissan Leaf: Which One is Better?
Try as Nissan might and they have had plenty of time to do better, the Kia EV6 is absolutely the better electric vehicle.
Aside from price, Kia beats out Nissan in nearly every category, including the Kia EV6's newly awarded status as the most reliable electric vehicle on the road. If you want better range, technology, and charging speed, the Kia EV6 is a no-brainer decision.
None of this is to say the Nissan Leaf is bad — on the contrary, as it's the third most reliable EV and it's perfect for staying local. However, if you want an EV that's adaptable for any need or use case, the Kia EV6 is the better choice.
Kia EV6 and Nissan Leaf: Technology Updates
Since February 2023, both the Kia EV6 and Nissan Leaf have received technology updates.
Kia EV6:
Standard inclusion of a heat pump to improve efficiency in cold weather.
Performance enhancement of the navigation system through a software update.
Introduction of a new GT-Line trim level, offering more performance and a sportier appearance.
Nissan Leaf:
Minor facelift with updated headlights, taillights, and a revised front bumper in 2023.
Addition of new technology features, including a 12.3-inch digital instrument cluster and a 10.25-inch touchscreen infotainment system.
Introduction of a new e+ trim level, providing a longer range of up to 223 miles.
Kia EV6 and Nissan Leaf: What's Next
In the next six to 18 months, here are some expected technology updates for the Kia EV6 and Nissan Leaf:
Kia EV6:
Over-the-air updates for adding new features and bug fixes.
Potential improvement in battery range through more efficient battery chemistry or larger battery packs.
Introduction of new trim levels, offering different performance and styling options.
Nissan Leaf:
Adoption of new battery technology for increased range and faster charging.
Introduction of new driver assistance features, such as lane-keeping assist and blind-spot monitoring.
Upgrade to a new infotainment system with improved user interface and compatibility with Android Auto and Apple CarPlay.
The image featured at the top of this post is ©MDV Edwards/Shutterstock.com.