Key Points:
The EV6 will be the more sporty of these two great EV choices.
The Ioniq 5 is more appealing for those seeking a vehicle with extra storage and space.
With the EV infrastructure growing and growing, owning an electric vehicle is much more practical than it was only a few years ago.
For most people, buying an electric car is the first step into eco-friendly transportation. Since the Ioniq and Kia EV6 were released in their respective markets in 2021, both cars have become quite popular among environmentally-conscious drivers looking to switch from fossil fuels to more sustainable energy sources. With both cars having great fuel economy, design, power, and performance, are there any significant differences between Kia EV6 vs Hyundai Ioniq 5? Let's examine some of the major differences between these two electric car models.
Kia EV6 Vs Hyundai Ioniq 5: Side by Side Comparison
| | Kia EV6 | Hyundai Ioniq 5 |
| --- | --- | --- |
| Year of release | 2021 | 2021 |
| Manufacturer | Kia Corporation | Hyundai Motor Company |
| MSRP | $42,115 | $40,915 |
| Range | Up to 510 km | Up to 481 km |
| Cargo capacity | 490L | 531L |
| Battery Capacity | 77.4 kWh | 72.6 kWh |
| Top speed | 117 mph | 115 mph |
| 0-60 mph | 3.5 seconds | 5.2 seconds |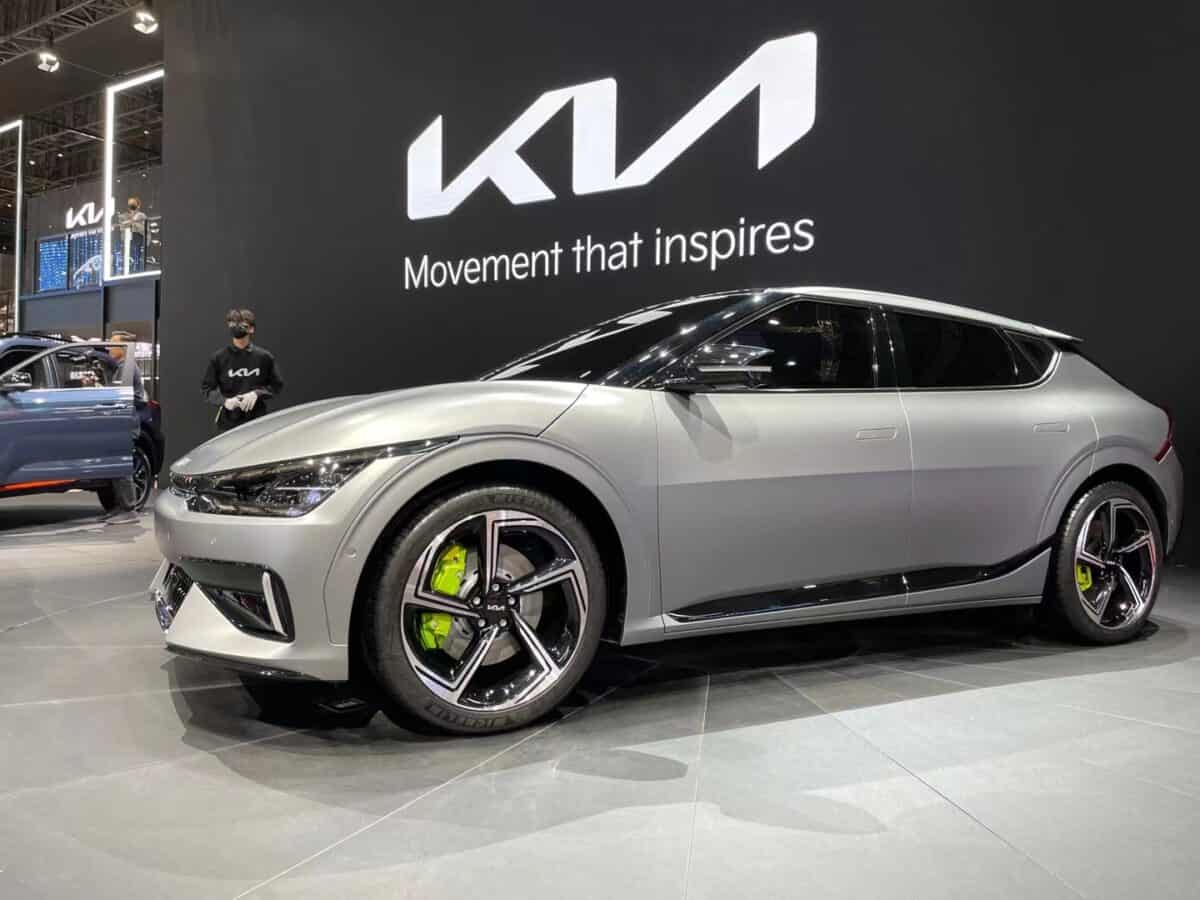 Hyundai Ioniq 5 Vs Kia EV6: Five Must Know Facts
Hyundai Ioniq 5 is an all-electric vehicle that comes with Hyundai's outstanding quality. It has a range of over 500 km on one charge and offers smooth acceleration thanks to its powerful motor.
The Ioniq 5 is one of the first mass-produced automobiles to include an 800V battery system. It charges really quickly, works so dependably well, and is optimized for weight and size.
Kia and Hyundai collaborated on developing the electric vehicle platform that underpins both the EV6 and Hyundai's recently released Ioniq 5. The EV6 and the Hyundai share a powertrain, a number of interior components, and power electronics. It is also available with two battery sizes (the same as the Ioniq 5) and can be equipped with rear- or all-wheel drive when the largest battery is installed.
The Kia EV6 is a fully electric crossover capable of accelerating from 0 to 62 mph in 3.5 seconds and reaching a top speed of 161 mph.
The Kia EV6 has a longer range than the Hyundai Ioniq 5, with an estimated range of up to 302 miles on a single charge.
Kia EV6 Vs Hyundai Ioniq: Key Differences
The Kia EV6 and Hyundai Ioniq 5 are two of the most popular vehicles in their respective categories. They both offer great value for money, with comfortable interiors and excellent driving dynamics. However, there are some key differences between these two compact hatchbacks that you need to know about before owning one.
Performance
The Ioniq 5's single 168-horsepower electric motor drives the rear wheels in base SE grade. Kia's EV6 Light trim uses the same combination to produce 167 horsepower. The Ioniq 5 and the EV6 can sprint from zero to sixty miles per hour in astonishingly 4.7 seconds when equipped with dual motors and all-wheel drive. Although there is a difference in how these EVs feel, the race is currently tied. Few options are as enjoyable to drive as the EV6 if you're looking for an electric SUV. The suspension setting on the Kia is stiffer than on the Hyundai, and the overall feel of the vehicle is noticeably livelier than the Ioniq 5. The EV6 is quick and a little bit simpler to drive through corners, thanks to its sharp steering.
Price
There are various trim levels for each car, all of which are typically in the same price range. With a lower battery option and a single motor for rear-wheel drive, the Kia EV6 Light has a starting price of $42,115. It goes all the way up to the $57,115 dual-motor, all-wheel-drive EV6 GT-Line. The starting price of the Hyundai Ioniq 5 SE RWD Standard Range is $40,915, making it somewhat less expensive than the base Kia. At $55,615, the top-of-the-line Ioniq 5 Limited AWD is comparable to the Kia in price.
Every version qualifies for a $7,500 federal tax credit in addition to any state credits that might be available. Although both automobiles are available for purchase and are beginning to arrive at dealerships, they are still difficult to find, and dealers may be making "market adjustments" (also known as raising the price) to any unsold autos. It's unclear whether Hyundai's latest warning to its dealers about the risks of high markups on their reputations will be successful.
Range and charging times
The Environmental Protection Agency rates the Ioniq 5 for 303 miles of range and the EV6 for 310 miles in their longest-range, rear-wheel-drive models. Versions with all-wheel drive and a second motor experience some mileage loss. The Hyundai has a rating of 256 miles, compared to 274 for the Kia. Both cars assert to charge more quickly than rivals due to their compatibility with the most powerful 350-kilowatt charging stations. In just 18 minutes, they guarantee to recharge between 10 and 80 percent of their energy. It's a unique and intriguing feature that both vehicles can power home appliances with an included adaptor in select trim levels.
Styling and Comfort
The Kia EV6 and Hyundai Ioniq 5 are almost comparable in terms of proportions, yet they have very different design philosophies. Hyundai uses jagged paneling and 8-bit pixel-shaped LEDs to give the Ioniq 5 a distinctly retro 1980s hatchback character. The EV6 is designed by Kia with a curved body and modern light signatures for visual agility. We like both designs, but it's more debatable whether the Ioniq 5's will last over time.
The Ioniq 5's interior displays modern styling that complements its unique look. Soft-touch materials are used on most interior surfaces, and a movable center console increases storage choices. The front seats can be heated and ventilated. For first-time EV owners, the EV6's cabin's sleek, sporty atmosphere will feel more comfortable. Although the center console is fixed and covered with hard plastics, the front seats can also be ordered with heating and ventilation. Due to its excellent design, the Hyundai utilizes space better and offers more volume for passengers and baggage. Compared to the Kia, which is more prone to rough riding over bumps and potholes, it also rides softer and filters road imperfections more effectively.
Pros and Cons of Kia EV6
| Pros! | Cons! |
| --- | --- |
| Better handling and braking performance | The front and the rear view is not the best |
| Great acceleration | The mobile app is a little ropey but getting better with updates |
| Plenty of cargo space | There is no max storage space like other electric SUV |
| Augmented reality HUD (Brilliant safety feature) | |
Pros and Cons of Hyundai Ioniq 5
| Pros! | Cons! |
| --- | --- |
| Good passenger space, with front seats that have decent legroom and headroom (for a compact car)Boot shape limits storageFantastic range, fast chargingLack of roof bar mountsThe interior of this car is comfortable, with leather seats and an available infotainment system that includes Apple CarPlay, Android Auto, navigation, and moreRear vision is somewhat weakGreat smart cruise control Stylish design. The Ioniq 5's styling is distinctive and modern | |
Kia EV6 Vs Hyundai Ioniq 5: Which One is Better?
For consumers seeking a blend of crossover utility with electric flair, the Hyundai Ioniq 5 and Kia EV6 are both excellent choices. If you are looking for a healthy dose of performance and fun, the EV6 is as good as it gets. Even though the Kia is more enjoyable to drive, the Hyundai Ioniq 5 offers practical cargo space and a cozier interior which gives it the upper hand.
Up Next…
Check out these other great articles about Kia!