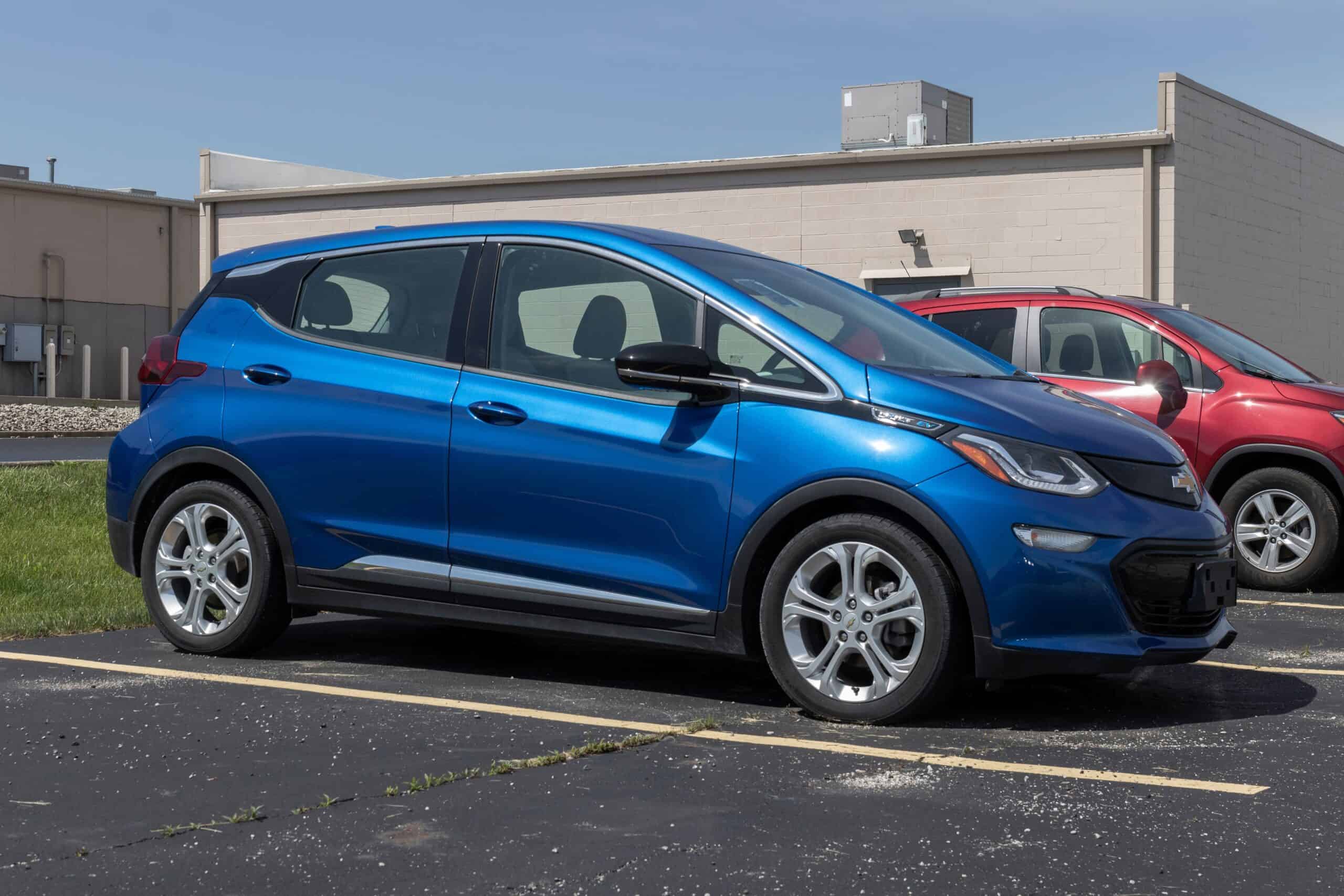 Comparing any two electric vehicles is always going to be a subjective conversation as there are many different ways to think through which car is better. This is doubly true when you look at two excellent EVs like the Kia EV6 or the Chevy Bolt EV.
Already winning rave reviews, these competing SUVs both bring something unique to the table and, in doing so, have finally provided EV buyers with options that are not named Tesla. 
For Kia, the EV6 is the first of a planned line of electric cars before going all-electric by 2030. Chevy is also looking to go all-electric by 2035, and with the Chevy Bolt EV, they are already showing customers positive signs they will be ready for that future.
The biggest question right now is which of these two vehicles is right for you? Let's dive right in!
Kia EV6 vs. Chevy Bolt EV: Side by Side Comparison
Chevy Bolt EV
Kia EV6
Starting Price
$27,495
$48,700
Date of Release
December 2016
February 2021
Range
259 Miles
206-310 miles 
0-60 Speed
6.5 seconds
3.2 seconds (GT trim)
Charging Speed
Up to 100 miles of range in 30 minutes, 6.5 hours on a 240V charger
20-80% in 20 minutes, just over 7 hours on 240V charger
Number of Seats
5
5
Cargo Space
16.7 cubic feet
24.4 cubic feet
Self-Driving
Chevy Safety Assist
Highway Driving Assist, semi-autonomous driving assistance
Warranty
3-years 36,000-mile bumper to bumper
8-year 100,000-mile battery warranty
5-year 60,000 mile basic
10-year, 100,000-mile powertrain 
Kia EV6 vs. Chevy Bolt EV: What's the Difference? 
Pricing
When it comes to pricing, there's no question the Chevy Bolt EV is the clear winner.
With a starting price of $27,495 for the 1LT trim level, the Bolt is considerably less expensive than the Kia EV6 or just about every true EV on the road today. Only the Nissan Leaf compares price-wise but offers less range and technology, making Chevy the best electric vehicle if price is the single most important consideration.
If you move up to the 2LT trim level, the starting price increases to $30,695 with the addition of some improved technology features but maintains the same range, which is a very important consideration. 
You can increase the price of the Bolt EV by $500 depending if you choose a premium color of exterior paint color or pay $495 for the Driver Confidence Package which adds rear park assist, cross traffic alerts, and lane change alert with blind spot detection. Adding the Comfort and Convenience Package for $995 includes heated driver and passenger seats as well as a leather-wrapped steering wheel. 
With a starting price of $48,700, the Kia EV6 is unquestionably the more expensive of the two vehicles. At the entry-level point with its Wind trim, the Kia is $21,205 more expensive than the Chevy Bolt EV which is definitely not pocket change. You can increase this cost by an extra $1,500 with the Wind Technology Package for surround view monitoring, remote smart park assist, blind spot detection, and parking collision avoidance. Alternatively, you can up the price to $61,600 for the top-of-the-line Kia EV6 GT which is the fastest overall model. 
Range
No matter how you slice it, whether you choose the 1LT or 2LT trim levels, the Chevy Bolt EV receives 259 miles of range. While this number is based on optimal conditions, it's important to know that, unlike many of Chevy's competitors, this range number is the only range available so it has to work for your needs. Realistically, 259 miles is more than enough to shuttle around town, head to the city for dinner, run plenty of errands, and even do short road trips. It's also worth noting that the Chevy Bolt EV is not to be confused with the Chevy Bolt EUV, a slightly larger body style for the Bolt lineup with a reduced range of 247 miles. 
As far as the range for the Kia EV6, you have quite a few options available depending on price and features. For starters, the entry-level Wind RWD trim level offers 310 miles of range on a single charge. If you opt for AWD instead, that range drops to 282 miles. The mid-level GT-Line enables 310 miles of range with RWD but drops to 252 miles of range with AWD. Things get a little more interesting with the GT trim level which rivals the likes of the Tesla Model Y as far as speed but offers significantly reduced range to the tune of 206 miles on a single charge. 
Ultimately, the range with the EV6 is going to come down to whether you are okay with RWD or AWD as that is the biggest factor to consider. 
Driver Assistance and Safety
Neither the Kia EV6 nor the Chevy Bolt EV are going to match Tesla as far as driver assistance, but they really don't have to. Instead, they just have to bring features to the table that help stand out from the rest of their lineups and maybe some other EVs in general. To that point, Chevy has added quite a few features that check off boxes for both safety and driver assistance.
Coming standard with Chevy Safety Assist, Bolt EV buyers receive front pedestrian braking which can bring the Bolt to a halt if it detects a pedestrian while you are traveling under 50 miles per hour. Likewise, a forward collision alert detects if a vehicle you are following by brakes if you are traveling below 50 miles per hour. Other standard features include lane keep assist with lane departure warning and a following distance indicator to confirm you are traveling a safe distance behind traffic. 
The 2LT trim level of the Bolt will one day soon include Super Cruise incorporating GPS, lidar map data, and cameras to enable a hands-free driving experience on what Chevy deems a compatible road. This is as close as Bolt EV owners will get to Tesla's more advanced Full Self-Driving Capability. 
While Kia has yet to properly introduce autonomous driving in any capacity, they are not standing still as far as driver assistance or safety. Standard features like blind-spot detection are upgraded with the EV6 as cameras show your blind spots in your digital dashboard which we think is really cool. Speaking of cameras, using four exterior-mounted cameras, EV6 owners can receive a bird's eye view of what surrounds their car which is especially useful when parking. 
There are also standard features like Auto Emergency Braking Technology which helps avoid potential collisions and is included for all EV6 buyers. Highway Driving Assist 2 utilizes a forward-facing camera, radar sensors, and GPS navigation data to make sure you are safely distanced from the cars in front of you while on major roadways traveling at high speeds. 
Charging
Looking at charging speed, there's no immediate advantage available to either the Chevy Bolt EV or the Kia EV6, which is a good thing overall.
For the Bolt, using a Level 2 240V charger at home is going to give you around 39 miles of charge per hour, or a full charge in approximately 7 hours. Of course, charging times can vary based on outside temperature, battery age, etc.
Shift over to a DC Fast Charger and the Bolt EV will add up to 100 miles of range in around 30 minutes of charging. This latter charge time is good as Chevy Bolt EV owners have access to various charging stations, totaling more than 40,000 different locations around the United States. 
For anyone looking at the Kia EV6, it's important to know that its charging time rivals that of the Bolt. This is true for anyone using a Level 2 240V home charger which can fully recharge the EV6 to 100% in around 7 hours of charging. Where the Kia EV6 offers a slight advantage over Chevy is the use of a DC Fast Charger where the EV6 can recharge from 20-80% in around 20 minutes. Of course, these numbers are all-weather and battery age dependent but it's a definite advantage for Kia as far as fast charging times. Should you ever need to do so in an emergency, you can charge the Kia EV6 with a 120V plug as found in any U.S. home but it takes a whopping 68 hours to completely recharge. 
Technology
One major area where the Kia EV6 might pull ahead for most electric vehicle buyers comparing both of these cars is with technology.
For Chevy, they have opted to maintain at least some resemblance of a traditional vehicle interior these days by incorporating a 10.2-inch display but still utilizing plenty of buttons and knobs to control volume, climate, cruise control, and more. This isn't to say the Chevy looks outdated — on the contrary, as it's still very much in line with what feels like the majority of cars on the road. It just feels as if Chevy could have pushed the envelope a little more here. 
Still, buyers of the 2LT trim level receive a slightly more updated technology package which includes HD Surround Vision for a full 360-degree camera view around the vehicle which comes in handy during parking. As far as the 10.2-inch screen, it comes in handy to help display information about the battery life and charging status of the Bolt. Last but not least is that both Android Auto and Apple CarPlay are standard additions on both trim levels. 
Things get a little more interesting (and hopeful) on the Kia EV6 with its dual 12-inch displays that make up the entirety of the vehicle dashboard. The driver has one 12-inch display solely at their disposal which provides detailed information about speed as well as shows the available camera views when looking for blind zone detection. The second 12-inch display sits between the driver and passenger and provides a more detailed look at climate control, volume, battery life, charging status, Apple CarPlay, Android Auto and much more. There's also a 14-speaker Meridian Premium Audio system available on most trim models of the EV6. 
Kia EV6 vs. Chevy Bolt EV: 5 Must-Know Facts
The Kia KV6 and Hyundai Model 5 share a lot of the same safety and technology functions as well as the two dual 12.3-inch touch screens. 
The Kia EV6 GT trim level goes 0-60 in 3.2 seconds which is just 0.1 seconds behind the Tesla Model 3 Performance trim. 
Both the Chevy Bolt EV and Kia EV6 qualify for the $7,500 Clean Vehicle Federal Tax Credit. 
With a starting price of $27,495 for the Chevy Bolt EV, the Kia EV6 Wind model is $21,205 more expensive to start. 
Chevy has previewed that Super Cruise technology, their autonomous driving technology, is supposed to come to the Bolt EV in the near future. 
Kia EV6 vs. Chevy Bolt EV: Which One is Better? 
There is no question that both the Kia EV6 and Chevy Bolt EV are good electric vehicles in their own right. The Chevy's low starting price is a definite plus and that you get the same range regardless of which trim level you receive is a huge plus.
For anyone who wants to drive a car that is aiming more toward the future, the Kia EV6's refined interior is definitely an attractive option, as is its class-leading warranty. There's also something to be said for the Kia's more advanced tech and safety features, so if you can stomach the higher price tag, it's the better overall choice.
However, if you just want an EV to cruise around town, you cannot go wrong with the Chevy Bolt EV.