Jabra's Bluetooth earbuds have been widely popular since the early 2000s, both inside and outside the workplace, thanks to their cutting-edge noise-canceling technology, long battery life, and user-friendly in-app interface. Jabra's most recent true wireless earbuds are the Elite 75t vs Elite 85t.
There is a lot of visual similarity between the two, and they both have many of the same functions, but they are geared toward different users. If you are in the market for a new pair of noise-canceling earphones to use while on the go, our comparison of the 75t and 85t should help you make a decision.
Jabra 75t vs 85t: Side-by-Side Comparison
| | | |
| --- | --- | --- |
| Specs | Jabra 75t | Jabra 85t |
| Durability | IP55 | IPX4 |
| Battery Life | 7.5 hours | 7 hours |
| Wireless charging case | No | Yes |
| Charging case battery | 20.5 hours | 24 hours |
| Audio Codecs | AAC, SBC | SBC, AAC |
| ANC | Digital only | Yes |
| Speaker size | 6mm drivers | 12mm drivers |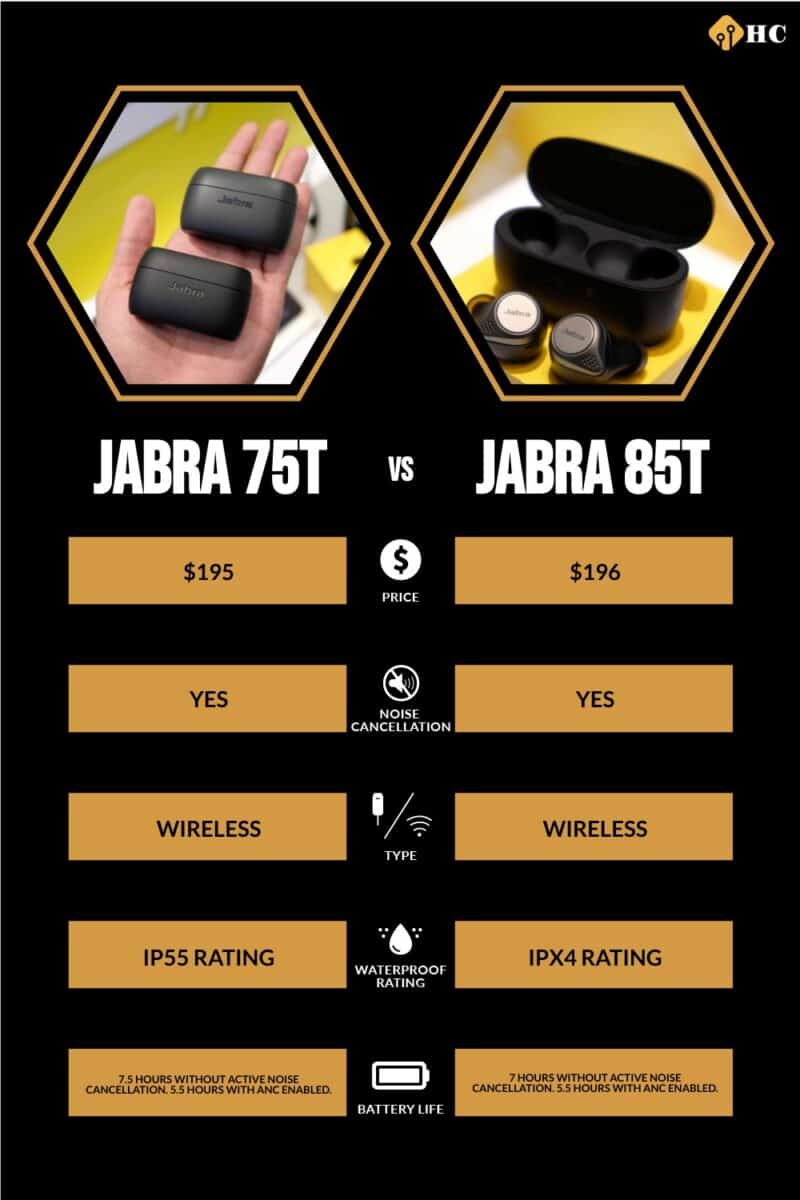 Jabra 75t vs 85t: What's the Difference?
Since the Elite 85t is the newer and obviously the more advanced model, it stands to reason that it would be more capable than the 75t. But, interestingly, that is not necessarily the case.
Design
Speaking of design, the Elite 75t has seen minor changes from the Jabra Elite 65t, the model that came before it. The Elite 75t earbuds have a little curved part that looks more covert than those with a relatively longer "stem" design.
Even so, they still fit comfortably in the ear. And as the tips are available in three sizes, it is possible to find the right fit for you. Without having to make any adjustments, you can run and exercise while wearing the Elite 75t. Though they do not feel as secure as headphones with an around-the-ear design, like the Powerbeats Pro, they are still quite good.
One of the advantages of these headphones is the convenience of the charging case, which is much smaller in size. In addition, earbuds are always safely stored in the flip-open case, which opens with a flip and closes with a satisfying click.
The Jabra 85t share the same design. Although they fit comfortably in the ear, these in-ear headphones are on the bulky side of sleek and low-profile. Therefore, they stick out a little bit from your ears. You can choose from many different design options, including gold beige, grey, titanium black, and copper black.
Controls
Given their completely wireless construction, the Jabra 75t provide responsive controls. In addition to the usual call/ music controls, they also let you adjust the volume, enable a talk-through mode, and silence the microphone during a call.
The buttons on their outside are simple to use and give satisfying clicks. It may take some practice to get used to the controls, especially the double- and triple-taps for fast-forwarding and skipping tracks, but it will eventually become easy with time.
Best Battery Life
We earn a commission if you make a purchase, at no additional cost to you.
You experience the same with the Jabra 85t. They come with large, well-made buttons. A tactile button with excellent clickability and responsiveness is included in each earbud.
In addition, they provide an audible guide that will talk you through the pairing process and let you know they are ready to use. The negative aspect is that the controls are somewhat unclear. Moreover, you can only use the right earbud when in mono mode.
Active Noise Cancellation
When comparing both, it becomes clear that the Jabra Elite 85t are superior to the Jabra 75t in terms of noise cancellation. However, the Jabra 85t, with their specialized processing for Active Noise Cancellation (ANC), outshine even the Jabra Elite 75t, which offer ANC functionality. This is mainly due to a firmware update that uses built-in microphones to conceal outside noises.
Together, the microphones of the Jabra Elite 85t's six-microphone configuration effectively cancel out any background noise. The Sound+ app improves sound quality thanks to dual chipsets, letting users adjust background noise independently. Moreover, the app has a feature called HearThrough Transparency that lets the user tune in to outside noises.
In contrast, the Jabra Elite 75t have no built-in microphones because they were not made with ANC in mind. This suggests that noise cancellation is unidirectional, effectively masking low-frequency sounds but not as well as pitch variations. So, if you take noise cancellation seriously, you may want to put your money on the Jabra 85t.
Comfort
To accommodate the larger drivers, Jabra modified the speakers' design. Because of their new oval shape, they no longer fit in the same ear tips previously used. Silicone is still used for the tips, but now there is a mesh core. There is no telling if that affects the sound quality, but it does change the earphones' fit a little.
In terms of comfort, the Elite 75t have been Jabra's most advanced pair of truly wireless earbuds to date. They were close to a revelation for the business because they are small and snug.
They are comfortable, and the controls can be accessed without forcing the headphones further in. Moreover, you can also find different-sized tips and choose the one that works best for you.
Because of their similar dimensions to the Elite 65, the same does not hold true for the Elite 85t. Those are similarly excellent earphones, but their bulkier design means they are not as maneuverable as their rivals.
Jabra released fresh firmware for the Sound+ app that included the MyFit feature in an effort to improve comfort with the introduction of the 85t. The software works by playing a brief audio clip to check for sound leakage, after which the user is given the option to change the ear tip or make a minor fit modification.
Sound Quality
When compared to the smaller drivers of the Elite 75t, the Elite 85t's 12mm ones are a noticeable upgrade. They may not always mean higher-quality sound, but they do indicate a more robust bass response. Again, Jabra was not trying to make a huge splash, but you can definitely tell the difference after a while.
There are EQ presets available in the Sound+ app, and one of them is called Bass Boost. You can also create and store a personal preset if you choose.
Here, you will also get the HearThrough and ANC modes that make Jabra headphones so popular. The Elite 75t have four microphones and the Elite 85t have six. The user can adjust the volume of these features in 11 separate 3dB increments.
Despite their diminutive size, the ANC mode filters low and midrange sounds admirably. For instance, it can easily handle noise from the street, people talking, air conditioners, and background music.
However, the presence of HearThrough makes these earbuds more special. Essentially, the feature is the completely opposite of ANC and uses microphones to keep the user aware of ambient noise; even when other audio is playing.
This mode is especially useful when working with people or exercising alone, as it eliminates the need to remove an earbud to carry on a conversation When you pull out one earbud, the audio automatically pauses until you've put it back in.
Overall, both the Jabra 85t and the Jabra 75t are truly wireless earbuds, with the Active 75t possibly being the better option for bass-heavy music genres like hip-hop and EDM. The 85t are faster to recharge and feature a more neutral sound profile, while the former may appeal to some listeners more.
Call Quality
The 85t boast six microphones, making them superior to the 75t in terms of call quality. Especially when blocking out background noise while outside on a windy day. Thanks to the 85t's improved call quality and dual microphones, they are great for conferences and quick catch-ups on the road.
Best Battery Life
Jabra Elite 85t
Jabra Advanced Active Noise Cancellation technology
6-mic technology and wind protection
12mm speakers
Up to 5.5 hours on a single charge with ANC on, with a total charge of up to 25 in the compact Qi-certified charging case
Feature MyControls that lets you easily adjust your button functions
We earn a commission if you make a purchase, at no additional cost to you.
That said, the 75t is not that bad either, especially compared to other Bluetooth headphones. Their microphone is rather high quality, so your voice will come through fairly clearly.
The 85t are not the finest, either. The quality of their built-in microphone is satisfactory, so the other party will be able to understand you even though your voice will sound thin and muffled. Call quality suffers since the mic has trouble isolating your voice from ambient noise. It would be better to use them only when you are in a quiet setting.
Portability
Jabra reduced the Elite 75t by 22 percent compared to the earlier Elite 65t model. Things went in the opposite direction with the Elite 85t, presumably to make room for the additional hardware inside that allows for their new features.
The convenience of portability remains, but any alterations to the design may have accidental implications in situations where compactness is crucial. The truth is that you cannot go wrong with the Jabra 75t for your daily commute or next trip.
Even though they may not isolate as effectively as the 65t, these headphones can help quiet a busy commute. Their small size also makes them ideal for taking along on trips, since you will not need to worry about finding extra room in your luggage.
Useful for both home and away, the Jabra Elite 85t are also great travel earbuds. They are lightweight and portable, perfect for listening on the go. Their ANC works well to cancel out higher-pitched sounds like other passengers talking, but it has trouble canceling out low-pitched sounds like the rumble of a bus or an airplane.
Water Resistance
Compared to the Elite 75t, the Elite 85t do not fare as well when exposed to dust. It is unexpected, but it also confirms that Jabra will soon introduce an "Active" version of the Elite 85t. This has happened in the previous two versions, so why change now?
While Jabra's latest earbuds have been certified as IPX4, meaning they are protected against water splashes, the "X" indicates that they have not been tested against dust. With an IP55 rating, the Elite 75t provide respectable protection from both dust and water. You can use both pairs for light exercise without worrying, but you should not swim in them.
Workout Suitability
Wearing the Jabra 75t while you play sports is an excellent idea. They are simple to operate and provide an energizing, thumping sound signature that will help you train harder and longer.
You can easily stow them away in your exercise bag because of their lightweight and sturdy construction. Just remember that they are not recommended for use during high-impact activities like gymnastics or kickboxing. But they are excellent for running and other forms of exercise.
When it comes to physical activity, the Jabra Elite 85t look impressive too. These in-ear headphones are nicely made and easy to wear for long periods of time.
Moreover, they will not fall out of your ears while you are working out. But an important consideration is that with an IP55 rating for water and dust resistance, the Elite 75t is the better choice if you plan to use your headphones while working out.
The Elite 85t achieve only an IPX4 rating. What this means is that the 75t are more resistant to damage from sweat and dust than the Elite 85t, which can only take infrequent splashes of water.
The 75t are also protected against direct jets of water from any direction. In short, if you are an athlete seeking a pair of earbuds that can withstand water and sweat, the 75t model is for you.
Battery
The battery life of the Jabra Elite 85t is slightly shorter than that of the Jabra Elite 75t. The Jabra Elite 85t have a playback time of around 7 hours without active noise cancellation and 5.5 hours with ANC enabled. Meanwhile, the Jabra Elite 75t have a non-ANC playback time of 7.5 hours and an ANC playback time of 5.5 hours.
The good thing is that you can keep your earbuds charged for around 18.5 and 20.5 hours in their portable charging case. Because of this, you can listen to your music without worrying about finding an outlet, making these earbuds ideal for vacations or excursions to the beach.
The 75t and the 85t are nearly comparable in terms of battery life, with the 75t even excelling in some respects. However, the 85t charge considerably more quickly.
Two hours is generally average for the 75t, whereas one hour is typical for the 85t. However, Jabra has improved its 75t product by including the same wireless charging station that comes with the 85t, narrowing the gap between the two.
It all boils down to the fact that the improved ANC on the 85t more than makes up for the somewhat shorter battery life. Moreover, the Elite 85t may be worth it if ANC is a priority for you.
Jabra 75t vs 85t: 5 Must-Know Facts
The Jabra 85t are just as compatible with Alexa, Google Assistant, and Siri as their predecessor, the Jabra 75t.
The 85t come with enhanced speakers that make the Jabra Sound+ App even more useful when paired with the earphones.
Jabra has released a MyFit firmware update for the 85t that includes a sound leak test, allowing you to fine-tune the headphones' fit in your ears.
The 85t, with their upgraded Bluetooth technology to version 5.1, are significantly more precise and reliable in their device location and pairing than the 75t.
The 75t come equipped with the HearThrough transparency mode, which lets you adjust them to your surroundings without touching your earbuds.
Jabra 75t vs 85t: Which Should You Choose?
Any user looking for a solid pair of wireless, noise-canceling earbuds would be pleased with either the Jabra 75t or 85t, but there is more to the story. The Elite 75t are the best noise-canceling earbuds for the money because of their small size, long lifespan, and inexpensive price.
On the other hand, the Elite 85t are worth your time if you care about sound quality, durability, adaptability, and a high-end finish. The Elite 75t will not hold up to a swim in the pool, but they are far more resistant to dust and water, making them the better choice for any workout where you will be wearing your headphones.
The Elite 75t's resilience will also be appreciated by those who lead active lifestyles, such as those who bike, walk to work, or spend time in noisy, unstable environments. The Elite 85t have more advantages than their competitors since they can be used for longer without recharging. They also produce better sound.
For those who commute on a regular basis via rail or airplane, these earbuds could not be more convenient. The Elite 85t's powerful speakers and a sturdy array of six microphones allow them to provide the highest quality audio and playback possible in such a compact device.
The price tag is also a consideration. Jabra has begun a considerable price reduction of the Elite 85t, narrowing the price gap between the two. If you compare the 85t to similar products from other brands, you will find that they are incredibly affordable at that sale price.
All of the available options here are worthy investments. But, ultimately, no matter which model you choose, you will not regret the investment.
The image featured at the top of this post is ©Framesira/Shutterstock.com.