When you're looking for a company that makes reliable products for your gaming computer setup, only a few names come to mind. Of those names, HyperX is undoubtedly one of the better-known manufacturers of brands that can outfit your entire PC gaming setup from start to finish. Among those products is headsets, and as one of the most important pieces of online gaming, picking the right one is no small decision.
The HyperX Cloud Revolver has long been a staple of the company's lineup and with the introduction of its 7.1 surround sound, its feature-to-price benefit has grown significantly. That's especially true for players of first-person shooters or open-world games where the surround sound elements of the Cloud Revolver are best put to use.
Let's take a look at one of HyperX's signature headsets and see if it's right for you.
Best Deal Today
Top Sound
HyperX Cloud Revolver – Gaming Headset 7.1 Surround Sound, Signature Memory Foam, Premium Leatherette, Steel Frame, Detachable Noise-Cancellation Microphone
[Wide, studio-grade sound stage]: allowes you to hear sounds from further away more accurately - perfect for FPS and open environment settings.Note : If the size of the earbud tips does not match the size of your ear canals or the headset is not worn properly in your ears, you may not obtain the correct sound qualities or call performance. Change the earbud tips to ones that fit more snugly in your ear
[HyperX 7.1 Virtual Surround Sound]: Get the most out of your gaming experience with surround sound that's precise with distance and depth.
[Advanced USB Audio Control Box]: The sound card boosts your audio and enhances noise cancellation. Dedicated buttons toggle surround sound, mic mute and adjust mic and headphone output levels.
[50mm directional drivers]: Directional drivers are positioned parallel to the ears and deliver crisp, precise audio with enhanced bass.
[Dense, higher-quality signature HyperX memory foam]: Provides long-lasting Cloud comfort to keep you focused during your intense gaming marathons.
We earn a commission if you make a purchase, at no additional cost to you.
HyperX Cloud Revolver Overview
Release Date and Price
The original release date for the HyperX Cloud Revolver is 2016 when the first iteration of the headset came to market. Originally priced around $130, the headset has come up in retail price to $149.99 since then but is often discounted through the company's website or retailers like Amazon and NewEgg to $129.99.
If you're a first-time buyer on the HyperX website, you can even sign up for their email newsletter and receive a 15% discount on your first purchase.
Different Models
The HyperX Cloud Revolver's current iteration is the HyperX Cloud Revolver + 7.1 but it's not the only headset to carry the revolver name in the HyperX family:
HyperX Cloud Revolver + 7.1
HyperX Cloud Revolver S (discontinued)
HyperX Cloud Revolver (discontinued)
Features
HyperX offers a number of gaming headsets but the Cloud Revolver stands out thanks to its 7.1 virtual surround sound. The addition of this technology combined with 50mm directional drivers makes it all the more enjoyable to play games like first-person shooters with outstanding audio detail. An advanced control box allows quick access to muting the mic or adjusting headset volume levels.
On top of these already great features, HyperX also stands out with its signature memory foam and durable steel frame that combine for excellent comfort during both long and short gaming sessions. Most importantly, the Cloud Revolver is compatible with PC, PlayStation, Xbox, mobile devices, and virtual reality headsets.
Specifications
| | |
| --- | --- |
| Weight | 0.79 pounds (358 grams) |
| Form Factor | Over-ear, closed back |
| Sound Modes | Stereo and 7.1 virtual surround |
| Drivers | 50mm dynamic with neodymium magnets |
| Frequency Response | 10Hz – 23kHz |
| Ear Cushions | Memory foam and premium leatherette |
| Dimensions | 8.5 inches high, 8 inches wide |
| Cable Length | 9.8 feet |
| Microphone | Noise-canceling |
| Control Box (Corded) | Surround sound, mute mic, adjust mic output levels, adjust headphone output levels |
| Connections | USB (PC, PS4); 3.5mm (Xbox, Mobile, VR) |
HyperX Cloud Revolver Review
Design
The design of the HyperX Cloud Revolver follows the company's typical design model, which is to say that right from the start, you can tell it's gaming-focused. The oversized ear cups feel as comfortable as they look and while the arch of the headset looks like it could be hard thanks to the overarching metal, the interior leatherette is really quite enjoyable to wear. At first glance, the piece of steel that runs over the top of the headset might look out of place but it actually provides stability for the Cloud Revolver as a whole.
At only 0.79 pounds, the headset itself is pretty lightweight compared to its nearest competition and you will feel that (or not feel it) on top of your head. This makes it a top recommendation for those who enjoy long gaming sessions and can suffer from fatigue with heavier headsets. As a wired headset, a lengthy 9.8-foot braided cord pops out from the left ear cup. The microphone is also well-sized ensuring that anyone you are playing with can hear you.
What really stands out about the design is the addition of the advanced USB audio control box. This remote-like hardware piece is quite small but offers excellent functionality. That you can control numerous aspects while in-game including quickly muting the mic makes it an ideal addition to the Cloud Revolver's design.
Performance
Ultimately, the biggest factor in any gaming headset will be performance, and with dynamic 50mm drivers with neodymium magnets, expectations are high for the Cloud Revolver. The good news is that it sounds quite good across lows, highs, and mids. Voices and dialogue are crisp and clear and because of that, you may actually enjoy watching in-game cutscenes that you might normally choose to skip.
With a 10Hz – 23kHz frequency response range, some higher-pitched sounds might not come in as clearly as they will on headsets with a larger range. However, the accuracy of the mid-range sound makes up for this as it makes it easy to hear all of your friends or team members in-game. That might be good or bad depending on who you are playing with but they will sound clear regardless.
What stands out best about the HyperX Cloud Revolver is its virtual 7.1 surround sound. The shift from stereo to 7.1 is notable and welcomed. The added depth of sound adds to your ability to hear footsteps coming from around a corner which very well might save your in-world life depending on the game. What the Cloud Revolver lacks is some type of software to help equalize the 7.1 surround sound and it's not available in HyperX's PC NGENUITY software suite. While disappointing, for the price point, the Cloud Revolver punches well above its class for the overall sound.
Compatibility
Overall compatibility with a gaming headset needs to be widely scoped if it's going to be a successful product. Thankfully, HyperX has made that happen with all of its headsets including the Cloud Revolver. Through USB connectivity, the HyperX can connect to both a gaming computer (or regular computer) and a PlayStation 4.
Using the 3.5mm connection, you have a few more options for connectivity including Xbox through the Xbox controller, mobile devices that still offer a headphone jack and virtual reality headsets. Interestingly enough, the Nintendo Switch is not mentioned as being compatible but with its 3.5mm headphone jack, the HyperX Cloud Revolver is believed to work just fine.
Comfort
As gaming sessions can last for hours if not longer, headset comfort is of paramount importance. With the inclusion of heavily padded ear cups and the soft leatherette strap for the top of your head, the HyperX Cloud Revolver headset is ready for these lengthy gaming sessions. At 0.79 pounds it's not the lightest headset in the gaming industry, but it feels lighter thanks to high quality and durable components. The ear cups provide some horizontal tension against your head which helps hold the headset in place for any amount of time. The extra size of the ear cups also helps reduce any ambient noise you might otherwise hear. There are better-padded gaming headsets out there but they will cost more which makes the comfort you receive with the Cloud Revolver a standout reason to buy.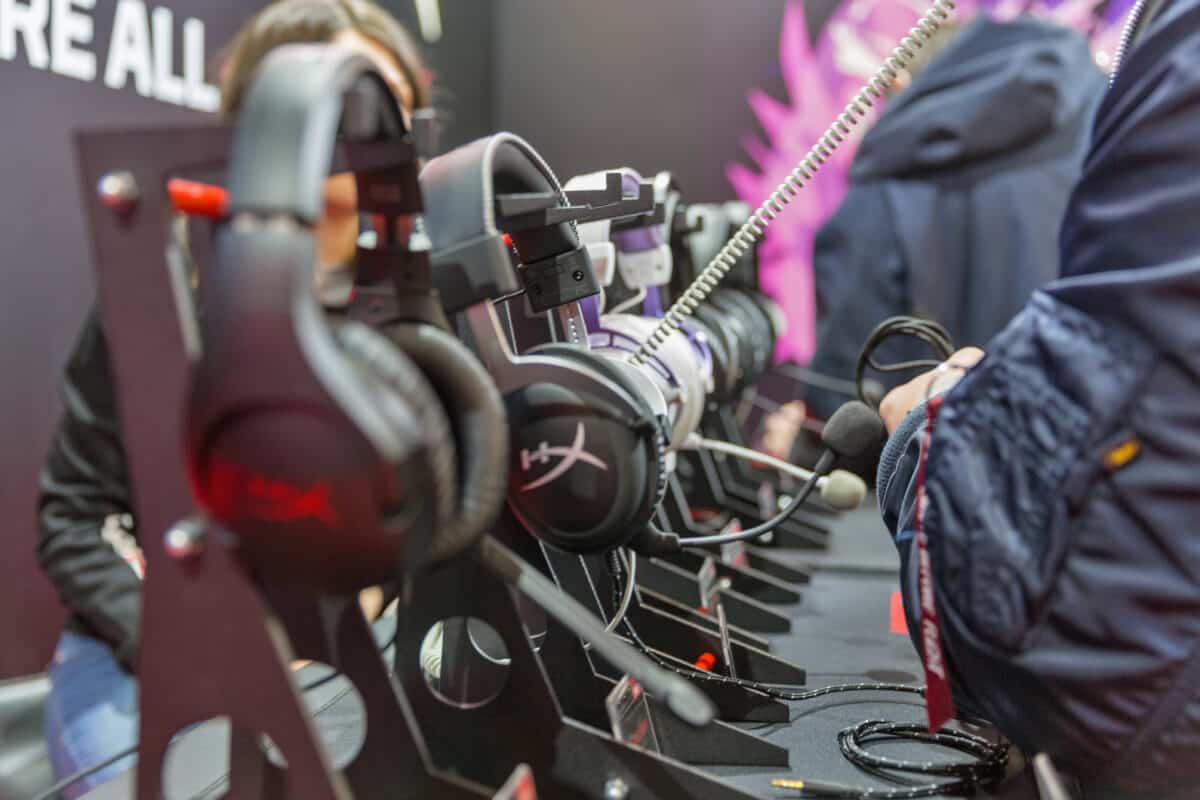 Audio Controls
It's hard to talk about the HyperX Cloud Revolver without talking about its advanced USB Audio Control Box. Set with four buttons, you have volume up and down controls on one side with mic volume up and down controls on the other side. The middle of the control box offers a lit-up 7.1 button that quickly toggles surround sound functionality on and off. Finally, on the side of the control box is a dedicated mute button for your microphone. While this is a wonderful addition to the Cloud Revolver, what is problematic is that it really only works with PC and PlayStation consoles via USB. Plugging in through a 3.5mm connection renders most of the audio control box obsolete.
HyperX Cloud Revolver: Pros and Cons
While the HyperX Cloud Revolver is a great headset for most people, it's by no means perfect. Let's take a look at the pros and cons.
Pros:
Great features for the price
Audio control box is a great addition
Good noise-cancelation
7.1 virtual surround sound
Generally available at a discounted price
Cons:
Middle of the pack as far as weight
The audio control box doesn't work with 3.5mm connected devices
Lacks Dolby Sound
Doesn't bring anything new to the headset table
HyperX Cloud Revolver: is it a Buy?
Buy it if…
You want a headset that is priced well for its feature set. Available at $129.99 just about everywhere it's available on sale helps make the HyperX Cloud Revolver a solid deal for the price. It offers excellent virtual surround sound with strong mid-range controls and solid bass delivery which only helps justify the price tag even more.
You want a gaming headset that can deliver outstanding build quality backed by a great two-year warranty. HyperX is a reliable name in this industry and there's every reason to believe they will stand by their products should something go wrong.
You want virtual surround sound without spending far more money on an actual surround sound system. The 7.1 virtual surround sound won't match an actual home theater system but for open-world games and first-person shooters in particular, it sounds wonderful.
Don't Buy it if…
You are really concerned about the weight of the headset. The HyperX Cloud Revolver sits firmly in the middle gaming headset pack as far as weight so if you are extra sensitive to any amount of grams, look elsewhere in the HyperX lineup.
You want to be able to use the audio control box with all of your gaming hardware. This may be one of the most disappointing aspects of the HyperX Cloud Revolver and we hope HyperX is able to find a fix in the future.
You want to use an equalizer to help balance the sound. It's unfortunate that HyperX has not enabled this functionality within their software suite as it is likely to be very popular with their customers.