Key Points
TCL and LG are two major players in the TV industry, with both offering competitive prices and great features.
TCL offers QLED TVs while LG offers both OLED and QLED options.
Both TCL and LG TVs have similar resolutions, but LG has a slight edge in image quality.
LG uses its proprietary webOS operating system, while TCL uses Roku or Google TV.
TCL and LG are two behemoths in the TV industry, but they target two completely different customer bases. Therefore, many are left wondering which is the better option and if the difference in price is really justifiable.
The truth is that TCL really isn't better than LG; however, its great features and low prices give the company a competitive advantage.
LG has been a powerhouse in the TV industry alongside other behemoths like Sony and Samsung. The three companies are known for making high-end TVs that offer cutting-edge innovation.
TCL, on the other hand, is commonly seen as a budget option alongside brands like Hisense. But some recent changes in the TV industry are really shaking up the competition.
TCL vs LG: Side-by-Side Comparison
| | TCL 6 Series | LG C2 |
| --- | --- | --- |
| Lighting Technology | QLED | OLED |
| Resolution | 4K | 4K |
| Operating System | Roku | webOS |
| Voice Remote Included | Yes | Yes |
| Available Sizes | 55″, 65″, 75″, and 85″ | 42″, 48″, 55″, 65″, 77″, and 83″ |
| MSRP | $1,299 | $1,699 |
| VESA Pattern | 300 X 300 | 300 X 200 |
TCL vs LG: What's the Difference?
To provide a more accurate depiction of which company makes a better TV, we will compare some of the most popular models. For LG, we will look at the C2 and compare it against the TCL 6 Series from 2022. Both TVs offer similar features and come in at a similar MSRP. The two TVs also have comparable scores on RTINGS.
Lighting
If you look at the titles for both TVs, the first thing you will likely notice is that the LG is an OLED, while the TCL is a QLED. If you aren't familiar, these abbreviations represent the type of lighting used in each TV.
The LG OLED does not have a backlight, so it is thinner, and the blacks are completely dark. This provides a stunning picture for gaming and movies. In comparison, QLED is a step up from regular LED TVs, but it does still use an LED array.
However, the LEDs are very small, which lets sections of the TV go black. Unfortunately, it will not be as perfect as an OLED, but it can get brighter. In addition to being brighter, QLED TVs do not have a risk of image burn-in like OLED TVs do.
Best Value
TCL 65″ Class 6-Series 4K
Mini LED technology for increased brightness and contrast
Includes support for Dolby Vision, HDR10, and HDR10+
Game Studio Pro optimizes up to 144Hz
Built-in Roku operating system
We earn a commission if you make a purchase, at no additional cost to you.
There are plenty of arguments about whether OLED or QLED technology is better. But the truth is that it largely comes down to personal preference.
If the TV is going in a living room or somewhere bright, then you will probably want a QLED. However, if you really want stark contrasts, and brightness isn't an issue, then OLED is best.
For the purpose of comparing TCL and LG, it is important to note that TCL does not make OLED TVs. Instead, they only have QLED ones.
That isn't necessarily a bad thing because Samsung also didn't make OLED TVs until this year. In comparison, LG has both OLED and QLED TVs available, with QLED ones typically costing less.
Resolution
Unlike with lighting, the LG C2 and the TCL 6 Series both have the same resolution. The two TVs have 4K resolution, which is standard on most TVs sold today.
One difference between the two is that the LG C2 does not offer HDR10+, but it does have HDR10, Dolby Vision, and HLG. Meanwhile, the TCL 6 Series is compatible with all of those formats, including HRD10+.
Even though both TVs have the same resolution, the image quality does vary. The color and volume gamut on both is pretty close, but the C2 does have a slight edge. However, there is much more picture uniformity on the C2 thanks to its OLED lighting.
Another problem with the TCL 6 Series is that it uses a VA panel which provides a very limited viewing angle. In addition to not being able to get an OLED TCL, you also can't get one with a higher resolution. If you are looking for the best picture available, LG does offer some 8K options, which are available in OLED and QNED.
Operating System
The next difference between LG and TCL is the operating system their TVs run on. Operating systems have become very important in recent years as TVs automatically boot to a smart home screen from which you can select between inputs and apps.
That is true of nearly all TCL and LG devices. However, LG relies on a proprietary operating system called webOS, while TCL licenses operating systems from third parties.
LG's proprietary operating system certainly isn't the best, as some apps are missing, but it works sufficiently. The TCL 6 Series uses Roku, but some of their latest models run on Google TV.
Roku is arguably better as it is very easy to use, and there is widespread support from streaming services. But Google TV also works well and is still better than LG's webOS.
Features
We've already gone over some of the features that you can find on both LG and TCL TVs, but there are a couple of others worth mentioning. Our comparison TVs have the same number of HDMI ports, but all of the C2's HDMI ports support 2.1, while only two ports on the TCL 6 Series support HDMI 2.1.
Both TVs have tuners and WiFi 2.4 GHz and 5 GHz support. They each also have USB ports to connect external storage devices. Notably missing on the LG are a 3.5mm output and a composite input, which are included on the TCL.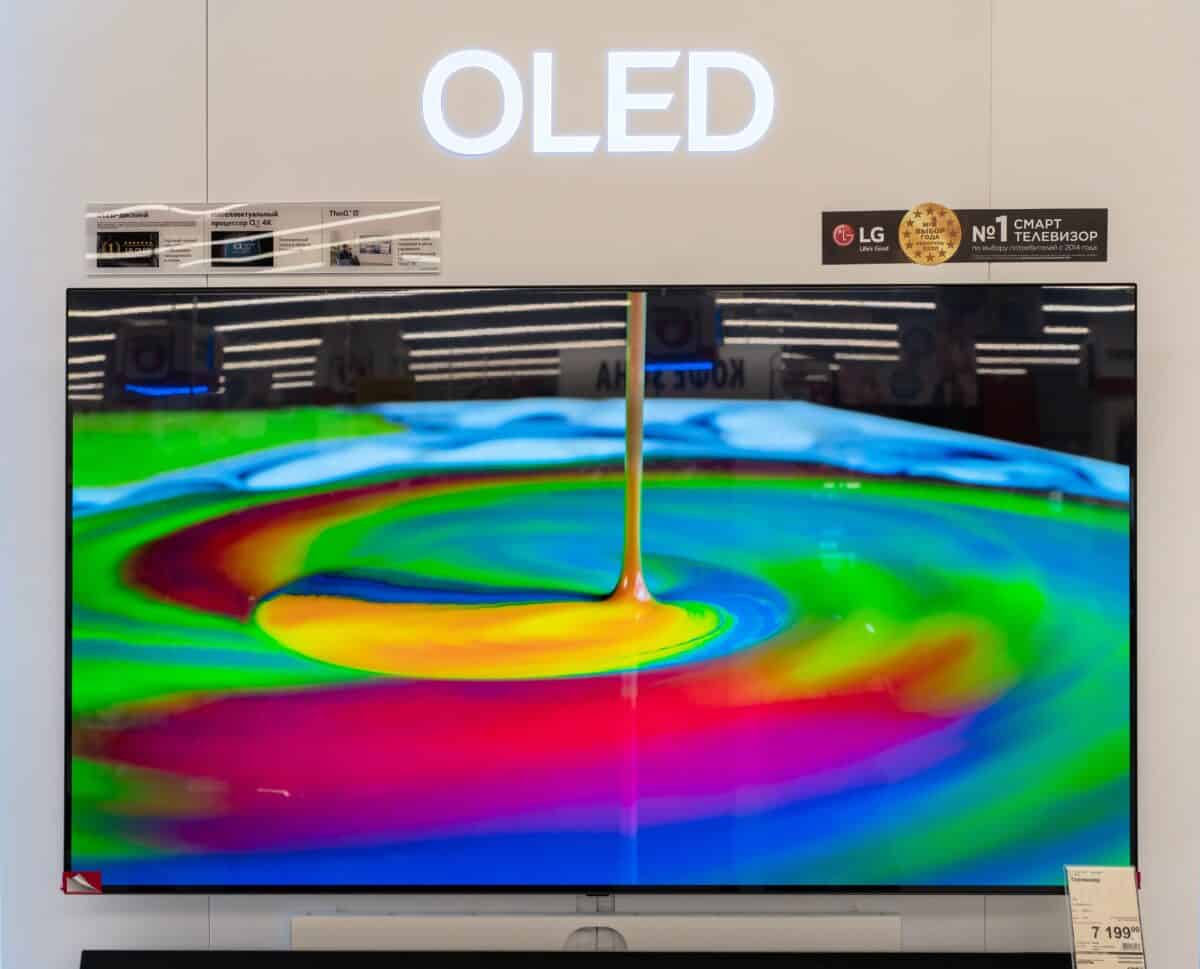 The stands on the TCL and LG are single-piece and center-mounted. There is also wall mount support, but a notable difference is that the LG uses a VESA 300 X 200, while the TCL uses a slightly different VESA 300 X 300 mounting pattern.
One major component to see a lot of changes in recent years is the remote. TCL and LG have voice-command remotes included with the C2 and 6 Series.
However, the LG remote is noticeably larger and has numbers, unlike TCL's remote. The differences in features between the two companies are relatively minor and vary depending on the model, so you shouldn't put too much emphasis on them.
Sizes
TV sizing is where things get a little complicated because each model comes in different sizes. For instance, the C2 comes in 42″, 48″, 55″, 65″, 77″, and 83″. In contrast, the TCL 6 Series is only available in 55″, 65″, 75″, and 85″. Both TV models go above the 80″ mark, but the LG C2 is one of the few that go below 50″.
With that said, LG and TCL offer a wide range of TV sizes, from small to very large. However, LG does offer high-end models with smaller screens. Many companies often skip making high-quality options with smaller screens. LG also has some of the largest TVs on the market, including its insane 97″ OLED, which is the largest in the world.
Design
The look of a TV isn't quite as important as it once was since most have very narrow bezels. Nonetheless, both manufacturers offer sleek and stylish designs that are unique. TCL uses a metallic silver bezel that looks really good. In comparison, LG has an edgeless design that incorporates a very thin bezel that is hard to see.
There is nothing wrong with either option, and it mostly comes down to personal preference. Another design difference is that most of the C2 sizes come with a single-piece stand rather than a two-piece one.
However, the 42″ C2 does use a two-piece stand, as do all of the TCL 6 Series TVs. Of course, you can always remove the stand to mount the TV on a wall. The backside of both TVs also looks pretty generic and has nothing noteworthy. However, the C2 is razor-thin thanks to the OLED technology, whereas the TCL is boxy.
Keep in mind that other TCL and LG models will be different, especially lower-end models. Overall, TCL and LG both put a fair amount of effort into creating a great-looking TV so you shouldn't focus on the design too much.
Pricing
The biggest factor in most consumers' purchase decisions remains the price, and that is a little hard to pinpoint here. LG is often considered a premium brand, while TCL offers more affordable options.
That is true, but LG also makes low-end TVs, and TCL offers some high-end ones. Even worse is that both companies regularly offer hefty sales, and prices constantly fluctuate.
Excellent OLED Screen
LG C2 65-Inch OLED evo
Great contrast, deep blacks, and over a billion colors
8 million self-lit OLED pixels
Alpha 9 Gen 5 AI Processor 4K, exclusive to LG, intuitively adapts to what you're watching
LG Game Optimizer mode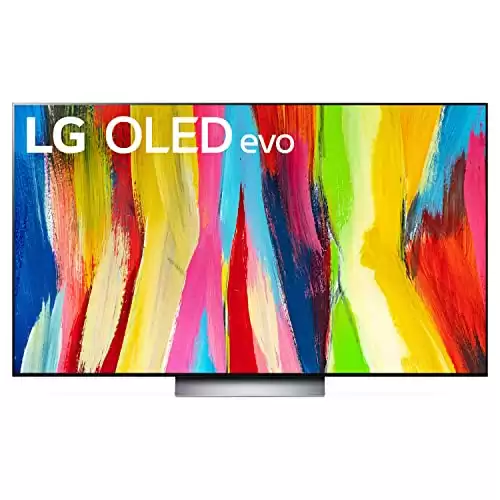 We earn a commission if you make a purchase, at no additional cost to you.
The MSRP on the 55″ C2 is $1,299 compared to the same size TCL 6 Series, which has an MSRP of $599. We can go up to a 65″ LG, which costs $1,699, whereas the 65″ TCL is only $999.
Whether the difference is justifiable is entirely up to you, but keep in mind that part of that price difference is due to the LG being an OLED rather than a QLED.
Quality/ Longevity
The final factor we will look at is perhaps the most complex and one that everyone wants to know. Despite TV picture quality soaring to new heights, the length of time they last is actually dropping. Like with many appliances purchased today, a TV will not last as long as one from 20 years ago.
Consider that many tube TVs from the 1990s still work fine, but newer LED and LCD TVs fail after only a few years. Obviously, there are many exceptions to this, and many people have wrongly associated TCL's low prices with poor quality.
In reality, even LG has faced a number of issues over the years with quality control. The bigger problem is that it is difficult to pinpoint just how long a TV will last. Essentially, any TV you purchase is a gamble, but there are some things you can do, like checking reviews.
Be on the lookout for multiple complaints about dead pixels or lighting inconsistencies. In the past, TCL had problems with these, but they have since been resolved.
Part of the problem is that a company can have a good track record but still have issues. This is why you shouldn't purchase new technology without ensuring there are no systemic problems.
TCL vs LG: 5 Must-Know Facts
LG typically offers a wider range of TV sizes.
TCL does not have OLED TVs in its lineup.
LG uses a proprietary webOS operating system, whereas TCL uses Roku or GoogleTV.
TCL TVs often have a lower MSRP than an equivalent LG TV.
LG offers 8K TVs, while TCL does not.
TCL vs LG: Which One Is Better? Which One Should You Use?
You should now have a better idea of the differences between LG and TCL TVs, but we still haven't picked a winner. Overall, LG wins as its TVs tend to offer better picture quality, and there are significantly more options.
While LG typically has better products, it doesn't mean that you should pass up a TCL TV. But if you want the absolute best picture, then LG is the way to go.
Determine Value
Before you run out and buy a TV, it is important to determine what size you really need and how much you want to spend. Many people make the argument to always go for a larger size but, at some point, that just isn't practical.
Instead, consider going for one with a better picture. For instance, the LG C2 and TCL 6 Series both offer a much better picture than cheaper TVs from the same companies.
Spending extra on an OLED or QLED is often worth the extra cost. But you can't ignore the price difference between TCL and LG.
If a TCL is over $100 cheaper than a comparable LG, then it will likely be the better option. However, if both brands have similarly priced models, then TCL will usually be the better value.
Check Reviews
The last thing you need to do before buying any TV is check the review and ratings. This will give you an idea of any major flaws the TV may have, as well as how it ranks among the competition.
Comparing how TVs match up is important, but determining any major problems is arguably more crucial. When TCL had display issues years ago, you knew it quickly by reading customer reviews.
Don't put too much faith into comments on picture quality. Instead, focus on trends that may signal a defect. Whether you choose an LG or a TCL, you are unlikely to be disappointed.
Mini LED technology for increased brightness and contrast
Includes support for Dolby Vision, HDR10, and HDR10+
Game Studio Pro optimizes up to 144Hz
Built-in Roku operating system

Buy Now on Amazon

We earn a commission if you make a purchase, at no additional cost to you.

Great contrast, deep blacks, and over a billion colors
8 million self-lit OLED pixels
Alpha 9 Gen 5 AI Processor 4K, exclusive to LG, intuitively adapts to what you're watching
LG Game Optimizer mode

Buy on Amazon

We earn a commission if you make a purchase, at no additional cost to you.

11/25/2023 07:10 pm GMT
The image featured at the top of this post is ©alexfan32/Shutterstock.com.