Key Points:
As the infrastructure for electric vehicle charging station grows daily, more and more car manufactures are jumping into the EV race.
With the impressive amount of torque and off-the-line performance, EVs are naturally suited for sports cars.
Because the competition is so tight, makers like Ferrari tend to keep a tight lid on new models.
This year, Mercedes-Benz released its debut electric vehicle, the EQS. Combining a modern electric motor with the grace and sophistication that Mercedes is known for, the auto manufacturer officially began the age of luxury EVs. Following in their footsteps are renowned brands such as Porsche, Audi, and BMW.
But, some auto manufacturers are still holding out: most notoriously is Ferrari, which has a history of excluding itself from industry competitors since its inception.
So, what is this legendary company's plan for the future? Continue reading for everything we know about Ferrari's possible plans to move into the EV space.
Ferrari's Legacy
When every auto company competes with each other to win the best of the bunch, Ferrari obstinately does what it wants. It's why the company is the winningest auto racer in history, and why the company is the symbol of luxury in the automobile industry. So, when Ferrari chooses to take its time on adopting its own EV plans, it is no surprise.
Before Enzo Ferrari founded his legendary auto company, he worked with Alfa Romeo in their racing department. From 1933 to 1939, Ferrari led Alfa Romeo to race success. When he reentered the auto manufacturing business following the end of World War II, Ferrari was already turning heads.
Enzo Ferrari knew the racing scene, and his cars owned the track; the auto manufacturer is the oldest and most successful team in Formula One. Their accolades include:
15 World Drivers Championship titles
16 World Constructors Championship titles
221 Grand Prix victories
679 Podium Finishes
230 Fastest Laps
The company also found success in other race styles, such as the sportscar and the 24-Hour Le Mans. Ferrari no longer participates in these races but continues to support and consult other teams. With their time open, the auto manufacturer focuses its attention on exemplary luxury design. And, in the coming years, this could even include electric-powered vehicles.
Is Ferrari Making an EV?
While virtually every automaker jumped on the EV bandwagon, including Mercedes-Benz, Chevrolet, and even General Motors, Ferrari continued to do what it set out to do: cater to its exclusivity.
However, in the summer of 2022, the historic organization announced its plan to join in on the fiasco. But, just because it plans on going electric, doesn't mean it will give up its legacy for luxury.
Ferrari's CEO Benedetto Vigna had a lot to say upon revealing the company's EV intentions. First and foremost, the company will never turn face from its race history, suggesting that the first fully-electric models won't focus on range. This is a bold statement in an industry that holds battery life on a pedestal for any auto manufacturer but Ferrari. 
In addition, Ferrari plans to continue its development in-house. The company handcrafts its vehicles, which attributes to its top-tier price, and that won't change for electric vehicles. Vigna suggests that Scuderia Ferrari (the Ferrari Stable in English) will even manufacture their batteries. This is a feat that not even Tesla can claim.
Ferrari's Plans for the Future
The luxury automaker plans to release its first fully-electric vehicle in 2025. It will be one of 15 new models that will spearhead Ferrari's carbon-neutral business plan for the future.
Among these include a hybrid SUV, the first of its kind for the manufacturer. Ferrari expects these vehicles, in addition to its hybrid models, to make up 60% of its sales by 2026. The company commits even further with electric vehicles, expecting their sales to consist of 80% electric (hybrid and fully EV) and 20% combustion by 2030. 
The luxury automaker makes it clear, however, that they aren't giving up on external combustion engines. Vigna states that the designs still have hidden potential, and Ferrari will make it happen.
Ferrari EV Competitors
While Ferrari held off announcing its electric vehicle intentions, other auto manufacturers raced forward to stake their claim in the next generation of supercars. With speeds topping 250 mph and 0-60 records of less than two seconds, we're already seeing the incredible potential of EVs. Some companies with notable models include:
Tesla Roadster V2
Lotus Evija
NextEV Nio EP9
Rimac C Two
Let's take a look at what these EVs can do.
Tesla Roadster (2nd generation)
Originally released in 2008 to generate excitement around the new brand, Tesla is reintroducing the Roadster as a second-generation model. With 15 years of experience, however, the new model looks nothing like its predecessor.
Elon Musk announced the Tesla Roadster second generation and claimed some eye-opening statistics. The sportscar is slated to have a top speed of 250 mph and a 0-60 of 1.9 seconds. Its quickness isn't even the most exciting aspect: Tesla suggests that the EV will have a range of 620 miles on a single charge, more than any of its previous models.
The Roadster is expected to launch in 2023 with a base price of $200,000.
Lotus Evija
While Tesla's model is right around the corner, Lotus released their supercar this year. The Lotus Evija manages a 200 mph top speed and a 0-60 that's under three seconds. While its range isn't nearly what the Roadster can do, it can reach a full charge in less than 20 minutes. Lotus only made 160 vehicles, so getting your hands on one of these will cost upwards of $2 million.
Nio EP9
While the upper echelon of internal combustion supercars is firmly controlled, the introduction of electric motors opens up the arena for new companies. One such company, Nio, developed a fully-electric racecar that competes with the top of the industry.
The EP9 maxes out at 194 mph and can reach 60 mph in 2.7 seconds. If you thought the Evija was rare, however, the EP9 has it beat: Nio only developed 16 of these vehicles, which sold for just under $3 million each.
Rimac Nevera
This one is a beast. Rimac, the Croatian hypercar developer, announced the Nevera as a concept in 2018. After four years of development, it sold its first model. And what the world saw left jaws dropping. 
The Rimac Nevera has a 0-60 acceleration of 1.85, making it the quickest car on the planet. It also features a top speed of 256 mph, outdoing its competition. Rimac plans on selling 150 vehicles at a price of about $2.4 million.
Now the question stands: with three years of development time, how does Ferrari's first EV compare?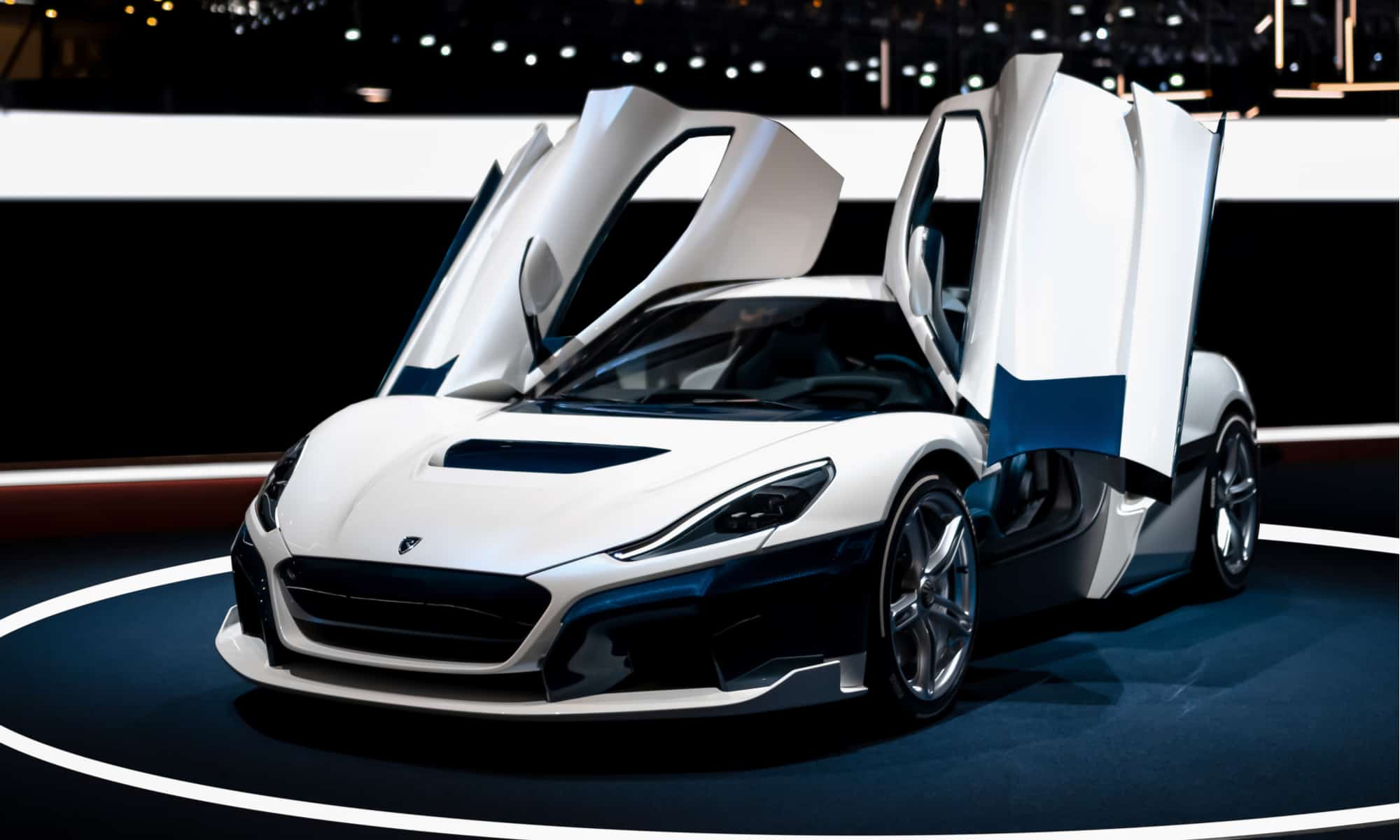 Ferrari EV: A Side-by-Side Comparison
| | Ferrari SF90* | Tesla Roadster (2nd gen) | Notus Evija | NIO EP9 | Rimac Nevera |
| --- | --- | --- | --- | --- | --- |
| Estimated Cost | $500,000 | $200,000 | $2,000,000 | $3,000,000 | $2,400,000 |
| Horsepower | 986 hp | 800-1,000 hp | 1,972 hp | 1,341 hp | 1,914 hp |
| 0-60 mph | 2.5 s | 1.9 s | 2.9 s | 2.7 s | 1.85 s |
| Top Speed | 211 mph | 250 mph | 200 mph | 194 mph | 256 mph |
| Dry Weight | 3,460 lbs | 4,400-4,700 lbs | 3,700 lbs | 3,825 lbs | 4,740 lbs |
| Drive | All-wheel drive | All-wheel drive | All-wheel drive | All-wheel drive | All-wheel drive |
| EV Range | 8 mi | 620 mi | 250 mi | 265 mi | 340 mi |
*The comparison is of Ferrari's hybrid electric model and does not represent all-electric performance.
Ferrari EV: Further Reading
Despite all the competition for the future of supercars, we're excited to see the first Ferrari EV coming in the next few years. For more on the awesome potential of electric vehicles, check out these articles below: