Screen technologies have rapidly advanced since the days of the cathode ray tube (CRT). Bulky television sets are becoming obsolete and giving way to high-definition monitors. Samsung, LG, Hitachi and Dell lead the pack with their innovative screen technologies. Thinner and brighter, these screens deliver realistic imaging with lower energy consumption. IPS and OLED are two technologies at the forefront of digital display technology. Understanding the difference between these leading screen technologies can help you evaluate which type of screen will deliver the best viewing experience. In this article, we compare IPS vs OLED monitors, explain how both technologies work and answer common queries about these leading screen types.
IPS vs OLED: Side by Side Comparison
| | | |
| --- | --- | --- |
| | IPS | OLED |
| What it is | Screen technology for LCDs | Organic Light-Emitting Diode (OLED) technology for digital display |
| Primary Use | LCD television screens, computer monitors, e-paper, smartwatches | Audio, text, video, images |
| Name | In-plane switching | Organic Light-Emitting Diode (OLED) |
| Initial Release | 1996 | September 1999 |
| Consumer Release | First released to consumers by Hitachi in 1996 | OLED TVs were first released to consumers in 2013 |
| Mainly produced by | Panasonic Phillips Sony | LG |
| Size Range | IPS TV screen in 23.8-inch to 85-inch options | OLED TV screens available in 48-inch to 88-inch options |
| Backlighting | IPS uses backlighting behind the LCD | OLED has no backlighting |
| Resolution | 2560×1449 (Quad High Definition (QHD)) | 3840 x 2160 pixel (4K) |
| Viewing angle | Up to 178 degrees of viewing range | 70 degrees from the center of the screen |
| Picture quality | Renders colors accurately with excellent color consistency. | Excellent color definition. Able to render true blacks |
| Gaming | Able to support responsive gaming | Better for "dark" games because of true black rendering |
| Technologies influenced | LCD television screens, computer monitors, e-paper, smart watches, smartphones | Television screens, computer monitors, e-paper, smart watches, smartphones |
IPS vs OLED: 7 Key Points and Must-Know Facts
IPS screen technology is much older than OLED. The first IPS screen was released by Hitachi in 1996, while OLED screens did not become available until 2013.
The pixels of an OLED display emit visible light and can achieve a much higher contrast ratio than an IPS screen, rendering dark colors and black.
OLED displays are thinner and lighter than LCP screens as they do not require an integrated backlight.
The varied form factors and resolutions of LCP screens mean that they are used as displays for a wide range of devices, including televisions, smartphones, smartwatches, and tablets.
In 2021, LG released one of the world's most expensive televisions, a 65-inch OLED TV, for $100,000.This pricey TV features a unique, wafer-thin rollable screen that extends out of its floor housing.
IPS LCD screens can develop blackening defects if the temperature of liquid crystal rises too high. Manufacturers like LG have developed IPS screen technology that raises the critical temperature point of its liquid crystal beyond 110 degrees.
Gravity defect, where liquid crystal in the screen flows down towards the screen's bottom, can affect IPS screens. LCD makers use liquid crystal formulations with greater cohesive power to fix this issue.
IPS vs OLED: What's the Difference?
IPS is fast becoming a legacy screen technology, while OLED prices are falling to the level they are now becoming mainstream. You will find plenty of high-quality televisions that use either technology for a comparable price. Here are the major differences between the two displays to bear in mind:
Backlight
LCDs, like IPS screens, require a backlight to illuminate the images for viewing. Backlighting can cause bleeding and glowing, making it difficult to achieve true blacks, though newer 'true black' IPS technology is available. OLED is made up of individual pixels, which each emits light. This precision lighting can create stunning images with true blacks and realistic colors.
Burn-in and image retention
OLED screens are affected by image retention or burn-in. However, this isn't an issue for most viewers. A static image on the screen can become faintly visible in the background long after it has been displayed. Newer models use screen savers and pixel shifters to count this phenomenon.
Display sizes
Size is one of the first things people look for when choosing a television or monitor. IPS offers more diverse form factors and screen sizes than OLED. This is because OLED screens are 4K 60-Hz and use panels at least 42 inches, far too large for PC or gaming use but just right for widescreen viewing.
Native contrast ratio
The backlighting of the IPS LCD panel affects the ability of IPS screens to render color and color contrast accurately. To achieve the best results, the most expensive IPS screens use full-array local dimming (FALD) technology that provides over a thousand dimming zones to produce an uplift in contrast ratio.
OLED screens are made up of self-emissive pixels that can be bright or dark, enabling them to deliver superior image quality, especially when dark or black colors are represented. However, the backlighting of IPS screens makes them brighter, with 2,000 nits of peak brightness from compact IPS screens vs 1,000 nits for an OLED display.
Response times
Individual OLED pixels have super-fast response times that prevent overshoot, ghosting, fast-moving objects, or rapidly changing scenes. IPS screen response times vary widely, but if the screen has a high refresh rate, the slower response time shouldn't affect viewing or gaming.
Refresh rates
Most 4K OLED screens have refresh rates of 120 Hz, but IPS displays have a much wider range of refresh rates spanning 60 Hz to as much as 390 Hz
What is an IPS monitor?
In-plane switching monitors are a type of liquid crystal display (LCD). It combines the LCD with backlighting and a polarizer that sits behind the LCD to pass light through the electrically charged liquid crystals. Essentially, this changes their conformation and aligns themselves to polarize light and make an image visible. The screen is covered by a layer of protective glass.
The history of IPS
LCD technology was preceded by twisted nematic (TN) technology, which is still in use in less-expensive monitors but has slower refresh rates. Hitachi was a significant developer of IPS technology, with Katsumi Kondo being a leader in this field. By 1992, Hitachi developers had established practical details of IPS, with their first IPS screen released to consumers in 1996.
IPS is still favored because it offers a large viewing range (178 degrees), meaning displayed content can be comfortably viewed from multiple angles. It also offers good color accuracy and can render 256 colors using 8-bit technology with minimal color distortion. This makes an IPS screen suitable for design professionals who want to work with still images, video and photography and its high refresh rates attract gamers.
Great Display
AOC C27G2Z 27″ Curved Gaming Monitor
27-inch AOC Gaming G2 series monitor with Full HD (1080P)
Extremely fast responses for flawless graphics and smooth gameplay
1500R curved panel provides an immersive gaming experience
Three-sided frameless design with high contrast ratio for vivid images
HDMI/DP/VGA connectivity options
We earn a commission if you make a purchase, at no additional cost to you.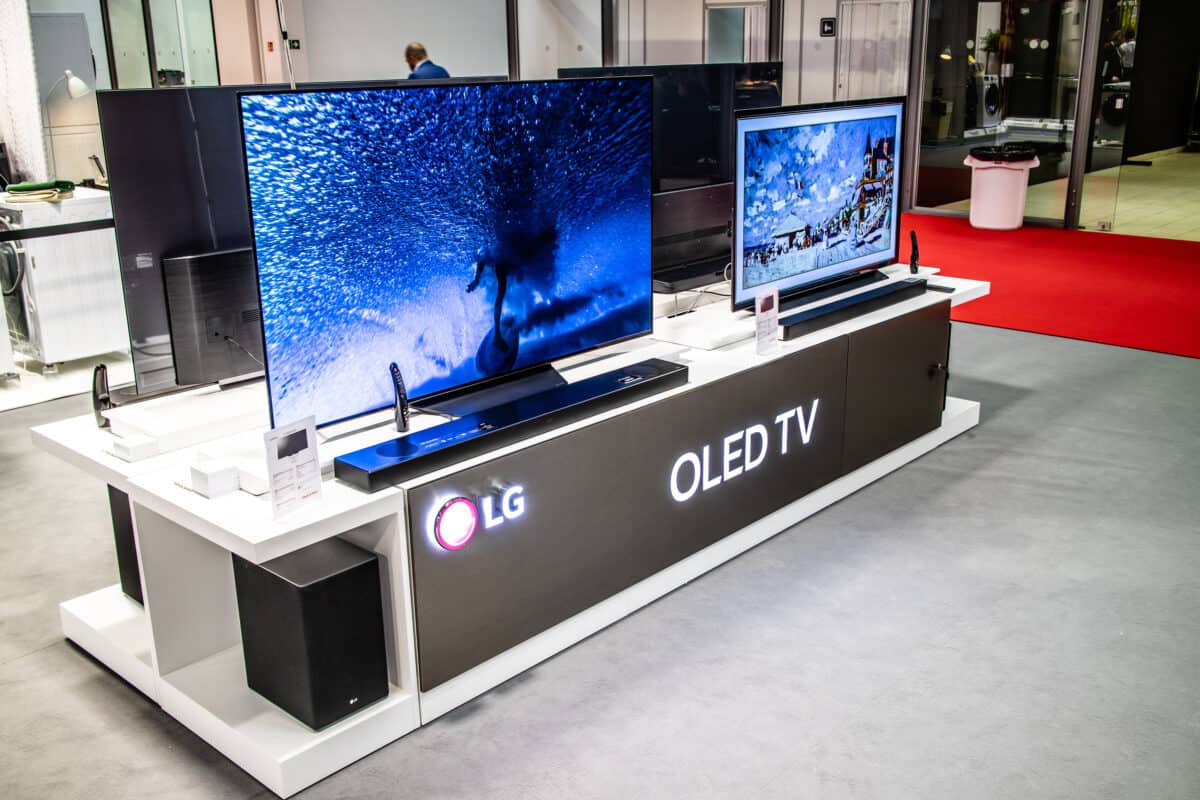 What is an OLED monitor?
An OLED monitor is a type of display that uses organic light-emitting diode (OLED or organic LED) technology to render images. The light-emitting diodes comprise a thin layer of organic compounds that can emit light when an electrical current is applied. This organic material is placed between paired electrodes, with one of the electrodes being transparent to create a digital display. OLED and LED technology are different. OLED does not use the p-n diode structure characteristic of LED screens. Its diode layer can emit visible light and achieve a higher contrast ratio to render black accurately.
The history of OLED
OLED technology has been in development for well over half a century. In the early 1950s, researchers at the University fo Nancy in France first discovered the property of electroluminescence in organic materials. Further work at Cambridge University, New York University and various chemical companies developed experimental preparations of electroluminescent cells. By the late 1980s, Ching Wan Tang and Steven Van Slyke of Eastman Kodak had built a functional OLED device. A transition from molecular to nanomolecular organic materials made OLED screen technology viable. Kodak and Sanyo released the OLED display in 1999. OLED technology is now used for various screens and monitors, including smartphones and televisions.
AORUS FO48U 48" 4K OLED Gaming Monitor
48-inch OLED 4K display ( 3840x2160)
Larger bandwidth for immersive gameplay

Wider color gamut with 10-bit color depth,

1x Display Port 1.4, 2x HDMI 2.1, 2x USB 3.0, with USB Type-C,
OSD Sidekick, PiP /PbP, Dashboard, Black Equalizer, Game Assist
We earn a commission if you make a purchase, at no additional cost to you.
IPS vs OLED – Which One Is Better?
OLED is one of the newest screen technologies and delivers outstanding image quality, color contrast and pixel response times. This makes the OLED screen a high-utility option if speed and resolution are a priority and you escape the burn-in problem. Though IPS is an older technology, it has not yet become obsolete. It offers a greater range of screen specifications, alongside excellent image quality, often for a lower cost.
Up Next…
Check out these articles about displays and screens to see the differences!
The image featured at the top of this post is ©iStock.com/Antonio_Diaz.