Android phones are no longer the dominant force in the US smartphone market. For the first time ever, iPhone has overtaken Android and is now the most popular smartphone brand in the US.
Let's deep explore the US smartphone market with share data, analysis, and Apple's revenue, as well as the top reasons Americans are switching to iPhones.
US Smartphone Market Share Over the Years
iPhone has topped the US smartphone market for the first time in history. The Financial Times reported the iPhone claimed about 50% of the US market share in June. Previously, Nokia, Blackberry, and Motorola were the key players in the smartphone market.
In 2010, Android claimed the most extensive install base compared to iOS. Since then, Android has had a dominant worldwide market share, with about 71% as of 2022.
US Smartphone Market Share 2022
According to Counterpoint research, these are the Q1 2022 highlights about the US smartphone market:
Apple has an 8% year-over-year growth due to the high demand for its products, such as the iPhone 13 Series and the newly launched iPhone SE 2022.
Samsung has a 7% year-over-year decline despite the launch of the Galaxy S-series.
Smartphone shipments have a 12% year-over-growth due to an improved supply chain.
As a surprise, Lenovo has seen a significant increase of 6% from one year ago in Smartphone market share.
Apple's Revenue From US Market
Apple's largest geographical regional market is the US, generating about 37.47 billion dollars in net sales in the third quarter of Apple in 2022. The US counts for about 40% of net sales. The other two big Apple markets are Greater China and Europe.
Apple has generated this high revenue due to its outstanding performance in its home market (US). Many Apple retail stores in the United States show and sell a wide range of Apple products, including the iPhone, Apple Watch, iPad and more.
Top Reasons Why People Are Buying iPhones
It is not a coincidence that Americans are switching to iPhones. Below are some of the reasons people keep buying iPhones.
1. Outstanding performance
iOS is faster and has a better performance than Android. It is also optimized to work in the best way with the few quality Apple devices. iPhone 14 Pro Max, with 6G RAM and a six-core CPU, is the best Apple smartphone at this moment.
It is proven that Apple processors are better than Qualcomm's. This outstanding performance doesn't only come from fantastic specs. The optimization between hardware and software plays the main role.
2. Easy to use
Many people are switching to iPhone because they like the simple of Apple's operating system. iOS is easy to use and has fewer customization options to users.
Ultimately, everyone wants a device that works properly, is fast, is easy to use, and you can organize everything without any problem with it.
3. Frequent Updates
iOS frequently comes up with new software updates to improve user experience, life battery, add new features, and many more. When the software update is launched, it will automatically update your iOS device if it supports it.
On the other hand, Google gives updates only to its own products, such as the Pixel 6a or Pixel 6 series. In comparison, brands such as Sony, Samsung, and Motorola have to get the update from Google and optimize it to your device.
4. Hardware and Software Integration
Apple has better hardware and software integration. For instance, Face ID allows you to log into your iPhone using a 3D scan of your face. Other competitors tried featuring a Face ID but failed.
Apple Watches, iPhones, Apple TVs, iPads, and Macs are integrated with FaceTime, iMessage, iCloud, and other in-house services. If we talk about app stores, the Apple App Store has better policies, fewer ads, and provides many features.
5. Privacy & Security
The iPhone has consistent updates, a closed ecosystem, and a strict app store to protect your data. The iPhone's memory is encrypted, so hacking the device and reading personal data is impossible.
iPhone has security features such as fingerprint or facial to protect your personal data. You can also stop apps from tracking your online activity.
6. Payments through Apple Pay
Many banks and credit card companies support Apple Pay. Over 85% of retailers in the USA accept payment via Apple Pay. The Apple Card works with iOS, and you get a 2% cashback on Apple Pay buying if you are a starter.
7. Apple CarPlay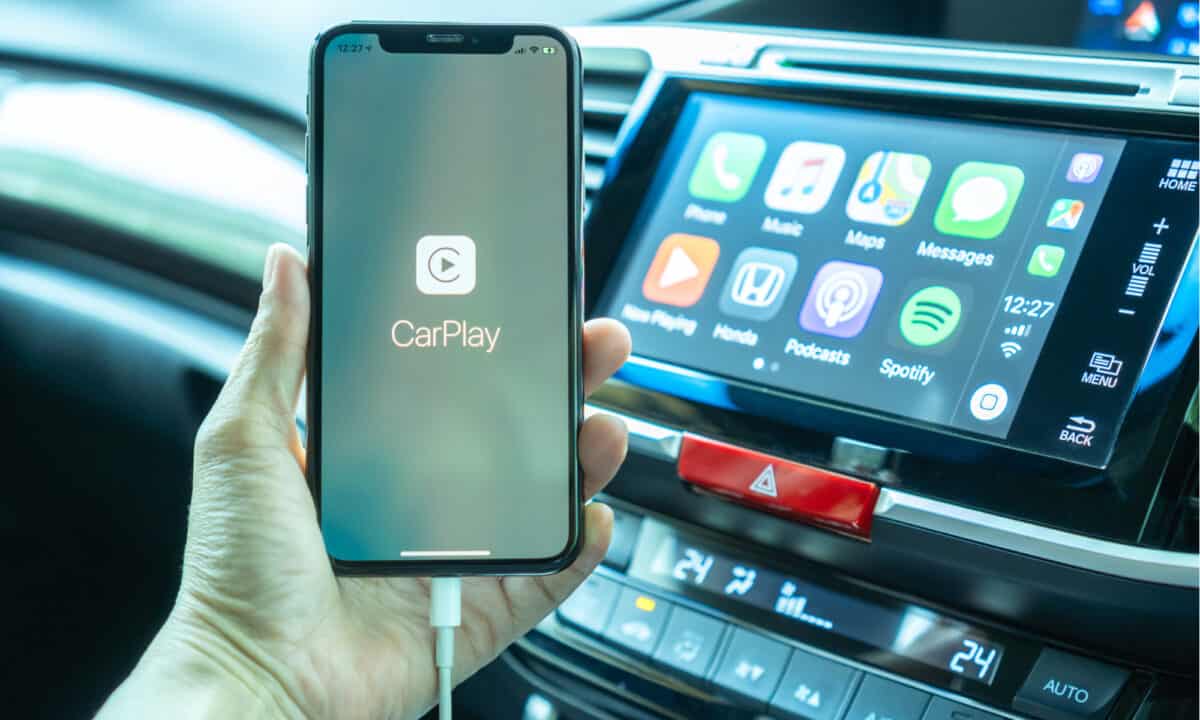 Apple CarPlay is a safe and smart way to use your iPhone while you drive. It provides options to move the icons and reorganize them to access them easily.
You can use maps to show the way; Siri will help you make calls, listen to voice recordings, and return missed calls. You can control Apple CarPlay not only with a word but also touch or twist.
Apple CarPlay is more accessible, better looking, and more functional than Android Auto.
8. Excellent Customer Support
Apple offers amazing tech support. Whether you go to their stores to buy a device or have a problem with your iPhone, the staff is there to help you. You don't need to fill out online forms, stay on hold for periods, send taxes, or wait for months to fix the problems.
Apple also offers free classes for customers, who want to learn how to use Apple devices. This is a fantastic way to approach customers' needs and fill them.
Our Final Thoughts
Although Android still holds the number one spot worldwide (with a 71% market share), its influence over the US smartphone industry is beginning to wane.
As for iPhone, it's impressive that Apple's flagship smartphone hasn't lost its luster in the US market. It only has grown with each passing year.
So, will the iPhone continue to dominate the US smartphone market? Or will Android push forward and reclaim its crown? Hopefully, you found the results interesting, and feel free to share your thoughts about them in the comments.
Next Up…
Liked this article? How about reading some of our other pieces:
The image featured at the top of this post is ©Framesira/Shutterstock.com.