The iPhone 14 Pro is an upgrade of the iPhone 13 Pro, carrying with its some noteworthy updates. The successor has the new Dynamic Island, A16 Bionic chip, and an Always-On Display feature. But are these features really worth the extra money, and is the iPhone 14 Pro a worthy upgrade?
In this guide, we'll compare iPhone 14 Pro vs iPhone 13 Pro and discuss their key differences. In addition, we'll also offer a full comparison of the two models. So, if you're choosing between the two or looking to upgrade your 13 Pro, this guide should help you decide.
The two phones are truly remarkable, sporting incredible hardware and feature sets that propelled them to many "best phones" lists. We'll compare that hardware and feature set to help you decide which model fits you best. So, without further ado, let's dive right in.
iPhone 14 Pro vs. iPhone 13 Pro: Side-by-Side Comparison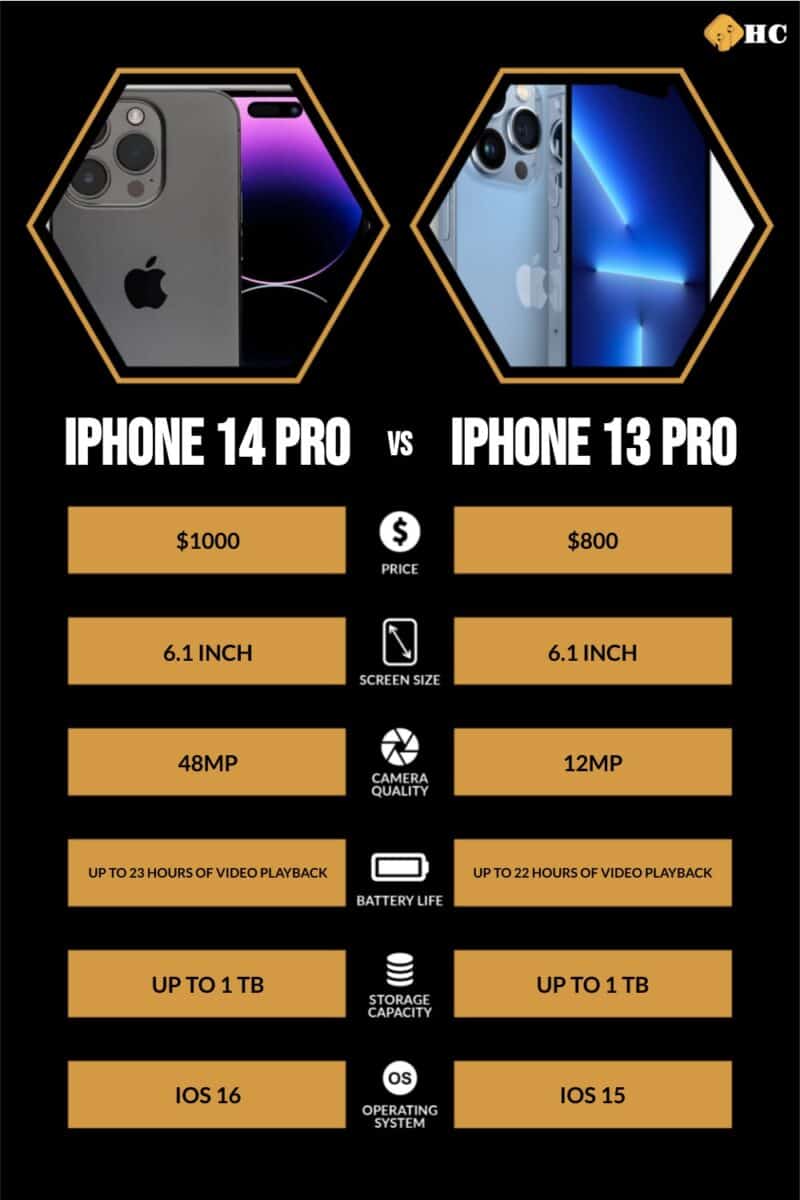 iPhone 14 Pro
iPhone 13 Pro
Weight
206 g (7.27 oz)
204 g (7.20 oz)
Broadband
GSM/CDMA/HSPA/
EVDO/LTE/5G
GSM/CDMA/HSPA/
EVDO/LTE/5G
OS
iOS 16,
upgradable to iOS 16.2
iOS 15,
upgradable to iOS 16.2
Storage
128GB 6GB RAM,
256GB 6GB RAM,
512GB 6GB RAM,
1TB 6GB RAM
128GB 6GB RAM,
256GB 6GB RAM,
512GB 6GB RAM,
1TB 6GB RAM
CPU
Apple A16 Bionic (4 nm)
Apple A15 Bionic (5 nm)
Display Size
6.1 inches
~87.0% screen-to-body ratio
6.1 inches
~86.0% screen-to-body ratio
Display Resolution
1179 x 2556 pixels,
19.5:9 ratio
~460 ppi density
1170 x 2532 pixels,
19.5:9 ratio
~460 ppi density
Camera
48 MP, f/1.8, 24mm (wide),
12 MP, f/2.8, 77mm (telephoto),
12 MP, f/2.2, 13mm, 120˚ (ultrawide),
TOF 3D LiDAR scanner (depth)
12 MP, f/1.5, 26mm (wide),
12 MP, f/2.8, 77mm (telephoto),
12 MP, f/1.8, 13mm, 120˚ (ultrawide),
TOF 3D LiDAR scanner (depth)
Battery Capacity
Li-Ion 3200 mAh, non-removable (12.38 Wh)
Li-Ion 3095 mAh, non-removable (12.11 Wh)
Reliable Performance
Apple iPhone 13 Pro, 128GB, Sierra Blue - Unlocked (Renewed)
A15 Bionic chip
6.1 inch Super Retina XDR display
Cinematic mode in 1080p@30 fps
Dolby Vision HDR video recording up to 4K@60 fps
6X optical zoom range
Up to 22 hours of video playback
IP68 rating for water resistance at 6 meters deep for up to 30 minutes
We earn a commission if you make a purchase, at no additional cost to you.
iPhone 14 Pro vs. iPhone 13 Pro: Full Comparison
The iPhone 13 Pro and iPhone 14 Pro are among the most popular iPhones, but the iPhone 14 Pro has the upper hand thanks to its improved camera, display, and several other things we'll discuss in the article below. Should you upgrade your 13 Pro, or is the 14 Pro overhyped?
Design
The two phones are nearly identical when it comes to design—at least at first glance. However, there are subtle differences that set them apart. For example, both phones feature Corning-made glass on the front and back, featuring a stainless-steel frame.
There aren't any notable differences in weight and the newer device is some 2 grams heavier than the predecessor. Of course, both are IP68 dust/water resistant and can withstand being submerged up to 20ft for 30 minutes.
However, the biggest difference comes on the front side of the device. iPhone 13 lineup, Pro model included, features a Face ID notch that Apple users have become accustomed to. However, Apple went the extra mile and replaced the Display Notch with Dynamic Island.
It's a pill-shaped interactive box around the front camera cutout and FaceID. However, unlike static Display Notch, Dynamic Island changes size and form based on the number of notifications and activities. Thus, it provides more display real estate for actual pixels on the screen, making it less obstructive for full-screen apps.
iPhone still hasn't implemented USB-C to its devices, something that was previously expected to happen with iPhone 14 Pro. The EU has been pushing for all consumer electronics manufacturers to implement the new standard to reduce e-waste. However, this conflicts with Apple's practice of using exclusive, first-party hardware.
Instead, both devices feature a Lightning port on the bottom. Apple is currently investing heavily in wireless charging and data transfer as a circumvention for European. The SIM tray is also omitted on both models aimed at the US market—Apple decided to use eSim instead.
Display
Both phones feature the same LTPO Super Retina XDR OLED 6.1-inch display. However, iPhone 14 Pro has a slightly larger screen-to-body ratio thanks to thinner bezels and the Dynamic Island implementation.
Both displays also feature a ProMotion adaptive refresh rate that makes the 120Hz screen smoother and more power efficient. This feature was first introduced on iPhone 13 Pro, and it basically scales the screen refresh rate down to 1Hz. This happens once the phone enters standby mode, and its purpose is to limit battery consumption.
The ProMotion's effectiveness really shines with Apple 14 Pro's newly introduced Always-On display. It scales the refresh rate of Always-On Display to once per second, allowing you to see all the notifications and widgets. But the battery consumption is significantly lower than on phones whose AODs run at 120Hz constantly.
There's also some difference in the brightness since the iPhone 13 Pro has a maximum of 1,200 nits, whereas the new model has up to 2,000 nits. As a result, the iPhone 14 Pro is more visible outdoors and has a more accurate color.
Hardware
The iPhone 14 Pro comes equipped with a new A16 Bionic Hexa-core chip. Two Everest cores are running at 3.46GHz, with four Sawtooth cores running at 2.02GHz. This is the same chip found in iPhone 14 Pro Max model but a different one from the one found in the base iPhone 14.
The latter actually used a modified version of the A15 chip found in the iPhone 13 Pro. It's also a Hexa-core processor with two cores running at 3.23GHz and four cores running at 1.82HGz. However, iPhone 14's (base model) has 5 GPU cores, whereas iPhone 13 Pro has four.
These specs make A16 the real star of this segment, as its 4nm architecture allows for more transistor placement across the silicon die. This significantly boosts efficiency and performance—and Apple claims that the new chip uses 20% less power. Lower power consumption means better battery life.
This isn't to talk down on the iPhone 13 Pro, as it still sports excellent performance metrics. In fact, it has all the power you'd expect from a smartphone. However, the 14 Pro has unquestionably better performance. The two phones have the same storage capacity, regardless of whether you're looking at the standard or upgrade storage options.
Camera
The difference in camera performance between iPhone 13 Pro and iPhone 14 Pro is massive. The former uses 12MP sensors on both the main and selfie camera. The difference in apertures and the main uses f/1.5, ultrawide—f/1.8, and telephoto—f/2.8 aperture.
However, Apple decided to catch up with its main competitors, so it upped the camera sensors in terms of megapixels. The main camera now sports a 48MP sensor with f/1.78 aperture, while ultrawide and telephoto cameras sport 12MP sensors with f/2.2 and f/2.8 apertures. The added benefit is the TOF LiDAR 3D scanner that's used for Apple's AR implementations.
The performance between these two is like Heaven and Earth. The newer model has larger sensors and upgraded stabilization and processing, resulting in much cleaner and more detailed images. The 48MP sensor really shines when capturing ProRAW pictures, as it packs an incredible number of details. So, if you're into iPhone photography, iPhone 14 Pro is the right phone for you.
Software
Software-wise there's very little difference between the two devices. iPhone 14 Pro ships out with iOS 16, while 13 Pro ships out with iOS 15. However, both can be updated to the newest version of the OS, eliminating any differences.
The only real difference is in the Crash Detection services. iPhone 14 Pro has a clear advantage in this department, as it also sports Crash Detection—a feature that detects car crashes and notifies emergency services and contacts. iPhone 13 Pro doesn't have Crash Detection, but it features Emergency Services, which allows you to contact help using a satellite network.
Battery Life
When it comes to battery life, the iPhone 14 Pro isn't much better than the 13 Pro. This is likely due to the always-on display, but as always, battery life is subjective since nobody knows how long and for what you'll use your phone the most between two charges.
You can get about 10 to 12 hours, depending on how you use either phone. The iPhone 13 Pro charges 53% in half an hour, while the iPhone 14 Pro charges 57% during the same period.
Price
The iPhone 13 is already a high-price phone, but the iPhone 14 Pro is understandably even more expensive. One thing to understand is that Apple no longer sells the 13 Pro and 13 Pro Max since it launched 14 Pro models. However, these are still available at third-party retailers, but we expect them to run out pretty quickly.
The renewed version of the iPhone 13 Pro can be found for approx. $800 on Amazon. The starting price for iPhone 14 Pro is approx. $1000.
Latest iPhone Pro
Apple iPhone 14 Pro, 128GB, Deep Purple – Unlocked (Renewed)
6.1-inch Super Retina XDR display featuring Always-On and ProMotion.
Dynamic Island, a magical new way to interact with iPhone.
48MP Main camera for up to 4x greater resolution.
Cinematic mode now in 4K Dolby Vision up to 30 fps. Action mode for smooth, steady, handheld videos.
A16 Bionic, the ultimate smartphone chip. Superfast 5G cellular.
We earn a commission if you make a purchase, at no additional cost to you.
iPhone 14 Pro vs. iPhone 13 Pro: 5 Must-Know Facts
Apple iPhone 13 Pro is still available at authorized retailers. It's also available through Amazon's Renewed program.
iPhone 14 Pro uses a new A16 chip, but the base iPhone 14 uses an upgraded version of the iPhone 13 Pro chip.
iPhone 13 Pro is the first iPhone to feature a display with a scalable refresh rate. This feature is now implemented across the majority of Apple's newly released devices.
Apple iPhone 13 Pro has more color schemes compared to iPhone 14 Pro
The US versions of the iPhone 14 Pro are eSIM only.
iPhone 14 Pro vs. iPhone 13 Pro: Which is Better?
There's no doubt that iPhone 14 Pro is a better device due to its more powerful hardware. However, apart from several high-end features, there's no difference in basic functionality. In other words, for users that only text, call, and browse social media, iPhone 14 Pro is a pricey upgrade over the 13 Pro.
But if you're looking for a top-notch camera, Crash Detection, or an incredibly bright display, iPhone 14 Pro is a must.
Read Next:
The image featured at the top of this post is ©guteksk7/Shutterstock.com.