Although divided by two years, the iPhone 11 and iPhone 13 are still quite similar in many aspects. Apple has been doing a great job in keeping the design of their years-old iPhones updated.
The iPhone 13 is a gradual upgrade over the iPhone 12 but, compared to the iPhone 11, it brings a world of change. The new iPhone has flatter sides than its predecessor, and it also comes with a number of other improvements, such as a more powerful processor, better cameras, longer battery life, and more.
This iPhone 11 vs. 13 comparison breaks down the similarities and differences between these two smartphones to help you choose the right device for your needs.
iPhone 11 vs. 13: A Side-by-Side Comparison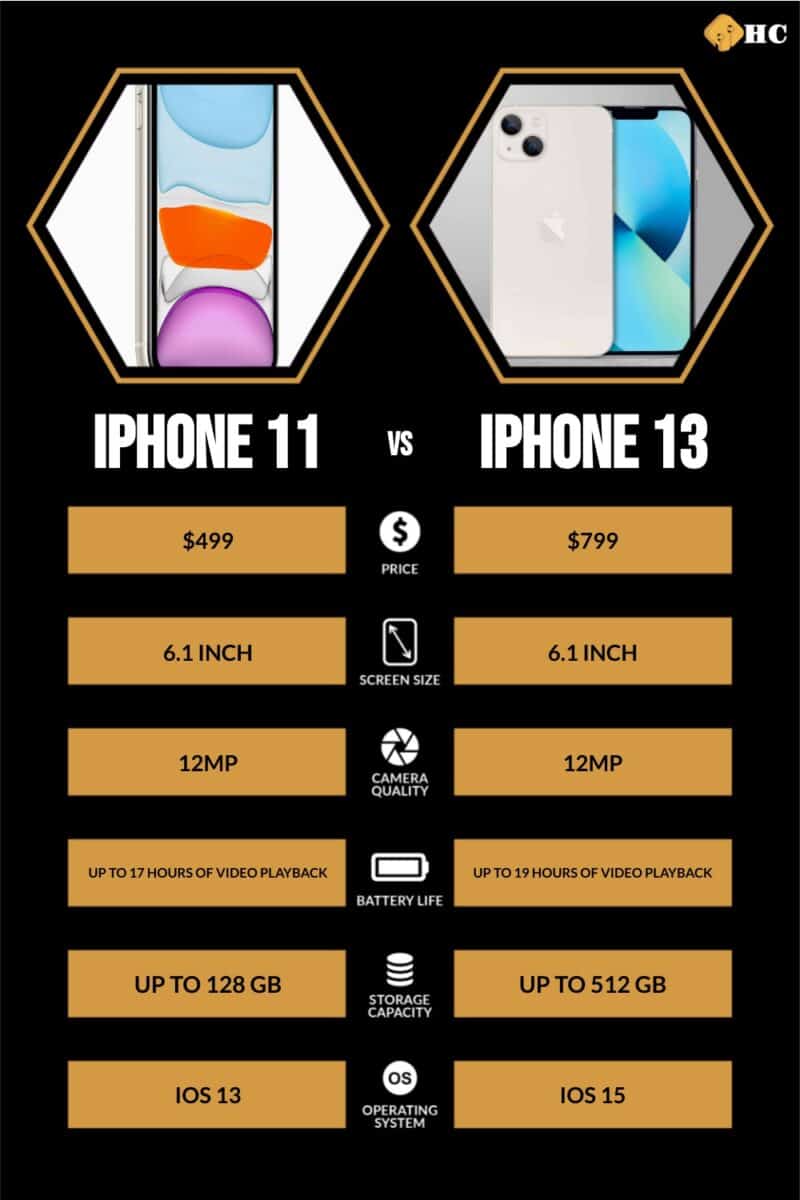 | | iPhone 11 | iPhone 13 |
| --- | --- | --- |
| Release Date  | September 20, 2019 | September 24, 2021                 |
| Storage | 64GB, 128GB | 128GB, 256GB, 512 GB      |
| System on a Chip       | A13 Bionic | A15 Bionic    |
| Memory           | 4 GB LPDDR4X | 4 GB LPDDR4X           |
| Dimensions | 5.9 x 3 x 0.33 inches | 5.8 x 2.8 x 0.3 inches  |
| Screen Size      | 6.1 inches | 6.1 inches          |
| Cameras | Rear: 2 (f/1.6, f/2.4), Front: 1 (f/2.2) | Rear: 2 (f/1.6, f/2.4), Front: 1 (f/2.2) |
| Available Colors         | Black, Green, Purple, Product(RED), White, Yellow | Midnight, Starlight, Product(RED), Blue, Pink, and Green    |
| Weight | 6.84 oz | 6.1 oz  |
| Front Camera | 12MP TrueDepth (ƒ/2.2) | 12MP TrueDepth (ƒ/2.2) |
| Rear Cameras | 12MP main (ƒ/1.6), 12MP ultrawide (ƒ/2.4) | 12MP main (ƒ/1.6), 12MP ultrawide (ƒ/2.4) |
| Price | $499 | $799   |
| Operating System      | iOS v13 | iOS v15      |
| Water Resistance          | IP68 | IP68 |
| Available Models | iPhone 11, iPhone 11 Pro, iPhone 11 Pro Max | iPhone 13, iPhone 13 Mini, iPhone 13 Pro, iPhone 13 Pro Max |
iPhone 11 vs. 13: 6 Key Points and Must-Know Facts
The iPhone 11 was released on September 20, 2019, and the iPhone 13 was released in the fall of 2021.
Both phones have Face ID and TrueDepth camera technology, so you can unlock them using your face.
The iPhone 11 is powered by an A13 Bionic chip, while the iPhone 13 is powered by an A15 Bionic chip.
The iPhone 13 has an OLED screen which means you'll get better color accuracy than the LCD on iPhone 11.
The devices have been made water resistant up to IP68 standards, meaning they can withstand submersion in up to six feet of water for up to 30 minutes at a time without causing damage or malfunctioning.
The iPhone 13 has MagSafe, whereas the iPhone 11 only has regular wireless charging.
iPhone 11 vs. 13: Key Differences
The iPhone 11 and iPhone 13 are both from Apple, but they're not exactly the same. The two phones have some features in common, but there are also some key differences that make them unique.
Design and Display
Although they both have an "all-screen" 6.1-inch display, the iPhone 11 and 13 are not quite the same. While the iPhone 13 has an OLED display with sharper colors and deeper blacks, the iPhone 11 has an LCD display. For added protection against butterfingers, it also has the unmistakably superhero-sounding Ceramic Shield.
There are a few additional visual cues that identify the phone model you have. The iPhone 13 has flat edges, which is part of Apple's newer design. The notch on the iPhone 13 is also smaller. Although the top left corner of both devices has a dual camera array, the iPhone 11's two lenses on the rear camera bump are arranged vertically, while the iPhone 13's are arranged diagonally.
There isn't much of a weight difference between the iPhone 11 and iPhone 13, which weigh 6.84 and 6.14 ounces, respectively. They are also sized fairly similarly. The iPhone 11 is slightly larger than the iPhone 13 (5.78 inches by 2.82 inches by 0.30 inches), measuring 5.94 inches by 2.98 inches by 0.33 inches.
If color is an important part of your decision, the iPhone 11 gives you six options, while the iPhone 13 only gives you five. Each has a Product(RED) selection, but the shades of red are slightly different. The iPhone 13 also comes in two other colors with names that could use some explanation: Midnight, a black color with a faint blue tint, and Starlight, a silver color with gold accents.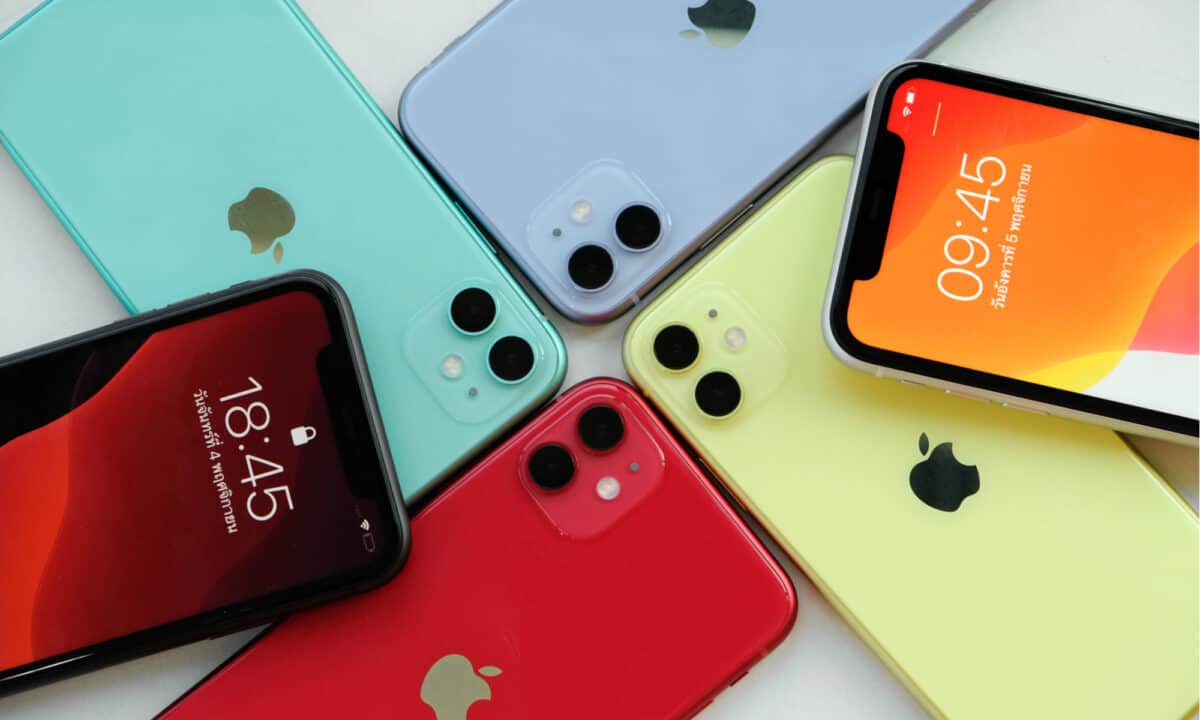 Cameras
In this respect, the iPhone 13 differentiates itself significantly from the iPhone 11. To begin with, the new ultrawide sensor admits 47% more light than the iPhone 12. In addition, the primary wide-angle 12MP camera now includes sensor-shift image stabilization, a feature previously reserved for the iPhone 12 Pro Max.
Better low-light performance can be anticipated thanks to the iPhone 13's wide-angle camera's f/1.6 aperture, which is a significant improvement over the iPhone 11's f/1.8.
The iPhone 13 also includes a new feature called "Photographic Styles," which allows users to apply their aesthetic preferences to their photos in real-time. Imagine a filter, but much more powerful.
If you're shooting videos with your new iPhone 13, Cinematic Mode is the coolest new feature. When the subject changes, so does the focus. If the subject breaks eye contact, the camera will follow the subject's gaze.
The iPhone 13's improved support for HDR Dolby Vision means that its video quality should improve across the board.
Performance
The iPhone 13 has 5G support, which the iPhone 11 does not. That means you'll be able to connect to faster 5G networks, which are expanding across the country and around the world.
In terms of raw performance, the A15 Bionic is the fastest chip inside a phone, once again. This 5nm chip should outperform the 7nm A13 Bionic in the iPhone 11, particularly in graphics-intensive games and more demanding tasks like video editing. The A13 Bionic, on the other hand, is adequate for daily use.
The 16-core neural engine in the iPhone 13, up from 8 cores in the iPhone 11, provides the biggest performance boost. This helps with everything from image signal processing to iOS 15's Live Text camera feature.
Battery and Charging
Comparing the iPhone 13's 3227mAh battery to the iPhone 11's 3110mAh battery, the iPhone 13 has a slightly larger battery cell.
Realistically, we can use both phones for a day straight, but the iPhone 13 can handle more video recording and gaming while still lasting that long, whereas the iPhone 11 would last a little bit less.
Concerning chargers, Apple 'innovated' in recent years by omitting chargers and headphones, and this will continue with the iPhone 13. Yes, even if you already have an older charger, a fast charger for the iPhone 13 costs an additional $20 if you want to take advantage of fast charging speeds.
Regarding charging rates, there isn't much difference between the iPhone 13's maximum rate of 20W and the iPhone 11's maximum rate of 18W. However, the recent iPhone 13 has a MagSafe with magnets inside, so it snaps neatly to compatible chargers to get the best charging speeds. Both phones also support wireless charging, and any Qi charger will work. Additionally, the iPhone 13 offers wireless charging speeds of up to 15W, while the iPhone 11 offers only 7.5W.
Price and Availability
In keeping with Apple tradition, the iPhone 11 is still a part of the company's official lineup of smartphones, but it is now available for $499. It is currently Apple's second-cheapest model in the lineup that is still in stock, with the SE taking the top spot.
The price of the new iPhone 13 is $799, which is slightly less than the price of the 12 from last year in the UK but the same in the U.S. However, with double the storage as standard, you get more for your money.
It's important to note that neither EarPods headphones nor a charging adapter are included with any of the iPhone models. As a result, if you require either, you can now purchase them as extras. This is part of Apple's green initiative. All you get is a cable.
Pros and Cons of iPhone 11
| Pros | Cons |
| --- | --- |
| Powerful A13 processor | The ultra-wide camera lacks autofocus and Night Mode |
| The main camera produces very good photos, Night Mode works as advertised | No 3.5mm jack, and limited NFC implementation |
| Amazing video quality and stabilization across the board | Comes bundled with a meager 5W charger in the box |
| iOS provides a smooth user experience | A higher resolution screen would have made it more competitive |
| Stereo speakers with great quality | The notch is still enormous, and so are the bezels |
| The calibration between the two snappers is excellent and allows for Crop Outside Frame, simultaneous video capturing, and smooth switching during recording | Only Pro models get the 2x telephoto |
| Excellent battery life and fast charging support | No headphone dongle in the box |
| The screen has excellent brightness and contrast |   |
| Tougher and water resistant design, glossy back |   |
Pros and Cons of iPhone 13
| Pros | Cons |
| --- | --- |
| Great all-around photo and video quality across all three cameras | The fast charging isn't very fast and the charger is not bundled |
| Unmatched performance, 5G | The notch is still an eyesore even if smaller |
| Loud stereo speakers with excellent output | No 120Hz refresh rate |
| Strong battery life | Minor upgrade over iPhone 12 |
| Bright OLED screen, HDR10, Dolby Vision | Selfie camera sensor unchanged |
| Outstanding design – sturdy and water-proofed |   |
| Increased base storage |   |
iPhone 11 vs. 13: Which is Actually Better?
The iPhone 13 is not a dramatic improvement over the iPhone 11, but it provides enough improvements to make upgrading worthwhile. The most significant changes are 5G connectivity, a brighter display, improved wide and ultra-wide cameras, and computational photography features like Cinematic Mode and improved Night mode. The additional storage space for the base model is also a welcome addition.
If you want something truly unique, you could perhaps wait for the rumored iPhone 14, which is expected to ditch the notch and possibly include under-display Touch ID. If you're concerned about getting the most bang for your buck and 5G, the new $429 iPhone SE (2022) is a good option. However, if you're looking to upgrade right now, the iPhone 13 appears to be a great choice.
Ultimately, the winner of this iPhone 11 vs. 13 comparison will depend on your pecific needs, budget, and preferences.
Up Next…
Let's take a look at more articles about iPhones!