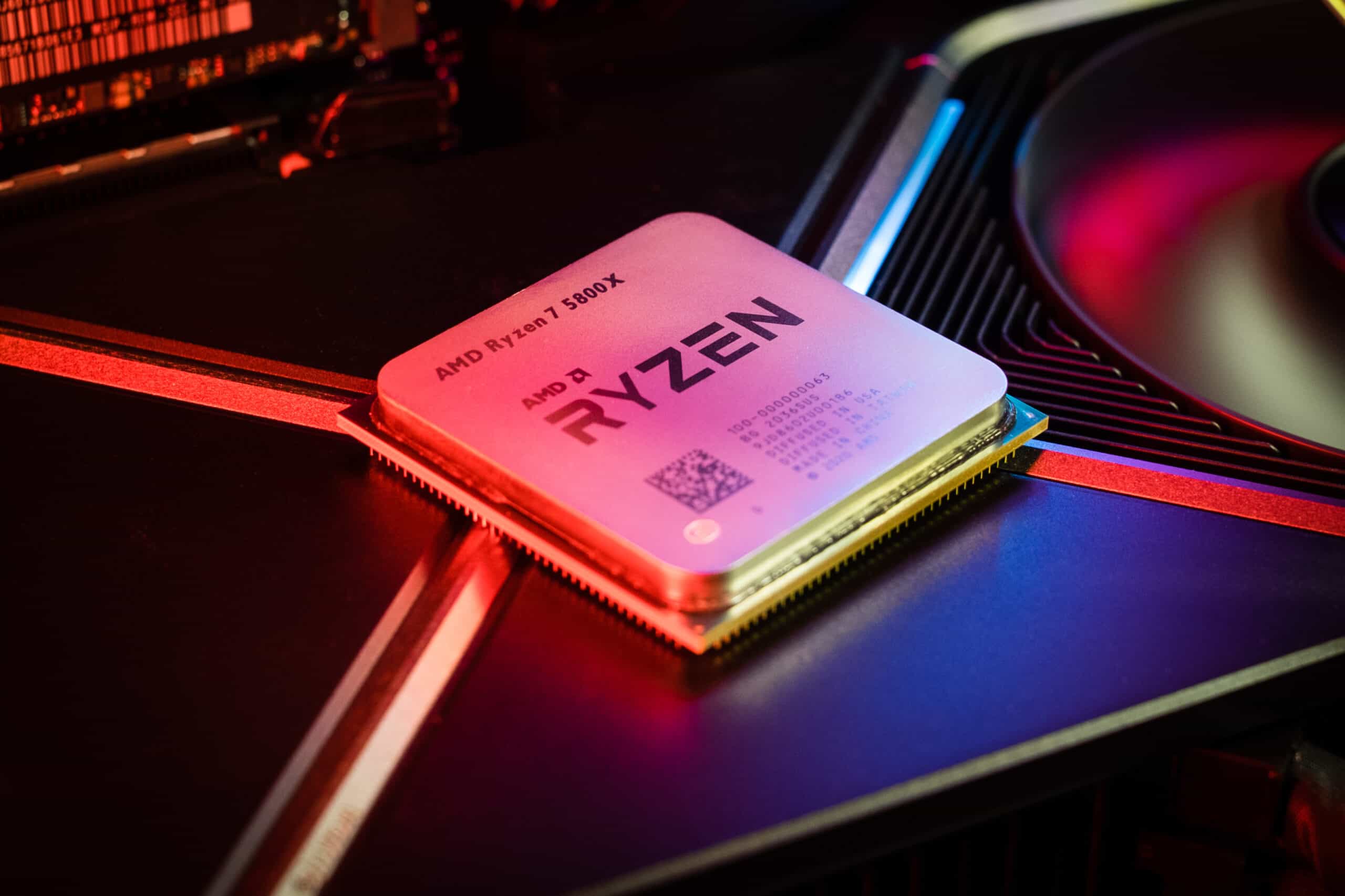 Prospective computer builders are faced with a variety of seemingly endless choices. The most crucial choice when it comes to building a computer, however, is the CPU. Without a CPU, a computer simply doesn't function. There are two long-time rivals for choosing a CPU in the DIY PC building space, Intel and AMD. Today's guide is taking a closer look at the Intel i7 13700K vs the AMD Ryzen 9 7900X.
This pair of CPUs is at a similar price point on the market and occupies the mid-to-high range space for CPUs. Picking a CPU for your next build can be challenging, and if you're demanding great performance, it can be even more daunting to take a closer look at the specs to choose the right model for you.
Intel i7 13700K vs AMD Ryzen 9 7900X: Side-By-Side Comparison
| | Intel i7 13700K | AMD Ryzen 9 7900X |
| --- | --- | --- |
| Cores | 16 | 12 |
| Threads | 24 | 24 |
| Clock Speed | 3.4 GHz | 4.7 GHz |
| Fabrication Process | 10 nm | 5 nm |
| Memory Type | DDR5-5600, DDR4-3200 | DDR5-5200 |
| TDP | 125 watts | 170 watts |
| Integrated Graphics | UHD Graphics 770 | Ryzen 7000 |
| Supports Overclocking? | Yes | Yes |
Intel i7 13700K vs AMD Ryzen 9 7900X: What's the Difference?
Both of these CPUs occupy a similar price point and offer up a similar level of performance. While their intended market niche is decidedly different, they have more in common than you'd think. On paper, the Ryzen 9 has some more impressive specifications but lacks the real-world performance to go toe-to-toe with the i9 series of processors.
Conversely, the i7 acquits itself quite well, providing good value for the money. Over the course of multiple tests, it showed itself to be a competent and well-performing CPU.
While it lacks the more refined process manufacture or the overall thread count of the Ryzen 9, its performance during games and benchmarks alike show it in a favorable light. Prospective builders can rest easy knowing either choice is an extremely solid one, but the i7 is overall the better CPU.
So, what makes either of these CPUs a viable choice for your next desktop build? Consider what you're looking for in terms of absolute performance when it comes to your use case. In the custom desktop space, there are a variety of potential uses for the hardware. Let's go over some of the more specific details of each of these CPUs.
Intel i7 13700K
Intel Core i7-13700K Desktop Processor 16 cores (8 P-cores + 8 E-cores) 30M Cache, up to 5.4 GHz
16 cores (8 P-cores + 8 E-cores) and 24 threads. Integrated Intel UHD Graphics 770 included
Performance hybrid architecture integrates two core microarchitectures, prioritizing and distributing workloads to optimize performance
Up to 5.4 GHz unlocked. 30M Cache
Compatible with Intel 600 series and 700 series chipset-based motherboards
Turbo Boost Max Technology 3.0, and PCIe 5.0 & 4.0 support. Intel Optane Memory support. No thermal solution included
We earn a commission if you make a purchase, at no additional cost to you.
The i7 13700K isn't the top of the line from Intel, at least in the consumer desktop space. There is plenty of power and features to give potential users the performance they need, however. 16 cores are present on the CPU, with multi-threading support for up to 24 individual threads.
The base clock speed of the i7 is slower by default than the Ryzen 7900X, but overclocking levels the clock speeds to comparable speeds. 5.3 GHz is the top clock speed under a stable overclock, and users wouldn't likely be missing much in terms of performance.
There is a good deal of flexibility in terms of RAM compatibility, with the i7 being able to leverage sticks of RAM from DDR4 and DDR5. Single-thread and multi-thread performance from the i7 is exemplary, and during tests and benchmarks it edges out the Ryzen 9 with some degree of ease.
Intel has had a rough few years in terms of delivering value and performance in the desktop space, but this i7 seems to be a return to form. Power efficiency and temperature during load are likewise impressive, with a maximum of 253 watts being drawn from the wall during load.
Under extreme load, the i7 can achieve temperatures of up to 100 degrees centigrade before the system throttles to prevent damage. Utilizing the same GPU for both testing units also resulted in a slight edge towards the i7, with slightly higher frames-per-second across a smattering of current mainstream PC titles.
AMD Ryzen 9 7900X
AMD Ryzen™ 9 7900X 12-Core, 24-Thread Unlocked Desktop Processor
The world's best gaming desktop processor that can deliver ultra-fast 100+ FPS performance in the world's most popular games
12 Cores and 24 processing threads, based on AMD "Zen 4" architecture
5.6 GHz Max Boost, unlocked for overclocking, 76 MB cache, DDR5-5200 support
For the state-of-the-art Socket AM5 platform, can support PCIe 5.0 on select 600 Series motherboards
Cooler not included
We earn a commission if you make a purchase, at no additional cost to you.
The Ryzen 9 7900X fills a particular niche right below the top-of-the-line Threadripper CPUs from AMD. As such, they're more comparable, at least on paper, to the i9 series of CPUs from Intel. The performance of the Ryzen 7900X, however, is more akin to the i7 range of CPUs, despite the cost being slightly higher than the i7.
A higher base clock of 4.7 GHz means the CPU itself runs a little hotter than average. The manufacturing process is brand new for the Ryzen 9, being a 5 nm die process. The power draw on average is significantly higher than the i7, coming in at an average of 170 watts and a nominal maximum of 230 watts of power under load.
It is slightly more efficient when it comes under heavy load, but you'll need a more robust power supply to provide power as it sits. Performance is slightly worse than the i7 but is still quite phenomenal considering the price range.
While it might not stack up completely favorably to the i7, it is still a phenomenally fast CPU for the money. If you're looking for i9 levels of performance, you'll most assuredly be disappointed. Prospective customers will need to temper their expectations.
Intel i7 13700K vs AMD Ryzen 9 7900X: 9 Must-Know Facts
Intel i7 13700K
Supports overclocking.
Compatible with DDR4 and DDR5 RAM.
Lower thermal draw.
Supports a maximum overclock of 5.3 GHz.
AMD Ryzen 9 7900X
Supports overclocking.
Compatible with DDR5 RAM.
Higher thermal draw at idle, less while under load.
Supports a maximum overclock of 5.6 GHz.
Has more effective cores.
Intel i7 13700K vs AMD Ryzen 9 7900X: Which One Is Better?
So, which is the better CPU? In terms of raw performance, the edge goes to the Intel i7, which not only outperforms the AMD Ryzen 9 but does so with fewer cores and a less refined manufacturing process. Without getting into the endless performance wars, the i7 presents a better overall product and the suggested retail price is lower than AMD's offering.
However, both of these offerings are more than capable CPUs and should provide years of issue-free computing and gaming. Whichever you choose, do keep in mind that both of these CPUs will require accompanying motherboards with a compatible socket set.
If you're looking to repurpose older DDR4 RAM sticks, the i7 certainly has the means to leverage those until you're able to get DDR5 sticks. The Ryzen 9 7900X might not be the absolute best choice for gaming, but those seeking to leverage the multiple cores for work in video editing and AI modeling will no doubt benefit from the additional cores.
In short, if you're gaming, choose the i7. If you are looking to do work requiring sheer core count over anything else, the Ryzen 9 is the better choice. Either way, these are rock-solid CPUs that won't disappoint in a variety of use cases.