There is no better experience than watching movies in IMAX vs 4DX theaters. IMAX has been dominant since the mid-20th century and has made significant advancements over the years.
In fact, IMAX used only one projector and camera, as well as a single large format screen, to show its first movie at Expo '70 in Osaka, Japan. Today, IMAX boasts over 1,700 screens globally in more than 80 countries and territories with powerful projectors that can project 3D images.
4DX is the immediate competitor to IMAX, and it has introduced modern technology that focuses on the multi-sensory cinematic experience. While both formats offer audiences a unique way to experience their favorite films, enhancing the cinematic experience, they differ in several key aspects.
That's why knowing about their key differences is important before visiting your next movie theater. Here is everything you need to know about IMAX vs 4DX.
IMAX vs 4DX: Side-by-Side Comparison
| | IMAX | 4DX |
| --- | --- | --- |
| What it is | One of the best film theaters in the world, with gigantic screens | Modern theater with 4D movie technology that includes the use of sensor effects |
| Introduction year | 1970 | 2009 |
| Developed by | IMAX Corporation | CJ 4DPLEX |
| Screen Size | Gigantic screens | Standard screen sizes, similar to those in traditional movie theaters |
| Number of screens | Over 1,700 screens | Over 700 screens |
| Average ticket price | The cheaper option costs $19.67 per ticket | More expensive costing $25 per ticket |
| Availability | Available in more than 80 countries and territories around the world | Available in over 65 countries |
| Multi-sensory effects | None | 21 sensory effects |
IMAX vs 4DX: What's the Difference?
Cinephiles have mixed reactions about the best movie theater when choosing between IMAX and 4DX. Some claim that IMAX is the best movie theater because of its big screen and powerful sound system, while others praise 4DX for its physical effects that stimulate your senses, making the movie more of a reality.
So, which one is the way to go: IMAX or 4DX? The following key differences will guide you in selecting the best option.
Screen Size
IMAX has gigantic screens, and that's what makes it dominant. They have two different theaters, IMAX theaters, and IMAX domes, categorized based on the screen type. If you visit an IMAX theater, you will find a huge curved rectangular screen covering the entire front.
Usually, the screen measures 16 meters high by 22 meters wide, but you will discover some IMAX theaters with much larger screens up to 30 meters high. The large screens enable you to see the movies from a broad angle, which attracts your full attention and makes you feel the realistic effect of the film.
The IMAX theater is more of a traditional theater, but if you seek an experience that's out of this world, IMAX domes will fulfill your needs. IMAX domes provide a hemispherical screen with a diameter of up to 30 meters.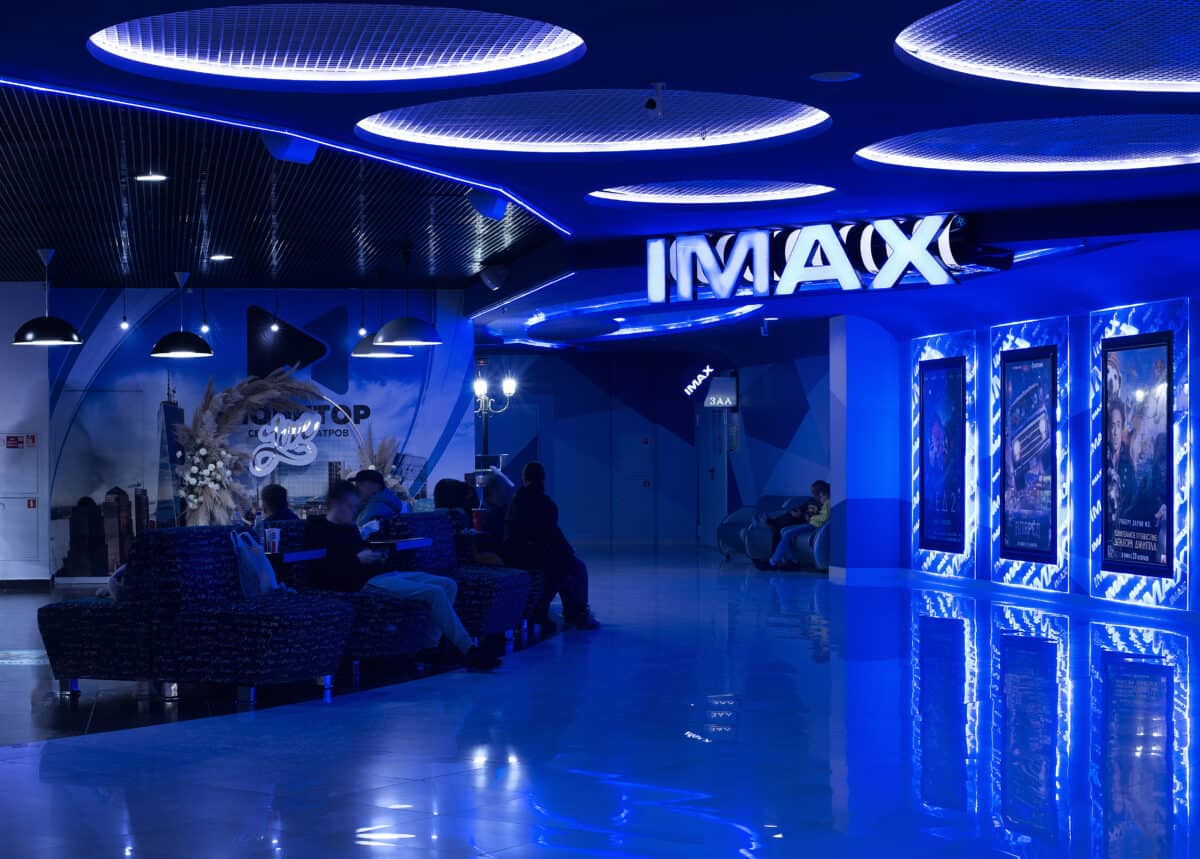 Unlike other famous theaters with big screens, such as ScreenX, IMAX domes have gone the extra mile to include dome-shaped screens that wrap the entire theater.
Shifting our attention to 4DX, it has a small screen compared to most regular theaters. The screen at 4DX theaters is plain and straight and does not cover the whole front wall of the theater like the one in an IMAX theater.
Filming Process
The IMAX filming process involves the use of specialized cameras and film stocks to create high-resolution, large-format images that are optimized for projection on large screens in IMAX theaters. Most films shown in theaters are in 35-millimeter format, while others can be shot and printed in a 70-millimeter format.
Unlike regular theaters, IMAX uses the 15/70 film format, meaning each frame is 70mm high and 15 perforations wide. The 15/70 IMAX film format is about 10 times bigger than the 35-millimeter format, making its films very clear and of high quality. Since IMAX films are larger than the standard film format, powerful projectors must be used to display the movies successfully.
In order to ensure the movies shown will fill the huge screen at IMAX cinemas, the films move through the projectors horizontally rather than vertically. Also, they use a vacuum system that ensures the image is perfectly positioned in front of the lens for a perfect movie display.
Unlike the IMAX theater, 4DX doesn't concentrate on powerful projectors to show their films; rather, they focus on the immersive multi-sensory cinematic experience. Namely, 4DX incorporates on-screen visuals with lifelike effects such as motion seats and real-world environmental effects such as water, wind, and fog.
For instance, if a car in the movie is moving to the left, the motion seats will also move to the left. 4DX has made great advancements in 4D movie technology with 21 types of signature effects, such as scent and lighting.
Movie Titles
Both IMAX and 4DX have a wide range of movie titles. Among the famous movie titles in IMAX theaters are Marvel Studios' Avengers: Infinity War and Avengers: Endgame, which are the highest-grossing superhero movies.
The upcoming releases at IMAX include Creed II and Creed III, Shazami Fury of the Gods, John Wick: Chapter 4, Dungeons & Dragons: Honor Among Thieves, and Fast X. If you are an animation enthusiast, you will enjoy titles such as Disney Fantasia, Beauty and the Beast and The Lion King.
Some titles in 4DX are similar to those in IMAX, such as Fast X, Shazam Fury of the Gods, and Creed III. There are more films to be expected in 2023, such as The Flash, Spider-Man: Across the Spider-Verse, and Scream VI.
Availability
Both IMAX and 4DX have expanded their market share around the globe. Today, IMAX has more than 1,700 theaters in over 80 countries, while 4DX is available in 65 countries with over 80 theaters.
Price Per Ticket
The price of a movie ticket in both IMAX and 4DX theaters is higher than in standard ones. But between the two, IMAX is the cheaper option. It will cost you about $19.69, which is relatively more expensive than the average cost in a regular theater ($9.57).
4DX, on the other hand, is far more expensive than what you will pay for a ticket in a regular cinema. It will cost you about $25 for a single seat. 4DX theaters are slightly more expensive than IMAX because of the 4D technology that requires much more planning and programming to incorporate all the 21 effects in the movie.
Comfort
If you want to enjoy snacks while watching movies, then the IMAX theater is the best option. It has comfortable seats and enough legroom to allow you to relax while enjoying your favorite flick.
However, you should choose your seat carefully as sitting in the front usually brings images too close to you and could be uncomfortable for some people. According to the wisdom of the crowds, the best sitting position is between 50% and 75% back from the screen.
On the other hand, 4DX is designed to be more immersive and interactive. It has shaking seats and includes 21 effects that could cause discomfort if you are prone to motion sickness or other sensory acuities. However, it's much more fun if you want to feel the real-world effects of films, such as fog, mist, and snow.
The History of IMAX
IMAX's history dates back to the late 1960s and early 1970s, when Graeme Ferguson, Roman Kroitor, and William C. Shaw decided to develop the first IMAX cinema projection standards and named their company IMAX Corporation. The company had its breakthrough in 1970 when it debuted its first film at the Fuji Pavilion in Osaka, Japan.
In order to remain relevant, IMAX introduced gigantic screens in their theaters, which could display a 70 mm film running through the projector horizontally. The advantage of projecting films horizontally rather than vertically on the screen is that it is about 3.4 times larger.
Apart from the large screens, IMAX has introduced Digital IMAX, a cost-effective system incorporating two 2k digital projectors to project on large screens with a 1.90:1 aspect ratio. The cheaper option has enabled IMAX to increase the number of theaters under its name from about 400 to 1,302 in a decade.
Today, IMAX has over 1,700 screens in 80 countries. Its largest screen measures 38 by 22m (125 by 72 ft) and is installed in Leonberg near Stuttgart, Germany. But that's about to change, since IMAX announced plans to reopen its theater at Melbourne Museum in Melbourne, Australia, in 2023, which will include the world's largest IMAX screen. It will measure 693 square meters and will be the world's third-largest screen.
Touching on 4DX, it doesn't compete with large-screen theaters but is also advancing its 4D technology to include a four-sided screen format in its theaters. The four-sided screens cover the entire auditorium, including the ceiling, providing viewers with a panoramic view. So, both IMAX and 4DX are introducing significant digital cinema technology to ensure they become the best globally.
How 4DX Competes
Most famous theaters have focused much on the screens, but 4DX took a different path by utilizing 4D movie technology. What makes 4DX stand out are the 21 multisensory signature effects that occur in sync with the movie scene on the screen. The 21 effects include shaking seats, atmosphere effects, scents, and other significant effects.
The motion seats have been perfectly designed to include 8 different movements that are synchronized with the movie. It also has an AC Servo Motor, which controls the motion and speed of the seats to suit that of the movie you are watching. On top of the 8 effects, some 4DX theaters include leg ticklers that flap on your legs, mostly during scary scenes.
Apart from the motion seats, 4DX theaters include atmospheric effects, which provide an environment in the auditorium that is similar to the weather conditions in the movie. 4DX uses sprays, fans, and sometimes bubbles to achieve atmospheric effects.
4DX's movie technology is more advanced to include scents, which transport viewers' minds to the world of the movie. It has about 1000 scents that are programmed to be released at the correct time.
The multisensory effects make the 4DX a great competitor to other powerful theaters. You will find a more unique experience in a 4DX theater than in an IMAX theater, which is why it maintains its position as the leading 4D movie technology brand.
Pros and Cons of IMAX
| Pros | Cons |
| --- | --- |
| Superior screen and sound quality | Because not all films are formatted for IMAX screens, the selection of movies available in IMAX theaters may be more limited |
| Wide selection of movies | New movies play for limited times, which is a challenge if you want to see a specific movie |
| High-quality technology, i.e powerful projectors to project 15/70 film format | Screens may seem too close depending on the position of the seat, and sound may be too intense if you sit close to the speakers |
| Tickets are budget-friendly despite IMAX's advanced movie technology | IMAX 3D may disappoint by not looking like real 3D |
| Over 1,700 screens available globally | |
Pros and Cons of 4DX
| Pros | Cons |
| --- | --- |
| 21 multisensory effects that make the movie more of a reality | The effects in a 4DX theater may be overwhelming or cause nausea |
| Offers a unique experience that cannot be replicated at home or in traditional movie theaters | Tickets are way too expensive |
| Advanced 4D movie technology | The effects may be distracting |
| Wide selection of movies | Limited theaters around the globe |
IMAX vs 4DX: 5 Must-Know Facts
IMAX's highest-grossing film of 2022 is Avatar: The Way of Water, with $160 million total IMAX global box office. The highest-grossing IMAX release of all time is Avengers: Endgame. On the side of 4DX, Avatar: The Way of Water holds the record of the highest-grossing release of all time, bringing in $85 million, and continues to rise.
Leonberg, near Stuttgart, Germany, is home to the world's largest IMAX screen. The screen measures 38.80m x 21.00 m (127.2 ft x 68.8 ft).
4DX has a total of 21 different practical effects, including motion seats, strobe lights, and scents. However, you may not experience all the effects in one theater as they vary depending on the 4DX cinema you visit.
IMAX uses two 2K projectors to show films either in 2D or 3D. The projectors are powerful enough to display high-quality images in the 15/70 mm film format. 4DX, on the other hand, uses multi-screen projection, plus the 21 effects, to deliver a 4D movie-watching experience.
IMAX tickets are relatively cheaper than 4DX. An IMAX ticket will cost you roughly $19, whereas you will have to pay $25 for a single ticket when visiting a 4DX theater.
IMAX vs. 4DX: Which One Is Better?
IMAX and 4DX have different ways of showing their films. While IMAX uses gigantic screens to display high-quality images, 4DX utilizes 4D technology and includes physical effects to make the movie experience more of a reality. So, the best choice between IMAX and 4DX will depend on your preference and the kind of movie you want to watch.
IMAX will be the perfect option if you want to relax and enjoy your movie without physical effects. In contrast, if you want to have a movie-watching experience that is more interactive and immersive, with motion seats and special effects, then 4DX will be the perfect option. Watching horror movies in 4DX theaters will be more interesting because of the physical effects that make horror movies so scary.
Up Next