Key Points
IBM, which stands for International Business Machines, was founded in 1911 to manufacture specific hardware for businesses.
FORTRAN was initially developed in the early 1950s as a new way to program the early IBM mainframe computers. It revolutionized the method by which computer scientists and programmers worked.
IBM is also famous for successfully implementing bar codes and magnetic stripe data.
IMB was initially founded in 1911 as the Computing-Tabulating-Recording Company by Charles Ranlett Flint. However, it's next president, Thomas Watson, Sr., renamed it IBM which stands for International Business Machines. IBM is known as a world leader in technology and its implementation into products for both consumer and business markets. However, it also pushes the fields of technology and computing to new heights with its research and development. Some of IMB's most important inventions include FORTRAN, universal product codes, and magnetic card stripes. It has also made numerous acquisitions over the years of several multi-million dollar companies.
The History of IBM: What to Know
IBM, which stands for International Business Machines, was initially known as CTR, short for Computing-Tabulating-Recording Company, a company founded in Endicott, NY. 13 years later, the new company president rechristened the successful corporation International Business Machines, Inc., or IBM for short. Known at first for calculating devices and business products, IBM has grown significantly over 100 years, building a number of revolutionary computers, early operating systems, and related products from countless locations throughout the world. In the modern era, IBM has branched out into cloud services and artificial intelligence with its Watson project.
Quick Facts
Year Founded

1911

Founders

Charles Ranlett Flint

Industry

Computing, Technology Services, Office Products and Equipment, Cloud Services

Headquarter

Armonk, NY

Key People

Charles Ranlett Flint, Thomas Watson, Sr., Thomas Watson, Jr., Arvind Krishna, Jim Whitehurst, Paul Rand

Notable Products

FORTRAN, punchcard systems, Selectric Typewriter, mainframes, personal computers, printers, Watson

Website

https://www.ibm.com/us-en?ar=1
The Founding of IBM: How it Happened
Flint's Computing-Tabulating-Recording Company was founded as a combination of four separate companies that each manufactured specific hardware for business purposes. Those businesses were the International Time Recording Machine, The Tabulating Machine Company, Bundy Time Recording, and the Computing Scale Company.
IBM Through The Decades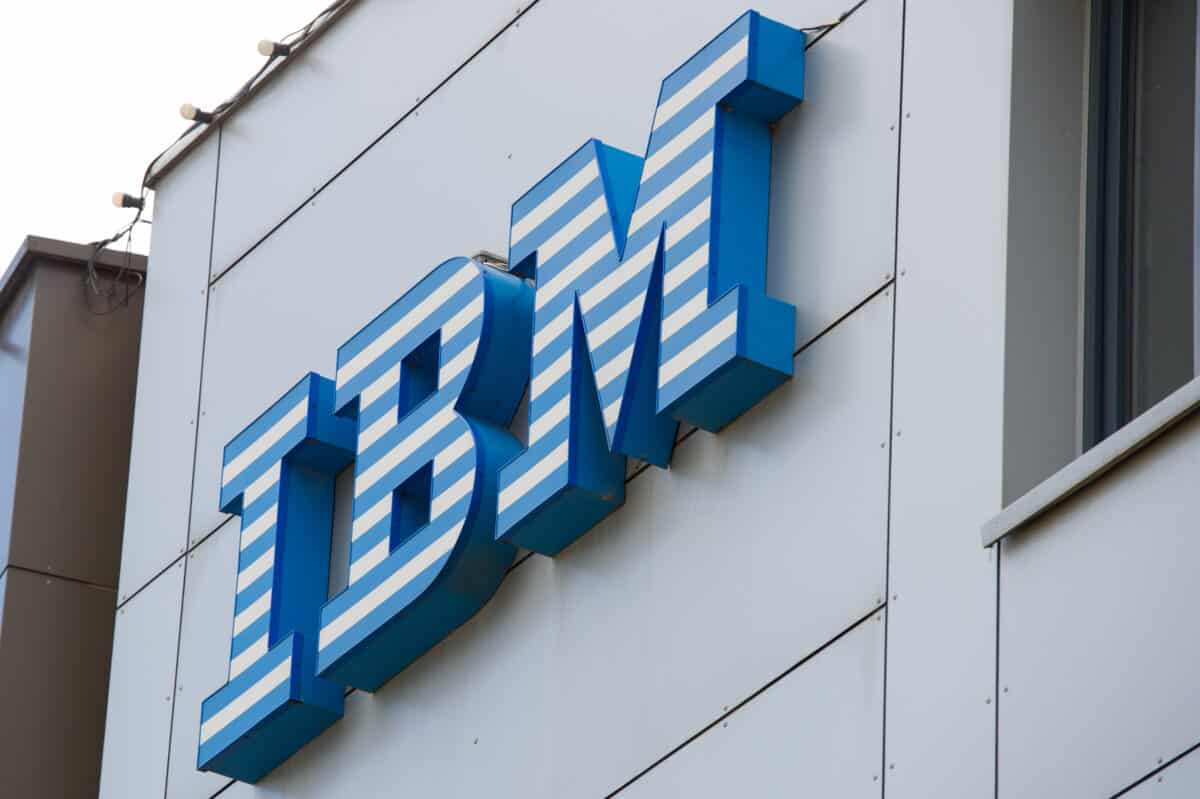 1911-1920
Early on in its existence, CTR had locations in three states, Toronto, and Washington, D.C. The corporation expanded into more mechanical equipment over the years in a number of different industries. The founder hired Thomas Watson, Sr., in 1914 and shortly thereafter became president. The corporation's revenue boomed with Watson's leadership, earning over $9,000,000 by the end of the decade.
1921-1930
In 1924, Watson renamed the corporation after its Canadian division's official name, International Business Machines, as it expanded into more overseas locations. Over time, the entire corporation was well known simply as IBM.
1931-1940
IBM's business boomed through Social Security-based business from the U.S. Government in the back half of the 1930s.
1941-1950
IBM's successes continued throughout World War II with a high demand for equipment from the Allied Powers, and capping off the decade and the post-war boom, Watson started a new global division of the company known as IBM World Trade.
1951-1960
The mid-50s saw Thomas Watson, Sr., retire and hand the reins of the company over to his own progeny, Thomas Watson, Jr., who remained head of the company for 19 years. During this post-war period, IBM started to diversify into electronic computing, a far cry from the punch-card system designed by Herman Hollerith when the company was initially founded on. The junior Watson believed this new technology to be the way of the future, a gamble that paid off dramatically in the coming decades. It was in the late 50s that FORTRAN, one of the first computer languages, was created and developed. In terms of identity and corporate logo, the modern IBM logo was created by legendary designer Paul Rand, which, in a revised format, still represents the company today.
1961-1970
The world-famous Selectric Typewriter debuted in 1961 and dominated the market for decades. One of IBM's most prominent public works at the time was their hardware and other systems that were being used in NASA's Mercury and Apollo missions, though even more history was also being made with the first family of computers in development, known as the IBM System/360. IBM dominated the mainframe computer market at this time as well. As another harbinger of things to come, the modern magnetic card stripe was invented in 1969 at IBM and has only become more ubiquitous over time on debit cards, credit cards, ID badges, and more.
1971-1980
In the early 70s, Paul Rand further refined the IBM logo to the eight-lined version most well-known to the public today. In addition to the magnetic stripe card, IBM owned all businesses that processed the magnetic stripe data. As the 70s progressed, IBM also created the standard universal product code (UPC) system, seen on almost every commercial product sold in modern times.
1981-1990
With the 80s came the dawn of affordable personal computing. IBM's 5150 model became a standard in many offices around the world, and the company's printer business was spun into a new company known as Lexmark.
1991-Present
The 90s became a difficult era for the company; even though most businesses' computer systems ran on some form of IBM's Disk Operating System (DOS) or a revised version of it with Microsoft, the early 90s saw IBM post a multibillion-dollar loss for the first time. Over the next 20 years, some divisions were sold off, such as their PC business, which was sold to Lenovo in 2005; the server business was also sold off to Lenovo nine years later. However, more acquisitions were made in that time in newer emerging businesses. PwC's consulting division was acquired in 2002, and the software company SPSS was acquired seven years later. In its centennial year, IBM also acquired a computer hardware company, Texas Memory Systems, and Kenexa, a human resources consulting company (which has since been sold). In addition to several other acquisitions in a short amount of time, IBM's work in the AI field has been prominently displayed in both their own marketing and pop culture with the Watson program, which famously won the television game show Jeopardy against top-performing human champions. Most recently, IBM announced it is splitting into two separate companies; IBM will focus on AI-based technology and cloud computing, while the newly spun-off company known as Kyndryl will work on IT infrastructure for businesses.
What Are the Most Important Inventions from IBM?
FORTRAN
FORTRAN was initially developed in the early 1950s as a new way to program the early IBM mainframe computers and was initially proposed by John Backus. His team delivered the first compiler of its kind in 1956; it revolutionized the method by which modern computer scientists and programmers work on a daily basis by greatly optimizing programming performance. It began several new iterations over decades and bridged the gap from punchcard systems to modern-era PCs. It has inspired other programmers to create newer, more advanced languages and FORTRAN, in its modified forms, is still in use today.
Universal Product Codes (UPC)
While not the first product organization system implemented, the Universal Product Code system was easily the most successful and widely adopted inventory system in the world. Originally developed in the early 1970s, the UPC system allowed for a much more efficient means of managing product inventory for consumer businesses both domestically and abroad, greatly advancing economic globalization over the next 30 years.
Magnetic Card Stripes
The first magnetic stripe used for data was actually developed outside of IBM at the turn of the 20th century, originally intended for audio recording purposes. Magnetic tape was further used in the 1940s as an early means of storing data. An IBM engineer by the name of Forrest Parry developed the modern magnetic striped card in 1969, and IBM developed a system to read such cards over the next few years, as well as modified barcode functionality. This one individual achievement revolutionized the financial transaction market by optimizing transaction speed and recording as well as the overall security industry, with such cards being used for entry access. Until the arrival of widely-used RFID chips in credit/debit cards and access cards, magnetic stripe use was the predominant data access point for most card-based identification worldwide.
How Does IBM Make Money?
IBM makes its money primarily by selling goods and services across multiple disciplines. Most of that money has been made over the years through manufacturing and selling computational machines of some sort, as well as government contracts. Over the past 30 years, they have made much of their money through business applications, proprietary systems, informational services, cloud computing services, artificial intelligence applications, business consulting services, and healthcare management services.
IBM Acquisitions
PwC Consulting, $3.5 Billion, 2002: PwC offers business consulting and originated with a major accounting firm.
Texas Memory Systems, Unknown Amount, 2012: Texas Memory Systems manufactures solid-state hard drives (SSDs).
Merge Healthcare, $1 Billion, 2015: The merger creates healthcare-based technology applications.
The Weather Company (digital services), $2 Billion, 2015: The Weather Company reports the weather to any spot around the world through digital media.
Cleversafe, $1.3 Billion, 2015: Cleversafe provides data storage for businesses.
Truven Health Analytics, $2.6 Billion, 2016: Truven is a provider of cloud-based health analytical data.
UStream, $ 130 Million, 2016: Ustream is a user-based video-sharing website.
Red Hat, $34 Billion, 2019: Red Hat supplies businesses with customized Linux operating systems.
Turbonomic, $1.5 Billion, 2021: Turbonomic manufactures monitoring software for businesses.
IBM First Computers
IBM has been at the forefront of computing since its founding. From the punch-card era through the silicon revolution, IBM has been involved in core places in the overall history of computing. The first computers in use after World War II were used primarily in government- and university-based environments and were quite large; several iterations of new IBM systems were in continuous use over a 30-to-40-year timespan in several environments, from the IBM 603 through the IBM System/370 machines. In terms of modern-day personal computing, IBM's first computers that were intended to be sold to businesses and individuals came about in the early 80s and were marketed as the IBM 5150 system.
IBM's Notable Controversies
Unfortunately, as you might expect with any major company, IBM is not without it's controversies. Let's look at them in detail below.
Use of IBM Equipment in the Third Reich, 1933-1945
While Social Security-based calculation was the primary basis for IBM's business boom in the 1930s, the use of IBM-based machines was prevalent in the years leading up to World War II by Germany and was known to be used to catalog the whereabouts of Jews and other groups targeted by the Nazi party before and during the war. Determining the company's overall culpability, however, is still a matter of historical and scholarly debate.
Pollution in the Company's Founding City
A significant amount of groundwater pollution has been found over years of spillage from IBM Endicott, especially with a large concentration of the solvent trichloroethane. IBM has been working with the local community to help mitigate the spillage and year-over-year pollution.
The image featured at the top of this post is ©iStock.com/joel-t.