The Hyundai Kona vs. Nissan Leaf is a battle of two compact EVs, each with their own pros and cons. Since the popularity of electric vehicles has surged in recent years, more consumers look for sustainable and cost-effective transportation options. While both vehicles are environmentally friendly, they have distinct differences that could influence which one is the better choice for prospective buyers.
If you're considering joining the ranks of other proud EV owners, either one of these cars is a safe bet. In today's article, we're going to dive into the specifics of each one and find out which one comes out on top in terms of efficiency, range, performance, comfort, and tech. Let's go!
Hyundai Kona vs. Nissan Leaf: Side-by-Side Comparison
| Specification | Hyundai Kona | Nissan Leaf 2023 |
| --- | --- | --- |
| Battery Capacity | 39.2 kWh | 40 kWh |
| Range | 258 Miles per Full Charge | 149 Miles per Full Charge |
| Charging Time 0-100% | 9 Hours 35 Minutes 0-100% | 7 Hours 30 Minutes 0-100% |
| Top Speed | 96.3 mph / 155 kmh | 84 mph / 136 kmh |
| 0-60 Speed (Seconds) | 6.2 | 8.4 |
| Weight | 2,899-3,040 lbs. | 3,516-3,919 lbs. |
Hyundai Kona vs. Nissan Leaf: What's the Difference?
At the time of writing, Hyundai offers three electric vehicles to consumers in the US: the Kona, the Ioniq, and the Ioniq 5. On the other hand, Nissan offers only two EVs to American consumers: the Nissan Leaf and the Nissan Ariya. The Leaf is a compact hatchback, while the Ariya is a mid-size crossover.
Generally speaking, Hyundai is world-renowned for the warranty programs that come with their cars and their long-lasting durability and reliability. On the other hand, Nissan is more known for sport-like driving performance and sportscar designs.
In addition to its EV lineup, Hyundai has committed to creating a robust charging network, making electric vehicles more accessible and convenient for consumers. In the United States, Hyundai has partnered with Electrify America to offer free charging to Kona drivers and has developed its own app to help drivers remotely manage charging and track the status of their EVs battery.
On the other hand, Nissan has made strides in improving the charging infrastructure for their own EVs, having teamed up with EVgo, one of the largest public charging networks in the United States. Leaf owners are eligible for discounted charging rates through the EVgo network. There's a NissanConnect EV app, which, similar to the app for the Kona, allows drivers to monitor their charging status.
Performance
The Nissan Leaf provides drivers with a comfortable ride. The electric powertrain provides instant torque, delivering a smooth and quiet driving experience. The Leaf also features responsive and smooth steering and handling, making it a very fun, sportslike car to drive. We noted earlier in the specifications that the Nissan Leaf features a 0-60 MPH acceleration time of 8.4 seconds and can go as far as 149 miles per charge.
While the Leaf features an attractive sporty design, the range and acceleration speed are both lower than what you get with the Hyundai Kona. Based on the range, size, and speed of the Leaf, it appears to be a great EV for commuting around the city. The smaller size helps with parking in tight spaces, but the range of 149 miles isn't the best if you wanted to commute downtown from the suburbs and back.
On the other hand, looking at the Hyundai Kona, drivers are provided again with a smooth and comfortable ride. The electric powertrain similarly provides you with instant torque, which allows for quick acceleration.
As we noted in the above specification table, the Kona is able to go from 0-60 MPH in only 6.2 seconds and will deliver you a range of 258 miles on a single charge. This makes the Hyundai Kona a great all-around EV. It's not too big and bulky to be uncomfortable driving in downtown areas, but its range of 258 miles could easily get you to downtown from the suburbs and back.
Interiors
Both the Hyundai Kona and the Nissan Leaf feature a sleek, all-black interior. Looking first at the Nissan Leaf, drivers have found the seats to be soft and match up with the laid-back driving style that the Nissan Leaf delivers to drivers.
However, the steering wheel has a flat bottom, which many drivers may find uncomfortable at first until they find their preferred seating position. There's an 8-inch infotainment screen, and while it's a bit dated, it does include Apple CarPlay and Android Integration. Below the screen, you have your basic knobs and buttons for volume and air controls, a USB Type-C charging port, and a 12V car charger. All-in-all, the Nissan Leaf provides a practical and comfortable interior, although it's not exactly roomy.
Looking inside the Hyundai Kona, we see another sleek, all-black interior with a comfortable, leather-stitched rounded steering wheel and all-black leather seating. There's an 8-inch touchscreen atop the dashboard in the base trim of the Kona, but drivers can opt to upgrade up to a 10.3 inch. The touchscreen is bright and responsive, but by itself is pretty basic. However, thankfully for drivers, Android Auto integration and Apple CarPlay integration are already included.
Technology
The Nissan Leaf features a range of safety-related technological features, such as Nissan's Safety Shield 360, Nissan ProPILOT Assist, and the Intelligent Around View monitor for parking. Safety Shield 360 is the most basic of these features, and it includes six standard safety features such as automatic emergency braking and pedestrian detection, rear braking, reverse traffic alerts, blind spot and lane departure warnings, and a high beam assist.
The Nissan ProPILOT Assist is designed to help the Leaf make the driving experience easier for the driver by handling some tasks related to driving, such as stopping and going with traffic, showing you the safe distances to be behind upcoming vehicles on the infotainment screen, and helping you stay centered in curved lanes. While these don't take your autonomy away from you on the road, they are an added benefit of driving the Leaf and help to keep you and other drivers safe on busy highways and interstates.
Turning over to the Hyundai Kona, we see similar safety technology employed. The Hyundai Kona features a variety of sensors that monitor your driving pattern and can slow down or emergency brake to avoid crashing or hitting things in the roadway. There's Forward Collision Avoidance-Assist, just like in the Nissan Leaf, which allows the car to make sure you are maintaining a safe distance behind cars.
In addition to these safety features, the Kona comes with some impressive tech features for making your life easier when driving or owning the Hyundai Kona. The Kona features a range of smart integration, including the Hyundai Digital Key, which allows your phone to act as your car keys. There's wireless charging in the cockpit of the Kona, so you never have to worry about your phone dying on longer drives because you forgot the charger.
Infotainment
The Nissan Leaf gives drivers advanced infotainment that is designed to provide a seamless and efficient driving experience. The system includes the aforementioned 8-inch touchscreen display that responds quickly to the touch. The infotainment system is fully integrated with Apple CarPlay and Android Auto, allowing your smartphone to take over and provide you with music streaming, navigation features, voice-to-text messaging, and more.
The built-in system does feature its own navigation system in addition to CarPlay and Android Auto. But it is relatively bare bones. We liked that the navigation system will show you charging stations on your route. This makes it easy to keep the Leaf charged.
In addition to the basic features of the infotainment, the Leaf's system also comes with a seven-speaker Bose audio system alongside a built-in subwoofer. SiriusXM radio functionality is installed on the infotainment system, but you will need a subscription to SiriusXM to use it. Additionally, there are connection ports for USB devices, including a USB Type-C port. Overall the infotainment system is easy-to-use and provides various features that take the edge off of driving.
The Kona is also equipped with an 8-inch touchscreen that is highly responsive. The Kona's infotainment also features full integration with Apple CarPlay and Android Auto, allowing for smartphone connectivity. The Kona also features built-in navigation in the infotainment. This shows you the basics of your route, charging along the way, and real-time traffic updates. Additionally, the Kona also gives you access to multiple electrical charging ports, including a 12V port and USB Type-C charger.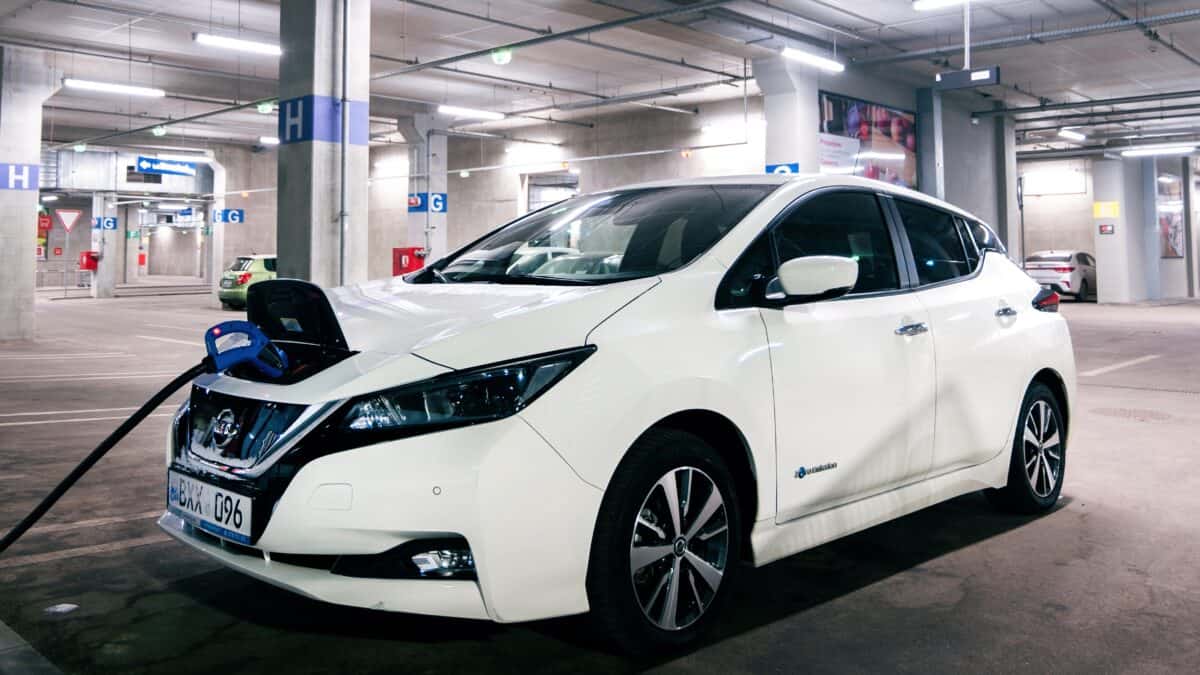 Hyundai Kona vs. Nissan Leaf: 6 Must-Know Facts
The Hyundai Kona is an all-electric compact SUV that was first introduced to us in 2018.
As a more efficient car, the Kona features a range of up to 258 miles. In contrast, the Nissan Leaf features a range of up to 150 miles.
The Hyundai Kona has a 64 kWh battery and an electric motor producing 147 horsepower.
The Nissan Leaf has a 40 kWh battery and an electric motor that produces 147 horsepower.
Both cars come with great warranties: Hyundai Kona comes with a 10-year/100,000-mile powertrain warranty and a 5-year/60,000-mile limited warranty. The Nissan Leaf comes with an 8-year/100,000-mile battery warranty and a 3-year/36,000-mile limited warranty.
Both EVs received high safety ratings from both the NHTSA and the IIHS.
Hyundai Kona vs. Nissan Leaf: Which Is Better? Which Should You Choose?
This is a tough decision and one that should not be taken lightly. But if you're buying your first EV, you really can't go wrong with either one. The Kona offers a longer range of 258 miles per full charge, faster acceleration, and a more extensive warranty program. All that being said, it is an excellent choice for longer commutes and overall versatility.
In contrast, the Nissan Leaf has a shorter range of 149 miles per full charge and slower acceleration. But it offers a sporty design and a comfortable ride, making it suitable for city driving and shorter commutes. Both vehicles come with high safety ratings and various technological features. So, consider factors such as range, acceleration, and driving experience when deciding which EV is the best bet for you.
The image featured at the top of this post is ©FeelGoodLuck/Shutterstock.com.