When two of the biggest names in car manufacturing enter the all-electric space with their first crossover SUVs, the industry takes notice. With both the Hyundai Ioniq 5 and Volkswagen ID.4, two giants are looking to slow down the Tesla Model Y machine and introduce the world to different types of EVs.
Equally stylish in their own right, both the Hyundai and the Volkswagen offer their own set of advantages, though the Volkswagen is enjoying some extra time in the limelight thanks to its spotlight in Marvel's Antman and the Wasp: Quantumania film released in February 2023.
Movie appearances aside, there's plenty to like about both of these electric vehicles so let's dive in and see which one is right for you.
Hyundai Ioniq 5 vs. Volkswagen ID.4: Side-by-Side Comparison
Hyundai Ioniq 5
Volkswagen ID.4
Date of Release
May 2021
September 2020
Starting Cost
$41,450
$38,995
Range
220-303 miles
209-275 miles
0-60 Speed
5.2 seconds (model-dependent)
5.7 seconds (model-dependent)
Charging Speed
10-80% in 15 minutes, under 7 hours on 240V charger
10-80% in 30 to 36 minutes on a 240V charger
Number of Seats
5
5
Cargo Space
27.2 cubic feet
30.3 cubic feet
Self-Driving
Level 2 autonomous driving in mid and high trim levels
IQ.DRIVE
Warranty
5-years 60,000 miles new vehicle
10-year 100,000-mile powertrain warranty (battery warranty)
4 year 50,000 mile new vehicle limited warranty
8-year 100,000 mile battery warranty
Volkswagen ID.4 vs. Hyundai Ioniq 5: What's the Difference?
Pricing
When it comes to pricing, the good news is that both the Hyundai Ioniq 5 and Volkswagen ID.4 are priced competitively when compared to one another. For those interested in the Hyundai, your bottom line MSRP starts at $41,450 for the SE Standard Range trim level. You can increase this price slightly by adding a premium exterior paint color but other than that, there are no major packages available.
Shifting focus to Hyundai's SE, SEL, and Limited trims are when you start to see the price move up starting at $45,500 for the SE to $52,600 for the Limited model. Like the standard model, you can see the price jump up slightly with the choice of a premium paint color or selecting optional all-wheel drive as opposed to the standard rear-wheel drive. At its highest MSRP on the Ioniq 5 website, you can easily bring the Limited trim up to $58,835 with a premium paint choice and all-wheel drive selected.
Pricing with the Volkswagen ID.4 gets a little more interesting as you have a variety of trim levels to choose from, all with slightly different option sets. These prices start with an MSRP of $38,995 for the Standard trim while jumping all the way to the top-of-the-line AWD Pro S Plus will bring the starting MSRP to $55,245.
Sandwiched in between the base and the highest trim level are a few medium-specced trim levels. Each of these mid-level trims provides a potential buyer with either an AWD or RWD choice starting at $43,995 for the Pro to $52,795 for the AWD Pro S trim level which sits right below the top-end Plus model. At the end of the day, given where both of these cars can go, the Hyundai is undoubtedly more expensive at the high end but not so much so that it's likely out of range for Volkswagen shoppers.
Range
Looking at range is another close comparison between these two electric vehicles. For Hyundai, range starts with the SE Standard Range which offers 220 miles of range on a single charge. When you move up to the SE, you get two options with 303 miles with RWD or the AWD variant offers 266 miles of range. On the SEL trim, you can opt for 303 miles of range with RWD or select AWD and drop the range to 256 miles on a single charge.
Last but not least is the Limited which offers the same range numbers as the SEL with 303 miles on a single charge with RWD against 256 miles of range with AWD. At 303 miles of range with the RWD, the Hyundai Ioniq 5 doesn't quite match the Tesla Model Y Long Range but it hits just over that magical 300-mile range number which seems to be a key factor for many buyers these days.
On the Volkswagen ID.4, it's competitive in range but will not match the numbers of the Hyundai Ioniq 5. What the Volkswagen will offer is 209 miles of range with the entry-level Standard trim. For the Pro, you can achieve 275 miles of range with RWD or opt for AWD and receive 255 miles of total range on a single charge. When looking at the mid-level S or Pro S trims you can opt for 209 miles with the former on its AWD chassis or stick with RWD but add a larger battery with the latter and get 275 miles of range total. If you're already confused by the number of options Volkswagen offers, you are likely not alone.
Finally, Volkswagen adds its premium lineup with the AWD Pro S, Pro S Plus RWD, or the AWD Pro S Plus trims, which get 255, 275 or 255 miles of range, respectively. All three models add the biggest battery Volkswagen offers for the ID.4 at 82 kWh which helps with the longer range numbers.
Charging
Looking at charging is another solid way of comparing these two popular electric vehicles. In the case of the Hyundai Ioniq 5, the brand is looking to give buyers a strong reason to consider its vehicles with some of the best charging numbers in the industry. Taking the Hyundai Ioniq 5 to any DC Fast Charger station will yield Ioniq 5 owners a charging speed of 10-80% in just 18 minutes. Alternatively, on the same 800V DC Fast Charger, you can spend just five minutes charging and receive up to 68 miles of additional range.
If you find yourself using a DC Fast Charger with only 400V of power, you still get great speeds charging the Ioniq 5 from 10-80% in only 25 minutes. Of course, no number is as important as charging at home, and in that case, adding a Level 2 240V charger at home will power up your Ioniq 5 from 10-100% in around 7 hours of time. What's more is that with any 2023 Ioniq 5 purchase, Hyundai will provide buyers with two years of 30-minute complimentary charging sessions at any Electrify America station in the United States.
Like Hyundai, Volkswagen is looking to ensure its customers also receive fast charging times with the ID.4. To that end, the installation of a Level 2 240V home charger in your home should help you get a full charge overnight in as little as 7.5 hours.
Should you find yourself needing to use any of the 45,000 and growing DC Fast Charging plugs around the country that support the ID.4, you'll also find strong speeds. Going from 0-80% will power up the ID.4 in around 38 minutes of time. Volkswagen is also looking to entice potential buyers by offering three years of 30-minute charging sessions at any Electrify America plug in the U.S.
Driver Assistance and Safety
As is the case with most electric vehicles these days, safety and driver assistance are top of mind. Hyundai is no exception as it's quite literally hitting the road starting with Highway Driving Assist II. This technology enables the Ioniq 5 to stay engaged with its smart cruise control and automatically keeps you in the center of your lane and at a safe distance from vehicles in front of you. Additionally, with the use of GPS and highway data, the Ioniq 5 can help you maintain the right speed that moves with the flow of traffic.
Forward Collision-Avoidance technology works for both vehicles and pedestrians and makes sure you brake in time, every time. Remote Smart Parking Assist will help Hyundai Ioniq 5 buyers either parallel park or move into a perpendicular parking space, even if you are not inside the vehicle. Smart Cruise Control will take whatever speed you set on the car and use radar to maintain that speed and if the vehicle is forced to slow down, it automatically brings the car back up to speed.
Volkswagen isn't letting the competition get too far ahead thanks to the likes of IQ.DRIVE. This technology, available on the ID.4, includes great driver assistance features like active blind spot monitoring, lane assist, rear traffic alerts, front assist and more.
Similarly, Volkswagen's Driver Assistance uses the ID.4's smart technology to automatically shift the headlights when driving at more than 18mph to make sure you can clearly see the road ahead. Area View gives you a 360-degree look around the vehicle which is especially helpful while parking. Likewise, Park Distance Control automatically brakes the vehicle while parking if it detects you are too close to another object or vehicle.
Technology
Both vehicles are at the forefront of the EV space when it comes to redesigning vehicle interiors to feel more intuitive and less button-heavy.
For its part, the Hyundai Ioniq 5 has said goodbye to the traditional dashboard and updated the interior with dual 12.3-inch touchscreens. This large digital dashboard gives the driver a breakdown of everything they need to know about speed, onboard navigation, and traffic flow. The dashboard in between the driver and passenger adds more info about the Ioniq 5 including battery life, charging status, as well as Android Auto and Apple CarPlay.
The Volkswagen ID.4 offers a similarly revamped interior with dual screens as well, a smaller one for the driver, and a (now standard for 2023) 12-inch screen for the dashboard depending on trim level. The system isn't quite as intuitive as Hyundai but there are niceties like standard navigation as well as Apple CarPlay and Android Auto.
Hyundai Ioniq 5 vs. Volkswagen ID.4: 5 Must-Know Facts
The Hyundai Ioniq 5 offers a longer range on some trim levels but also starts with a higher price tag than that of the Volkswagen ID.4.
Volkswagen has made its 12-inch infotainment screen standard across all 2023 models.
The ID.4 comes in a variety of trim levels, depending on whether you want AWD or RWD, which might initially confuse some buyers.
Hyundai is clearly looking to steal market share from the Tesla Model Y while Volkswagen is looking to carve out its own niche with the ID.4.
Hyundai has the better warranty overall with an extra year on the bumper-to-bumper warranty and an extra two years on the powertrain and battery.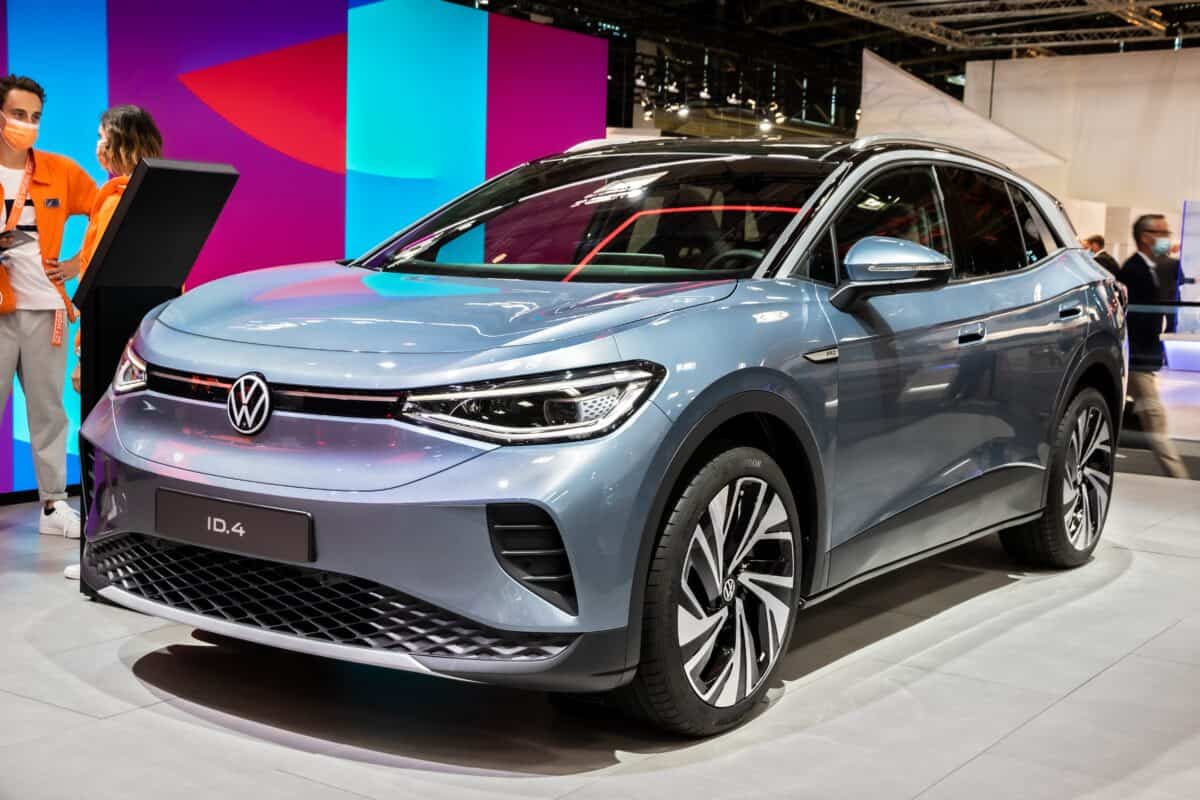 Hyundai Ioniq 5 and Volkswagen ID.4: Recent Updates
Both Hyundai and Volkswagen have made some improvements to their EVs since February 2023. Here are some of the highlights:
Hyundai Ioniq 5:
All models come standard with a battery heating system and a preconditioning function.
The maximum tow rating for SEL and Limited models has been increased to 2,300 pounds.
Volkswagen ID.4:
All models come standard with a 12-inch infotainment screen.
A low-cost model has been introduced to the line.
A heat pump is standard on all trims.
A software update improved the performance of the infotainment system, which includes a voice assistant and a navigation system that can be updated over-the-air.
Hyundai Ioniq 5 and Volkswagen ID.4: What's Next?
The future is basically unknown, and it's difficult to tell what technology may be available soon. However, we can take a guess. Here are some updates the Hyundai Ioniq 5 and the Volkswagen ID.4 may receive in the next six to 18 months:
Improved battery technology: Improved battery technology is expected that will offer longer range and faster charging speeds.
Advanced driver-assistance features: We should see more advanced driver-assistance features, such as lane centering assist, adaptive cruise control, and automatic emergency braking.
Over-the-air updates: Over-the-air updates are already available on both vehicles. We should see even more over-the-air updates that will improve the performance and features of the vehicles without owners needing to visit a dealership.
New trim levels and special editions: New trim levels and special editions are likely from both Hyundai and Volkswagen. These new models will offer different features and options.
Hyundai Ioniq 5 vs. Volkswagen ID.4: Which One is Better?
At the end of the day, both of these vehicles are very good options and while they are not super close in price, they are close enough to be competitive.
At the end of the day, Hyundai has a better overall reputation as far as quality and it's come a long way from the Hyundai we knew a decade ago. The updated interior is definitely more futuristic looking and feels that way when in use and it's definitely more fun to use between the two cars.
With its longer available range, the Hyundai Ioniq 5 is going to be the better option for most buyers.
The image featured at the top of this post is ©North Monaco/Shutterstock.com.