Key Points
The Hyundai IONIQ 5 and Sony Afeela EV are being compared, but the Afeela EV is not yet available on the market.
The IONIQ 5 has 320 horsepower and a range of 303 miles on a single charge.
The Sony Afeela EV is projected to have 544 horsepower and a charging rate of 200kW.
Which EV wins between the Hyundai IONIQ 5 vs. Sony Afeela EV? That's a tough question with a rather obvious answer. The EV train is rolling with numerous manufacturers jumping on board with their own take on the technology.
Honda has been curiously absent, even alongside contemporaries like Toyota and Nissan. CES 2023 saw Honda debut the Sony Afeela EV, a joint venture between Honda and Sony. This EV isn't readily available on the market just yet.
There are however quite a few details known about the overall performance and specs of the Afeela EV. The IONIQ 5, on the other hand, continues Hyundai's stellar record with EVs. Their latest is a spacious and comfortable electric SUV.
It's time for a shootout between two automotive industry giants and their respective EVs. Who will win? Read on and find out.
Hyundai IONIQ 5 vs. Sony Afeela EV: Side-by-Side Comparison
| | Hyundai IONIQ 5 | Sony Afeela EV |
| --- | --- | --- |
| Horsepower | 320 horsepower | 544 horsepower |
| Battery Capacity | 58 to 77.4 kWh | Not available |
| Length | 182.5 inches | 192.7 inches |
| Height | 63 inches | 57.5 inches |
| Width | 74.4 inches | 74.8 inches |
| Wheelbase | 118.1 inches | Not available |
| Smartphone Support | Apple CarPlay and Android Auto | Not available |
While there are detailed specs for certain aspects of the Afeela EV, there isn't much known about the particulars like battery capacity. With a projected production year of 2025, it will be more of a waiting game to see how the Afeela EV really stacks up against contemporary offerings from Hyundai.
Hyundai IONIQ 5 vs. Sony Afeela EV: What's the Difference?
The Afeela EV isn't readily available from any dealerships currently, so this is an incomplete comparison of sorts. General criteria are applicable across the board, as Sony and Honda both have given some details as to what the Afeela EV can do.
Performance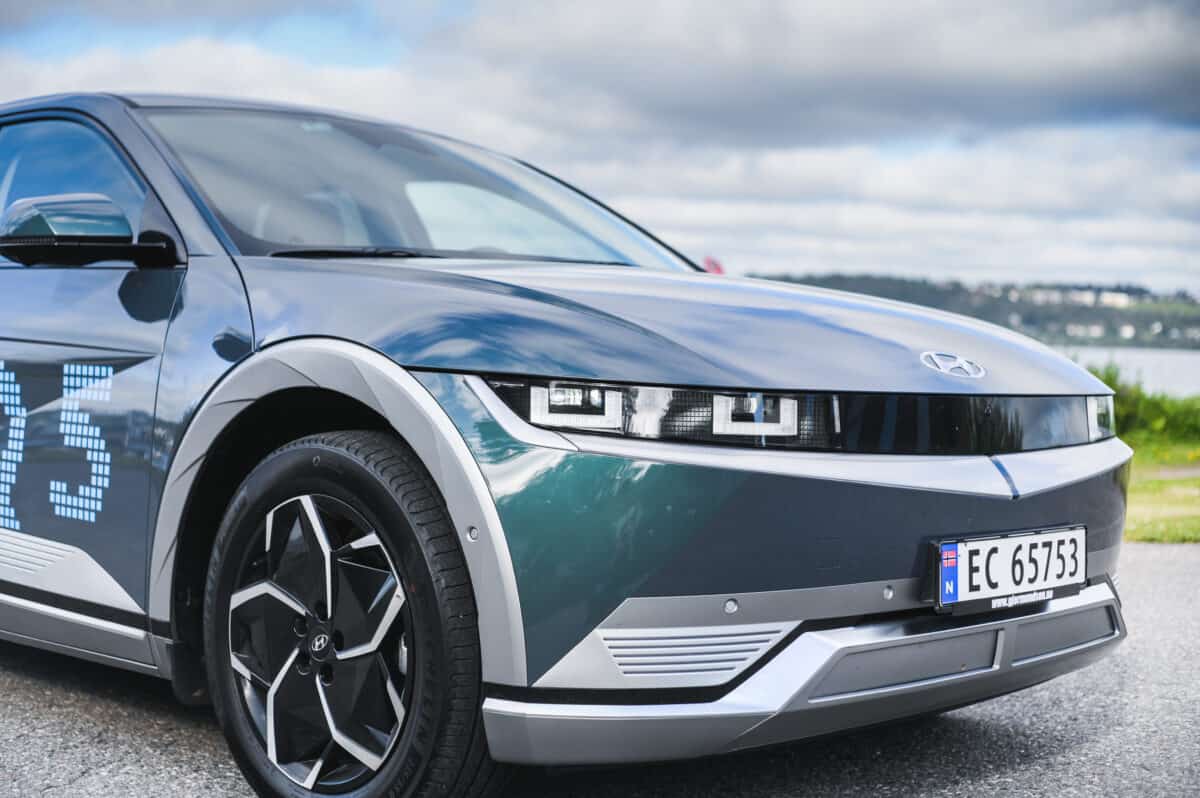 The IONIQ 5 is a solid performer with 320 horsepower on tap. This makes for a nimble handling vehicle, especially when taking into consideration the rear-wheel drive drivetrain. You won't be setting records on the racetrack, but it is more than enough to handle highway driving.
The IONIQ 5 also boasts an exceptional range for its price bracket. RWD users can expect around 303 miles on a single charge, or 266 miles when using the AWD option.
Not much is known about the battery capacity of the Afeela EV. Sony and Honda have revealed it has a charging rate of 200kW when using supported chargers. It should be a veritable beast on the roads, however.
With a projected 544 horsepower on tap, it will certainly be one of the most powerful EVs in its niche. It doesn't have the raw grunt of something like a Rivian R1S or R1T, but it should prove more than enough for daily driving.
Electronics Suite
The Hyundai IONIQ 5 features a 12-inch infotainment panel and a 12-inch digital instrument cluster. These are easy to read and quick to navigate. Though, you may find yourself bogged down through various submenus when trying to access other functions.
Apple CarPlay and Android Auto are supported for the IONIQ 5, which is serviced through the main 12-inch infotainment display.
It also features more robust voice recognition software, making for a hands-free experience if you're on the highway. Sadly, CarPlay and Android Auto both still require USB cables to function.
The Sony Afeela EV has an interface more akin to a PlayStation than what you might expect out of an EV operating system. Not much is known about the capabilities, but Sony and Honda have been working in close connection with Epic Games on the interface.
It could very well prove to be similar to Tesla's infotainment system, functioning as a game and media hub while the driver navigates the roads.
Safety Features
The IONIQ 5 rates well when looking at safety. It has top marks from the NHTSA, which bodes well for users looking for a reliable and safe vehicle for their family. All Hyundai EVs also come with a standard suite of driver-assistive technologies.
You'll find automated emergency braking and forward collision warnings, a must these days for new vehicles. There is also adaptive cruise control along with a hands-free driving mode available. Finally, the IONIQ 5 comes with lane-keep assists and lane-departure warning systems.
This makes for a fairly safe vehicle, as you would expect from a contemporary Hyundai EV.
Not much is known about what the Afeela EV is going to offer in terms of safety features. Pure speculation could point to things like automated emergency braking and other standard features you might expect from an EV.
However, without more concrete details from Honda and Sony, it is a bit more difficult to discern.
Warranty Information
Hyundai has one of the best EV warranties around, and this naturally extends to the IONIQ 5. Users can expect limited warranty coverage of five years or up to 60,000 miles. The powertrain is covered for ten years or 100,000 miles.
The battery itself is covered for ten years or 100,000 miles. Finally, Hyundai has made sure to keep complementary scheduled maintenance as part of the overall coverage umbrella. You get three years of coverage or up to 36,000 miles.
As the litany keeps going, there isn't much known about the warranty package on offer from Sony and Honda for the Afeela EV. Out of all the specs and information given about the upcoming vehicle, this is one area where very little is known.
The terms of coverage aren't concrete, but potential users will likely have some form of limited warranty as well as powertrain coverage. Whether Sony and Honda opt to excel in this category remains to be seen.
Hyundai IONIQ 5 vs. Sony Afeela EV: 6 Must-Know Facts
The IONIQ 5 has one of the best warranties for EVs around.
The IONIQ 5 has replaced the previous IONIQ line of EVs from Hyundai.
The IONIQ 5 seats five passengers comfortably.
The Sony Afeela EV is due for a 2025 release date.
The Sony Afeela EV is the first true EV from Honda.
The Sony Afeela EV's operating system is being built in collaboration between Sony and Epic Games.
Hyundai IONIQ 5 vs. Sony Afeela EV: Which One is Better? Which One Should You Choose?
The winner by default is the Hyundai IONIQ 5. There is plenty to be excited about when it comes to Sony's Afeela EV. However, without more concrete details and actual driving experience around it, this is purely conjecture and speculation.
CES 2023 brought a lot of promising new concepts to the fore. If you're on the hunt for an EV, the IONIQ 5 is readily available and highly competitive with other EVs in the same price bracket.
This shootout may be due for some corrections in 2025 when the Sony Afeela EV officially launches. That said, if you're after a new vehicle now, you might as well get the EV you can drive home.
Make sure you try before you buy, as you might find another EV that suits your needs better than the ones covered in this guide.
Recent Technology Updates for the Hyundai IONIQ 5
Hyundai and Sony are continuously improving their products. Recently, the Hyundai IONIQ 5 released the following improvements:
Faster charging: The Hyundai IONIQ 5 is now capable of charging up at up to 220 kW, whereas before it was only capable of 180 kW. This cuts down the charging time drastically, with the IONIQ 5 reaching nearly a full charge in just 18 minutes.
Increased range: Thanks to improved battery efficiency and a decreased drag coefficient, the IONIQ 5 has an updated travel range of 303 miles.
Enhanced towing capabilities: With new towing capabilities up to 2,500 pounds, the IONIQ 5 has solidified itself as an extremely versatile EV.
The Future of the Hyundai IONIQ 5 and Sony Afeela
While you may already be impressed with the features of both the Hyundai IONIQ 5 and Sony Afeela, there are still advancements to be made. In the near future, it is likely both vehicles will incorporate the following enhancements:
Advanced driver-assistance systems: Both the Sony Afeela and Hyundai IONIQ 5 will continue to work on improvements to advanced driver-assistance systems (ADAS), allowing the cars to drive semi-autonomously.
Over-the-air updates: This update system allows owners of the IONIQ 5 and Afeela to get tech updates to their vehicles wirelessly.
Improved battery technology: Both companies plan to improve the battery efficiency of the vehicles further, increasing the range and decreasing charging speeds.
New infotainment features: The user experience of these cars are always improving. Hyundai and Sony plan to include infotainment features such as improved app integration, improved sound systems, and more.
The image featured at the top of this post is ©haryanta.p/Shutterstock.com.